私人莊園 TLN – Villa Manggala – Canggu 2/3房 OK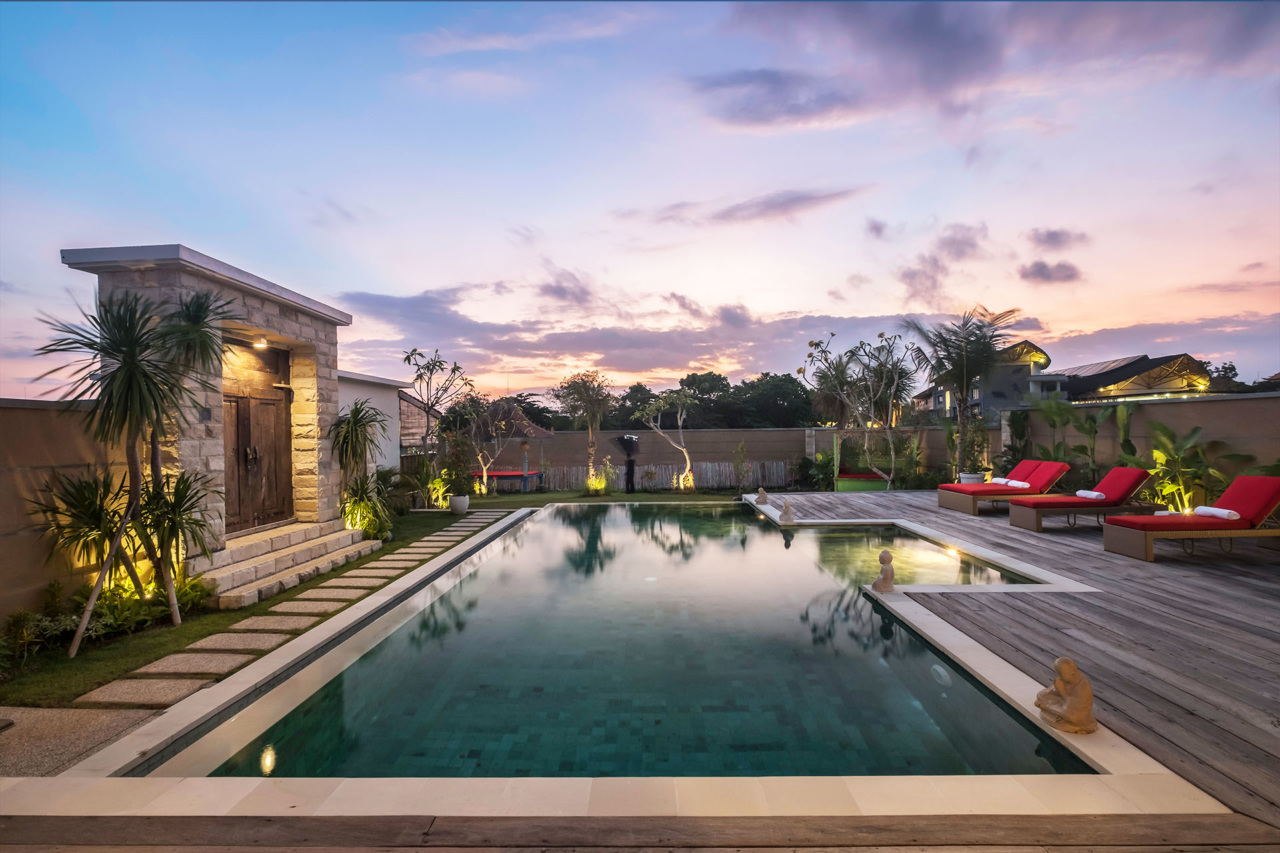 << TLN- 私人莊園 Villa Manggala – Canggu 2/3房 >>
私莊名
 Villa Manggala
房間數
 3 Bedrooms (3間大床房)
位置
 Canggu
早餐
 房費不含早餐
加床
 可事先預約加床, Spa Room可改為雙床房, 額外收費
 Villa價位 A + A x 0.155(tax)   不含接送服務

Agent價位  A x 0,93 + A x 0.155(全額tax) – 含入住/退房接送服務

官網
 http://villamanggala.com/
服務
 –
Charming, quirky, and comforting; three words that will inspire your stay in this Joglo-style villa. This beautiful 3-bedroom villa in the heart of Canggu will capture your heart with its sunny garden,, open-air living space and private pool. One sunset in and you may find yourself extending your stay or planning your return next holiday.
Villa Manggala is a 3-bedroom 3-bathroom Joglo-style villa in Canggu. There is also an additional wooden limasan spa room on the second floor to add to the villa's unique design. The villa's private pool invites you in through the main doorway and at the heart of the villa is the beautiful open-air living space with kitchen and dining area.
Designed for families and chic travellers looking for casual charm in the heart of Canggu, Villa Manggala is only a short distance from Berawa Beach and is surrounded by restaurants and shops that you can walk to.
From taking in those spectacular Balinese sunsets by the pool to lounging with a book in the airy living area, or turning cartwheels in the tropical garden before a relaxing massage in the quaint spa room, this cosy villa feels like home (but better) from the moment you step in.
With a villa manager, butlers, housekeepers, gardeners and security, you'll receive a warm welcome with that renowned Balinese hospitality. Should you like to dine in, our concierge team can easily arrange for a private chef to prepare your meals at an additional cost.
And just when you thought you had it all, your stay also includes four complimentary Platinum VIP passes to Finn's Beach Club and Finn's Recreation Center.
VILLA FACILITIES –
Features and amenities –
Location –
Canggu, Bali, Indonesia
What we like –
Joglo style design, private pool, relaxing lawn garden, open plan living space
Capacity –
6 adults, 2 children
Living area –
Colorfully-decorated open plan living area
Staff –
Housekeepers/Villa attendants (7am-11pm), Gardener, Pool attendant, Security (11pm-7am)
Entertainment –
Curved-screen Smart TV with local and international channels in the living area, DVD player, books, magazines, recipe books, speaker system with Bluetooth input available
Kitchen –
Fully-equipped kitchen
Dining –
Private chef service is available upon request at an additional charge; Meal preparations are based on grocery cost + 15% handling fee
Pool –
12m x 4m x 1.75 depth swimming pool
Internet –
Complimentary Wifi Internet access
Spa –
Spa services and Yoga sessions available upon request (extra cost).
Cars & Drivers –
One-way or return airport transfer service is available upon request (extra cost).
Car and driver rental service on request from approximately USD 60 nett (excluding petrol) for 8 hours a day.
For Families –
Baby cot, high chair, and babysitting service are available upon request at an additional cost
Additional Facilities –
Parking available for 2 cars, air-conditioned massage room. Fire Extinguisher; First Aid Kit; Universal Adapter; Towel Rack by the pool; Yoga Mats; Extensions; Torch Light; Umbrellas; Wake up service available upon request; Iron and Ironing Board available upon request.
ROOMS –
Bedroom –
Villa Manggala's 3 bedrooms are built around the airy open-plan living room with high Joglo-style roof. The bedrooms are all located on the villa's ground floor making this an excellent villa for families with children or holidays with elderly parents. Every bedroom is fully air-conditioned, has an en-suite with rainshower, and fitted with comfortable king-sized beds for restful nights.
The air-conditioned limasan massage room is not suitable for use as a bedroom but is a delightful addition to the charming architecture of the villa.
*Kindly note that the standard occupancy of this 3-bedroom villa is 6 persons. A maximum of 2 additional persons can be accommodated for USD 35 nett per person, per night.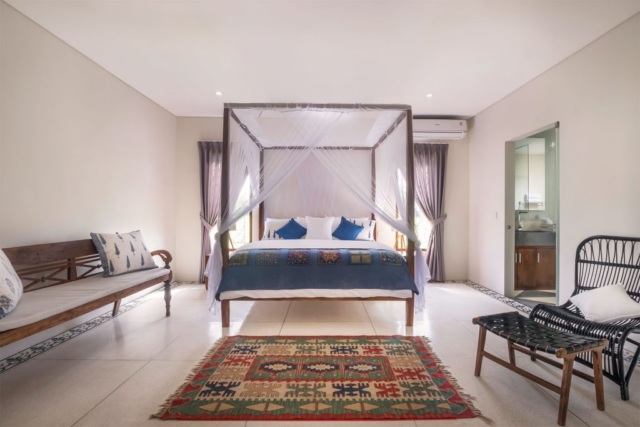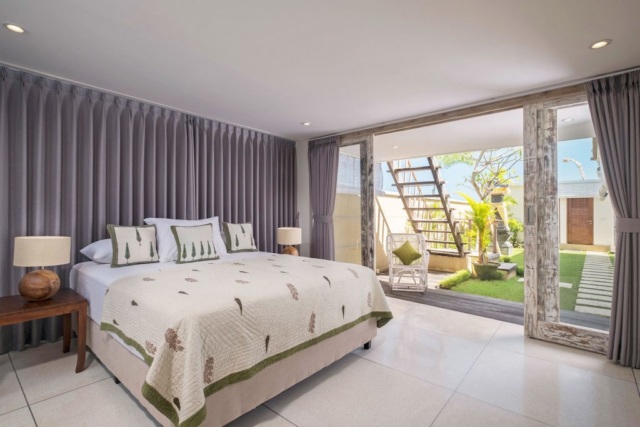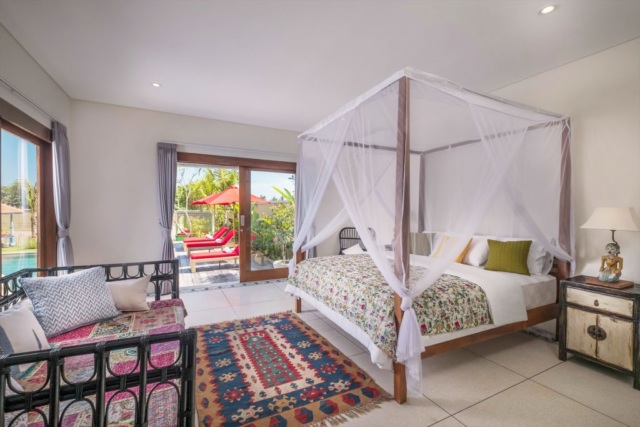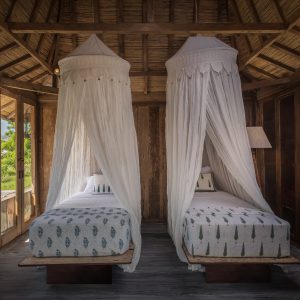 Garden & Pool –
Spacious, sunny, lined with tropical plants and scented by frangipani trees, Villa Manggala's 1,000 square metre garden is welcoming from sun-up to sun-down. The manicured lawn is a lovely large space for children and those young at heart to run around freely, turn cartwheels, or just feel the tickle of the grass.
The 12-metre long pool sparkles at the top of the garden and the timber deck that surrounds it leads to the villa's Joglo-style open-air living space easily making this the central area to gather. On the deck are bright red sun loungers that offer a striking image amidst the lush greenery and crystal-clear blue waters of the pool. The pool also has a shallow area for splashing around in.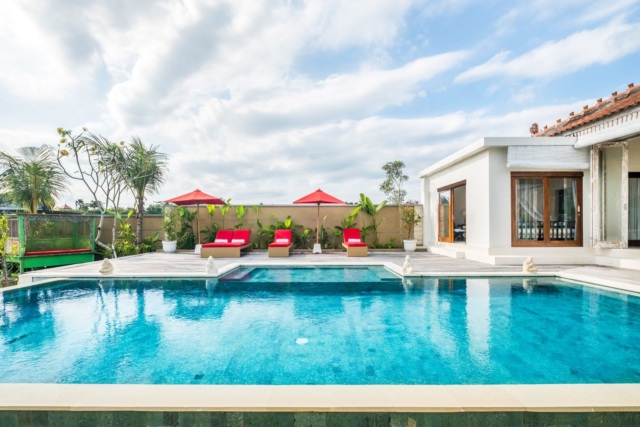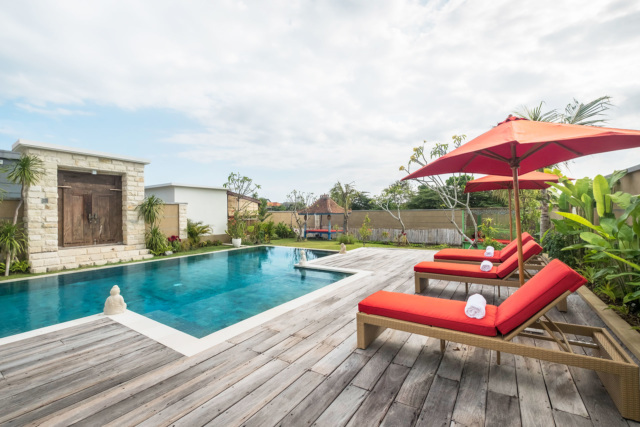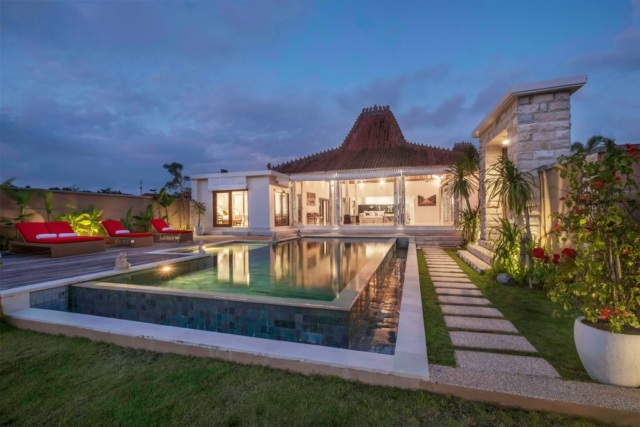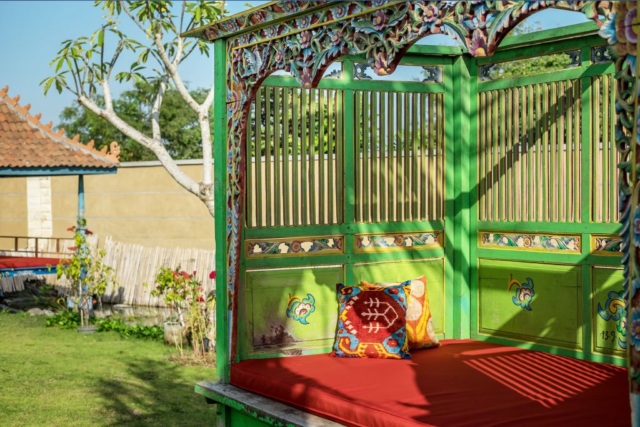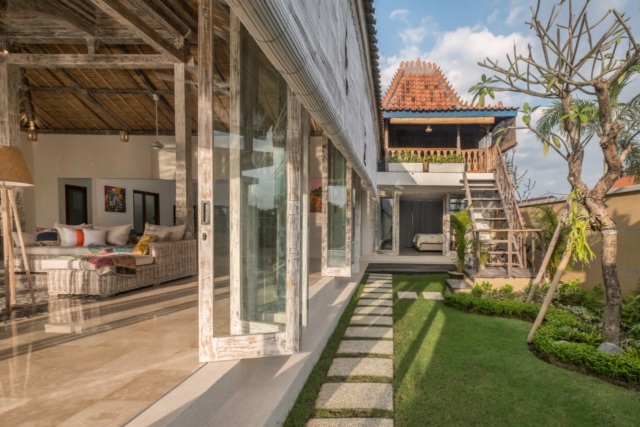 Dining area –
The main feature of Villa Manggala is the majestic Joglo-style roof with its signature high-soaring rooftop that is supported by four striking hand-carved wooden pillars. Under this spectacular roof lies the open-air living space with fully-equipped kitchen and dining area that can seat 10 persons comfortably. The full-length glass doors slide open and the high ceiling creates a natural circulation of fresh air giving you that tropical pool-front lifestyle.
The sitting area is located right in between the wooden pillars where two comfortable rattan sofas with plush cushions sit on the colourful hand-painted floor tiles. The sitting area also offers a 40-inch Smart TV, DVD-player and bluetooth speakers for your entertainment.
While Villa Manggala's kitchen is well-equipped, should you wish to relax and dine in, our concierge team can easily arrange for a private chef to prepare your meals. The private chef is experienced in Western, Chinese, Asian, Vegetarian and children's dishes. Special requests can be accommodated (including special diets). Chef shopping service and pre-arrival shopping service is available at grocery bill + 15% handling fee.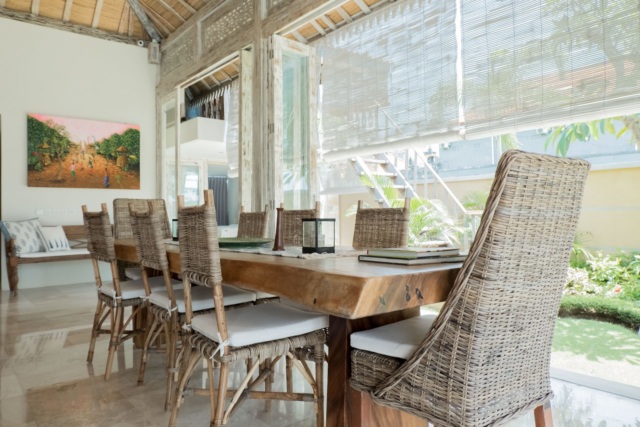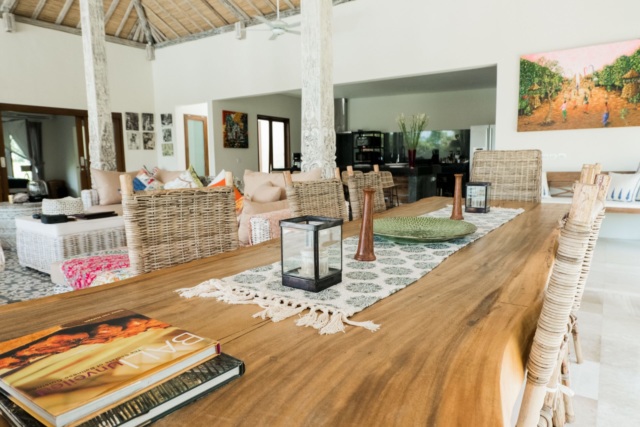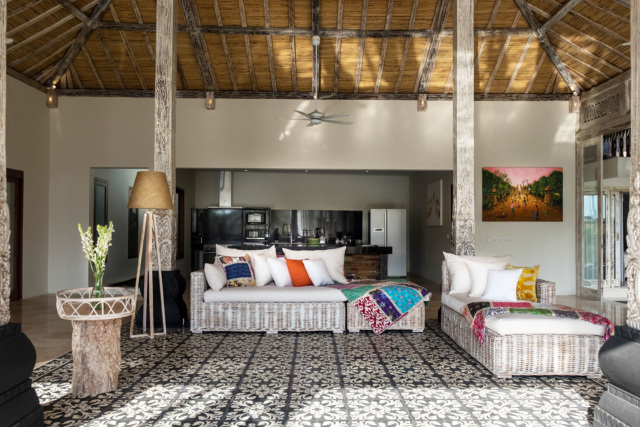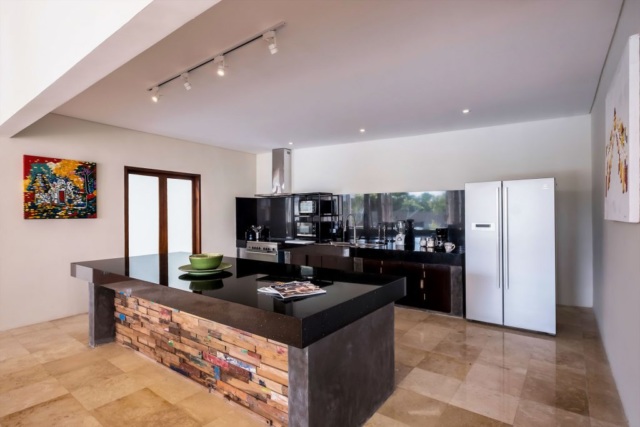 RATES INCLUDE –
Welcome drink
Complimentary WiFi
Finns Club Platinum Membership
Daily Afternoon Tea & Coffee
Rates – 請點下面連結 ,第1頁中間(若出現新促銷方案,Agent同步享有)
Peter Pan