<< Yoga – Serenity Bali Canggu 07:30-18:00 >>
歡迎來到Serenity Eco Guesthouse的Serenity Yoga瑜伽室。 每天提供所有級別的瑜伽課。 起始於2010年,遠離繁忙街道,提供美麗的風景。張開雙臂歡迎所有年齡,技能水平和背景的人們。
寧靜,悠閒而又充滿活力的Canggu中心地帶,Serenity Yoga是Serenity Eco Guesthouse的隱藏綠洲。在Serenity,可以在瑜伽課程表中選擇多樣又負擔得起的價格,可以從十多天日常瑜伽課程,預算友好的套餐中選擇,甚至每週進行有關呼吸,自愛和生活教練的講習班。 從力量和空中瑜伽到日落流,Yin和Hatha–這裡的每個瑜伽教師確實都有一些東西。 最重要的是,全區禁止吸煙和酗酒,是一家環保旅館的所在地,是一個帶室外游泳池的多功能綜合生活方式休閒勝地,擁有永生草本植物園和純素食主義者,無化學物質餐廳,提供拉伸後的健康飲食。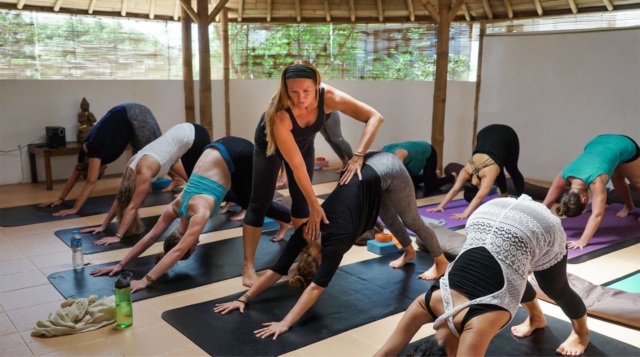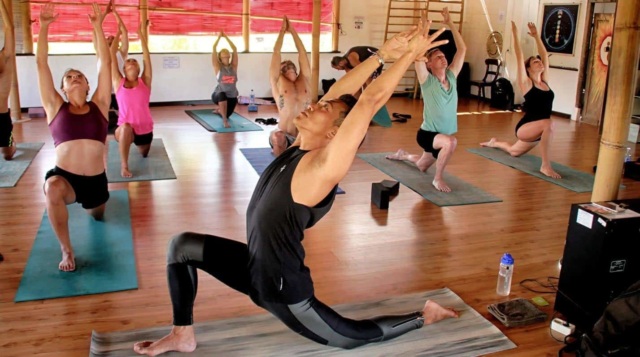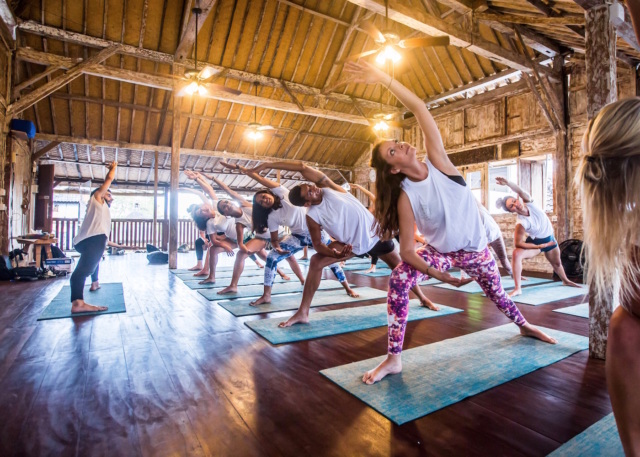 SERENITY YOGA BALI
---
YOGA STYLES –
AERIAL YOGA: 
Aerial Yoga combines traditional mat yoga with postures suspended in soft fabric hammocks. With the help of gravity and the hammocks, we can playfully explore floating, fluid movements and create space in our bodies without compressing our joints and spine. Unlike other classes, photos and videos are encouraged in this session.
空中瑜伽將傳統的墊式瑜伽與懸掛在柔軟織物吊床上的姿勢結合在一起。 借助重力和吊床,我們可以在不壓縮關節和脊柱的情況下,嬉戲地探索漂浮的流體運動並在我們的身體中創造空間。 與其他課程不同,本課程鼓勵使用照片和視頻。
ASHTANGA:
Guided class following the sequence of asanas strictly in the tradition of Sri K Pattabhi Jois, linking the postures together in a Vinyasa. Traditional and dynamic practice with a deep relaxation at the end of the class.
嚴格按照Sri K Pattabhi Jois的傳統,按照體式的順序進行指導,並在Vinyasa中將姿勢聯繫在一起。 傳統和動態的練習將在課堂結束時大為放鬆。
BEGINNER:
For all those who want to start their yoga journey. Become familiar with the fundamentals of yoga practice, and receive more detailed instructions in the poses.
對於所有想要開始瑜伽之旅的人。 熟悉瑜伽練習的基礎知識,並在姿勢中獲得更詳細的說明。
BREATHWORK AND YOGA NIDRA:
This class is Breathwork followed by Yoga Nidra. Breathing or cleansing exercises as a preparation to enter a state of deep relaxation with Yoga Nidra. Yoga Nidra (or yogic sleep) is a type of yoga where you reach a state of consciousness between waking and sleeping, a kind of lucid sleep, induced by a guided meditation. It involves breathing and visualization exercises, laying down on your mat. Yoga Nidra improves sleep and helps to release stress through conscious communication with the unconscious.
這門課是呼吸課,其次是瑜伽尼德拉。 呼吸或清潔運動可幫助您進入瑜伽Nidra深度放鬆狀態。 瑜伽Nidra(或瑜伽睡眠)是一種瑜伽,您可以在清醒和睡眠之間達到意識狀態,這是一種由嚮導冥想誘導的清醒睡眠。 它涉及呼吸和可視化練習,躺在墊子上。 瑜伽Nidra改善睡眠,並通過與無意識的有意識的交流幫助釋放壓力。
CHAKRA FLOW:
A chakra based Vinyasa practice with a changing theme each week (i.e. grounding, opening up, core strength, heart-opening). The class ends with Pranayama and Meditation.
基於脈輪的Vinyasa練習每週都會改變主題(即接地,開放,核心力量,心胸開闊)。 全班以呼吸法和冥想結束。
CHAKRA SODHANA MEDITATION:
This is a meditation technic that helps to purify the chakras. Done through the concentration of each chakra: visualizing each chakra's color, shape, and also repeating the root mantra of each chakra.
這是一種冥想技術,有助於淨化脈輪。 完成每個脈輪的集中度:可視化每個脈輪的顏色,形狀,並重複每個脈輪的根源。
CHEST AND HIP OPENING: 
This class is designed to counteract the 'all too familiar' postures of hunching over a computer or steering wheel (our modern-day sitting lifestyle). It helps to open and loosen the joints and muscles around the hips and the chest area. The benefit of this class is decreased back pain and shoulder tightness, as well as improving our spirits to support daily activities.
此類設計用來抵消駝背在計算機或方向盤上的"太過熟悉"的姿勢(我們現代的生活方式)。 它有助於打開和放鬆臀部和胸部周圍的關節和肌肉。 該課程的好處是減輕背部疼痛和肩膀緊繃,並改善我們的精神以支持日常活動。
CREATIVE VINYASA: 
Creative Vinyasa is the extension of Vinyasa Flow where the movement is branching out from the usual sequence of Vinyasa. This class aims to bring out the happiness within you and to set yourself free and "dance" your body with the rhythm of your breath.
創意Vinyasa是Vinyasa Flow的擴展,其運動從Vinyasa的通常序列中分叉出來。 本課程的目的是發掘內心的快樂,讓自己自由,並隨著呼吸節奏"跳舞"身體。
CRYSTAL BOWL MEDITATION:
Come and relax to the sounds of crystal and Tibetan singing bowls, a lying down the meditative journey to the celestial realms. Nourish yourself with acoustic medicine sounds, and let your body heal and your mind quiet down.
快來放鬆身心,聆聽水晶和藏族歌唱的聲音,這是通往天界的冥想之旅。 用聲學藥物滋養自己,讓自己的身體恢復健康,讓心靈平靜下來。
CORE STRENGTH VINYASA:
Deep, vigorous, and energizing Vinyasa, for core strength, flexibility, alignment, and awareness. You'll get every inch of your body working together to build all-over strength and capability, beginning right from your center!
深刻,有力且充滿活力的Vinyasa,以增強核心力量,靈活性,協調性和意識。 從中心開始,您將使身體的每一寸都齊心協力,以建立全面的力量和能力!
DETOX FLOW:
Feeling sluggish? Twist it out! Release toxins and leave this class cleansed, glowing, and rejuvenated.
感覺遲鈍? 扭出來! 釋放毒素,使此類清潔,發光並恢復活力。
GENTLE FLOW: 
This class offers students a balance of gently strengthening and mobilizing poses, dynamic and static poses, linked by conscious breath. Appropriate for those who want a softer, slow-paced, well-supported practice.
該課程為學生提供平衡的,柔和的,動人的姿勢,動態和靜態姿勢以及有意識的呼吸之間的平衡。 適合那些想要更柔和,節奏緩慢,得到良好支持的練習者。
FLYHIGH YOGA:
Flyhigh yoga is a mixed practice of aerial and Iyengar yoga. This is a mixed level class that moves with fluidity and links poses together, defying gravity and eventually learning how to play with it. Being in the air can be challenging yet exhilarating and we will show you how beautiful an upside-down world can be.
Flyhigh瑜伽是空中瑜伽和艾揚格瑜伽的混合練習。 這是一個混合級別的課程,隨著流動性而移動,並且將各個姿勢聯繫在一起,克服了重力,並最終學習瞭如何使用它。 出現在空中可能具有挑戰性但令人振奮,我們將向您展示顛倒世界的美麗。
HATHA:
Slow-paced practice with an emphasis on strengthening and loosening up the body and increasing concentration to stable, regular breathing. With Hatha Yoga practice your body will feel open and strong, your breathing unobstructed and your mind calm and quiet – ready for seated meditation.
慢節奏的練習,重點是加強和放鬆身體,並增加註意力以保持穩定,規則的呼吸。 進行Hatha瑜伽練習,您的身體會感到開放而結實,呼吸暢通,頭腦沉靜安靜-準備進行靜坐冥想。
HATHA VINYASA FLOW:
Hatha Vinyasa Flow combines two different disciplines. Vinyasa means "breath-synchronized movement". Hatha is the union of "ha," meaning sun, and "tha," meaning moon, and denotes the force of determined strength and effort required to unify opposing forces and bring together the body and the mind. Hatha Vinyasa Flow is a combination of vinyasas (a series of connected movements through breath), asanas (poses), pranayamas (conscious breathing), meditation, and relaxation.
Hatha Vinyasa Flow結合了兩個不同的學科。 Vinyasa的意思是"呼吸同步運動"。 Hatha是" ha"(意為太陽)和" tha"(意為月亮)的結合,表示統一反作用力並使身體和心靈凝聚在一起所需的確定的力量和精力。 Hatha Vinyasa Flow是vinyasas(一系列通過呼吸的關聯運動),asanas(姿勢),pranayamas(有意識的呼吸),冥想和放鬆的組合。
POWER YOGA:
Power Yoga is a fitness-based Vinyasa practice. An offshoot of Ashtanga Yoga, it has many of the same qualities and benefits, including building internal heat, increased stamina, strength, and flexibility, as well as stress reduction.
力量瑜伽是基於健身的Vinyasa練習。 它是Ashtanga瑜伽的衍生產品,具有許多相同的品質和優點,包括增加內部熱量,提高耐力,強度和柔韌性以及減輕壓力。
RESTORATIVE:
Complete relaxation, centering of the breath and body, aligning the physical and mental by practicing mental stillness or gentle movement for extended periods of time. Allowing the body and mind to rest and restore.
徹底放鬆,呼吸和身體居中,通過練習長時間的精神平靜或輕柔的運動使身體和精神保持一致。 讓身心休息和恢復。
TANTRIC YOGA:
A guided, completely intuitive practice using movement, breath & sound to awaken the life force and access the emotional & energetic blocks that are ready to be felt and released. We use circular breathing to take us to the gateway of our inner healer. This experience helps us release low vibrational energy and shifts us into a high frequency of pleasure and bliss.
通過運動,呼吸和聲音進行的引導式,完全直觀的練習,喚醒生命力,並獲取隨時可以感受到和釋放的情感和精力旺盛的障礙。 我們使用循環呼吸將自己帶到內部治療師的門戶。 這種經驗可以幫助我們釋放低振動能量,並使我們進入愉悅和幸福的高頻率。
VINYASA:
Vinyasa means "Connection of movement and breath". Vinyasa Yoga is a dynamic sequence of breath-synchronized poses. A fluid and flowing practice to open and strengthen the body and mind.
Vinyasa的意思是"運動與呼吸的聯繫"。 Vinyasa瑜伽是呼吸同步姿勢的動態序列。 一種流暢而流暢的練習,可以打開並增強身心。
YIN YANG:
This class starts with an energizing, uplifting practice which then transitions to a deep, peaceful practice helping you feel rejuvenated and balanced for the rest of the day.
這堂課從充滿活力,振奮精神的練習開始,然後過渡到深沉而平靜的練習,幫助您在一天的餘下時間裡恢復活力和保持平衡。
YIN YANG WHEEL YOGA:
Blending two styles of Yin & Yang and the yoga wheel into one practice. Yin is more internal, passive, cooling, and downward. While Yang is more external, dynamic, warming, and upward. This practice will help deepen stretches to enhance flexibility, offering a more challenging balance and provide support for difficult poses using the yoga wheel.
將陰陽兩種風格和瑜伽輪融為一體。 陰更內在,被動,冷卻和向下。 而楊則更外在,充滿活力,變暖,向上。 這種練習將有助於加深伸展動作,提高柔韌性,提供更具挑戰性的平衡,並為使用瑜伽輪的困難姿勢提供支持。
YIN:
Slow-paced practice in which poses are held for 5+ minutes. Targeting the connective tissues, ligaments, organs, immune system, bones, and joints. Yin Yoga combines aspects of Hatha Yoga, the concept of the meridians in Chinese medicine, Taoist philosophy, and Buddhist meditation techniques.
慢速練習,姿勢保持5分鐘以上。 針對結締組織,韌帶,器官,免疫系統,骨骼和關節。 陰瑜伽結合了哈達瑜伽,中醫經絡概念,道教哲學和佛教禪修技巧。
YIN RESTORATIVE: 
This class is the combination of two slow-paced styles of yoga that provides a gate-away to a way of life filled with more relaxation, greater mind fullness and, less stress.
這堂課是兩種慢節奏瑜伽的結合,提供了更多放鬆,更大的精神飽滿度和更少的壓力的生活方式。
YIN YOGA NIDRA:
This class is Yin followed by Yoga Nidra. Yin Yoga is a gentle style where passive postures are held for between 2 and 5 minutes each, while Yoga Nidra is a deep relaxation technique performed while lying down in the resting position of Savasana.
這個班級是尹,其次是瑜伽尼德拉。 陰瑜伽是一種柔和的風格,每次被動姿勢保持2到5分鐘,而瑜伽Nidra是一種深放鬆技術,它躺在Savasana的靜止位置時進行。
Add : Jl. Nelayan, Canggu,
營業時間 : 07:30-18:00
Tel :0361-8469251 / 0811-3888472
https://serenitybali.com/#yoga-bali-training
https://www.facebook.com/422575071253250/videos/944231669087585
https://www.facebook.com/422575071253250/videos/554986661944270