<< Wedding@WakaSailing >>
"Sensational Sailing to Lembongan Island on a Luxury Catamaran"
從位於Benoa Harbour的私人Waka碼頭到Nusa Lembongan藍夢島令人驚嘆的Waka Beach Club的旅程大約需要1小時45分鐘,具體取決於天氣狀況。 帆船雙體船Catamaran載著客人在海風中悠閒地航行。 咖啡、茶、糕點和新鮮水果在船上等待著客人。 室內和室外座位區讓客人可以舒適地旅行,而熱情的漁民可以加入船員的行列,在船尾投擲繩索。
WakaSailing為峇里島的婚禮提供了一個特別、獨特的場所。豪華雙體船Catamaran將為活動佈置和裝飾,航行2小時,船上最多可容納20位賓客。
Add : Jalan Wisata Tirta I Benoa Harbour, Pedungan, Denpasar 80222, Bali, Indonesia
Tel : 0361-723143
https://wakahotelsandresorts.com/wakasailing/wedding/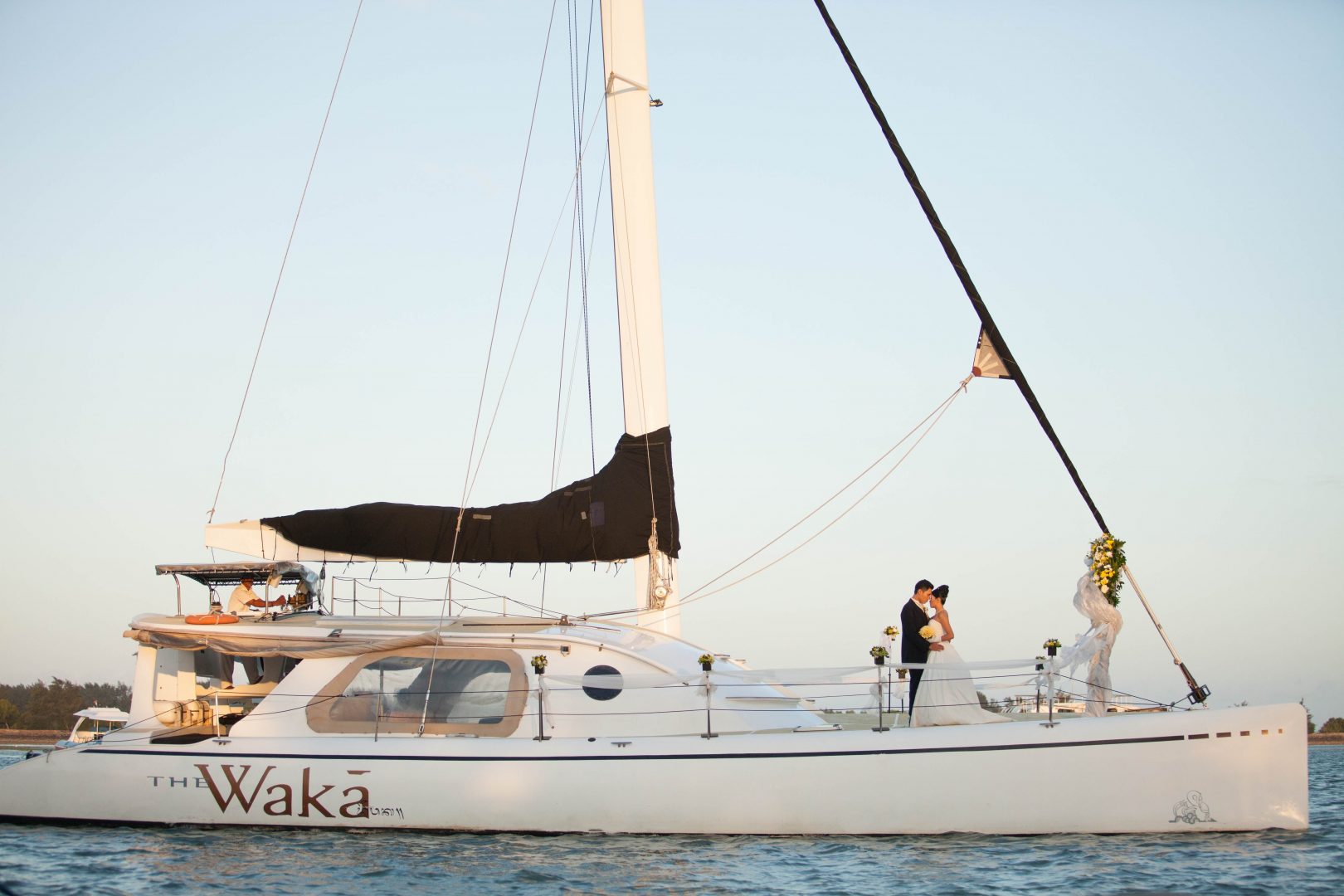 Pre-Wedding Photoshoot
https://wakahotelsandresorts.com/wakasailing/pre-wedding-photoshoot/
在豪華雙體船Catamaran上,以蔚藍的大海和色彩繽紛的峇里島日落為背景,拍攝3小時令人難忘的婚前照片。
Marina Shoot – USD 500
– Photo shoot on our Catamaran, moored at Waka Marina, Benoa harbor.
Harbor Shoot – USD 750
– Photo shoot on catamaran while sailing around Benoa harbor, floral decoration and canapés.
Luxury Ocean Shoot – USD 1,200
– Harbor shoot facilities with a professional photographer & photo album, floral decoration, canapés, hand bouquet and boutonniere.
Wedding Ceremony
https://wakahotelsandresorts.com/wakasailing/wedding-ceremony/
Unforgettable Wedding ceremony on board luxury WakaSailing Catamaran  USD 3,000 net 
Inclusion:
Boat set up and wedding decorations
2 hours sailing around Benoa Harbour for up to 20 guests
Hand bouquet and boutonniere for the bride and groom
Flower shower
Keyboardist & a singer / choir / acoustic guitar
Wedding assistant
Priest/Celebrant
Commemorative certificate
Wedding toast for the couple
Selection of canapés
Welcome drink, free flow beers, wine, soft drinks
Welcome board for the guests
Cruise memento (WakaSailing signature gift) for the couple
Return ground transfers from hotels in South Bali to Benoa Harbour
Optional services:
Boat only rental fee: USD 2,000 ( up to 2 hrs sailing around Benoa Harbour)
Legal Wedding Document Certification : USD 600 (exclude consulate fee)
Additional passenger: USD 50/pax ( includes welcome drink, canapé, free flow soft drinks)
2 hrs photography: USD 785
30-pages wedding book 25x25cm/ approx 2 hour shooting / over 60 pictures in the album / CD Rom (over 70 images), exclude shipment fee
2 hrs videography: USD 1,000
30 min editing / 2 x DVD Rom, exclude shipment fee
Violin : start from USD 265
Balloon release (min of 50 pcs): USD 180
Dove release (couple): USD 60
Wedding Cakes
There are three choices of cakes: fruit cake, chocolate cake and sponge cake. All cakes come with simple icing sugar decorations
Small wedding cake (18 cm) USD 30
Medium wedding cake (24 cm) USD 45
Large wedding cake (30 cm) USD 60