<< Zanti The Retreat@Courtyard Bali Seminyak  >>
About Us
Pamper Yourself With Relaxation Treatment
在豪華的SPA中心放鬆、並感覺精神煥發。 Zanti Retreat位於Courtyard Seminyak度假村內,提供全套舒緩理療服務以及卓越的SPA套餐。
在梵文中,Zanti定義了心靈的平靜與平和,休息和寧靜,因此不難看出為什麼這樣受歡迎和沈迷的地方。擁有四間寬敞且設計簡單的理療室,絕對不是人滿為患或嘈雜的地方。設施包括提供共享呵護的情侶治療室、一個超大浴缸來消除煩惱、按摩床,以及所有重要的修手腳指足療站,讓手和腳煥然一新!
SPA中心療程選項豐富,提供身體磨砂(包括巧克力和椰子變種)、身體裹敷、按摩、面部護理、牛奶和花浴,以及一系列可供選擇的特色套餐,例如時差恢復套餐,有助於在長途飛行後恢復活力。
水療SPA中心致力於打造一個遠離日常生活壓力的放鬆綠洲,禁止使用手機!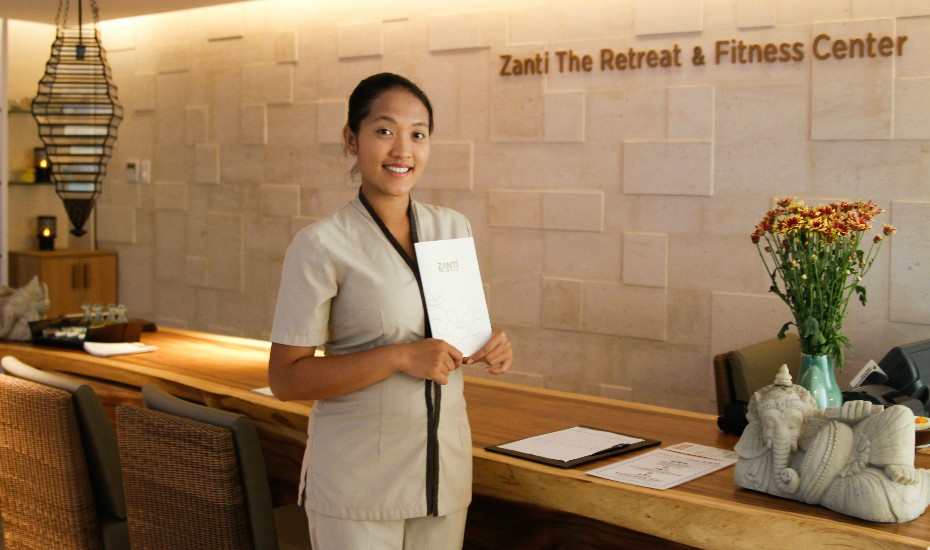 Our Treatments
ART OF RITUALS
SENSE OF ROMANCE – SIGNATURE PACKAGE for Couple
在Zanti體驗浪漫和親密感,在Zanti等待真實、難忘的體驗。 盡情享受浪漫的情侶SPA護理,並與所愛的人一起探索觸摸和SPA療法的藝術。
Morning session : Private Honeymoon Yoga
Noon Session Spa couple treatment
60 min Stress Release Massage
30 min Coconut and Vanilla Body Scrub
15 min Rose Petal Bath
60 min Marine Collage Facial for the Ladies
60 min Organic Energize for Men
Refreshment
AFTER SUN BATHING – 90 Minutes
Cool & replenish your face and body with this gentle wrap of skin-quenching aloe vera, lavender, green tea, cucumber & chamomile. A soothing treatment for sunburnt and dehydrated skin. Your healing journey concludes with a sun-kissed facial gently delivered with a calming neck, shoulder and scalp massage. Depart feeling cleansed and invigorated.
JET LAG RECOVERY – 120 Minutes
Recommended for jet lag and insomnia.
60 min Stress Release Massage
30 min Chocolate Body Wrap
30 min Herbal Bath
ART OF BODY WORKS
ZANTI SIGNATURE MASSAGE – 60 / 90 Minutes
Explore an infusion of Volcanic Minerals and Moor Mud which creates a natural bond and provides a deep holistic treatment for the back.
WARM STONE THERAPY – 90 Minutes
This balancing treatment relieves tired muscles and restores balance; utilizing warm basalt rocks to deeply penetrate. Begins with purifying body oil followed by slow flowing strokes with various size stones.
TRADITIONAL BALINESE MASSAGE – 60 / 90 Minutes
In this authentic massage style influenced by ageless tradition, therapist uses an Indonesian floral oil together with palm pressure and stretching techniques to relieve tension and improve blood flow and in turn create waves of muscle relief.
REFLEXOLOGY – 60 Minutes
Therapeutic foot massage to stimulate energy zones and pressure points on the feet, encouraging the body to naturally restore and maintain its own healthy balance.
MOTHER TO BE – 60 Minutes
Therapeutic bodywork that focuses on the special needs of the mother to be as her body goes through the dramatic changes of pregnancy. It enhances the function of muscles and joints, improves circulation and general body tone, and relieves mental and physical fatigue.
STRESS RELEASE MASSAGE – 60 / 90 Minutes
The Ultimate relaxation treatment; combining deep vigorous massage with hot towels to release muscle tension. Excellent for jet lag or from a late night out to restore vitality.
BESPOKE MASSAGE – 30 Minutes
Head & Scalp, Neck & Shoulder, Back & Lower Back, Feet, Hand Massage
Every day is different. Everybody is unique. Seeking more attention on your back & neck area? Only desire a mind-soothing head & neck massage? This personalized massage is tailored to those who would like to have therapists focus on specific areas of their body.
ART OF TRADITIONAL RITUALS
TRADITIONAL BALINESE RITUAL – 180 Minutes
Floral Foot Ritual – Balinese Lulur Body Polish – Milk Bath – Balinese Massage – Skin Specific Facial – Jamu Refreshment
Created from locally grown ingredients, your treatment begins with a divine Balinese Lulur body polish ancient beauty wedding ritual where your skin is coated with a blend of turmeric, spices and powders followed by milk bath to cleanse and refresh your body. A deeply relaxing Balinese massage & end the session with choice of skin specific facials by Pevonia.
BALINESE DETOX THERAPY – 150 Minutes
Floral Foot Ritual – Salt and Oil Body Scrub – Boreh Body Wrap – Stress Release Massage – Herbal Bath – Coconut Water
Our new Detox Cleanse Package invites you to indulge in a guilt-free holiday experience that will leave you feeling refreshed and ready for your day. Your 150 minutes spa escape begins with a salt and oil cleansing, Boreh Body Wrap followed with stress release massage. Herbal bath at the end of the session ensures your glow lasts all day and night.
BALINESE MASSAGE WITH HOT STONE – 120 Minutes
Floral Foot Ritual – Lulur Body Wrap – Balinese Massage with Hot Stone – Head Massage
Relaxing traditional Balinese Massage to release your muscle tension combined with hot stones for deeply soothing and stress relieving treatment.
ART OF MAN RITUALS
ORGANIC ENERGIZE FOR MEN – 60 Minutes
Designed for men. This facial uses photo extract and pure essential oils for their unparalleled ability to restore skin back to a healthy balance. Incorporating a relaxing blend of facial, shoulder, scalp, hand and arm massage.
WARM STONE BACK MASSSAGE – 60 Minutes
Floral Foot Ritual – Salt and Oil Scrub – Back Massage with Warm Oil and Stone – Refreshment
Created to slow down your mind and ease you into balance, treatment begins with a cleansing back
exfoliation and warm oil back massage. Heated stones are massaged over your lower back, neck & shoulder area, softening tight and tense muscles. Depart relaxed and stress-free.
MEN'S RETREAT – 150 Minutes
Floral Foot Ritual – Stress Release Massage – Salt & Oil Scrub – Organic Men Facial – Refreshment
Begins with a Stress Release Massage to start lose your tired muscle. Salt and oil scrub will help to cleanse your body. An Organic Energize Facial from Pevonia is delivered with a generous neck and shoulder massage – all of which will leave you looking well-groomed and most significantly, feeling great.
DAWN RENEWAL – 90 Minutes
Floral Foot Ritual – Traditional Balinese Massage – Foot Massage – Refreshment
Start your day with a soothing total body and foot massage series. Let ancient techniques restore your body's energy flow and unwind your tired mind.
HOW TO MAKE THE MOST OF YOUR RETREAT EXPERIENCE
建議在預約前15分鐘抵達,以便在寧靜的環境中完成健康評估並抽出時間放鬆一下。
除非預約療程,否則SPA中心不適合小兒童和嬰兒,因為Zanti努力確保所有客人都能享受寧靜的氛圍。
建議來SPA中心之前將所有珠寶存放在保險箱中。Zanti the Retreat 對任何類型的貴重物品的損失不承擔任何責任。
在預約時間6小時內取消將收取50%取消費用。沒有出現將收取100%的取消費用。
建議不要在治療前後進行日光浴。
男士請在所有面部護理之前剃須,以確保達到最佳效果。
SPA中心不允許吸煙和使用手機。
遲到會縮短治療時間。
建議患有高血壓、心髒病、過敏症、懷孕或有任何其他醫療並發症的客人在預約療程前先諮詢醫生。
請將任何現有的醫療狀況通知SPA中心接待員。
Add : Jl. Camplung Tanduk Jl. Dhyana Pura No.103, Seminyak, Bali, 80361
Tel : 0361-8499600
營業時間 : 09:00-21:00
https://www.marriott.com/hotels/hotel-information/fitness-spa-services/dpssm-courtyard-bali-seminyak-resort/