<< The Glow Spa@Bali Mandira Beach Resort & Spa >>
SPA TREATMENTS BY GLOW SPA BALI
"美麗是個人的旅程……對終極健康、皮膚光澤和內在平衡的持續追求,並輔以整體的幸福感"
THE GLOW SPA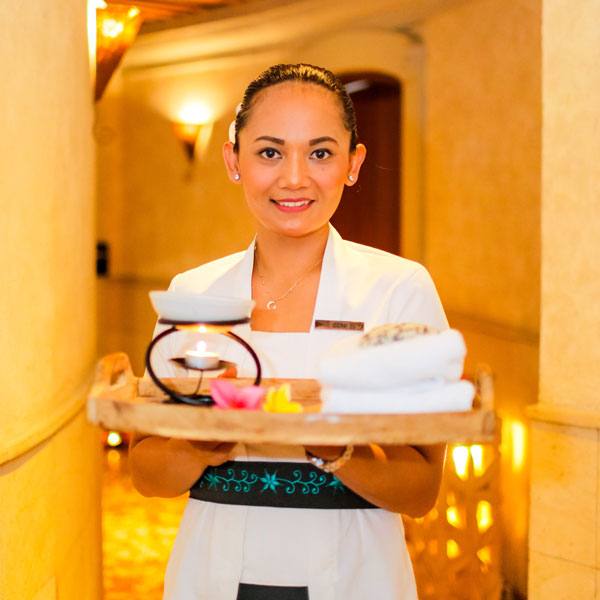 前往Bali Mandira Beach Resort的Glow Spa中心是一次全面的身心健康體驗。Glow Spa療法可優化該地區豐富植物遺產的好處,舒緩身心。沉浸在大自然舒適的氣味中,讓專業理療師指導完成個人旅程,選擇從亞洲和西方啟發的傳統設計的豪華Spa護理。 向客人保證無與倫比的專業精神和極致的放鬆體驗。
THE TREATMENTS
FACIAL TREATMENTS
TRADITIONAL FACIAL – 60 mins
Merging modern techniques with ancient Asian beauty rituals, our facials create a lasting impression and instant benefits. Our traditional facials both indulge the senses and feed the skin using natures abundance of products combined with exquisite local facial products.
GOLDEN SPOON FACE MASSAGE – 45 mins
Mandira face massage is a gentle and extremely relaxing and calming treatment. The treatment begins as a mind – soothing face, head and scalp massage to help melt away any tension or stress and inducing a deep state of relaxation. Then it is up to the Agilance Golden Spoon Facial, focusing on alternating hot and cold stimulation to help firm your skin simply and naturally.
BY PEVONIA
WATER LILY ALOE SUN SOOTHER – 60 mins
Immediately relieve your skins over exposure to the damaging sun or wind burn with this hydrating, anti inflammatory and repairing treatment. This cooling facial combines ingredients of water lily, green tea, chamomile and aloe to decrease the heat and burn, dehydrate the skin and relieve your skin from burning and stinging sensations all associated with over exposure to the elements.
AROMA FUSION – 75 mins
Beauty is an individual journey… an ongoing quest for increased health, skin radiance, inner balance complemented by an overall feeling of well being. Our highly trained therapists will customize this facial to optimize your skin health and radiance with mask treatments that specifically address your individual skin type.
MARINE COLLAGEN – 75 mins
Plumps fine lines and wrinkles, deeply hydrate. Rich oin concentrated Marine Collagen and Myoxy Caviar. Prevent early aging, best to combat excessive dryness, dry and dehydrated skin. Leaves skin plump, supple and younger looking. Include a relaxing De-Stress Massage.
HIGH PERFORMANCE VIT C – 75 mins
Boost your skin with rejuvenating "C" Complex. This unique microemulsified gel is quikly absorbed to render your skin bright and smooth. Vitamin C and Hyaluronic Acid work together to hydrate, correct photo-damage and drench your skin with repairing anti-oxidants for a revitalised, youthful appearance. A Seaweed Mask is then applied to firm, hydrate and lock in the benefits of the booster while also fighting signs of early aging.
*BY O2 INTRACEUTICAL FACIAL
An intraceutical infusion is a unique experience providing instant results you can see and feel in just one 30 minute treatment. Your face will feel smooth and clarified, nourished and hydrated. The appearance of fine lines and blemishes is visible reduced, skin looks rejuvenated, radiant and fresh
O2 Opulence Brightening Infusion – 30 mins
O2 Atoxelene Infusion – 30 mins
O2 Atoxelene + Opulence – 60 mins
BODY TREATMENTS
Ancient Balinese Massage – 60 mins | 90 mins
This ancient Balinese healing therapy combines gentle stretching, long therapeutic stroke, and deep pressure techniques to alleviate the deepest stress and tension and improve blood flow. A subtle and aromatic experience will be achieved during this treatment with a choice of specially blended pure essential oils to help achieve an overall sense of well being.
TROPICAL FLOWER – 60 mins | 90 mins 
AROMATHERAPY Massage
A luxurious massage using warm oil combined with Balinese flower and the most exquisite imported essential oil. This treatment is one of a kind and delivers all that it promises! Try it! It is not to be missed. Built up stress are gently soothed away and muscle fatigue alleviated
WARm stone Massage – 90 mins
Melt tension away with a hot stone massage using smooth, heated basalt stones. The warm stones are placed on tension – prone areas that will be soothed with the right amount of pressure to encourage muscles to warm up and relax. This is the ideal remedy for chronic muscle tension
MANDIRA SIGNATURE Massage – 60 mins | 90 mins
Amaze your senses with a four hands completely synchronized body massage. Performed by two therapists with our own unique massage techniques, this is the ultimate indulgence will leave you in total relaxation and complete bliss.
BACK, Neck & Shoulder Massage – 45 mins
Focused on relieving specific stress and muscle tension around back, shoulder and neck. This powerful, customized massage uses dynamic blends of essential oils to suit individual needs: Stress-a-Way, Spirit Reviver and Muscle Melt.
THAI Massage – 90 mins
By applying pressure along the meridians, this treatment unblocks trapped energy and improves vitality.
Often referred to as passive yoga, it stretches joints and blaances all the major muscle groups of the body.
SHIATSU Massage – 60 mins
With its origin s from Japan, Shiatsu is a dry massage using finger pressure in combination with stretches to balance the energy flow through the body, in order to create a sense of balance and peace. Recommended forthose needing thorough workout involving the muscle to remove pain derived from contraction and tension
HAPPY FEET REFLEXIOLOGY – 60 mins
An ancient Chinese technique that uses pressure point massage to the feet to restore the flow of energy throughout the body. Based on the principle that there are reflexes in the feet that correspond to every organ, pressure is applied to these points to relieve tension, improve circulation and promote the natural functioning of the whole body.
EAR CANDLE THERAPY & MASSAGE – 45 mins
Ear candling is a relaxing and therapeutical treatment to improve general health and wellbeing by lighting one end of a special hollow candle and placing the other end in the ear canal to remove earwax. A relaxing Face, Head, Ear and Shoulder Massage are performed during the ear candling treatment for total bliss and relaxation
RITUAL FOR HANDS AND FEET
OPI MANICURE RITUAL – 90 mins
Nature's finest, facial-quality skin rejuvenating system worthy of the name Manicure by OPI. The results are softer, smoother, younger looking hands. The result will improve with consistent and continued OPI product use. Manicure by OPI provides instantly visible results.
Includes : Skin Renewal Scrub with natural sugar scrub and AHA & a Rejuvenating Serum mask with natural lightening ingredient to diminish age spot
OPI PEDICURE RITUAL – 90 mins
Paradise for the feet formulated with natures most soothing & effective botanicals, Pedicure by OPI restores soles with treatment options that refresh and re-energize.
Includes : Purifying Foot Soak with tea tree oil and grapefruit extract, AHA Callus Softener with green tea extract, AHA Foot Scrub with natural Sugar Crystal and anti oxidant Vitamin E & A and hydrating Foot Mask with Shea butter, Vitamin C and cooling menthol
OPI MENI-PEDI PACKAGE
Express Manicure – 45 mins
Express Pedicure – 45 mins
Child Mani or Pedi – 45 mins
Hand or Foot Polish – 30 mins
Shellac on Fingers – 45 mins
Shellac on Toes – 45 mins
Shellac Removal – 30 mins
Shellac Addition
SCALP & HAIR TREATMENT with Aromatic Creambath – 60 mins
ALOE & HIBISCUS HAIR INSENTIVE – 60 mins
HOLISTIC TREATMENT
AYURVEDIC CHAKRA DARA – 90 mins
Ayurvedic Chakra Dara is refers to key energy points that are universal. All who inhabit physical bodies on the earth have energy vortexes: channels through which spiritual energy flows to manifest in the physical. The ayurvedic chakra dara massage is both sensual and spiritual. It includes the dripping of one liter of warm herbal oil onto the chakra points to balance the energy flow and purify the body, mind and spirit. Your therapist skillfully and respectfully treats your body with an array of repetitive and slow movements. Alternatively stimulating and shooting to eliminate toxins and other impurities. This indulgence treatment also promotes circulation, increases flexibility and relieves pain and stiffness.
AYURVEDIC ABHYANGA – 90 mins
Abhyangga is one of the pancha karma treatments, & it also happens to be one of the most traditional of Ayurvedic treatments. Abhyangga is essentially a full-body relaxing massage. This massage utilizes warm herbal oils, each & everyone hand-picked to suit the different body types of clients. The oils help to lubricate joints and strengthen connective tissue, and are generously applied for maximum penetration. Abhyangga is well-noted for relieving rheumatism, arthritis, cervical spondylosis, joint pains, myalgia, (excess) body heat, sunburn & decreasing the possibility of muscle-wasting. Followed by an invigorating body scrub will leave the skin smooth & glowing.
Signature Package by Glow Spa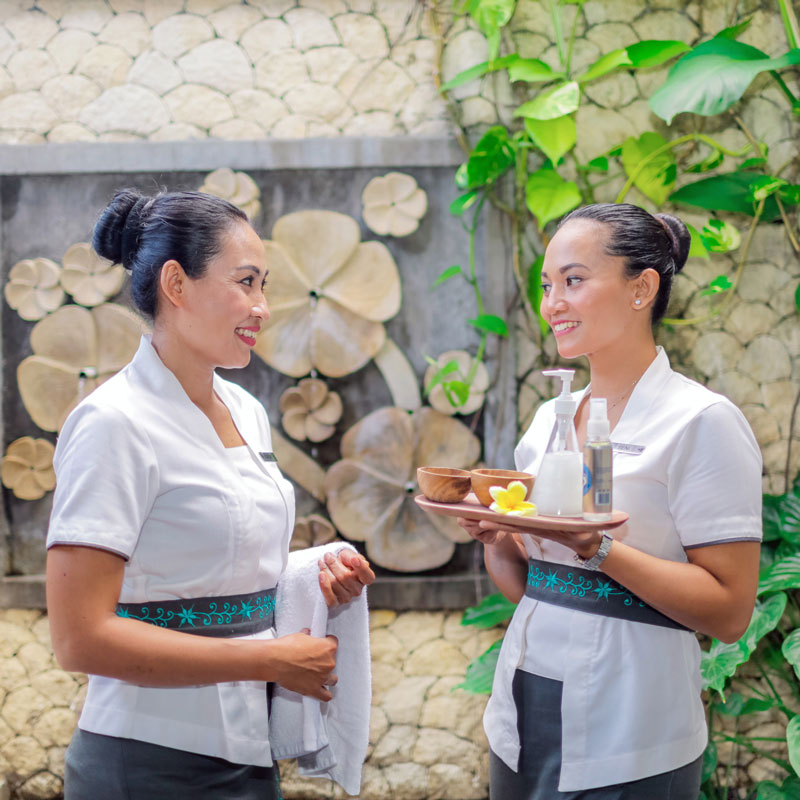 "selecting the ultimate treatments to suit your needs and requirements"
置身於私人花園涼亭的寧靜與安寧,大自然的美麗、精油的治療香氣、溫暖治癒的觸感和舒緩的音樂將讓您的感官沐浴在輕鬆的幸福狀態中。
PERFECT GLOW DAY
Azul wellness lunch,
Yoga class – 60 mins,
Aroma Fusion Signature Facial – 75 minutes,
Ancient Balinese massage – 60 mins
BLISSFUL GLOW DAY
Azul wellness lunch,
Ancient Balinese massage – 60 mins,
Traditional facial – 60 mins
GLOW WELLNESS
Yoga class – 60 mins,
Warm oil massage – 60 mins
GLOW-D STRESS
Ancient Balinese massage – 60 mins,
Azul wellness lunch
GLOW BALINESE PLEASURE
Floral Foot Bath – 15 mins,
Ancient Balinese massage – 60 mins
Traditional Balinese Scrub – 45 mins
(choice of coffee, Balinese lulur, coconut scrub)
GLOW TREVELER RETREAT
Floral Foot Bath – 15 mins,
Tropical Flower Aromatherapy Massage – 60 mins,
Traditional Balinese Scrub or Bath Ritual – 30 mins
(choice of coffee, Balinese lulur, coconut scrub)
Traditional Facial – 45 mins
GLOW LUXURY RETREAT
Floral Foot Bath – 15 mins,
Back, Neck & Shoulder Massage – 60 mins,
Pevonia Body Exfoliation and
De-aging Body Moisturiser – 45 mins
SPA BASIC
Health and wellbeing – 抵達後,懇請先完成健康評估。如果有任何與健康相關的問題或要求,或者懷孕、有任何過敏症和殘疾,請通知Spa中心接待員,以便安全舒適的享受療程。
When to Arrive – 建議在治療前15 分鐘到達。如果延遲或遲到,治療時間將受到限制,以示對下一位客人的禮貌。
What to wear – 穿得舒服。大多數治療是在不穿衣服的情況下享受的。隱私非常重要!Spa Center提供方便的一次性內衣、Sarong和拖鞋。
Valuables – 建議將所有個人貴重物品放在飯店房間的保險箱,對個人物品不承擔任何責任
Spa Etiquette – Spa中心是一個平靜祥和的空間,請輕聲說話並關閉手機。
Cancellation – 如需取消預約,請提前4小時通知,以免產生全額治療費。
Add : Jl. Padma No. 2, Legian – Bali – Indonesia
營業時間 : 09:00-21:00
Tel : 0361-751381
https://www.balimandira.com/spa-treatments/