<< Spa@Peppers Seminyak >>
Relax Your Body and Mind
當沉浸在峇里島Seminyak的美麗和寧靜時,想要放鬆和恢復活力自然而然產生。邀請您在 Peppers Seminyak的SPA中心享受前所未有的呵護,這是一個自然靈感的日間SPA和健康療養勝地。The SPA at Peppers Seminyak旨在創造精緻的感官體驗,同時增強健康和補充身體,量身定制每項護理和療法,滿足特定需求。
走出豪華別墅,進入令人放鬆的世界級SPA中心,享受自然療法和純粹的健康。Peppers Seminyak的SPA中心提供一系列促進癒合、平衡和美容的解毒和減壓療法,將幫助看起來和感覺最佳狀態。課程包括清潔和平衡、SPA護理、瑜伽、戶外散步、呼吸和冥想、烹飪課程和健康生活方式研討會。
還提供single light medical單光醫療、按摩或身體護理。
Welcome to Spa at Peppers Seminyak
SPA中心擁有一批受過專業訓練的峇里島理療師,力求超越肌膚深層的美麗。除了提供一流的面部和身體護理外,還可以找到治療師和結腸水療colonic hydrotherapy。
SPA中心只使用最優質的皮膚和身體護理,以確保從最小的護理到數小時的套餐,提供全面的奢華體驗。
General Spa Information
當到達SPA中心時,接待員將解釋安排的護理,並要求填寫SPA諮詢表。 請花時間徹底回答所有問題,如果有任何醫療狀況或疑慮,請告訴接待員。
提供一次性內衣、拖鞋和浴袍供使用。
懷孕客人特別注意事項 :
若希望避免使用深壓治療。 請在預訂護理時告知接待員狀況,以便協助選擇最合適的選項。
Spa Etiquette and Policy
提前到達
請盡量在預定的治療時間前至少10分鐘到達。遲到會縮短原預約的SPA時間,因為必須準時結束,以免延誤下一節的預約。
首飾
請確保沒有佩戴任何珠寶。
未成年人
SPA客人必須滿12歲。12歲以下的客人必須由成人陪同。
吸煙和飲酒
SPA中心禁止吸煙和飲酒。建議在治療前至少8小時不要飲酒。
尊重其他客人
SPA中心旨在營造寧靜和放鬆的氛圍。請關閉手機和電子設備,以尊重其他客人的和平與隱私。
取消政策
如果想取消或重新安排預訂,請至少在原預約時間前4小時通知SPA中心。如果沒有事先通知的情況下錯過了預約,SPA中心保留從賬單或信用卡中收取100%費用的權利。
Add : Jl. Pura Telaga Waja, Petitenget Seminyak, Kuta, Badung, Pulau Bali
Tel : 0361-733398
https://www.peppersseminyak.com/day-spa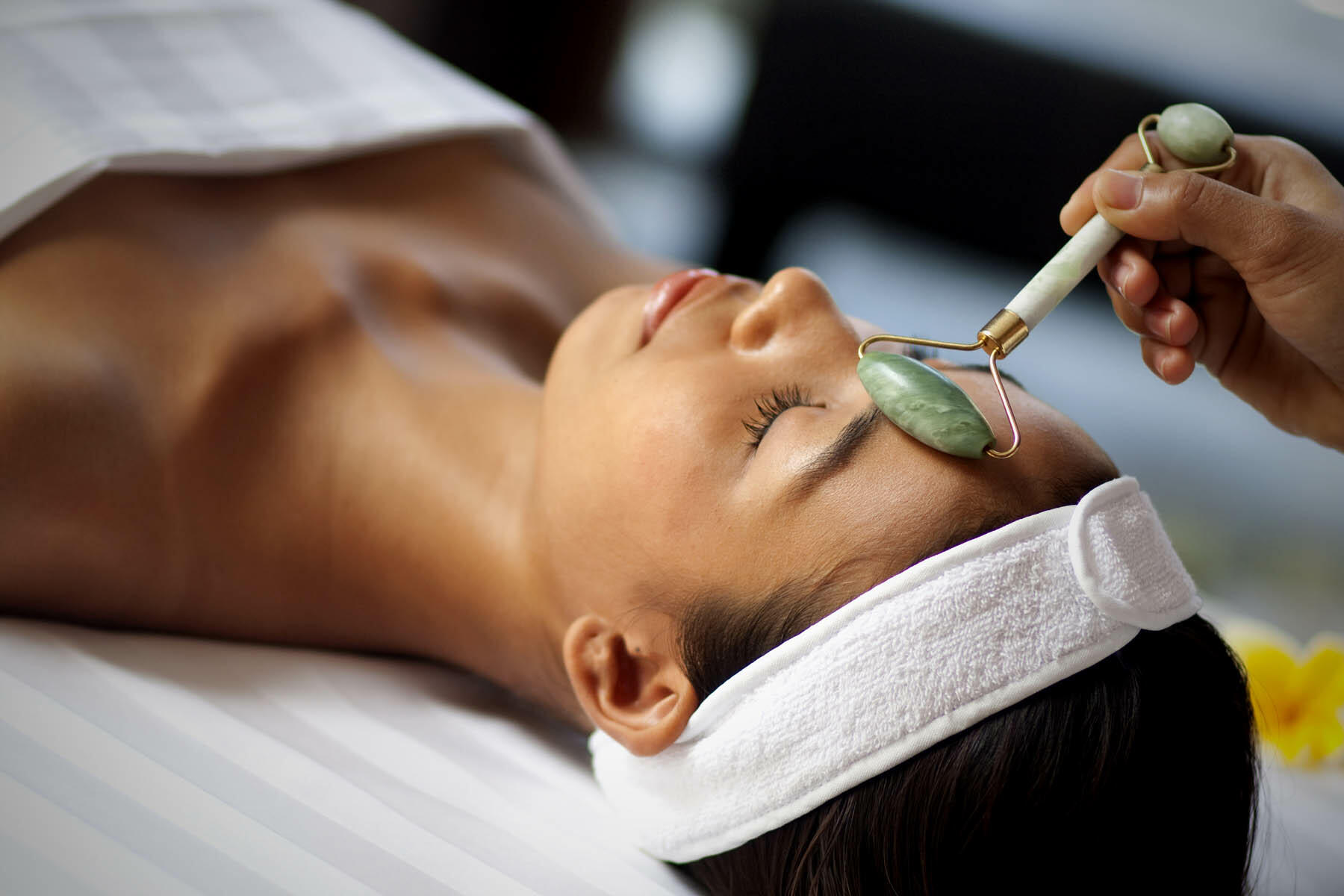 Spa Treatments
Signature Treatments
百年文化技術的和諧融合,最終在天堂島達到頂峰,為身體狀態帶來平衡。
Traditional Balinese Massage – 60 / 90 minutes
This traditional massage is an ever-present part of the island's spiritual and physical beauty and is relaxing and therapeutic, utilizing both thumb pressure and skin rolling.
Hot Stone Massage – 90 minutes
Shoot aways stress and dissolve muscular tension. Aims to ease muscle stiffness, increase circulation, metabolism, and promotes deeper muscle relaxing.
Tui Na Facial Massage – 60 minutes
with Cooing Jade Roller
Tui Na is Chinese medical massage technique using a gentle push and pull movements that incities the blood circulation in the head, face and ears. Your therapists will massage over 20 acupuncture points on the face. To complete this facial, discover the ancient cooling and therapeutic effects of the Jade roller. The rolling technique of the stone closes the pores while helping to move the lymph to reduce puffiness and wrinkling.
Simplicity Massages
有時,少即是多。 執行良好的按摩可能正是您所需要的。
Symmetry – 60 / 90 minutes
Combining soft and medium pressure and long sinuous strokes throughout the body, the Symmetry Massage is perfect to lull you into the mindset you need to fully enjoy your vacation. Using long stroke palm technique, this massage is a holistic approach to balance the body.
Detox – 60 / 90 minutes
Designed to release toxins and increase blood and oxygen circulation. This therapeutic detoxification massage boosts the immune system to restore the body's natural balance.
Sports – 60 / 90 minutes
Ideal for chronic stiffness and sorenessm our Sports Massage utilizes various deep tissue techniques and stretching. A perfect treatment to release specific areas of congestion, loosen muscle tissue, release toxins, and increase blood and oxygen circulation throughout the entire body. Loved by all our male guests.
Remedial – 45 / 60 minutes
Specialised Treatment for Upper back pain, Neck pain, Lower back pain. Perfomed by one of senior therapists, trained by an accredited trainer and soft tissue therapist from Australia.
Top To Toe
在放縱的世界中不容錯過。
Hair Treatment – 60 minutes
Quench thirsty, tired hair with a lush Hair Cream Treatment, followed by a stress releasing head massage. Available at the Spa, as well as wash and blow dry with regular styling.
Body Scrub – 30 minutes
Body scrubs are a therapeutic exfoliating treatment for the skin, leaving the entire body glowing and healthy. A selection of scrubs is available to suit your mood and skin type.
Foot Relaxation Massage – 60 / 90 minutes
Designed to relax and revive tired legs and relieve swelling, fantastic after a long flight!
Foot Reflexology – 60 / 90 minutes
Heaven for tired legs and feet. Reflexology is based on the theory that the feet are reflections of the entire body. It will focus on specific points to stimulate and improve blood circulation and promote a healthy, balanced body.
Elemis
全球最暢銷的SPA產品之一。Elemis 的誕生源於將自然、科學和芳香劑的力量結合在一起的願景。Elemis每年有650萬客戶,作為美容行業的先驅25年,皮膚、身體和健康是Elemis的核心。
Elemis – Physique
照顧身體不僅僅是飲食和排毒。奢華的身體護理儀式可以改變對皮膚和自己的感受。用一系列美妙的芳香和質地定制日常。
Elemis Nourish Wrap – Frangipani
Monoi油的天鵝絨般的質地提供超級水合作用,解渴的皮膚。 情緒平衡芳香劑和皮膚調理油在保持溫暖的同時發揮作用。
Elemis Intensely Cleansing Salt Scrub – Lime & Ginger
用芳香的鹽去除死皮細胞,留下光滑而靈敏的畫布,以吸收深層滋養的身體油。
Ultimate Indulgence
通過這些最受歡迎的護理組合,充分享受SPA療程。
Clarity – 90 minutes
Body massage, body scrub
Sometimes we only need a little bit of help on achieving relaxation. Our balance package combines the benefits of a body exfoliation along with the hydrating and relaxing benefits of a body massage.
Renew – 90 minutes
Body massage, Elemis tester facial
Bringing out your most radiant self by combining the traditions of the massage and the finest European skincare.
Symmetry for Two – 180 minutes
Symmetry body massage, body exfoliation, herbal bath, facial with cooling jade roller
Beginning with a footbath, the experience continues with a detoxifying and invigorating body exfoliation with a sea salt scrub followed by a herbal bath (choice of clove, star anise, cinnamon or peppermint) to prepare for a natural cleansing using a cooling jade roller to seal the pores.
Finding Balance – 120 minutes
Body scrub, body massage, herbal bath
After readying your body to absorb the nourishing benefits of therapeutic oils with a full body exfoliation and massage, a herbal bath helps to relax your tense muscles.
Frangipani Bliss – 120 minutes
Elemis Exotic Frangipani Monoi Oil, Elemis Lime and Ginger Salt Glow, mini facial, 60 minutes body massage.
Warm oils drizzled on the skin to awaken your senses with the subtlest of touches, followed with a luxurious body exfoliation, while a therapeutic scalp massage and a mini facial helps rid your worries away.
Ultimate Indulgence
通過這些最受歡迎的護理組合,充分享受SPA療程。
Chocolate Fondue – 135 minutes
Balinese body massage, body scrub, milk chocolate body mask, warm chocolate bath, chocolate body lotion.
If only your skin could taste! This decadent package is recommended even for those on the strictest of diet.
The Absolute Treat – 270 minutes
Symmetry massage, body exfoliation, mineral rich orange and body mask, bath, cleansing natural facial with cooling jade roller, express manicure and pedicure, spa cuisine.
This is an opportunity to spend a day discovering tranquility.
After Sun Delight – 120 minutes
Body massage with lavender oil, cooling body mask, mini facial.
Rehydrate the skin with moisture rich lavender oil, followed with a cooling body mask. While you are cocooned, our professional therapists conducts a mini facial. A true oasis for those who worship the sun. *not recommend for acute sunburn.
Create your own package!
結合不同的治療方法,打造適合您需求的完美SPA體驗。
從各種療程中選擇任何治療!
Off with The Hair!
Waxing
Upper Lip
Under Arm
Arm
Half Leg
Full Leg
G String
Bikini
Brazillian
Manicure & Pedicure
Manicure
Pedicure
French Manicure
Express Manicure or Pedicure
Polish Change
Combined Manicure and Pedicure
Shellac Manicure or Pedicure
Shellac Manicure & Pedicure
Shellac Nail Polish or Polish Remover
Shellac Polish Remover + adding new Shellac Polish
For The Little Ones
從小就健康的生活方式會給所愛的人帶來終生的好處。 這些治療專為12歲及以下的兒童設計。
Mini Me Massage – 45 minutes
A relaxing and therapeutic full body massage with our all natural oils.
Mum and Me – 60 minutes
A combination of back massage, natural mini facial and express manicure.
Twinkle Toes and Fancy Fingers – 60 minutes
Children Manicure and Pedicure. Treatment includes a soak, citrus scrub, cuticle trimming, gentle foot and hand massage and a choice of nail polish.