<< The Spa@The Samaya Ubud >>
Discover Inner Peace…
花點時間犒勞自己,在The Samaya Ubud的SPA中心享受從頭到腳的呵護。The Samaya Ubud的SPA中心設有五間理療室,包括一間位於河邊的情侶間,為SPA愛好者提供徹底的放鬆體驗。從傳統的峇里島按摩、指壓按摩、芳香熱石療法、反射療法到使用屢獲殊榮的產品Pevonia Botanica的面部療法,可以選擇來自世界各地的SPA護理。 還提供多種Ayurvedic療法和SPA套餐供您選擇。
在SPA池邊放鬆身心,一邊享用一杯溫熱的薑茶,一邊觀看世界的流逝,或者在我們的健身中心保持體形。
在我們的SPA中心度過完美的天堂…
來自世界各地、亞洲和峇里島的儀式……來自我們的島嶼,來自我們的內心。 逃離時間的限制,沉浸在最美麗的環境中,盡情享受並獲得徹底的放鬆。
Add : Banjar Baung, Desa Sayan – Ubud Bali Indonesia
Tel : 0361-973606
https://thesamayabali.com/ubud/spa/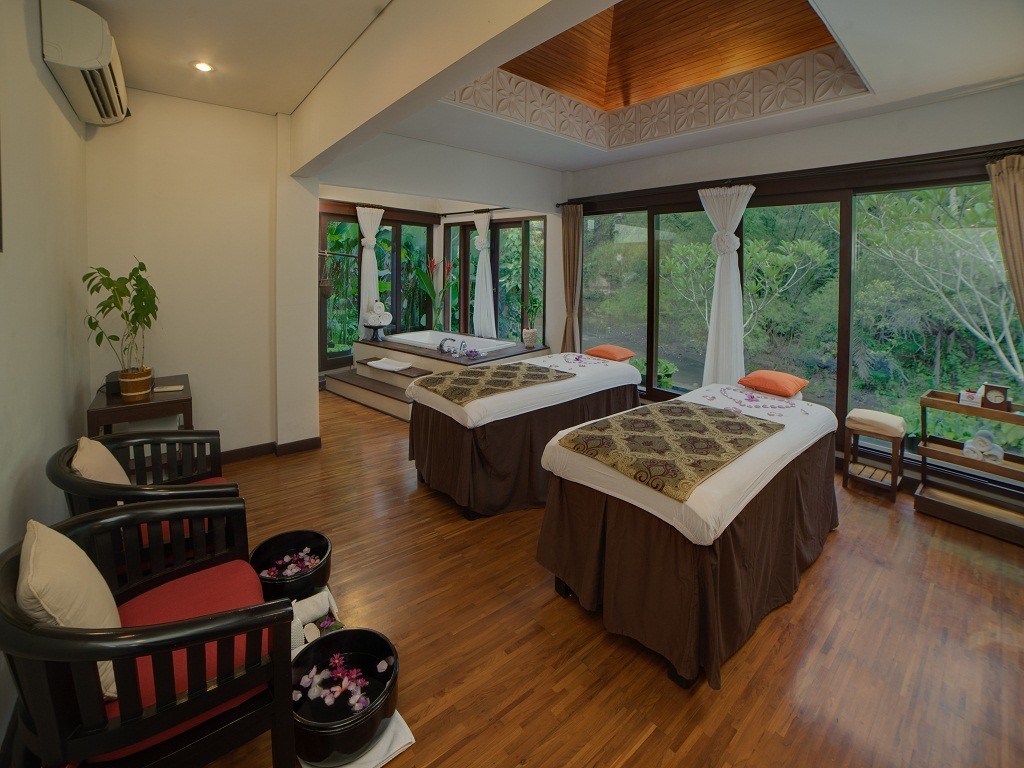 Treatments –
Spa Menu : https://thesamayabali.com/lumonata-plugins/custom-post/pdf/the-samaya-spa-treatment-menu-1543891695.pdf
Balinese Journey of Joy – Couples rituals (2hours)
This ritual begins with Samaya foot ritual to enhance your foot wash Aroma warm oil massage with petal roses Green Tea body scrub to leaves your skin soft and silky Green Tea body mask which promotes and re-generation your skin
White roses Milk bath while enjoyed tea ceremony Samaya body lotion to moisture your skin.
Balinese Eternal Bliss – Rituals/Samaya Perfect Day (2hours 30minute)
This ritual begins with Samaya foot ritual to enhance your foot wash Aroma warm oil massage with petal roses Choice of Royal Javanese Lulur or Balinese Boreh hot spicy body mask Tea ceremony while enjoyed Jacuzzi with aroma of milk bath Fresh Traditional facial Single 1300 Samaya body lotion to moisture your skin.
Balinese Energizing – Rituals (3hours)
This ritual begins with Samaya foot ritual to enhance your foot wash Aroma hot stone massage Scalp massage with traditional coconut jasmine oil Balinese Boreh hot spicy body mask Warm herbal in slice of lemongrass bath completely relax your mind Fresh traditional facial Samaya body lotion to moisture your skin.
Couples in Romance package / Rama and Shita packages – (4hours)
Samaya foot ritual to enhance your foot wash Strawberry or chocolate body scrub Decleor aromatic relax massage
Milk Jacuzzi with tea ceremony Samaya body lotion Decleor Facial Spa Manicure or Spa Pedicure.
Rituals of Touch –
遠不止按摩……更像是一種尋求徹底放鬆的放縱儀式。
Balinese Massages – 60/90minutes
Used for centuries to renew, strengthen and heal the body, this traditional Balinese therapy combines stretching, long strokes, skin rolling, and palm and thumb pressure techniques commonly used in village massage. A flowing and graceful massage to relieve tension, improve blood flow and ease stress.
Samaya Four Hand Massage – 60/90minutes
Two therapists, one massage! This treatment is like no other! Four hands working together in perfect harmony using a unique blend of five different massage styles – Japanese Shiatsu, Thai, Hawaiian Lomi Lomi, Swedish and Balinese. A sublime experience!
Decleor Massage – 60/90minutes
A classic European massage technique of manipulating muscles with the use of Decleor's own aromatic RELAX
massage balm harnessing the powers of 100% essential oils. Using sandalwood, lavender and myrrh to ease tension
and relax! This full body massage flows with rhythmic grace and is both powerful and gentle, relaxing and invigorating, and inspiring and soothing. As well as being tonic for the soul, it can help to improve functioning of the circulatory, lymphatic, muscular and nervous systems.
Aroma Hot Stone Therapy – 60/90minutes
A treatment not to be missed! This therapeutic and relaxing treatment is designed to relieve stiffness and soreness, and restore energy and balance. Smooth, warmed river rocks glide across your body in long, flowing strokes. The heat helps to relax the muscles, and has a soothing and comforting effect on your emotions. Simultaneously, other rocks are placed on the body, the heat penetrating deep within the muscles to melt away tension and restore balance.
Shiatsu Massage – 60/90minutes
Massage derived from ancient Japan – this non oil massage is excellent for relieving stress and sore muscles! Using
finger, thumb and elbow pressure, this massage alleviates muscle fatigue and tension!
Samaya Back & Neck Massage – 60minutes
Many people store their stress along their shoulders and upper back! This restorative therapy focuses on your back
area, neck and shoulders to relieve this stress and tension! Incredible!
Scalp Massage – 45minutes
Hydrate and nourish your hair and scalp with coconut oil and extract of jasmine in warm oil.Designed to relax the
mind,reduction in stress,headaches and boost in blood flow stimulation. Just amazing!
Reflexology – 60minutes
An ancient healing therapy that is as blissful as it is beneficial. Reflexology works on the principle that all body organs are connected to reflex points in the feet's, via constantly flowing energy channels. Massage of the feet's reflex points can restore the natural flow of body energy, and so improve the body's health functioning.
Aroma Warm Oil Massage – 60/90minutes
A luxurious massage using bunches of fresh tropical flower petals and the most exquisite imported essential oils! This treatment is a one of a kind and delivers all that it promises! Try it! It is not to be missed! Built up stress is gently soothed away and muscle fatigue alleviated!
Melting Moments –
通過來自印度的Ayurvedic療法,深入研究以消除緊張情緒並為深度放鬆鋪平道路。
Shirodhara – 60minutes
This Indian Ayurvedic oil flow treatment focuses on the third eye area to clear the mind and promote deep relaxation, acting as a gateway to total rejuvenation and relaxation for the entire body. Begin with deeply relaxing Ayurvedic stretching, followed by the Dhara oil flow therapy. For twenty minutes, a gentle stream of warm, aromatic oil is poured onto the third eye chakra of the forehead. An uplifting and inspiring way to relax and rejuvenate.
Abhyanga – 60minutes
A rhythmic oil massage with warm herbal oils. Impurties and toxins are released from the body. Circulation is stimulated with a deep calming experience for the body, mind and spirit.
Best of Ayurveda – 90minutes
An hour of rhythmic oil massage using warm herbal oils followed with 30 minutes of shirodhara oil flow for deep relaxation of body, mind and spirit.
Thai Holistic Retreat –
Herbal Compress Sensation – 90minutes
Warm combination of oil-free massage and traditional herbs compress to stimulate blood circulation, fatigue recovery improve immune system, relaxing emotion and mind.
Hand & Foot Care –
聆聽水聲,讓您的手和腳放鬆和滋養的靜修,您的心和靈魂將帶領您進入雲九……
Tropical Spa Manicure
Joy for your nails- using…
Creative Nails & OPI Products from the USA.
Tropical Spa Pedicure
A pampering foot treatment to soften your feet and mellow…
Your mood using Creative Nails Products & OPI & Revlon