<< Spa@The Samaya Seminyak >>
Perfect Day in Paradise…
來自世界各地、亞洲和峇里島的儀式……來自我們的島嶼和我們的內心。逃離時間的限制,沉浸在自己的世界中,盡情享受。
逃離到The Samaya SPA中心的輕鬆環境,在屢獲殊榮的SPA中心享受從頭到腳的呵護護理。
The Samaya的SPA中心設有四間情侶護理室,以印度洋為背景,讓您重新找回內心的平靜。 在按摩浴缸中享受清爽的沐浴,同時凝視地平線上的日落,或者在兩個海濱SPA套房享受舒緩的大海交響樂的同時放鬆身心。
How to Spa –
Should I make a reservation for my treatments?
是的,以便能夠配合您的行程安排。要進行預訂,請致電或前往SPA中心。
What if I need to cancel my reservation?
如果需要取消,請至少提前2小時與我們聯繫。未提前2小時通知取消的預訂將收取全額費用。
When should i arrive?
建議在預約時間前15分鐘到達。
Add : Jl. Laksmana, Seminyak Beach Bali, Indonesia
Tel : 0361-731149
營業時間 : 09:00-21:00
https://thesamayabali.com/seminyak/spa/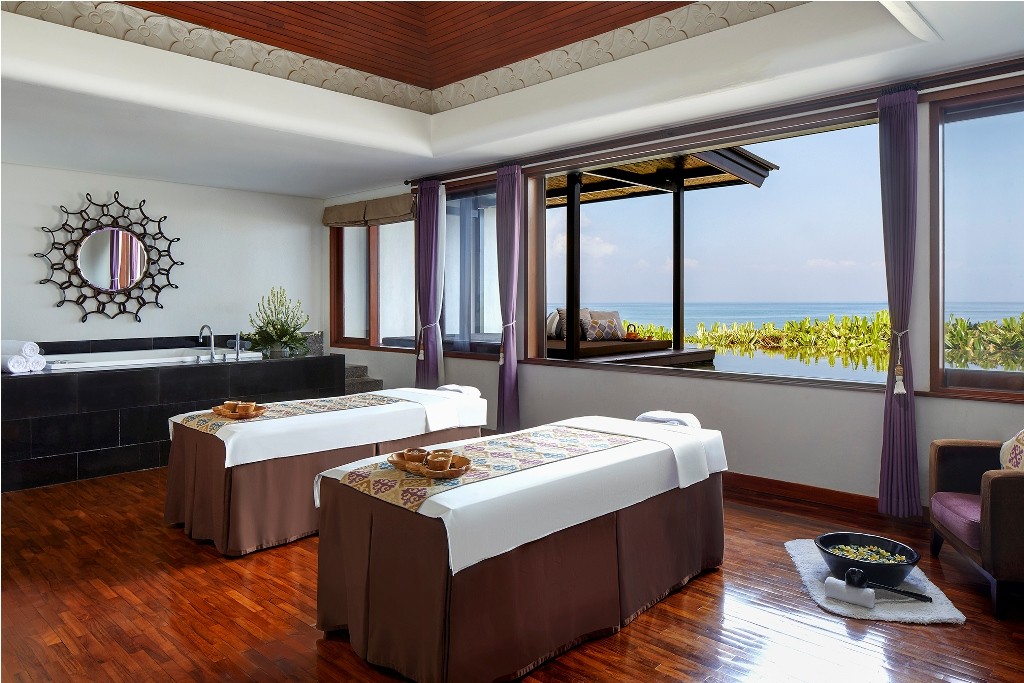 Treatments
Spa Menu : https://thesamayabali.com/lumonata-plugins/custom-post/pdf/new-spa-brocure-2018-1538990077.pdf
Balinese Eternal Bliss –
COUPLES PACKAGE – 2.5 hrs
Aromatic sea salt delight foot wash
Warm oil tropical flower massage
Choice of Royal Javanese Lulur or Balinese Coffee Body Scrub
Milk bath with tea ceremony
Frangipani and Jasmine body lotion
Traditional facial
INDULGENT RETREAT – 90 min
Aromatic sea salt delight foot wash
Abhyanga body massage
Choice of 30 mins foot massage, body scrub or body polish
Get a beautiful spa gift
SAMAYA DELIGHT – 2 hrs
Aromatic sea salt delight foot wash
Exfoliation coconut & vanilla body scrub
Traditional balinese massahe
Nourish grape fruit body mask
Frangipani and jasmine body lotion
TWO'S COMPANY HONEYMOON TREAT – 4hrs
Aromatic sea salt delight foot wash
Traditional balinese massage
Choice of traditional balinese body scrub
Lavender milk bath with tea ceremony
Essence pure essential facial on cocoon face treatment
Choice of tropical spa manicure or pedicure
Beauty Salon Treatment –
HAIR TREATMENT
Hair Spa
Ladies Hair Cut
Men's Hair Cut
Shampoo and blow dry (short / long)
WAXING
Back
Full / Half Leg
Bikini
Upper Lip
Full / Half Arm
Under Arm
HAND & FOOT CARE
Take your hands and feet on a relaxing and nourishing retreat by the sea, and your heart and soul will lead you to cloud nine Joy for your nail-using
Creative Nails & OPI Products from USA
DELUXE NAIL GEL POLISH
Melting Moments –
通過來自印度的Ayurvedic阿育吠陀療法,深入研究以消除緊張情緒並為深度放鬆鋪平道路。
SHIRODHARA – 60 mins
This indian ayurvedic oil flow treatment focuses on the third eye area to clear the mind and promote deep relaxation, acting as a getaway to total rejuvenation and relaxation for the entire body. Begin with deeply relaxing Ayurvedic stretching, followed by the Dhara oil flow therapy. For twenty minutes, a gentle stream of warm, aromatic oil is poured onto the third eye chakra of the forehead. An uplifting and inspiring way to relax and rejuvenate.
ABHYANGA – 60 mins
A rhythmic oil massage with warm herbal oils. Impurties and toxins are released from the body. Circulation is stimulated with a deep calming experience for the body, mind and spirit.
BEST OF AYURVEDA – 90 mins
An hour of rhythmic oil massage using warm herbal oils followed with 30 minutes of shirodhara oil flow for deep relaxation of body, mind and spirit.
Rituals of Touch –
不僅僅是按摩……更像是一種放縱的儀式……
TRADITIONAL BALINESE MASSAGE – 60 / 90 mins
Used for centuries to renew, strengthen and heal the body, this traditional balinese therapy combines stretching, long strokes, skin rolling, and palm and thumb pressure techniques commonly used in village massage. A flowing and graceful massage to relieve tension, improve blood flow and ease stress.
SAMAYA MASSAGE – 60 / 90 mins
Two therapists, one massage! This treatment is like no other! Four hands working together in perfect harmony using a unique blend of five different massage styles – Japanese Shiatsu, Thai, Hawaiian Lomi Lomi, Swedish and Balinese. A sublime experience!
AROMA HOT STONE THERAPY – 60 / 90 mins
A treatment not to be missed! This therapeutic and relaxing treatment is designed to relieve muscle stiffness and soreness, and restore energy and balance. Smooth, warmed river rocks glide across your body in long, flowing strokes.
The heat helps to relax the muscles, and has a soothing and comforting effect on your emotions. Simultaneously, other rocks are placed on the body, the heat penetrating deep within the muscles to melt away tension and restore balance.
INDIAN HEAD MASSAGE – 60 mins
Many people store their stress along their shoulders and upper back! This restorative therapy focises on your head, neck and shoulders to relieve this stress and tension! Incredible!
REFLEXOLOGY – 60 mins
An ancient healing therapy that is as blissful as it is beneficial. Reflexology works on the principle that all body organs are connected to reflex points in the feet's via constantly flowing energy channels. Massage of the reflex points in the feet can restore the natural flow of body energy, and so improve the body's healthy function.
WARM OIL MASSAGE – 60 / 90 mins
A luxurious massage using the most exquisite imported essential oils! This treatment is one of a kind and delivers all that it promises! Try it! It is not to be missed, Built up stress are gently soothed away and muscle fatigue alleviated.
CHILD MASSAGE – 30 / 60 mins
Revitalizing massage for toddlers help to relive tiredness and tension for little active person.
Thai Holistic Retreat –
THAI HERBAL COMPRESS SENSATION – 90 mins
Warm combination of oil-free massage and traditional herbs compress to stimulate blodd circulation, fatigue recovery, improve immune system, relaxing emotion and mind.
ROYAL THAI MASSAGE THERAPY – 90 mins
An unique form ancient massage of body therapy that incorporates Hatha Yoga and Acupressure to stretch the muscles and open the joints. This safe holistic treatment harmonizes the body, increases energy, relieves stress and promotes a peaceful mind.