<< Nest Boutique Spa – Sanur 09:00-19:00 >>
The Best Spa in The Heart of Sanur
Nest Boutique SPA中心致力於讓您的身心健康,放鬆身心,技術嫻熟的專業理療師在這個完美的環境下,幫助讓您的思想、身體和靈魂煥然一新。
Welcome to The Nest Boutique Spa in Sanur, Bali…
The Nest Boutique Spa於2017年12月開業,位於熱門旅遊勝地Sanur中心地帶的主街上。 Nest Boutique Spa致力於提供健康、保健和放鬆,擁有一支技術精湛的專業團隊,幫助營造一個完美的環境,讓您的身心煥然一新。護理和服務經過精心挑选和準備,包括按摩、身體磨砂和裹敷、面部護理和指甲護理等。為了在最有利的環境中獲得完美的SPA體驗,The Nest Boutique Spa提供專屬的SPA驗,以最真實的方式提供完全放鬆、恢復活力和平靜的感覺。
提供的服務經過精心挑选和準備,包括按摩、身體磨砂和裹敷、面部護理和指甲護理等等。每位客人都會收到一條冷卻毛巾和迎賓飲品。治療之後,一勺我們自己準備的酸橙和薄荷冰沙將感官增添一些額外的"活力",並在返回峇里島的溫暖之前幫助提供內部降溫。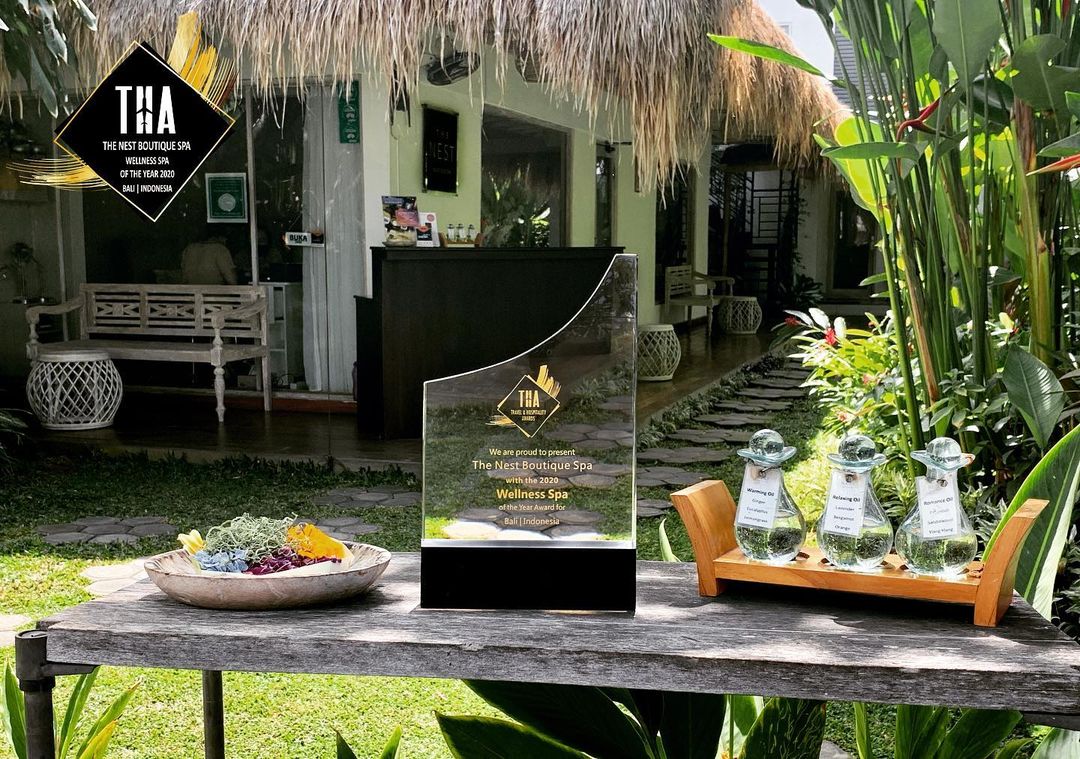 為了在最有利的環境中獲得完美的SPA體驗,The Nest Boutique SPA中心提供獨一無二的SPA體驗,以最真實的方式提供完全放鬆、恢復活力和平靜的感覺。
也歡迎"小公主",並鼓勵帶他們一起享受特別設計的兒童菜單中的待遇。 當然,確實要求您和他們體諒其他接受治療的客人,因為他們來這裡也是為了享受和放鬆。 兒童需要隨時看管。
Reservations
The Nest Boutique SPA的專業SPA治療師只需一兩個小時即可幫助您喚醒精神,讓身心完美協調。
強烈建議提前預訂治療,以確保您喜歡的日期和時間。
請在預約時間前至少10分鐘到達辦理手續並準備好接受應得的治療。
Add : Jl. Danau Tamblingan No.31, Sanur, Denpasar Selatan, Bali 80228
Tel : 0361-4491199
營業時間 : 09:00-19:00
https://www.thenestboutiquespa.com/
Spa Menus
The Nest Boutique SPA中心只使用最好的原創產品作為精選的護理產品的一部分。 美甲/修腳指甲護理和指甲增強產品從一些世界領先品牌國際採購 – OPI、CND Shellac、CND Creative Play、Gelish Harmony、Odyssey Nail System、SNS、IBD 和 Seche。
面部磨砂膏、清潔劑和乳液均來自 Clarins 和 Biokos,去毛來自 CaronLab,睫毛和眉毛著色來自 Rectocil。
對於按摩、身體裹敷、磨砂和頭髮護理,使用自己內部開發的100%天然 The Nest Spas Bali產品 – 採用從峇里島可持續資源採購的成分生產。
Menicure and Pedicure
我們的指甲油不含甲醛、甲苯和 DBP。 只使用 OPI、CND Shellac、CND Creative Play、Gelish Harmony、LeChat for Dare to Wear、The Perfect Match 和 Seche 的進口正品美甲產品。
Express Manicure (45 minutes)
This manicure will keep your hands and nails looking fabulous. Enjoy cuticle therapy and nail file before the finishing touch, a fresh polish application in your favourite colour.
Express Pedicure (45 minutes)
This pedicure includes callouses being removed, nail filing and shaping and finishing with a polish application in your favourite colour.
Pretty Hands (70 minutes)
Indulge yourself in this lavish, premium hand treatment which includes cuticle therapy, a relaxing hand massage for circulation and parafin dip that leaves your hands irresistibly soft and smooth. The final touch is an expert polish application with the colour of your choice.
Happy Feet (70 minutes)
Our premium, results oriented pedicure treatment includes a smoothing exfoliation, callouses removed and a stimulating foot massage. This is followed by a cooling mint foot mask to soften, moisturise and freshen, then finished with an expert polish application with the colour of your choice.
Gel Polish Manicure or Gel Polish Pedicure (60 minutes)
An express manicure or pedicure including the application of quick-drying, chip-free, long lasting Shellac or The Perfect Match gel polish – providing a high gloss shine for 2 – 4 weeks.
Dipping Powder Manicure (75 minutes)
Nail Enhancements (Approx. 2 hours)
​最新的凝膠gel和丙烯酸acrylic技術,可打造華麗、纖薄、自然且易於去除的美甲。 處理包括擴展以及您選擇的顏色的蟲膠拋光shellac polish應用。
Gel / Liquid & Powder Extensions – Full Set
Gel / Liquid & Powder Extensions – Overlay
Gel / Liquid & Powder Extensions – Re-fill
Nail Extension Removal (30 minutes)
3D Nail Art (per piece)
The Nest Essentials
Add-on for French Polish (15 minutes)
Add-on for Gel Polish (15 minutes)
File & Polish Refresh (30 minutes)
File & Polish Gel Refresh (45 minutes)
Gel Polish Removal (15 minutes)*
*Free of charge if Gel has been done at our Spa.
Painted Nail Art (20 minutes / full set)
Rhine Stone (for two)
Hot Oil Treatment (10 minutes)
Children Manicure / Pedicure (12 years and under)
Kiddie Manicure (30 minutes)
Kiddie Pedicure (30 minutes)
Add Nail Art (full set)
Massages
按摩提供了許多增強健康的好處,而且比"me-time我的時間"更放鬆。可以幫助降低血壓,增加血液循環和淋巴流動,放鬆肌肉,增強免疫系統,改善皮膚狀況和減輕壓力。 在治療師的專業指導下,感受緊張感消失。
Balinese Massage with Sand Compress (60 or 90 minutes)
Incorporating an oil blend massage and heated sand compress, this unique treatment combines traditional Balinese massage techniques to relieve muscle tension, stiffness, pain and fatigue. Designed to stimulate the blood circulation while increasing energy levels, the warm sand promotes flexibility and deep relaxation.
Deep Tissue Massage (60 or 90 minutes)
This powerful healing and energizing massage uses pressure point, kneading and friction techniques to release deep muscle tension, stimulating the body's systems and re-balance the natural life-force.
The Nest Signature Massage (90 minutes)
A fusion of Balinese and Thai massage techniques in purposeful designed movements. Experience pressure point, stretching techniques and followed with a deep yet relaxing massage movement to stimulate the circulation and relax the muscles. Let our expert Therapist do all the work while you enjoy the benefits.
Serenity Candle Massage (90 minutes)
A full body massage with medium pressure designed to nourish and rehydrate the skin. A special candle is burned to release shea butter and almond oil which is then gently poured and massaged onto the body. This is excellent for the reduction of stretch marks, especially after pregnancy, improves skin elasticity and restores sun-damaged skin through the regeneration of skin cells.
Warm Stone Massage (90 minutes)
A luxurious healing stone massage therapy melts away tension, eases muscle stiffness, increasing blood circulation and your metabolism. This treatment promotes deeper muscle relaxation by the placement of warm stones on the body.
Therapeutic Massage (75 or 105 minutes)
Is there any specific area on your body where you feel the most pain? Maybe just your back or your legs? This massage is designed to focus on the specific problem area you are experiencing. The time spent on this specific problem area can take up most of your massage session.
Lymphatic Drainage Massage (60 minutes)
The lymphatic system is a vital bodily defense against infection and disease. This is a gentle massage which is designed to encourage the natural drainage of the lymph, carrying waste products away from the tissues back toward the heart. Lymphatic drainage massage is one of the best things you can do to help your body help itself.
Foot Reflexology (30 minutes)
This foot therapy focuses on the feet to positively affect the whole body. Reflexology works on precise points on the feet that are believed to 'reflex' to other parts of the body. Stimulating these points can increase overall circulation and restore the natural healthy balance to your body.
Foot Reflexology With Peppermint Foot Mask (60 minutes)
Added to the above, a tingly but soothing Peppermint Foot mask that will leave you fresh footed and ready to take on the world.
Back Therapy (30 minutes)
Thirty minutes of melting moments focused on your back to release knots and tension. Warm oil and long deep strokes work to iron out the most stubborn kinks.
Massage Enhancement – Add to Your Massage
Coconut Body Scrub (30 minutes)
Sea Salt Glow Body Polish (30 minutes)
Facials
通過定制面部護理,讓肌膚保持最佳狀態。 SPA面部護理提供卓越的體驗,帶來非凡的效果。 每次面部護理都伴隨著令人放鬆的頭部和手部按摩以及舒適的加熱墊。
Intraceuticals Oxygen incl. Microdermabrasion (90 mins)
This 'celebrity' Oxygen Facial is a truly unique experience. Treatments provide instant results with fine lines and blemishes appearing visibly reduced. Your skin looks rejeuvenated, radiant and fresh – what more could you ask for? Known as the secret anti-aging skincare treatment used by Hollywood's finest, Intraceuticals Oxygen is the best oxygen facial you can get.
Athena Microdermabrasion (45 minutes)
Our microdermabrasion facial by Athena is a non-surgical, non-chemical and non-invasive method of skin resurfacing. By removing the outer layers of the skin, collagen production is stimulated along with cellular renewal to improve skin tone and reduce wrinkles. Whilst immediate results are noticeable – clear, positive improvement in the appearance of the skin is even more evident by the third or fourth treatment.
Lift & Firm Facial by Clarins (90 minutes)
An advanced facial to improve skin tonicity, firmness and enhance cellular regeneration. This facial uses specialised facial massage lifting techniques to help combat the signs of ageing, stimulate collagen production and deliver intensive results – the benefits of which can be seen immediately. This facial starts with a relaxing back massage.
Pro-Collagen Facial by Clarins (90 minutes)
This exceptional anti-wrinkle facial produces phenomenal results. With just one treatment, this facial significantly reduces the appearance of wrinkles and improves skin firmness. Complimented with a soothing back massage, this treatments leaves you relaxed and with a firmer, uplifted and more youthful looking appearance.
After Sun Facial by Clarins (60 minutes)
An intense after sun skin saver. The skin is immediately and intensively soothed, calmed and repaired to restore softness, comfort and radiance. Accompanied with a cooling, healing hand massage.
Men's Facial by Clarins (60 minutes)
Shaving bumps and irritation, stress and tiredness, greyness and congestion. Whatever life has hit your skin with, this super-relaxing bespoke facial will target and treat it. Your face will look and feel refreshed, healthy and smooth.
Refreshing Facial by Biokos (60 minutes)
Fall in love with your skin again as this facial will refresh your natural beauty back to full bloom. Relax with calming and tranquil aromatherapy and let our signature skincare's rich antioxidant blend of botannicals revive your skin's lustrous glow.
Spa Packages
Balinese Boreh Body Wrap (90 minutes)
Experience an authentic, century old Balinese Boreh energising treatment that is still used today as a health remedy. A traditional warm spice exfoliation and wrap helps to relieve tension, aches and increase blood circulation. While cocooned in the wrap, enjoy a scalp massage followed by a relaxing massage.
Seaweed Body Wrap (120 minutes)
A Sea Salt body exfoliation enhances the penetration of seaweed minerals and follows with a Seaweed Body Mask to help detoxify, re-mineralize and eliminate water retention. After the Seaweed Mask, the body is wrapped in a thermal blanket and the treatment is completed with dry body brushing and a Lymphatic Drainage Massage.
Pre-Sun Body Scrub & Hydrator (90 minutes)
Prepare your skin for the sun and optimise your tanning with this light Body Wash and Rice Milk exfoliation. This follows with a Coconut Milk Body Mask whilst being treated to a mini Facial that includes a natural and fresh Cucumber Face Mask. This extensive treatment concludes after a rain shower with the application of a luxurious and hydrating Coconut Body Lotion leaving your skin moisturised and soft.
After Sun Cooling Body Wrap (60 minutes)
This soothing body treatment is ideal for sun exposed skin. A light refreshing Lavender Oil gel is applied to promote the healing of the skin and give it a more youthful and healthy appearance.
Island Indulgence (2 hours 30 minutes)
Immerse yourself in the spirit of the island with this three treatment delight. First enjoy an invigorating body exfoliation with a Coconut Body Scrub, then a 60 minute Balinese massage and finish looking fresh faced with a 60 minute Refreshing Facial.
Beauty Express (2 hours)
Enjoy 60 minutes of Refreshing Facial along with our Express Manicure and Express Pedicure. In just two hours – present a new you to the world.
Delight Me (1 hour 15 minutes)
Two Therapists will treat you with this combination of Macadamia Hair Cream Mask and Foot Reflexology together. A full 60 minutes hair treatment will get the sun, sea and sand out of your hair, bringing back its natural condition and shine. And for your feet, 60 minutes of Reflexology with a Mint Foot Mask to get the blood flowing so you'll be dancing on the tips of your toes, feeling fresh footed and fancy free.
Lost in Paradise (4+ hours) – (24 hours Pre-Booking Required)
A truly unique Spa experience of indulgent proportions. Be pampered from head to toe with our all encompassing treatment package that includes 60 minutes of Balinese Massage, a 60 minute Refreshing Facial, Express Manicure and Express Pedicure and finishing with a luxurious Hair Cream Bath. To enhance the experience and keep you nourished throughout, enjoy a selection of fresh, home made Sushi rolls, a glass of white wine and close out with our much talked about Lemon, Lime & Mint sorbet!
Hair Removal
執行快速、專業且幾乎無痛的男性和女性脫毛治療。使用澳洲領先的沙龍蠟製造商和供應商 – CaronLab Australia – 敏感肌膚的理想之選,不會弄髒!
Hard Wax
Eyebrow (15 minutes)
Upper Lip (5 minutes)
Nose (5 minutes)
Chin (5 minutes)
Underarm (15 minutes)
Bikini Line X (20 minutes)
G-String XX (30 minutes)
Brazillian XXX (30 – 45 minutes)
Strip Wax
Half Arm (20 minutes)
Full Arm (20 minutes)
Half Leg (20 minutes)
Three Quarter Leg (30 minutes)
Full Leg (45 – 60 minutes)
Back (25 minutes)
Shoulders (20 minutes)
Back & Shoulders (30 minutes)
Chest (25 minutes)
Stomach (15 minutes)
Chest & Stomach (30 minutes)
​Face and Brow Threading treatments now available – please enquire by phone or email or directly at the spa.
Eyelashes & Brows
Silk Eyelash Extensions!
每隻眼睛再添加20到25根睫毛。 由 100% 天然絲纖維製成,嫁接到您自己的睫毛上,持續約 2 – 3 週!
Russian Volume Full Set (90 to 120 minutes) with Eye Mask
Russian Volume Re-Fill Set (60 minutes up to 15 lashes per eye)
Natural Full Set (90 to 120 minutes) with Eye Mask
Natural Re-Fill Set (60 minutes up to 15 lashes per eye)
Eyelash Extension Removal (30 minutes)
Eyelash Lift or Perming + Head Massage (45 minutes)
Refectocil Eyelash Tinting
Refectocil Brow Tinting​
(Do not swim or wet face for at least 12 hours after application)
Hair Treatments
享受這些傳統而奢華的印度尼西亞頭髮護理之一,其中包括在享受頭部、頸部和肩部按摩之前,將豐富的調理霜塗抹在頭髮和頭皮上。 然後是洗頭和可選的/短暫的*頭髮乾燥*。
Hair Cream Bath (60 minutes)
Macadamia Oil Hair Mask (60 minutes)​
*考慮到其他客人,我們只吹乾約 50 – 70% 的干燥度 – 約 5 分鐘。 抱歉,我們不做造型,因為我們不是美髮沙龍。