<< Auriga Wellness@Capella Ubud >>
Welcome to Auriga Wellness Ubud
Capella Ubud的Auriga SPA坐落在鬱鬱蔥蔥的熱帶雨林中,是客人休息、恢復活力和享受天上節奏的繭。禦夫座同名是北半球的一個星座,根據月球的周期,它擁有獨特的健康和美容方法。自古以來,人們就相信月球的不同階段會以非常特殊的方式影響身體。新月New Moon是更新renewal和反省introspection的時間,上弦月Waxing Moon是重新聚焦Refocus和"sow seed播種"的時期,滿月Full Moon是充分發揮潛力potential的時候,而下月Waning Moon是淨化cleansing的最佳時間。Auriga體驗的每個方面都與月相的這些不同能量相協調,以使您與大自然的韻律,讓您更健康。
Auriga SPA使用100%天然和有機產品進行所有SPA護理。還提供Auriga SPA Ubud獨有的正宗理療體驗,因為從峇里島的傳統中汲取靈感。
Auriga Wellness
呼吸……我們不會告訴任何人你在這裡……
Auriga SPA位於Capella Ubud中心的熱帶雨林中,是客人沉迷於定制護理並在大自然中恢復活力的綠洲。 SPA體驗源自峇里島豐富的健康傳統,採用標誌性技術和專為Capella Ubud混合的有機產品提供理療服務。
治療可以在Auriga SPA的三個SPA Tent帳篷中進行,也可以在自己的Tent帳篷中進行。Capella Ubud的健康理念體現了禦夫精神:將舒緩的簡約和純粹的放縱與量身定制的整體方法相結合。
Add : Jl. Raya Dalem, Banjar Triwangsa, Desa Keliki, Kecamatan Tegallalang, Ubud, Gianyar, Bali 80561, Indonesia
Tel : 0361-2091888
https://www.capellahotels.com/en/capella-ubud/wellness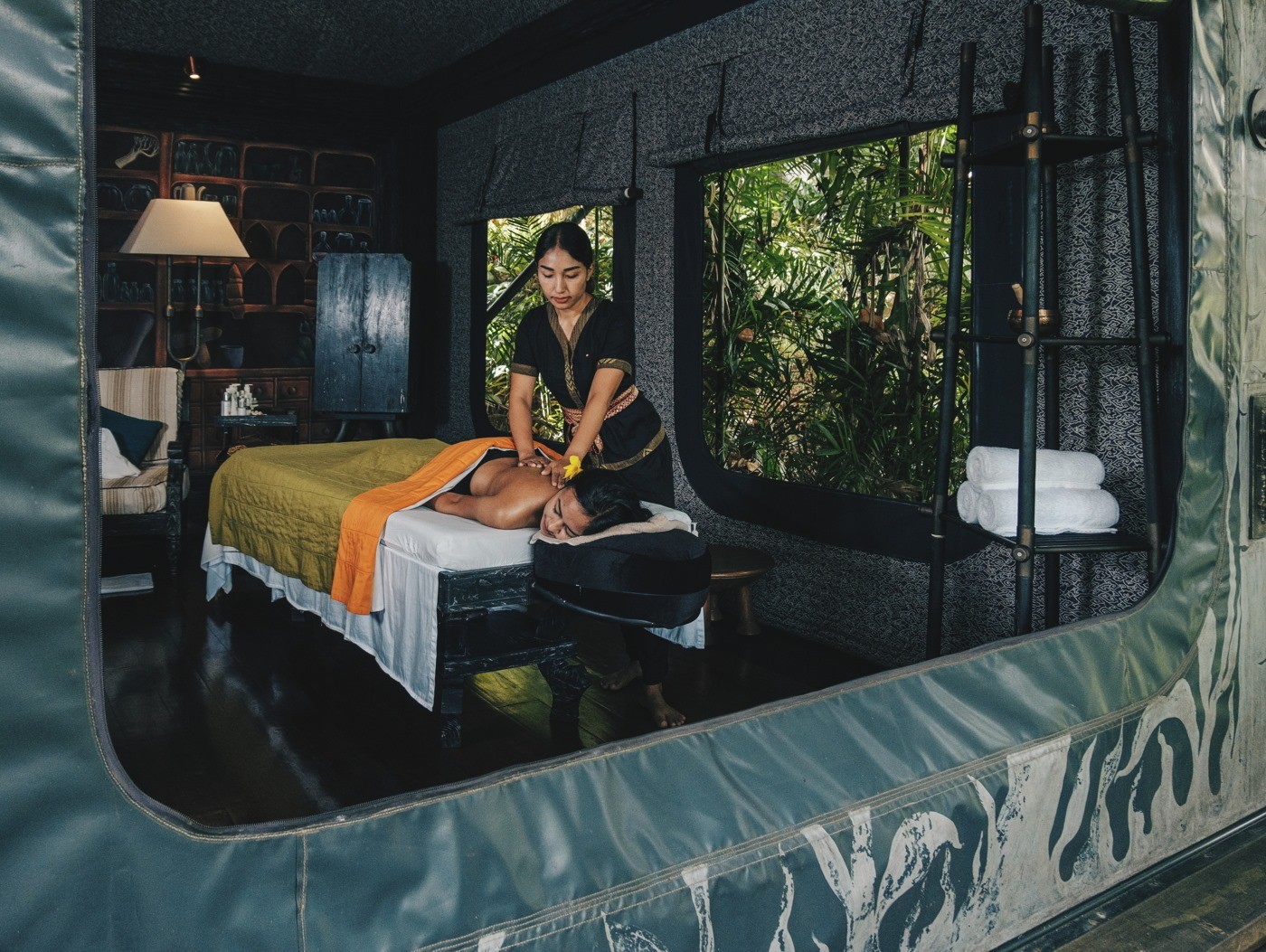 Facilities
3 luxurious treatment tents.
The Cistern – a 30-metre long outdoor rainforest pool.
Organic natural products exclusive to Capella Ubud.
In-tent treatments available.
Class schedule including Yoga, Pilates, TRX and Barre.
Fully equipped gymnasium.
Bespoke, specially-curated menu of treatments exclusive to Capella Ubud, Bali.
Auriga open 09:00-21:00
The Armoury open 24 hours a day.
Guided outdoor activities available.
Adventure programmes available from sunrise to sunset as per the camp's schedule.
Treatments-
E-Spa Menu : https://www.capellahotels.com/assets/docs/ubud/Auriga%20Spa%20Menu%2025%20Sep%202020%20lowres.pdf
Auriga治療師是大自然的擁護者。 探索針對您的體型、心情和感官量身定制的護理,以及為Capella Ubud量身定制的100%天然和有機產品。 還提供獨有的定制套餐和特色體驗。
AURIGA SIGNATURE EXPERIENCE
特色護理Signature treatment旨在反映月球週期的不同能量。這些治療中的每一種都專用於月亮的特定階段 – 新月或滿月 – 並且僅在相應的月相期間lunar phase提供,以確保最深刻的體驗。
NEW MOON – THE BEGINNING  (120 MINUTES)
The New Moon is the time for renewal and introspection. Meditate on who you are and would like to become, establishing strategies to reach your higher potential and setting new intentions.
Treatment begins with a massage of your feet – your foundation. Your feet will be anointed with oils of Juniper, Rosemary and Fennel to awaken your spirit. The body and mind are then thoroughly revitalized with a sea salt scrub followed by a deeply stimulating body polish. The treatment concludes with a full body Rosemary and Eucalyptus massage and a special stimulating Jamu tonic. Your body will feel awakened after this invigorating treatment.
FULL MOON – THE HEIGHT (180 MINUTES)
The Full Moon is the time to realise your full potential. Live life to its fullest. With a scent revered for centuries, nothing encompasses balance more than Rose, the focus of this treatment. The
treatment begins with an anointment and massage of the feet with Rose oil. The body is then exfoliated with Rose petals and Rose oil-infused salt, leaving both the mind and body in complete harmony. A warming Rose wrap nourishes the body with minerals and is followed by a relaxing massage and lymphatic facial using Rose crystals and acupressure point facial massage. Balancing Jamu tonic is served at the end of your treatment. This treatment will bring about a calm, peaceful and balanced state of being.
AURIGA SIGNATURE MASSAGE
特色護理還提供 75 分鐘和 90 分鐘的全身按摩服務。 結合特定的技術、產品和氣味,為每個月相提供這些獨特的體驗。 建議在特定的月亮週期內體驗按摩以獲得最佳效果。 但是,每種療法也可以在一個月的任何時間進行。
NEW MOON (75 / 90 MINUTES)
Based on Swedish Massage techniques A deep and stimulating full body muscle massage that will revitalize and invigorate your body and spirit.
FULL MOON (75 / 90 MINUTES)
Based on Energy work With gentle massage techniques, your therapist will balance the energy flow, bringing harmony and heightening your sense of being.
WELLNESS JOURNEYS
Auriga的健康之旅旨在激發您最好的一面,將引導您進入一個寧靜的療愈和轉型世界。
DETOX DAY (4 HOURS)
Yoga & Pranayama class
Dry body brushing
Lymphatic drainage massage
Traditional Balinese herbal body wrap & scalp massage
Healthy meal at Mad's Lange
BEAUTY INSIDE AND OUT (4 HOURS)
Coffee & brown sugar scrub
Balinese massage
Organic facial
Foot reflexology
Organic farm-to-table meal by The Cistern
STRESS MANAGEMENT (4 HOURS)
Your choice of Wellness class:
Yoga, Meditation or Personal Training
Sea salt body scrub
Deep & relaxing full body massage
Soothing head massage
Balinese afternoon tea by The Cistern
DIVINE SOUL RITUAL (3,5 HOURS)
Auriga Signature – New Moon or Full Moon Massage
Chakra Healing with our Camp Guru
A soul reborn ritual
DAY SPA EXPERIENCE FOR COUPLES
逃到島上休息,在寧靜的環境中與親人共度美好時光。 日間SPA體驗伴隨著特權進入 Capella Ubud的帳篷度假村。
P.S. I LOVE YOU (150 MINUTES)
Foot ritual with sea salt scrub
Top-to-toe massage
Mortar and Pestle bar cocktails and aphrodisiac refreshment
SIRAMAN RITUAL (150 MINUTES)
Balinese Lulur body scrub
Senja Sunyi Massage with warm river stones
Balinese flower bath ritual (Kumkuman)
Balinese afternoon tea by The Cistern
HOLISTIC THERAPIES
SENJA SUNYI MASSAGE (90 MINUTES)
Senja (dusk) is the most spiritual and magical time of the day. Bathe in the cool blue rays of a rising moon. This sublime massage is delivered using gently heated river stones, with long flowing strokes to smooth out muscle kinks and tangled nerves. This elaborate treatment incorporates a combination of Shiatsu and Balinese massage techniques with medium pressure.
THERAPEUTIC MASSAGE (75 / 90 MINUTES)
A full body deep tissue massage designed to ease tired muscles, with a focus on arms, legs and back. This treatment can also be adjusted to the specific needs of anyone involved in sports, fitness or strenuous physical activity.
BALINESE MASSAGE (75 / 90 MINUTES)
Handed down through generations, this massage combines long kneading strokes, kneading and stretching to strengthen and renew the body.
HEAD & SHOULDER MASSAGE (75 MINUTES)
Head, shoulder and back massage soothes away tensions in your upper body, releases knots and improves your flexibility to leave you feeling relaxed and re-energized.
FOOT MASSAGE (75 MINUTES)
Foot massage is effective in bringing about a deep state of relaxation. The solar plexus is the nerve center where stress is stored. During foot massage the solar plexus reflex point is massaged, eliminating stress and tension. Foot massage also improves sleep quality and general wellbeing.
ENHANCE YOUR TREATMENT (ADD ON)
BAAS CEKUH WRAP (30 MINUTES)
This traditional Balinese herbal remedy relieves tense muscles and minor conditions. A mask of rice extract, aromatic white ginger and sandalwood is applied on the body and wrapped in banana leaf to work its magic.
COFFEE AND COCONUT SUGAR SCRUB (30 MINUTES)
The caffeine found in coffee scrubs typically increases blood flow and may reduce the appearance of cellulite, giving your skin a more even tone.
FACIALS 
ORGANIC ROSE CRYSTAL LYMPATIC FACIAL (60 / 90 MINUTES)
This signature facial has been described as an experience in it's own right. Using natural and organic products, it cleanses, soothes, nourishes and balances all in one treatment. Skin is left radiant and glowing. This luxurious facial includes deep cleansing, exfoliation, a Seaweed mask, lifting acupressure massage, activating lymphatic massage and an age-fighting Collagen Boost Mask. The treatment also includes scalp, arms, hands and feet massage for a holistic experience.
YOUR GUIDE TO AURIGA –
HOURS OF OPERATION
每天上午09:00至晚上21:00開放,或提前預約。
SPA ETIQUETTE
SPA環境是放鬆和寧靜的環境。
請用柔和的語調說話或享受寧靜,為這種寧靜做出貢獻。
請尊重所有SPA中心客人的隱私權,在SPA期間不要使用手機和相機。
Auriga Wellness是無菸區。
鼓勵您在預約前 10 分鐘到達,以便歡迎您前來體驗。
Auriga團隊將很樂意根據您選擇的治療方法提供任何建議。
在Auriga Wellness期間,將提供使用一件長袍、毛巾、拖鞋和一次性內衣。
建議將珠寶和其他貴重物品留在保險箱中,SPA中心將不承擔個人財產損失的責任。
治療結束後,用涼茶休息和放鬆,並花時間反思您的經歷。
RESERVATIONS
Auriga Wellness 歡迎 18 歲及以上的住客和非住客客人。
非住客預訂將使用信用卡擔保。
為確保您的首選時間和服務可用,建議提前預訂。
可根據情況接受臨場預訂。
強烈建議至少提前 3 天安排預約,以確保您的首選時間和治療或服務可用。
LATENESS AND CANCELLATION POLICY
懇請客人至少提前八小時通知更改或取消。若在3小時內才取消,將承擔治療的全部費用。
HEALTH CONCERNS
預訂SPA時,請告知任何可能影響您的服務的健康狀況、過敏或受傷情況。Auriga團隊可幫助您在治療前完成健康評估,以便我們確保您的舒適和安全,並根據您的需求提供定制服務。