<< DaLa Spa@Alaya Ubud >>
Philosophy
古代梵語中的DaLa意為葉子。 作為大自然母親的孩子,葉子是生命永恆循環和人類追求生命力的象徵。 葉子是營養的來源; 它還提供住所,並具有非凡的培育品質。
在DaLa SPA中心,只使用最新鮮的當地元素,這些元素完全可以在古老的印尼美食菜單中使用。 作為亞洲最佳精品酒店水療中心,屢獲殊榮的地位進一步證明了大自然永遠是對的。
Locations
Alaya Ubud的DaLa SPA位於Jl Hanoman Ubud,地理位置優越,旨在對周圍環境敏感的寧靜環境中將峇里島的放鬆體驗提升到一個新的水平。SPA中心位於一個多產的水稻梯田旁邊,俯瞰著一條被原生樹木和熱帶植物環繞的小河。 這是一個供個人放縱的專用空間,在這裡,古老的印度尼西亞治療和美容傳統被付諸實踐,為身體、思想和精神充電。
6間理療室可供情侶和單身人士選擇。 每間客房都以一種異國情調的花朵命名,並展現出其獨特的複古風格裝飾、調色板和氛圍。 微妙的燈光、舒緩的精油混合物和增強情緒的音樂帶客人踏上感官之旅。
The Spa大堂是一個開放式的涼亭,帶有高架屋頂,使整個空間沐浴在自然光中,並實現了最佳的空氣流通。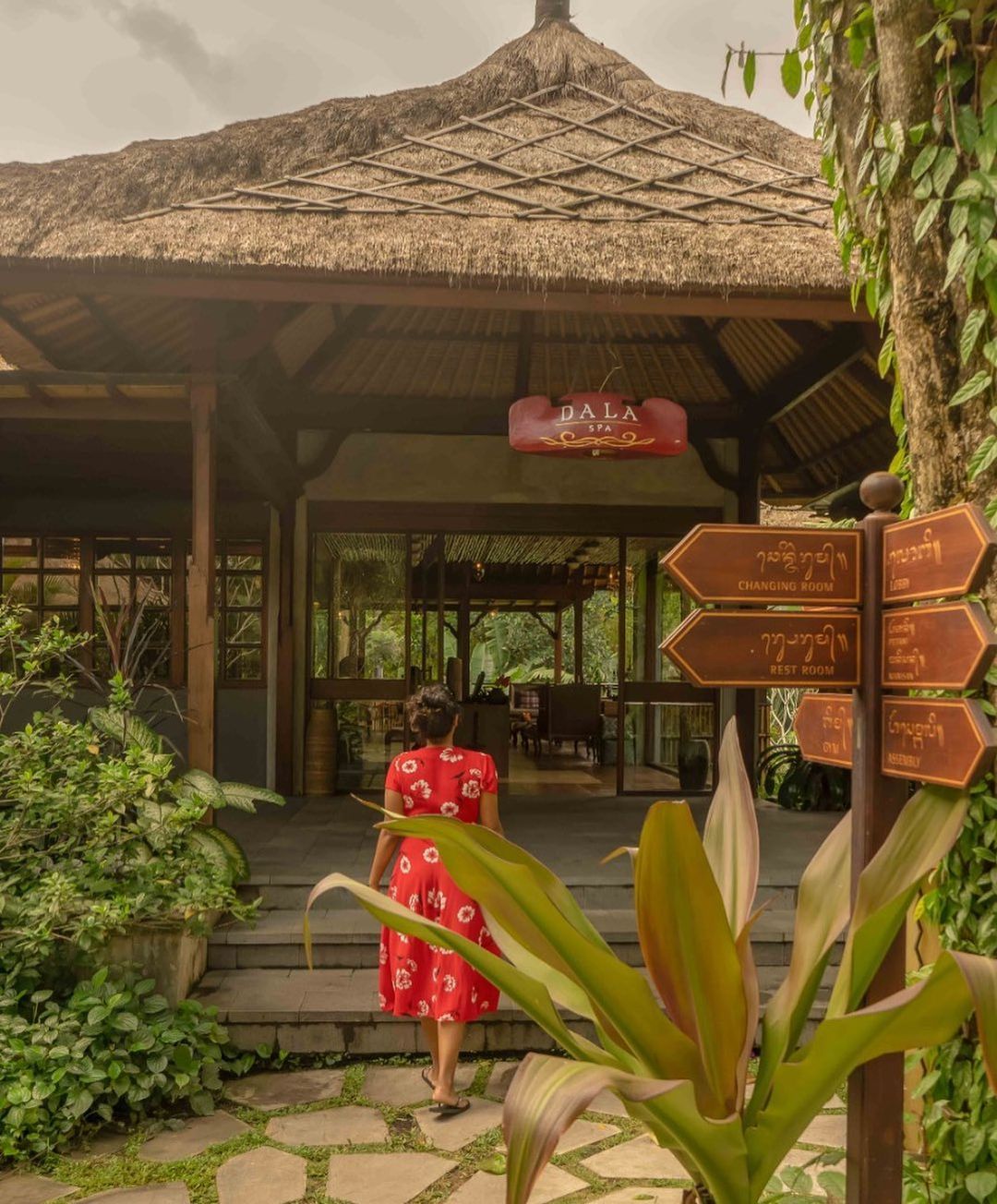 SPA大堂是一個開放式涼亭,帶有高架屋頂,整個空間沐浴在自然光中,並允許最佳的空氣流通。設置了一個區域,在每次治療之前準備新鮮的植物成分。客人可以在這裡參加互動式SPA課程,了解印度尼西亞的治療和美容傳統。還設有舒適的座椅,可在理療前後放鬆身心。
DaLa SPA中心寧靜的反射療法休息室在微風的吹拂下涼爽,可立即緩解一天的炎熱。這個環境設有6把治療椅,是享受各種儀式的理想場所,同時聆聽經典的印度尼西亞音樂和附近游泳池的微弱水聲。
SPA Terrace提供健康的有機美食菜單,可滿足注重健康的客人的烹飪需求。暮色降臨時,這個空間變成了浪漫用餐的私密環境,燭光搖曳,音樂輕柔,頌揚愛的精神。
Add : Jl. Hanoman, Ubud, Bali 80571, Indonesia
營業時間 : 09:00-23:00
Tel : 0361)-972200
有興趣,可電聯Casa Chen 0932-043931,或email to casachen@neverneverlandinbali.com
https://dalaspa.com/alaya-ubud/
http://alayahotels.com/alayaresortubud/dala-spa/
Spa Treatments
http://alayahotels.com/alayaresortubud/wp-content/uploads/sites/2/2018/07/Alaya-Resort-Ubud-DaLa-Spa-Menu.pdf
SPA CLASS
在DaLa SPA中心探索印度尼西亞群島的自然美景和療愈秘訣。 與常駐SPA專家一起參加內容豐富的課程,學習如何使用鮮花、香草和香料製作自己的產品。 這種獨特的假期體驗讓人們對過去時代的古老健康儀式有了難得的了解。
HOME CARE BODY MASK/SCRUB – 60 Minutes
• Jamu herbal drink of the day and chilled towel
• Spa lesson in our spacious lobby environment
• Body scrub/mask trial in the privacy of an opulent treatment room
–
MAKING OF JAMU (HERBAL DRINK) – 60 minutes
• Welcome drink and chilled towel
• Spa lesson in our spacious lobby environment
• Invigorating footbath while you sip your Jamu
–
HOME CARE REFRESHER FACIAL – 75 minutes
• Jamu herbal drink of the day and chilled towel
• Spa lesson in our spacious lobby environment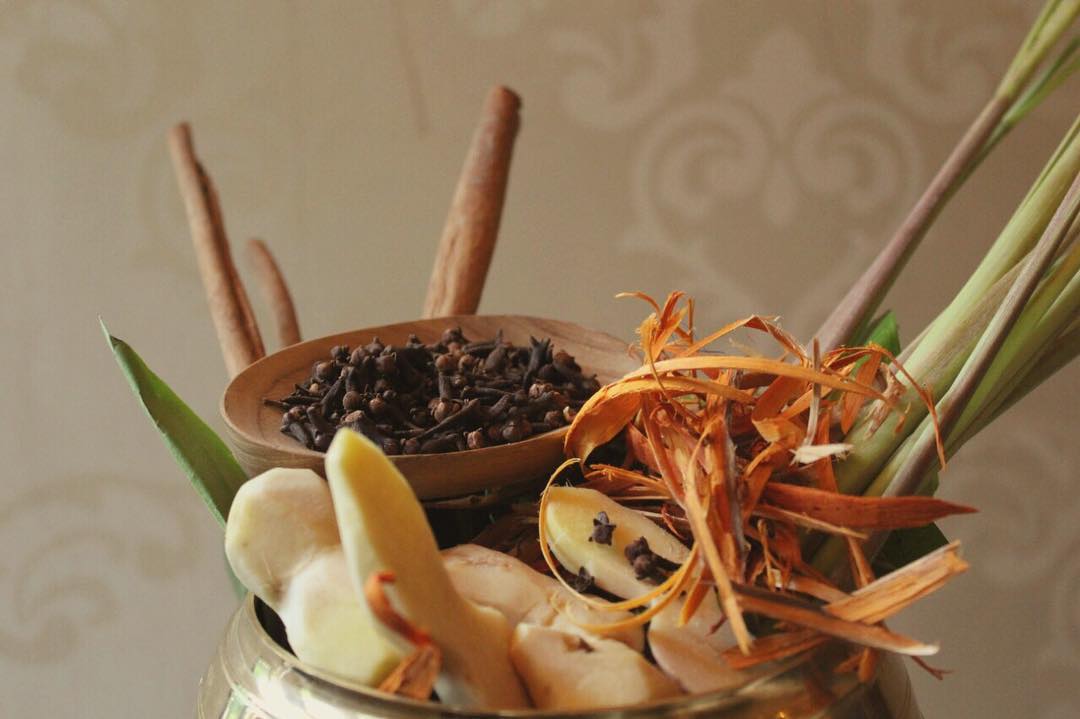 DALA BATH
DALA BATH – 15 minutes
–
REVITALIZING HERBAL BATH
Marinade yourself in the herbal goodness with an exotic blend of ginger, lemongrass, turmeric and a squeeze of fresh kaffir lime juice. Savour the sensation of this refreshing bath and also enjoy a cup of warm tea and cookies.
–
LUXURIOUS ROYAL WEDDING MILK BATH
Soak away the tensions of modern living with a lavish milk bath infused with a mix of 7 different fragrant flowers to bring a sense of deep relaxation and pleasure.
–
BALINESE SEVEN FLOWERS BATH
A luxury Balinese bath infused with 7 different types of temple flowers as well as pandanus leaf to ease muscular fatigue. This bath is scented with jasmine and cananga essential oil to enhance the experience.
–
LOCAL BALINESE ORANGE & LIME MILK BATH
Leisurely soak away nervous tension and stress in a milk bath scented with sweet Balinese oranges that are cultivated in the highlands of the Kintamani district. A dash of refreshing lime juice enlivens the sensesand renews energy levels for the remainder of the day.
–
ROSE PETAL BATH
Enjoy a luxurious soak in a rose petal bath scented with lavender and eucalyptus oil for a purifying experience.
–
LEMONGRASS & TUBEROSE BATH
This invigorating bath with a heady blend of cinnamon, clove and coriander essential oil is then delivered and set the mood to an end with a lavish soak in a lemongrass and tuberose bath. Enjoy this lavish bath with a cup of warm lemongrass tea to relax your body.
–
BUNGA RAMPAI BATH
A lavish soak comprises of rose petals, tuberose, cananga, cempaka, and fresh limes inspired by the majestic Malay wedding bath to freshen the body. A cup of refreshing warm Rosella Tea, rich of vitamin A & C with homemade cookies will help you to calm your nerves.
Enjoy a luxurious bath experience in the privacy of your villa. Simply select one of the menu items above and a therapist will be delighted fill your bath with fragrant ingredients and provide a cup of chrysanthemum ginger tea and cookies.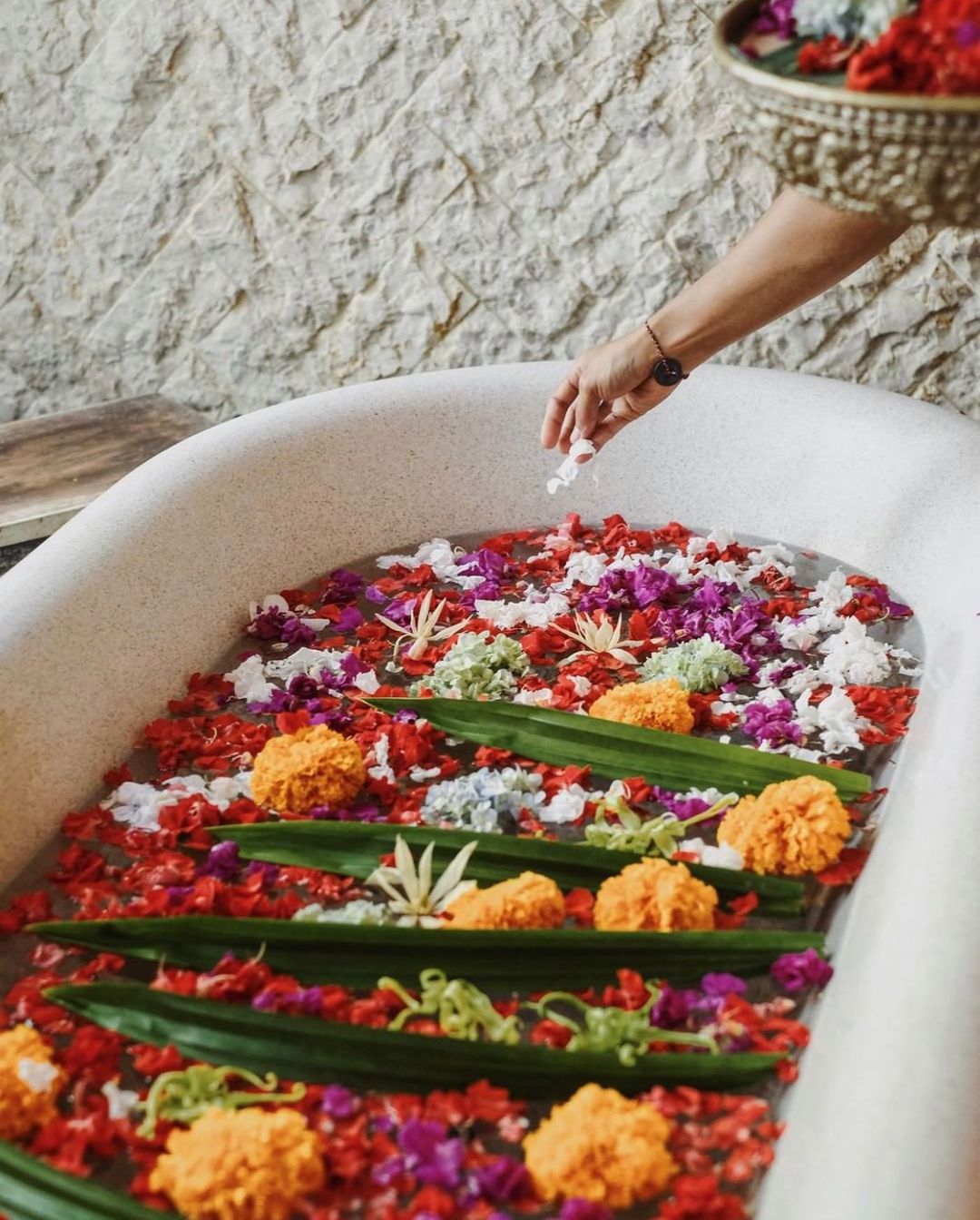 BODY MASK
DALA MASK – 30 minutes
–
CORN WITH COCONUT CREAM BODY MASK
This nurturing treatment is an antioxidant and de-aging body mask made from fresh grated corn kernels blended with coconut cream to moisturize the skin and help cell growth.
–
NATURAL YOGURT POLISH
Natural yogurt ultimately softens and revitalizes the skin. This polish contains mild exfoliating properties to eliminate old skin cells, while the lactic acid content of the yogurt has a moisturizing effect to leave the body feeling smooth and silky all over.
–
TOMATO & BASIL POLISH
A vitamin enriched tomato and basil body polish to nourish the skin for an even tone and smoother texture.
–
PANDANUS LEAVE BODY MASK
This unique body mask made from pandanus leaves has an extraordinary moisturizing effect on the skin and carries a light scent that lingers for hours.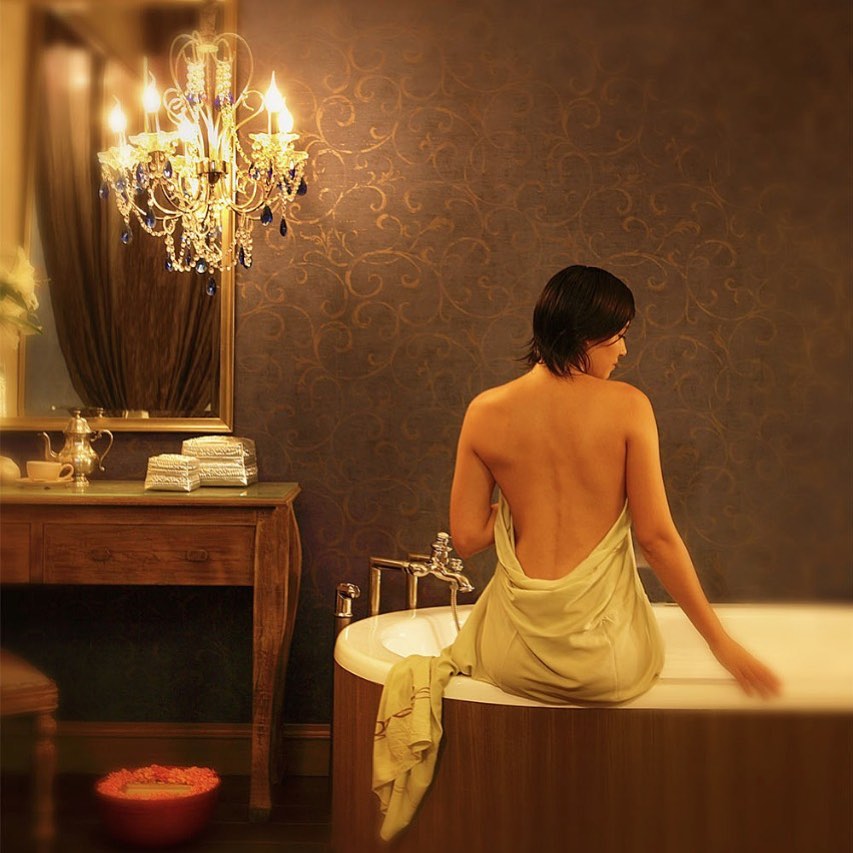 BODY SCRUB
DALA SCRUB – 30 minutes
–
ASAM PAYO BODY SCRUB
A replenishing Asam Payo Body Scrub made from rosella with grated candlenut and fresh coconut milk. This natural concoction reduces cholesterol, wrinkles and leaves the skin with a radiant glow.
–
THE CANANGA INFUSED COCONUT SCRUB
The Cananga infused Coconut Body Scrub is made of cananga & jasmine extract, grated candlenut, and fresh kaffirlime to leave the body silky smooth with perfection.
–
JAVANESE LULUR
This replenishing scrub was traditionally used as a pre-wedding beauty ritual for brides of the noble class in the Royal Palaces of Central Java. Nowadays, it is used by women throughout Indonesia to maintain healthy and radiant skin. The key ingredients of this scrub are yellow turmeric and sandalwood to naturally soften the skin.
–
COCONUT WITH PALM SUGAR BODY SCRUB
This traditional scrub has super moisturizing benefits for the skin. It uses natural coconut oil mixed with palm sugar to gently exfoliate the body and leave it feeling silky and smooth.
–
PAPAYA & PINEAPPLE MOUSSE SCRUB
A glorious mousse scrub is lathered and broken down over the body to remove impurities, dead cells and toxins, to reveal a smoother, supple skin, radiant while your senses go into tropical overdrive.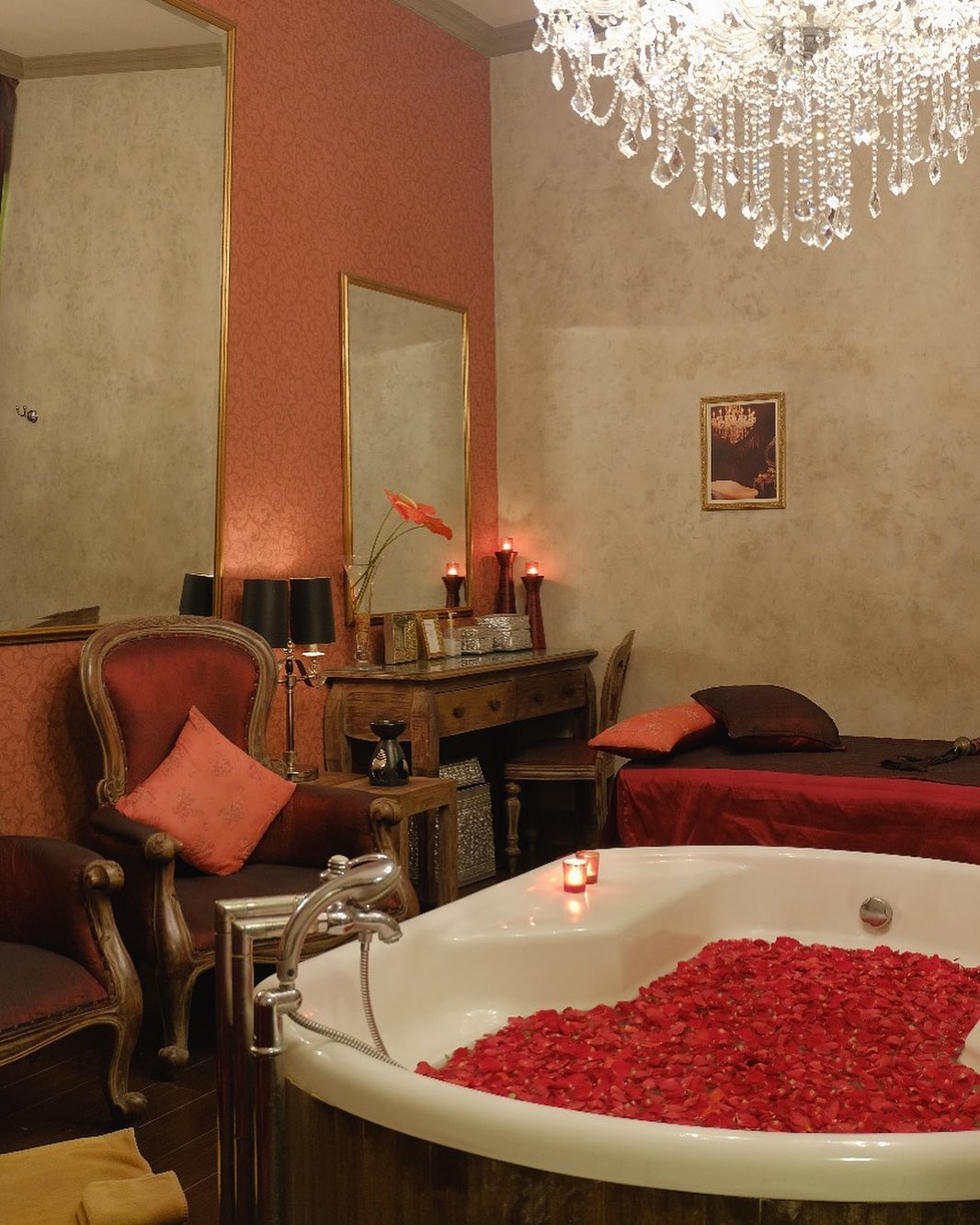 BEAUTY RITUAL
EMPRESS FACIAL RITUAL – 75 minutes
This royal facial uses fresh and natural ingredients. The face is cleansed and exfoliated with a lavender, chamomile and honey scrub. Sliced cucumber is used to tone the skin and then sweet almond oil is slowly massaged into the face.
The ritual continues with a steaming mini pouch followed by a traditional Indonesian rice pearl mask. The chilled surface of a jade roller is then used to caress the skin and close pores. A soothing balm is applied to the lips.
–
HYDRATION STRATEGY by Pevonia Botanica – 75 minutes
An intensely hydrating and delicate treatment is a perfect escape for tired dull skin. A series of techniques including the use of Ridokis are used within the massage which begins with stretching the nape of the neck; cleansing and exfoliating the skin before you enjoy a relaxing mask and Shiatsu massage movements, the ultimate in deep relaxation.
–
ALAYA RENEWAL FACIAL – 75 minutes
Tired looking skin will be thoroughly cleansed and then gently exfoliated to polish away dead cells and impurities. A blend of pure essential oils chosen for their unparalleled ability to restore a healthy pH levels is used to give your face a new lease of life. A mask is then applied to re-hydrate, cool and balance the skin; leaving you feeling, fresh, dewy.
_
ORIGINAL BEAUTY by Pevonia Botanica – 90 minutes
This intensive anti-ageing treatment, is designed to combat wrinkles and loss of elasticity. After a deep cleanse of the skin, including a peel to encourage cell renewal followed by a relaxing face massage. The treatment is completed with the application of an intensive mask and kneading acupuncture movements, while massaging the arms and legs. The results are radiant skin and a visible reduction of fine lines.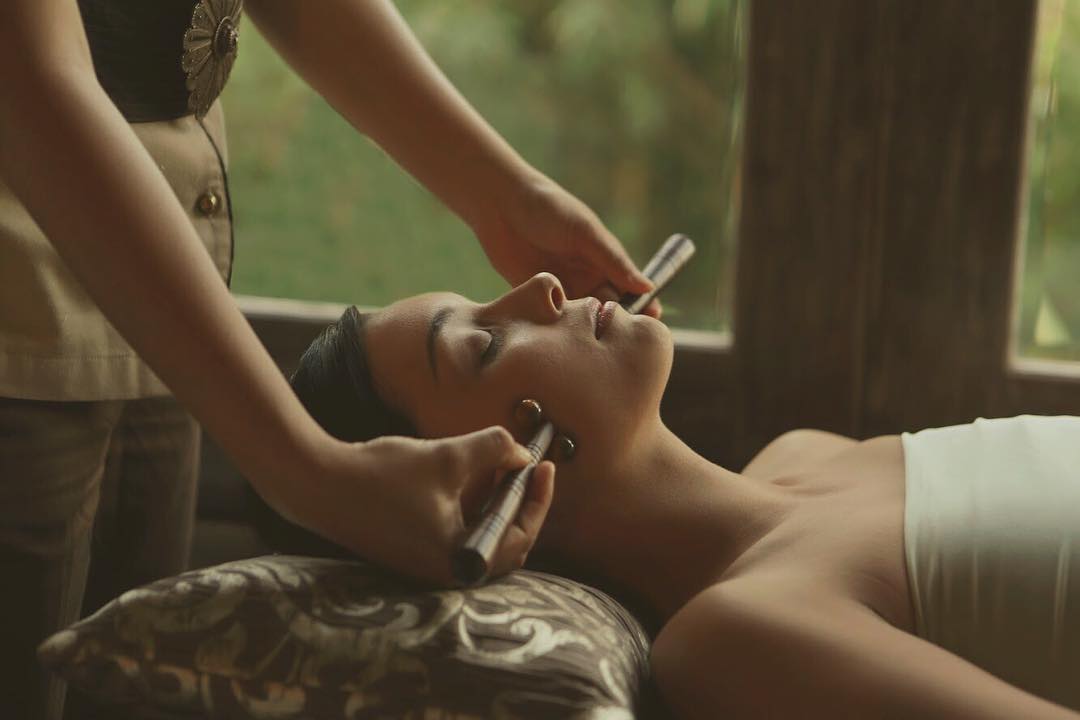 BODY RITUAL (DALA BODY TREATMENTS)
BALINESE MASSAGE – 60 minutes / 90 minutes
This massage uses the traditional Balinese techniques of firm finger and palm pressure as well as long stimulating strokes. Performed with your preferred choice of essential oil blend, this massage therapy can ease body tension and invigorate the senses.
–
ORIENTAL MASSAGE – 60 minutes
Using Micro emulsion Massage Oil with Vit E Safflower and Orange Peel, this massage frees the body from all its tension by working the muscles and skin with agile, graceful strokes and gentle comforting movements. The kneading and smoothing movements will leave you feeling relaxed and calm.
–
URUT NUSANTARA – 75 minutes
The experience begins with a Yoni & Lingga Reiki Ritual using bronze singing bowls to re-balance the alignment of energy between the chakras. A classic massage using a heady blend of essential oil is then performed. This invigorating treatment combines different techniques to address fatigue and stimulate blood circulation.
–
DALA AROMATHERAPY MASSAGE – 75 minutes
As our signature massage treatment, the DaLa massage focuses on movement, Swedish massage techniques and the art of healing, where wellness can be attained through the use of essential oils. By combining the sensory elements of touch and smell, this massage helps to restore harmony between body and mind.
–
WARM STONE DETOX MASSAGE – 90 minutes
Warm river stones anointed with massage oil are placed on the chakra energy centres and massaged over the body to melt away stress and tension. The heated stones promote a deep state of relaxation and clarity of mind.
–
SANDALWOOD HEALING MASSAGE – 90 minutes
This restorative massage celebrates the therapeutic benefits of sandalwood and puts a modern twist on a traditional Balinese healing ritual. The experience begins with a soothing foot bath and a blessing that pays homage to Bali's rich cultural heritage. The massage involves warm pieces of sandalwood being rolled over the entire body to ease away aches, pains and weariness. This process mirrors the graceful movements of a Balinese dancer as a feeling of overwhelming serenity permeates the body, mind and spirit.
–
ASIAN FUSION MASSAGE – 90 minutes
This spectacular treatment draws on three cultures, to deliver an intensely relaxing and calming experience using Micro emulsion Massage Oil with Vit E Safflower and Orange Peel. Specifically designed to expel fatigue from the body as well as rid it , of daily stress and tension. In order to re-balance energies, movements are precise and sustained, focusing on the tense parts of the body. Back tensions are carefully worked (Chinese massage) before a progressive massage of the abdomen (Malaysian method). The treatment culminates with the elimination of 'body heat' achieved by stimulating the foot's reflex zones (Indian Massage with the Kansu bowl).
–
THE SHIRODHARA – 60 minutes
Shirodara can induce a feeling of absolute calmness and serenity, and is regarded as an anti-aging therapy. This treatment starts with an Indian head, scalp, neck and shoulder massage to help dissolve tension or stress. Your therapist will massage all the vital marma points to stimulate and energize the body. A golden stream of warmed medicated oil is then poured continually over your third eye (located in the centre of the forehead) for 20 minutes.
–
HEAVENLY FOOT MASSAGE – 60 minutes
A gentle and immensely enjoyable therapy that works on the feet to increase circulation, shift toxins and stimulate the body's self-healing ability. As one of the most neglected parts of the entire body, this massage will leave you with a carefree spring in your step.
–
HEAD & SHOULDER RECOVERY – 45 minutes
This is the perfect way to relieve shoulder pain, anxiety, and stress. Your feet will be soaked in floral warm water with essential oil. A head and shoulder massage using an acupressure technique is then performed to promote healing by correcting energy imbalances within the body.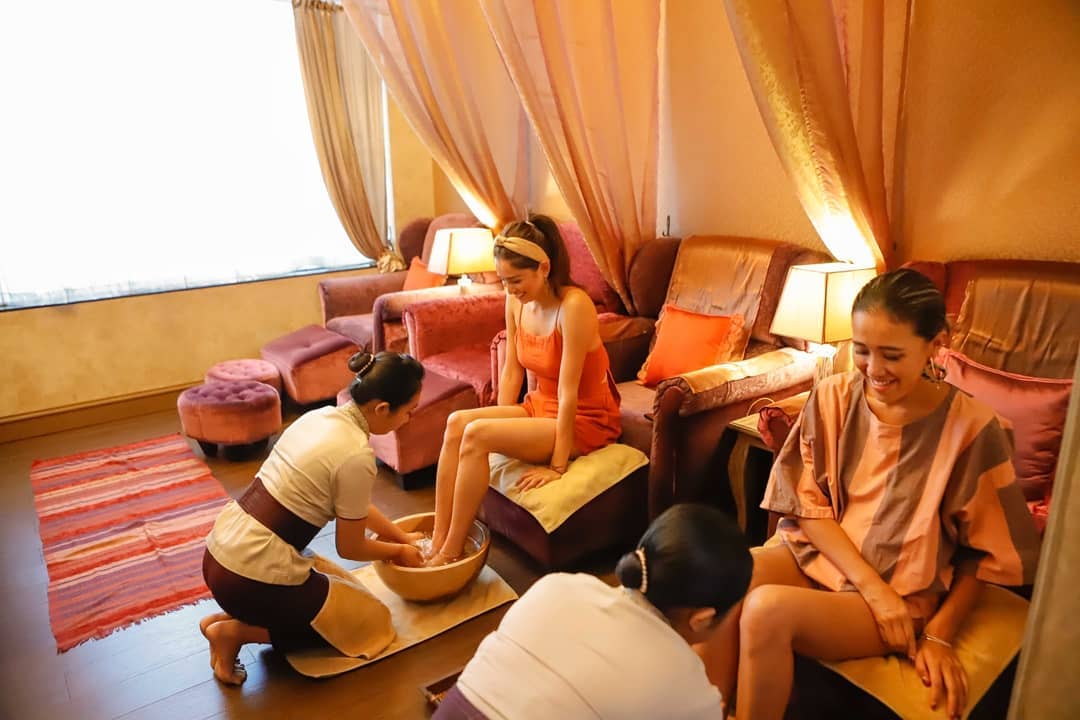 SIGNATURE PACKAGES
MANIS KLEPON – 120 minutes
DaLa Foot Ritual, Balinese Massage, Coconut with Palm Sugar Body Scrub, Pandasnus leaves body mask, Balinese seven flower bath
Truly unique to DaLa Spa, this nurturing treatment was inspired by the colourful ingredients of a traditional Balinese rice flour cake (Klepon). Tired toes are gently bathed for a refreshing start. A classic Balinese massage using long strokes and applications of pressure for deep relaxation. An exfoliating coconut and palm sugar scrub is then applied to the body to eliminate impurities. This is followed by a fragrant body mask made from pandanus and suji leaves. Final by a soak in a warm bath infused with seven Balinese flowers washes away the remains of the mask.
–
THE ISLAND COCOON – 150 minutes
DaLa Foot Ritual, Warm stone Detox Massage, Corn with Coconut Cream Body Mask, Revitalizing Herbal Bath
Paying homage to an age-old Indonesia skin care remedy, this reviving treatment is about looking good and feeling even better. A foot ritual is performed using natural ingredients to put the spring back into every step. Then a warm compress is applied to the body to open pores in preparation for a warm stone massage to melt away stress and tension. An antioxidant enriched mask uses grated Corn, coconut cream and clay, which work together to cool, soften and moisturize the skin. Follow up with a lavish soak in a revitalizing herbal bath to energize the body.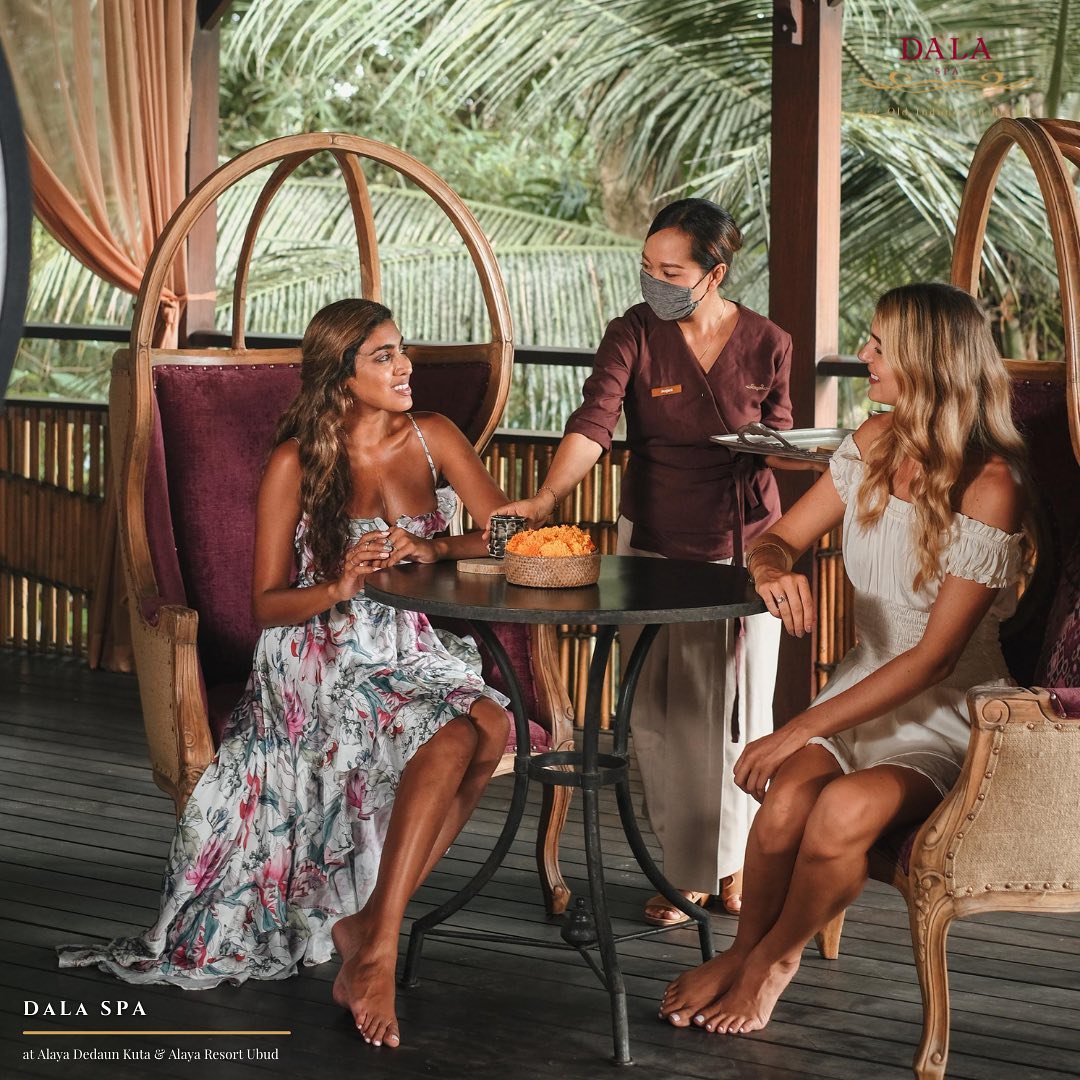 DALA PACKAGES
DALA SIGNATURE TREATMENT – 120 minutes
DaLa Foot Ritual, Aromatherapy Rebalance, Empress Facial Ritual
The treatment begins with a DaLa Foot Ritual featuring warm water infused with lemongrass, lime and ginger. With your chosen aroma oil blend, you will enjoy a relaxing back, neck and shoulder massage. This is followed by a luxurious Royal Empress Facial Ritual that uses fresh and natural ingredients that are perfect for all skin types.
–
MALABAR TEA CEREMONY – 120 minutes
Malabar Tea Foot ritual, Oriental Massage, Instant Glow Green Tea facial, Malabar Tea Bath
This treatment rejuvenates the mind and uplifts the spirit with the healthy benefits of teas. Commence your journey with an Indonesian Black Tea Foot Ritual followed by an Oriental Massage using Micro emulsion Massage Oil with Vit E Safflower and Orange Peel. An instant Glow Green Tea Facial will revive tired skin finishing off with a signature Malabar Tea Bath infused with fresh mint and lemongrass bath salt to restore energy levels.
–
BUNGA RAMPAI (POTPOURRI) RITUAL – 120 minutes
Pinang Foot Ritual, Rampai Signature Massage, Traditional Rice Mask, The Cananga infused Coconut Scrub, Bunga Rampai Bath
This inspiring treatment is based on the beauty traditions of the Indonesian and Malay cultures. It begins with a Betel Nut Foot Ritual, which is an age-old Malay custom. Then Rampai Signature Massage is performed, starting off with a ritual sprinkling of fresh flower petals to generate positive energy. The Cananga Infused Coconut Body Scrub will leave your body silky smooth body finishing with a lavish Potpourri Bath to recreate the opulence of a Malay wedding bath.
–
THE PALACE RITUAL – 150 minutes
Tepak Manggis Foot Ritual, Urut Nusantara, Asam Payo Body Scrub, Tomato & Basil Body Polish, Lemongrass & Tuberose Bath
Inspired by the gracious traditions of the ancient Sriwijaya Kingdom in South Sumatra, this treatment begins with a Foot Cleansing Ceremony. The experience continues with a Yoni & Lingga Reiki Ritual using a bronze singing bowl. Next is a rhythmic deep massage to address fatigue followed by Asam Payo Body Scrub. A vitamin enriched Tomato & Basil Body Polish is then applied to re-hydrate the skin before a lavish soak in lemongrass and tuberose bath.
–
TUTI FRUITY SPA – 150 minutes
Green Tea & Avocado Foot Ritual, Dala Aromatherapy Massage, Berries yogurt with Honey Refresher Facial, Papaya & Pineapple Mouse scrub, Orange & Lime milk bath
A replenishing Green Tea & Avocado Foot Ritual begins the treatment. It is followed by an Aromatherapy Massage to restore harmony. A Berry Yogurt & Honey Refresher Facial will then cleanse and hydrate the skin for a radiant glow. This renewing experience continues with a Papaya & Pineapple Mousse Scrub and then a leisurely soak in a Milk Bath infused with local Balinese oranges and limes.
–
THE ROYAL WEDDING RITUAL – 150 minutes
Dala Foot Ritual, Balinese Massage, Javanese Lulur, Yogurt Body Polish, Milk & Flower Bath
This traditional Indonesian beauty ritual was once privilege of royal brides in the ancient palaces of Central Java. A DaLa Foot Ritual begins the indulgence and continues with a tension-relieving Balinese Massage. The highlight is a Javanese Lulur Exfoliation, where a paste of turmeric, sandalwood and rice powder is slowly applied to the body. A hydrating Yogurt Body Polish is then applied followed by a luxurious Milk Bath infused with seven different flowers.
–
THE SAMSARA – 240 minutes
DaLa Foot Ritual, Balinese or Aromatherapy Massage, Body Scrub/Body Mask/ Bath Ritual, Spa Cuisine, Empress Facial Ritual
The ultimate spa package for head to toe indulgence, The Samsara takes you on a 4 hour journey of personal rejuvenation. Begin with a gentle DaLa foot ritual followed by your choice of relaxing massage. Next is your choice of body scrub and body mask before a luxury bath ritual of your preference. There is time out to enjoy a delectable luncheon or dinner of nutritionally balanced spa cuisine. The experience ends with an Empress facial ritual.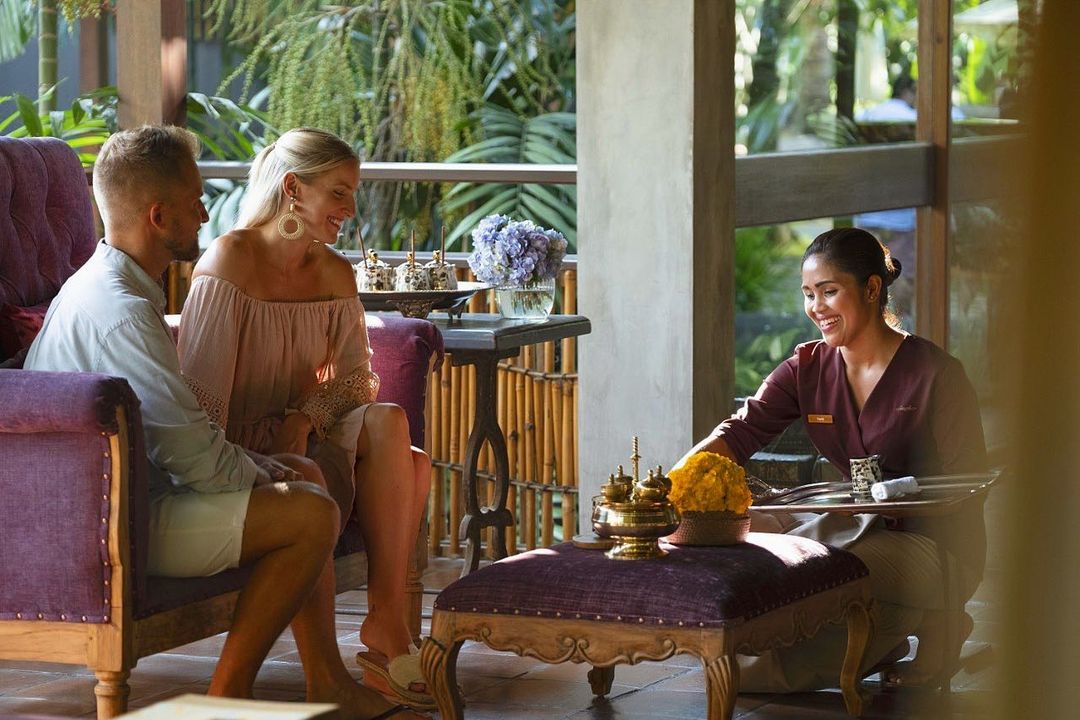 Jamu Of The Day {Herbal Drink}
Jamu是許多印度尼西亞人每天食用的傳統補品,以增強個人健康和美麗。由植物、根、葉、樹皮和水果等天然成分製成,採用代代相傳的配方。
這種草藥飲料可以追溯到17世紀中爪哇的皇家宮廷世紀。貴族階層的女性開始嘗試使用Jamu,並調製自己的魔藥來保持內在的美麗。為了紀念這一永恆的印尼傳統,Alaya Ubud在DaLa SPA中心自豪地推出了"每日Jamu"。
請在入住期間光臨SPA大堂,品嚐一杯新鮮製作的Jamu,讓我們加強您的一天。