<< Chantara Wellness & Spa – Sanur >>
About Chantara Spa
Biossentials很高興地宣布,位於印尼峇里島田園詩般的Sanur中心開幕最新的Chantara Wellness&Spa。
充滿異國情調的當代印尼Day Spa中心設計採用當地木材和石材,溫暖的金色燈光以及整個峇里島的原始藝術品。 栗紅色和青銅色的豐富性增強了中性色調。
Spa中心的環境設有四個寬敞的理療室,手腳沙龍服務區,零售精品角和有機茶室。
Spa中心注重健康,在極富異國情調,充滿靈感的環境中提供身心煥發,帶來完全的舒適感和放鬆感。 這種歷史悠久的養生方法反映了獨特的Chantara古老的治愈哲學。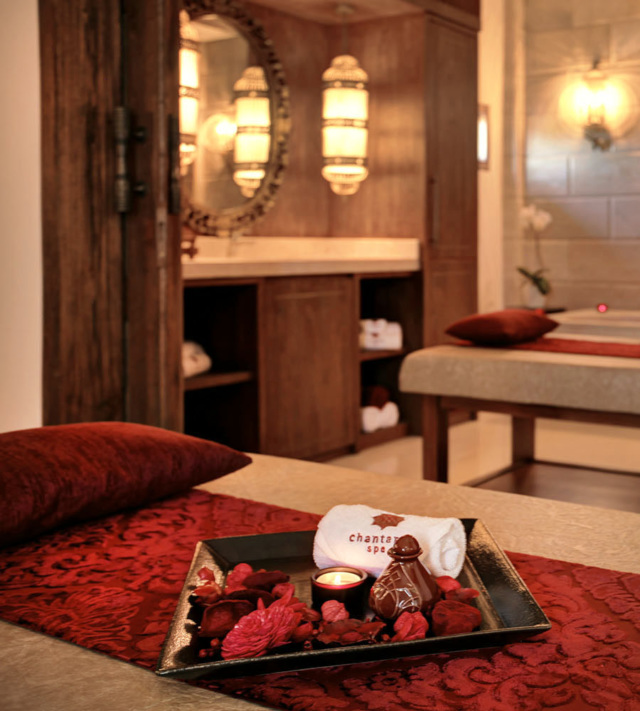 Chantara Concept
Chantara名稱的靈感來自泰語"Chan"意為"月亮"和"Tara"意為"水"。月亮和海洋以一個起伏不定的循環相互聯繫,因此生命的循環也對我們的內在和外在生命產生了變化。
因此,創建了健康Spa中心作為庇護所,幫助客人通過專用的觸感,個性化的傳統療法和有效的天然成分來恢復生活和身體的平衡。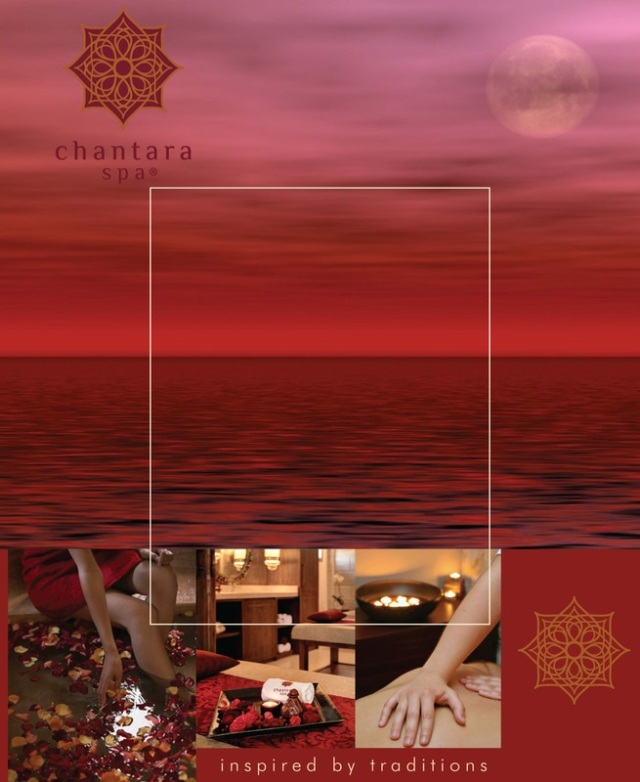 Chantara Spa Experience
Chantara Wellness&Spa秉承提供深層自然療法並取得卓越效果的承諾。Spa療程選項的靈感來自經久耐用的健康,美體和美容習慣,根據客人的個人需求和要求對其進行定制。
品嚐用熱帶檸檬草釀造的芳香薑茶。在柑橘薄荷清潔足部Spa中心與精緻的熱帶花卉搭配,倍感愉悅。發現芳香的身體光芒,泥土,濃郁而芬芳的Borneo婆羅洲咖啡和cocoa可可,芳香療法的面部護理以及令人振奮的按摩技術,這些由熟練的Spa治療師精心呵護。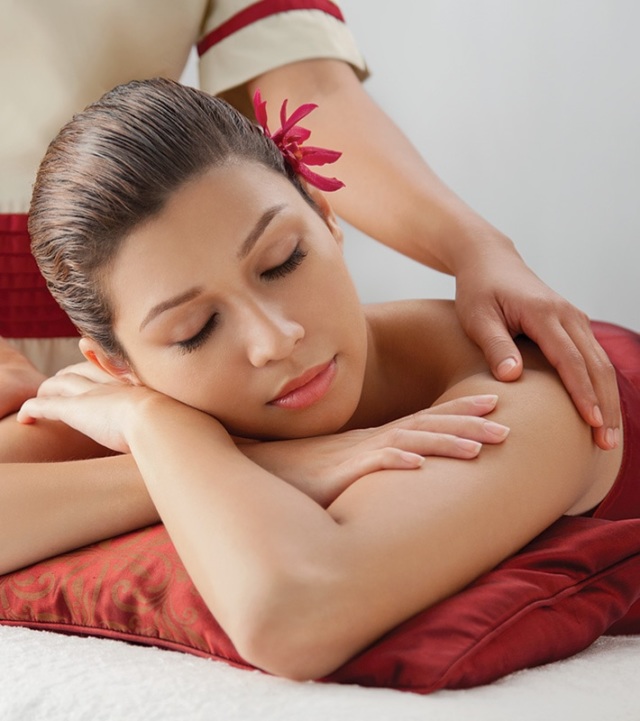 Chantara Spa Rituals​
發現我們的招牌療程。
Chanti Chanti招牌Spa將帶您領略Chantara獨有的熱帶感官體驗。 美味的生薑,咖啡和酸橙薄荷足宴可磨砂和拋光雙腳,使其完美無瑕。
然後,用甜美的棕櫚糖和椰子身體磨砂膏為身體打磨,輕輕地去除角質並恢復活力,然後使用Chantara深層保濕的芒果和可可脂身體裹敷,散發茉莉和依蘭香氣。然後,皮膚將享受大自然最好的東方珍珠提煉面部護理。
接著是放鬆的Chantara招牌按摩。 最後使用香薰花香浴,在熱帶幸福中煥發光芒。
​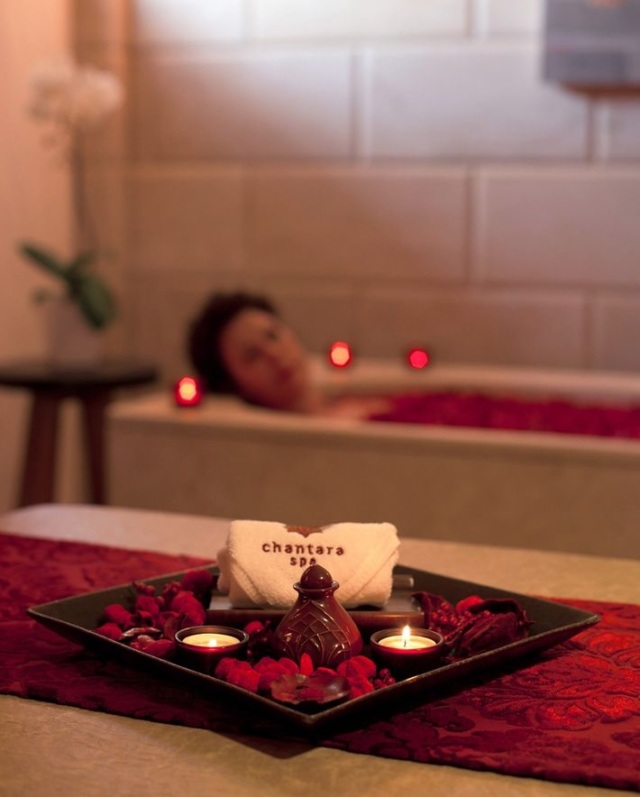 Chantara Spa Menu​
他和她的Chantara療程選項著重於健康與養生,靈感來自亞洲及其他地區的時間久負盛名的健康,美體和美麗禮儀。
Spa中心提供無殘留,素食主義者友好的有機和所有天然植物和香薰Spa,以及Chantara獨有的面部護理產品。經驗豐富的Spa理療師竭誠提供量身定制的療程方案
Chantara Spa療程選項提供久負盛名的健康,身體和美容,包括不含殘留的有機食品和全天然植物和香薰Spa,Chantara專有的身體和面部護理產品。定制療法是由熟練的Spa治療師精心打造的,反映個人需求,並希望每個人都充滿自然界最有效的治療和淨化成分。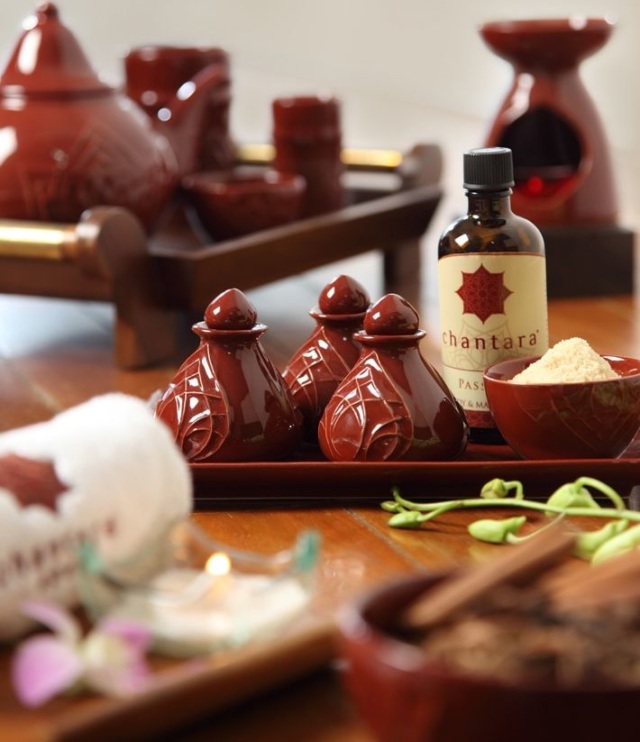 Massage By Chantara
Chantara整體按摩療法巧妙地結合了治療技術,以平衡,協調和放鬆身心。 純天然的香薰精華可增強所選按摩療法的功效。
ENERGY Uplifting, Energising & Refreshing with Lime, Lemongrass & Ginger
PASSION Exotic, Floral & Sensuous with Ylang Ylang, Cinnamon & Rose
RELAX Relaxing, Comforting & Calming with Ho Leaf, Lavender & Cedarwood
SERENITY Soothing Peace & Tranquility with Frankincense, Myrrh & Vanilla
CHANTARA ESSENCE MASSAGE – 60 or 90min
Chantara Signature Aromatherapy Massage delights the senses with the benefits of your preferred aroma essence blend. As you unwind and relax our deeply soothing and comforting holistic massage techniques will release everyday stress and tension as well as enhance circulation and well-being. Feel a total sense of peaceful relaxation.
SIGNATURE DEEP TISSUE MASSAGE – 60 or 90min
Deep Tissue Balancing Massage treatment relieves tight and stressed muscles. Our signature combination of muscle de-stressing, broad, sweeping strokes and finger pressure on trigger points helps release tension, muscle aches, tightness or sports-related problems. This comfortable technique pays special attention to the back, neck and shoulders to leave you feeling blissfully calm and refreshed.
TRADITIONAL EASTERN MASSAGE – 60 or 90min
Inspired by time-honoured massage techniques from ancient healing traditions of South Asia, our wonderfully relaxing and soothing Traditional Eastern Massage combines skillful Balinese kneading, stroking and flowing body sweeps to effectively relieve tension and stress in the body. Perfect for re-energising after travel or a tiring day. Feel your vital energies restored and balanced.
WARM STONE MASSAGE – 75min
Relieve muscle tension, stress and fatigue with our deeply relaxing Warm Stone Massage treatment. Round, smooth basalt stones are heated, oiled and applied to the body in combination with therapeutic massage techniques to help release muscular tension and stress, improve blood flow and encourage detoxification as well as open energy channels for general well-being. Enjoy a feeling of peaceful relaxation, harmony and comfort.
RESTORATIVE BACK MASSAGE – 30 or 60min
Chantara Restorative Back Massage is the perfect solution to relieve muscle tension and stress commonly felt in the shoulders, back and neck. Feel the difference as thorough kneading and targeted massage techniques by our experienced therapists releases pent
up stress and strain. Recommended to counter-balance a hectic and rushed lifestyle.
Body By Chantara
PURE BOTANICAL SALT GLOWS – 70min
Chantara甜美的100%純天然鹽去除暗淡乾燥的皮膚,富含礦物質般的海鹽,芳香油,粘土和有機植物成分,使皮膚煥發光彩,充滿活力並輕度滋潤。 每種護理均包括放鬆的頭部和頭皮按摩。
Vibrant Ginger Salt Glow wakens and energises with Lemongrass, Grapefruit, Ginger and Lime.
Reviving Juniper Salt Glow stimulates and cleanses with Juniperberry, Cypress and Rosemary.
Damask Rose Salt Glow refreshes and relaxes with Damask Rose, Rose Geranium and Lavender.
ORIENTAL BLOSSOM BODY EXFOLIATION – 70min
通過皮膚增白和保濕身體去角質護理療程,體驗東方古老的美容秘訣,其中包含傳統的柔和芳香植物成分的傳統混合物,富含木槿,玫瑰花瓣和米粉。 皮膚會感覺如絲般柔滑,明亮而營養豐富。
PURE NATURE BODY THERAPY – 70min
Chantara的身體護理以純天然的蟬繭成分提供恢復,養育和安撫的功能。 從增補礦物質的海洋裹敷或傳統的植物身體療法中選擇,可獲得光滑,光彩照人的皮膚。 每種護理均包括放鬆的頭部和頭皮按摩。
Ocean Marine Body Wrap treatment with Aloe Vera, essential oils and active Marine Algae harvests the harmony of the sea to remineralise, balance and calm the body. A purifying body therapy to equilibriate skin tissue, boost lymphatic activity and provide essential trace elements with slimming and firming benefits.
Boreh Spice Wrap with exotic Clove, Nutmeg, Cinnamon and Ginger awakens the senses and warms the body providing a soothing and comforting body treatment. Traditionally used to boost circulation, revitalise skin tone and provide a warming sensation. Especially useful if you are feeling under the weather or are in need of a boost.
Exotic Coconut and Vanilla Wrap with tropical coconut milk, earth clays, natural Vanilla and botanicals. A deliciously fragrant body envelopment to enrich and soothe stressed skin for a relaxed spa experience that celebrates the richly aromatic bounty of Asia.
Aromatic Coffee Body Polish is rich in natural fruit acids and anti-oxidants with traditional herbs of Ginseng and Tongkat Ali to tone and exfoliate tired dull skin leaving it soft, smooth and glowing. Especially useful for cellulite prone areas. Enjoy the heavenly aroma as your body is cleansed and re-energised.
Face By Chantara
Biossentials純天然芳香療法面部護理,含珍貴精油,可為皮膚提供支持和營養,使皮膚感覺健康,發光和平衡。每次面部護理都提供清新的毛巾和有機茶,並提供輕鬆的足部或手部按摩。
CHANTARA ESSENCE FACIAL TREATMENT – 60min
Chantara's revitalising Aromatherapy Essence Facial with purifying active clays, mineralising phytonutrients and potent anti-oxidants gently restores, firms and balances stressed skin. Customised precious pure essential oils are specially prepared to enhance the skin's natural texture and tone. Your skin will feel nurtured with a warm natural lustrous glow.
DEEP CLEANSE MARINE FACIAL TREATMENT – 60min
Choice botanicals combined with sea minerals and potent clays rich in micronutrients and trace elements work in synergy to cleanse, detox and restore the skins natural balance. Your skin will feel deeply refreshed and energised. For acneic or congested skin a series of treatments are recommended to maintain healthy, clear and glowing skin. Detox skin treatments are not recommended before a special event.
REJUVENATING ENZYMATIC FACIAL TREATMENT – 60min
A gentle brightening, hydrating and refreshing facial treatment with natural AHA fruit enzymes papain and bromelain to exfoliate dull skin cells and encourage regeneration and renewal. The synergy of customised essential oils and natural anti-aging benefits combine to smoothen and nurture fine lines, balance skin tones and restore the skin's natural luminous appearance.
ORIENTAL PEARL FACIAL TREATMENT – 75min
Oriental Pearl Facial experience brings Asias's traditional beauty secrets to your skin. Energising Jade Roller and lifting facial massage techniques enhance micro circulation to refresh and energise the skin. Followed by our enriching pearl renew skin boost with pure pearl powder containing Amino Acids and anti-oxidants boosted with fruit enzymes. Nature's finest elements visibly brighten, soften and equilibrate your skin.
TRIPLE ROSE INTENSIVE FACIAL – 90min
Triple Rose Intensive Lifting Facial Treatment provides a super boost to dehydrated, sun damaged and aging skin. A specialised age-defying facial massage techniques gently lifts and energises the skin targeting fine lines and loss of tone. This is followed by a luxurious triple rose skin rejuvenating and hydrating facial masque with deeply nourishing pure botanicals. Triple Rose – the ultimate hydrating facial to redefine, soften and replenish skin texture.
Hand & Feet By Chantara
RELAXING ESSENCE FOOT SOAK & FOOT MASSAGE – 45min
Treat your feet to a pampering Aroma Essence Foot Soak. Our wonderfully indulgent reflexology foot and leg massage with pure essential oils will improve circulation and well-being leaving you relaxed, energised and refreshed.
CHANTARA FOOT FEAST RITUAL – 60min
When you've been on your feet all day and feel completely beat, a soothing foot ritual is the best reward. Start with a refreshing foot spa, followed by an energising Ginger salt scrub and Coffee revive cooling foot mask to exfoliate for smooth soft skin. Finish with a relaxing reflexology foot massage. Your feet never felt so good!
SALON SERVICES
*所有用於修指甲/修腳治療的設備都經過清洗和消毒,以確保衛生。
CHANTARA CLASSIC NATURE PURE PEDICURE – 45min
Chantara classic nature pure pedicure restores your feet and nails. Begin with a cleansing aromatherapy foot soak and skin buffing to exfoliate dull, dry and cracked skin. Finish with a restoring pedicure to tidy cuticles and trim, shape and buff the nails to shiny perfection or select your polish colour of choice for a vibrant finish.
CHANTARA CLASSIC NATURE PURE MANICURE – 45min
Chantara Classic Nature Pure Manicure restores your hands and nails. Begin with a relaxing aromatherapy hand spa and massage. Finish with a restoring manicure to tidy cuticles and trim, shape and buff the nails to shiny perfection or select your polish colour of choice for a vibrant finish.
CHANTARA DELUXE NATURE PURE PEDICURE – 70min
Chantara Deluxe Nature Pure Pedicure caresses your feet with the finest aromatic botanicals. Begin with a cleansing aromatherapy foot soak followed by a luscious Rose exfoliating foot scrub and skin buff. A refreshing Coffee Mint foot mask will reveal soft, smooth and glowing skin followed by a relaxing foot and leg massage. Finish with a restoring pedicure to tidy cuticles, trim, shape and buff the nails to shiny perfection for a natural look or select your polish colour of choice for a vibrant finish. Includes neck, head & shoulder massage.
CHANTARA DELUXE NATURE PURE MANICURE – 70min
Natural fruit enzymes and aromatherapy essences provide the hands with gentle age-defying benefits for smooth, glowing and softer hands. Begin with a relaxing aromatherapy hand spa followed by a Rose and Hibiscus hand scrub and brightening hand mask. Then enjoy a soothing and relaxing hand and arm massage. Finish with a restoring manicure to trim, shape and buff the nails to perfection for a natural look or select your nail polish colour of choice for a vibrant finish. Includes neck, head & shoulder massage.
Rituals By Chantara
CHANTI CHANTI SIGNATURE RITUAL – 150-180min
Lime Mint Foot Feast • Vanilla, Palm Sugar & Coconut Body Polish • Tropical Mango Butter Body Wrap • Oriental Pearl Facial • Chantara Signature Massage • *Optional Floral Bath / additional 30min
The ultimate Chanti Chanti Signature Spa Ritual takes you on a tropical sensory experience that is exclusive to Chantara. A delectable Ginger, Coffee and LimeMint Foot Feast will scrub and buff your feet to perfection. We will then polish your body with a luscious Vanilla, Palm Sugar & Coconut Body Polish to exfoliate and revive followed by Chantara's deeply hydrating Mango & Cocoa Butter Body Wrap scented with Jasmine and Ylang Ylang. Your skin will then enjoy nature's finest Oriental Pearl Refining Facial followed by an enchanting Chantara Signature Massage to leave you glowing in tropical bliss. Complete your Chanti Chanti experience with a deeply soothing and relaxing Floral Bath infused with pure essences, moistening oils and fresh flower petals.
ROYAL CHANTARA INDULGENCE – 120min
Royal Balinese Foot Spa • Tropical Hibiscus & Rose Body Polish • Luscious Mococa Borneo Wrap • Chantara Essence Massage
Experience a sumptuous spa journey of total relaxation and pampering. A soothing Royal Balinese Foot Soak is followed by a gentle Tropical Hibiscus Body Exfoliation. After your skin is polished to perfection you are then enveloped in a delectable Mococa Body Wrap. From the rainforests of Borneo this richly nourishing treatment will restore, calm and hydrate your skin. After a refreshing
rain shower, a harmonising Chantara Essence Massage completes your Royal Chantara spa journey.
NUSANTARA HERITAGE – 120min
Pandan & Coconut Foot Spa • Traditional Eastern Massage • Hair Cream Bath • Royal Javanese Lulur & Yoghurt Body Treatment • Skin hydration
Inspired by ancestral knowledge from South Asia's natural healing traditions, this skin enhancing exotic ritual begins with a fragrant
Pandan and Coconut Milk Foot Spa. Then enjoy a wonderfully relaxing Balinese inspired Asian massage. The highlight is a traditional hair Cream Bath followed by a fragrant Royal Javanese Lulur Body Treatment, enriching yoghurt body wash and nourishing body moisturiser. The Nusantara Heritage journey will leave your body and mind feeling refreshed and renewed and your skin soft, supple and revived.
VITALITY PURIFICATION & DETOX – 120min
Eucalyptus & Tea Tree Foot Spa • Detox Skin Brushing • Hot Packs • Traditional Skin Tapping • Vitality Detox Juniper & Algae Body Mask • Deep Tissue Massage
Vitality Purification Ritual detoxes and purifies the body with potent active botanicals and marine extracts. After a detox foot spa, an energising and stimulating skin brushing will exfoliate the skin and encourage elimination. This is followed by warming heat packs and stimulating skin tapping to assist circulation and energy flow. Next be cocooned in a Juniper and Algae detox and toning body mask especially rich in therapeutic sea minerals. To complete your purification journey, a stimulating deep tissue massage will leave you feeling recharged and invigorated.
*Detox salt bath is optional.
SOOTHING SUN SKIN RECOVERY – 90min
Cooling Foot Spa • Ocean Marine & Aloe Body Wrap • Aloe Cucumber Facial • Soothing Lavender Massage
Soothe and nourish dehydrated or sun-affected skin effectively with our truly comforting Lavender Soothing Skin Recovery Ritual. Start with a cooling Lime Mint foot spa. Your body is then enveloped in a cooling ocean marine mud wrap with Aloe Vera and healing pure essential oils. Feel restored as the heat gently seeps away. A Cucumber and Aloe recovery facial soothes and refreshes the skin.
Complete your experience with a gentle and calming Lavender aroma massage.
RADIANT BODY GLOW – 90min
Foot Spa • Full body Exfoliating Salt Glow • Chantara Essence or Deep Tissue Massage
Get totally buffed, polished and invigorated. Our 100% natural aromatic scrub will buff away dull tired skin with a nourishing blend of natural mineral salts, clays and pure aromatic oils to leave your skin refreshed and silky smooth. Finish with a full body aroma essence or deep tissue massage using your specially chosen blend of oils. You will feel wonderfully energised, glowing and radiant.
ULTIMATE BACK SOOTHER – 70min
Foot Spa • Energising Back Scrub • Relaxing Heat Pack • Tension Relieving Back, Neck & Shoulder Massage
Releasing built up tension in the back, neck and shoulders, the ultimate back soother is a perfect way to de-stress and alleviate sports and lifestyle related aches and pains. Perfect after a game of golf. Begin with an invigorating ginger back scrub to buff away dull skin leaving it nourished and cleansed. Followed by penetrating heat packs to soothe and promote relaxation. Finish with our Restorative Back Massage to ease blockages and melt away tension.
SLIM & TRIM BY CHANTARA – 120min
Body Shape
Foot Spa • Dry brushing • Juniper Body Scrub • Body Tone Wrap • Lymphatic
Deep Tissue Massage
For serious fat blasting the Chantara Body Shape Treatment helps to improve metabolism and circulation, remove excess fluid and toxins and tone body tissues. Begin with an energising foot spa. Then experience a Detox Body Dry Brushing followed by a stimulating Juniper and Cypress full body salt scrub to exfoliate and energise the skin. As you are cocooned in a warming heat blanket the slimming actions of our high performance Body Tone Marine Wrap enhanced with potent green Coffee extract and pure essential oils will encourage elimination snd detoxification as well as enhance and firm skin texture and smoothen cellulite prone areas. The Body Shape Treatment includes a Lymphatic Deep Pressure Massage for a toned and vital body. You will immediately feel and look better! For best results a weekly Body Shape Treatment is recommended combined with a targeted exercise program and nutirition assessment. Multiple treatment packages available.
BATH BLISS BY CHANTARA
*專為附加選項到任何Spa療程。 不作為單一治療。
Balinese Blossom Float – 30min
Drift away into comforting relaxation as you enjoy our deeply soothing Blossom Float. As you soak away stress and tension, your senses will be infused with the scent of pure plant essences, moisturising oils and fresh flower petals in our blissful Balinese floral bath.
Jasmine & Coconut Tahitian Soak – 30min
Relax in a tropical bathing sensation with our Tahitian Coconut Milk and Jasmine body soak. Breathe deeply and slowly unwind in tropical bliss as your senses are awash in the pure scent of Jasmine and Ylang Ylang essential oils and fresh flower petals.
Detox Deep Cleanse Body Bath – 30min
Revive in an energising detox bathing experience with our Detox Deep Cleanse body bath. As you soak in our special combination of mineralised salts, detox essential oils and botanicals your body will feel recharged and revitalised.
Add : Jalan Danau Poso 104, Sanur, Bali, Indonesia 80361
營業時間 : 10:00-18:00(Closed Wed)
Tel : 0361-4490440(by appointment)