<< Heavenly Spa@Westin Nusa Dua >>
Experience Body, Mind, And Spirit Rejuvenation
威斯汀™ Heavenly Spa提供令人恢復身心的Spa體驗。在豪華的男女Spa設施中放鬆身心,在指壓室釋放肌肉緊張,或享受神聖的Spa療法,煥發青春。Spa中心由14間私人理療室組成,採用海藻和黏土等當地材料打造真正的健康目的地。Heavenly Spa專注於整體健康,並為飯店和Spa中心的客人提供令人恢復心身的健康計劃。
Treatment Rooms
威斯汀™ Heavenly Spa包括14間以健康為導向並以大自然為靈感的理療室,讓客人可以享受精緻的身體和美容禮儀。精緻的按摩技術,例如指壓按摩(在專為此目的設計的護理室中進行),加上能去除角質和使皮膚恢復活力的特色療法,使Westin™by Heavenin Spa成為真正的健康目的地。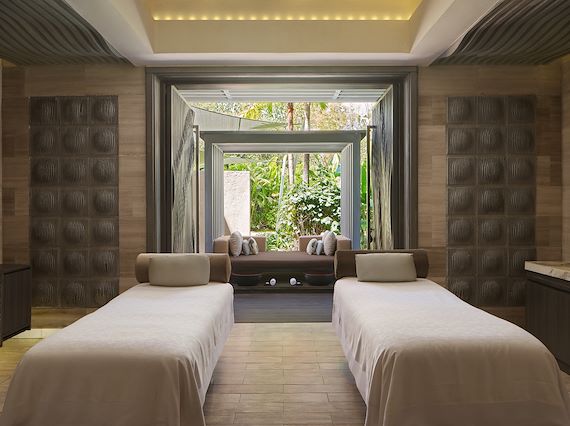 Salon
豪華美容院包括4個修指甲和修腳站,並基於Ingham反思系統對手腳進行修復。一大亮點是私人反思房,配備最先進的治療床,可在一個空間內通過面部護理,香薰按摩和指甲護理全面Spa護理。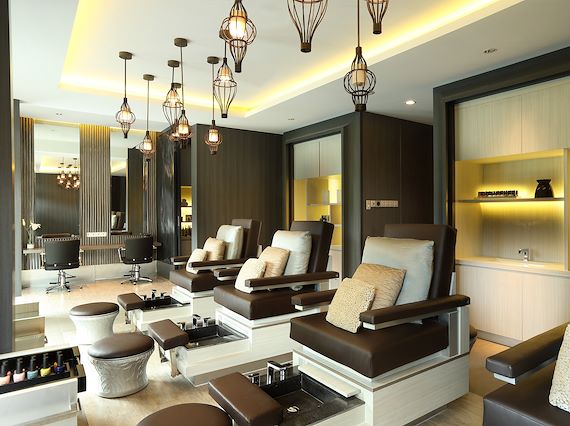 Thermal Facilities
威斯汀™ Heavenly Spa使用本地採購的海藻和泥土人體面膜等成分注入私人蒸氣室中。 借助單獨的男女水力噴射池,冷水池,喜馬拉雅鹽沼桑拿浴和蒸汽房,享受Spa中心徹底更新的熱療設施,支持治療效果。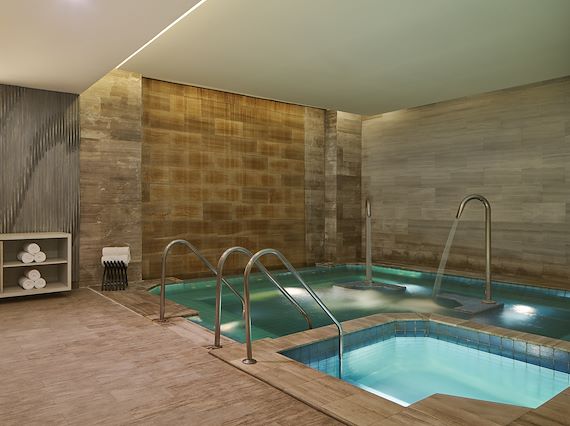 Spa Treatments
從療程選項中選擇一項,每項均由訓練有素的治療師進行。首次服務前30-45分鐘到達,並享受水力噴射池,冷水池,喜馬拉雅鹽桑拿浴和蒸汽浴室。 這是放鬆和溫暖肌肉的好方法,有助於療程和服務帶來治療效果。
Awaken Your Senses
Rituals –
PURIFY [90 MINUTES]
'I am purified'…
This ritual begins with an exfoliating Heavenly Spa signature scrub with choices from the Hope, Love and Gratitude series followed by an invigorating Heavenly Spa signature body massage. It is an indulging experience to complete your holiday break in Bali.
EMERGE [105 MINUTES]
'I emerge renewed'…
A ritualistic foot cleanse begins this treatment followed by a refreshing natural facial. The journey then continues with a wellbeing body massage leaving the skin the skin feeling relaxed and fresh.
Couples –
HEAVENLY HIS & HERS [90 MINUTES]
'Us together… better'…
Enjoy some heavenly time with your loved one with a combination of his and hers rituals using our double treatment room. Gentle breathing techniques and energy balancing is followed by signature traditional scrub. The journey concludes with a Balinese massage to restore tranquility. Unwind and reconnect.
Facial Treatments –
每種療法對年齡,皮膚類型和狀況都有特定的反應,男性和女性均可使用,旨在優化皮膚自身的條件,並幫助恢復其自然美以及放鬆身心。
REVIVE FACIAL [60 MINUTES]
A soothing and relaxing facial for normal skin types.
SKIN SOLUTIONS FACIAL [60 MINUTES]
Soothing for sensitive and irritated skin.
AGE REPAIR FACIAL [60 MINUTES]
This antioxidant enriched facial provides essential replenishment for mature and tired skin.
Exfoliate –
這些全身去角質治療包括淋浴和使用潤膚露保濕劑,使皮膚清新,天鵝絨般光滑。 每個人都將在裹敷和/或按摩身體之前調理皮膚。
SEA SALT SCRUB [60 MINUTES]
Vigorous and uplifting.
KEMIRI SCRUB [60 MINUTES]
Herbal and healing.
COCONUT SCRUB [60 MINUTES]
Natural and cleansing.
HEAVENLY SIGNATURE SCRUB [60 MINUTES]
Jayaprana and Layonsari floral.
AWAKENING COFFEE SCRUB [60 MINUTES]
Invigorating caffeine shot.
NOURISH YOUR BODY –
Enjoy our Eat Well menu and drinks before or after your treatment for a deliciously healthy treat.  在享受健康的療程之前或之後,享受Eat Well菜單和飲料。
Massage –
沉迷於絕對的放鬆中,沉浸在真實的身體護理中,釋放深沉的壓力。這些護理加上磨砂膏/裹敷是體驗鎮定的好方法。
HEAVENLY SPA SIGNATURE MASSAGE  [60 MINUTES OR 90 MINUTES]
A heated compress invites back muscles to relax followed by a Swedish massage that will leave you feeling physically rested and mentally uplifted.
WELLBEING [60 MINUTES OR 90 MINUTES]
This energizing sports massage combines Shiatsu and Reflexology techniques to address deep muscle tension and give a vigorous boost to your physical and mental wellbeing.
ASPIRE MASSAGE [60 MINUTES OR 90 MINUTES]
Natural plant-based aromatherapy oils together with a varied combination of massage techniques for your ultimate relaxation.
TRADITIONAL [60 MINUTES OR 90 MINUTES]
The ancient wisdoms of Balinese, Javanese or Shiatsu wellness with a full body dry massage including deep tissue and yogic stretching. Dry massage only applied in Shiatsu treatment..
SACRED STONES [60 MINUTES OR 90 MINUTES]
A gift from the earth; warm lava river rocks from the Ayung River are introduced to your soothe muscles with a balancing 100% essential oil blend.
Wraps –
當被包裹在繭中時,身體將恢復能量,在舒緩的頭皮按摩的額外幫助下,思想將變得清晰。建議選擇自己喜歡的按摩方法。
ALOE VERA [60 MINUTES]
Cooling, soothing, healing.
SEAWEED [60 MINUTES]
Replaces lost minerals.
Hair Treatment –
HAIR CRÈME BATH
這種針對印尼女性的古老美容儀式稱為乳霜沐浴,是一種特殊草藥的頭髮和頭皮護理療法,是專為Heavenly Spa創造,使用維生素E和精油幫助清除心靈,使頭皮恢復活力並恢復光澤。從洗頭和頭皮按摩開始,然後將頭髮包裹在熱氣騰騰的毛巾中,然後用生薑補劑噴洗。
ALOE VERA AND YLANG YLANG [60 MINUTES]
This cooling gel adds fullness and luster.
AVOCADO AND HONEY [60 MINUTES]
Adds rich texture and nourishes dry, brittle hair.
TEA TREE [60 MINUTES]
Cooling and healing, leaves hair smelling divine.
HAIR SPA [60 MINUTES]
Revives dry damaged hair using a combination of natural products.
Hair Removal –
使用最優質蠟和大米蠟於敏感肌膚
ARM (15 MINUTES)
HALF LEG (30 MINUTES)
FULL LEG (60 MINUTES)
Spa Bale –
Heavenly Spa發呆亭位於海濱花園。
EASE (30 MINUTES)
Designed for backs prone to blemishes and oiliness, this treatment restores skin, leaving it smooth, glowing and flawless.
ESCAPE (60 MINUTES)
A taste of Asia with a choice of Javanese or Balinese Massage and Foot Massage/Reflexology.
在開始服務之前,請告訴治療師想重點關注的以及應避免的任何部位。
Westin Kids Spa –
年輕的Spa好者會喜歡Westin Kids Spa。提供面部護理,臨時紋身,修指甲和修腳,並編綁峇里島海灘的有趣辮子編織。
FUN FRUITY CREAM BATH FOR KIDS (45mins)
Make you hair as smooth as a prince or princess with our combination of fruit natural fruit cream bath. A choice of strawberry vanilla, blue berry mint, avocado honey and milky orange cream bath.
TWINKLE TOES & FANCY FINGERS (45mins)
Sparkle and shine with this manicure and pedicure, leaving fingers and toes party ready.
BEST FRIENDS FOREVER (30mins)
Girlfriend fun with a fresh face cleanse and nail color of your choice.
PRINCE or PRINCESS (45mins)
Pamper yourself like a prince & princess with a fun fruity crème bath and your choice of a temporary tattoo or pretty nail art.
MINI FACIAL* (30mins)
Freshen up your face with this healthy mini facial.
MOMMY AND ME (30mins)
Enjoy some special Mommy & Me time with a massage for mom at by the beach and kids hair braiding or temporary tattoo.
MY BIRTHDAY WISH* (45mins)
Enjoy your birthday with a choice of:
– Facial with temporary tattoo or
– Facial with manicure or pedicure
HAIRSTYLING (45mins)
Trendy styling for boys and glossy locks for girls with a little luxe wash and blow dry.
HAIRBRAIDING
A girl's gotta have it; let us braid and bead your hair for a full Bali beach style.
Single Braids
Half head for short hair
Full head for short hair
Half head for medium hair
Full head for medium hair
Half head for long hair
Full head for long hair
*面部護理適合16至17歲的孩子。
*父母/監護人需要簽署水療中心放行表格。
營業時間  :  10:00-18:00
https://www.heavenlyspabali.com/