Pita Maha Spa@Pita Maha Resort & Spa Ubud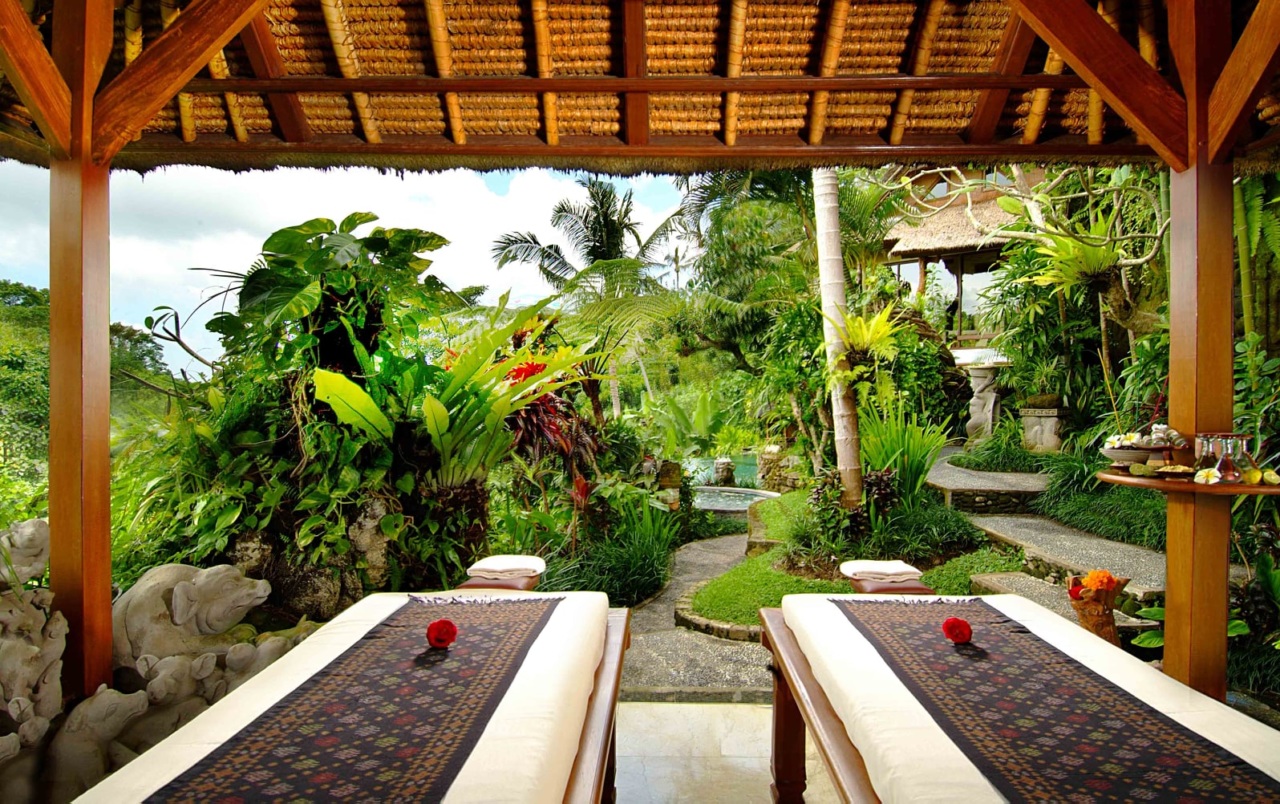 << Pita Maha Spa@Pita Maha Resort & Spa Ubud >>
Embark on a Journey of Personal Indulgence at Pita Maha Spa
Pita Maha Spa是一座隱匿於現代生活複雜環境中的避難所,一座坐落在度假村僻靜區域的私人別墅。提供受峇里島古老治療方法啟發的專門護理選項,促進健康、美麗和活力。
Pita Maha Spa專為情侶專用而設計,還提供多種健康設施。有一個室外理療館、蒸汽浴室、冷熱水浴缸和一個峇里島泉水小泳池。
Spa Packages…
MEMORY IN PARADISE –

 4 hours

A 4 hours spa experience in a private villa spa compound at Pita Maha Private Villa Spa to refresh both body and spirit with a traditional massage and continues with a deep cleansing facial.

Includes:
– Use of All Private Spa Facilities
– Balinese Massage + Pita Maha Facial
– Complimentary Herbal Refreshments of Ginger and Jasmine Tea
– Pita Maha Spa Special Gift
– Free Transfer (Pick-up and Drop-off) within Ubud area

Flow of Programs:
– 10 minutes Welcoming and Counseling – includes a healthy drink and chilled towel
– 2 hours Intensive Spa Treatment
– 2 hours Relaxing Time – Free to use all spa facilities
– End with a memorable lunch experience at Pita Maha Terrace Restaurant overlooking to Tjampuhan Valley
A DAY AT PITA MAHA –

7 hours

A perfect blend of spa, culinary and sightseeing experience.
7 hours package, comes with an array of spa treatments of Balinese Massage, Traditional Lulur, Pita Maha Facial and Flower bath that will give you an exceptional experience during the day.

Includes:
– Use of All Private Spa Facilities
– Balinese Massage + Traditional Lulur + Pita Maha Facial + Flower Bath
– Complimentary Herbal Refreshments of Ginger and Jasmine Tea
– Pita Maha Spa Special Gift
– Free Transfer (Pick-up and Drop-off) within Ubud area

Flow of Programs:
– 10 minutes Welcoming and Counseling – includes a healthy drink and chilled towel
– 3 hours Intensive Spa Treatment
– 3 hours Relaxing Time – Free to use all spa facilities
– Memorable Lunch at Pita Maha Villa Spa dining area
– Continue the journey to visit the oldest museum in Ubud "Puri Lukisan Museum" (Entrance Fee included)
– Free on your own to see a Balinese Dance Performance in Ubud (Show Ticket included)
Recommended Package
Luxurious Indulgence Package –

120 minutes

Relax in true style a healing two hour session of total body, mind and spirit relaxation in an exquisite river valley setting.

Includes:
– Exclusive use of all facilities
– A traditional treatment from the Pita Maha Spa menu
– Ginger & Jasmine Tea
– Spa Gift
– Free transfer within Ubud area
Shared Destiny

 (including Indonesian Lunch or Dinner with Cocktail) –
 120 minutes
Relax for two hours in our private spa villa with soothing valley views. This romantic  ritual is all about spending quality time together as a couple. It include a traditional Balinese massage served with herbal refreshments. Then take pleasure in our facilities including a sauna, steam room, hot and cold Jacuzzi and pool. Savour a delicious set Indonesian lunch or dinner and a mystery cocktail at Terrace Restaurant. A Pita Maha token gift is presented upon completion.
Classic Herbal Pampering –

 120 minutes
Balinese Massage – Herbal Compress
Begin with a traditional Balinese massage and finish up with a soothing herbal compress to relax the entire body.
Inner Beauty Ritual –

 120 minutes
This traditional form of female beauty care has been used for generations of Javanese women and new brides. It is a unique cleansing treatment that incorporates a natural body scrub to give the skin a vibrant glow. There is also a special body smoke reputed to cleanse the female genitalia, eliminate unpleasant odours and reduce vaginal discharge. Inner beauty is a timeless ritual.
Includes:
Flower Footbath – Full Body Massage – Body Scrub (Green Tea or Coffee) – Flower Bath – Vaginal Smoke
Hot Stone Ritual –

 120 minutes
This therapeutic and relaxing treatment is designed to relive stiffness and restore depleted energy levels. Smooth river stones are warmed to glide across your body in long, flowing strokes. The heat helps to relax muscles and has a soothing effect on your emotions. Simultaneously, other stones are placed on the body to melt away tension and restore balance.
Chocolate Luxury –

 120 minutes
This luxurious ritual use chocolate and other ritual ingredients to uplift the body, mind and spirit. It will leave you looking great and feeling sweetly satisfied.
Includes:
Relaxing Massage – Chocolate Almond Scrub – Chocolate Cinnamon Body Masque – Yoghurt Rub – Chocolate Moisturizing Cream – Hot Chocolate Drink
Sensory Indulgence –

180 minutes
Balinese Massage – Herbal Compress – Pita Maha Facial – Herbal Bath
This spa experience refreshes both body and spirit with a traditional massage and herbal compress to penetrate the pores and transfer medicinal heat to the muscles for heightened relaxation. It continues with a deep cleansing facial followed by a nurturing aromatic herbal bath.
Pure Bliss –

160 minutes
Acupressure Massage – Clay Body Masque – Yoghurt Rub – Pita Maha Facial Flower Bath
Created to effectively cleanse and detoxify, this treatment involves an acupressure massage and a clay body masque with promotes the breakdown of toxins in the body that causes cellulite. A nourishing yoghurt rub and gentle facial is followed by a fragrant flower bath to soothe the senses.
Just For Men –

 160 minutes
Acupressure Massage – Pita Maha Facial – Fabulous Feet
This package has been created to reawaken the senses with a selection of masculine treatments. A firm pressure – point massage is performed to eliminate body tension  is followed by a deep cleansing facial for fresh looking skin. The session of gentle foot reflexology to stimulate circulation concludes this treatment for men.
Ultimate Indulgence –

160 minutes
Balinese Massage – Traditional Lulur – Pita Maha Facial – Yoghurt Rub – Flower Bath
This package is the ultimate in personal indulgence and focuses on making you feel radiant. Balinese massage use long strokes and palm pressure for deep relaxation.. this is followed by a traditional body scrub to make your skin glow, a nourishing facial, yoghurt rub and a luxurious soak in a tub of fragrant flower blossoms.
Spa Treatments
Balancing Balinese Massage –

60 minutes / 90 minutes

Uses a traditional Balinese technique with firm finger, palm pressure and minimal oil to ease stress and muscular tension.
Refreshing Acupressure Massage – 60 minutes
A full-body pressure massage for overall rejuvenation. This is a dry treatment without oil.
Ancient Indian Head Massage – 60 minutes
During this uplifting massage, our therapist will relieve muscle tension from the back, neck and shoulders for a feeling of deep relaxation. This treatment is ideal for those who are unable to experience regular massage due to injury or specific health conditions.
Radiant Pita Maha Facial – 60 minutes
This is the perfect way to deep cleanse and refresh your skin using biokos product. Includes a complete neck and shoulder massage to eliminate tension.
Revitalizing Herbal Lulur – 90 minutes
This nurturing herbal body scrub eliminates impurities and leaves the skin soft and silky. It is followed by a yoghurt massage and a relaxing soak in a tropical flower bath.
Invigorating Balinese Boreh – 60 minutes
This traditional spice is lightly applied to body followed by a full acupressure body massage and application of jasmine moisturizer.
Coffee Sensation – 60 minutes
A fragrant coffee scrub is applied to the body to naturally exfoliate and soften the skin followed by a back massage using grated yoghurt.
Green Tea Experience – 60 minutes
This soothing back massage and gentle scrub deeply cleanses the pores and leaves the skin with a healthy glow.
Fabulous Feet – 30 minutes
A specialized massage that stimulates reflex points on the feet relieve stress and tension.
Essential Body Masque – 90 minutes
Volcanic clay is applied to the body to naturally cleanse and nourish the skin. Finish off with a replenishing yoghurt massage.
Herbal Compress Ritual – 60 minutes
This traditional herbal remedy warms the body, relieves tired muscles and addresses minor rheumatic conditions for a refreshing feeling.
Add : Jl.Sanggingan PO Box 198, Ubud 80571, Bali,Indonesia
Tel : 0361-974330
https://www.pitamaha-bali.com/spa.html
Peter Pan