<< IHG – InterContinental Bali Sanur Resort (原Fairmont Sanur) 最新促銷 til 22/Dec/2023 & 最新促銷 til 31/Mar/2024 >>
雖然2015年因經營考量從Regent Sanur更名為Fairmont Sanur,2022又改投身IHG旗下,成為Intercontinental Sanur,仍大力推薦各式套房,房間設計古典帶現代,寬敞舒適,open air的客廳兼陽台設計讓住客能貼近大自然的溫度(非常能滿足抽菸者)。另還有1房-3房Pool villa(不靠海),唯一一間Presidential 2-Bedroom Beachfront Villa景觀極佳。提供往返Sanur主街的循環交通,是國際品牌迷在Sanur除了Hyatt Regency Sanur及Andaz外的另一高檔選擇。
Junior Suite Garden View (i.s.o Fairmont Garden view Suite) – 90 sqm – (King/Twin) – Bathtub – Garden View
Junior Suite Ocean View (i.s.o Fairmont Ocean view Suite) – 90 sqm – (King/Twin) – Bathtub – Ocean View
One Bedroom Suite Garden View (i.s.o Deluxe Garden view Suite) – 136 sqm – (King/Twin) – Bathtub – Garden View – (可加2床)
One Bedroom Suite Ocean View (i.s.o Deluxe Ocean view Suite) – 136 sqm – (King/Twin) – Bathtub – Ocean View – (可加2床)
Spa Suite Garden View (i.s.o Signature Garden view Spa Suite) – (157 – 181 sqm) – (all King Beds) – Bathtub – Garden View – Private access door to spa room
Spa Suite Ocean View (i.s.o Signature Ocean view Spa Suite) – (157 – 181 sqm) – (all King Beds) – Bathtub – Ocean View – Private access door to spa room
One Bedroom Pool Villa Garden View (i.s.o 1BR Pool Villa) – (308 sqm) – (King Size Bed) – Bathtub – Garden View – Private Pool
Two Bedroom Pool Villa Garden View (i.s.o 2BR Pool Villa) – (308 – 580 sqm) – (King + Twin) – Bathtub – Garden View – Private Pool – (可加2床)
Three Bedroom Pool Villa Garden View (i.s.o 3BR Pool Villa) – (478 – 660 sqm) – (2 King + 1 Twin) – Bathtub – Garden View – Private Pool – (可加3床)
Two Bedroom Presidential Villa Beach Front – (937 sqm) – (1 King + 1 Twin) – Bathtub – Indian Ocean Front View – Private Pool – (可加2床) – still renovation
最新促銷 til 22/Dec/2023
最新促銷 til 31/Mar/2024
若有興趣 可洽Casa Chen 0932-043913, mail to casachen@neverneverlandinbali.com
https://www.fairmont.com/sanur-bali/
https://www.ihg.com/intercontinental/hotels/id/in/bali/dpsps/hoteldetail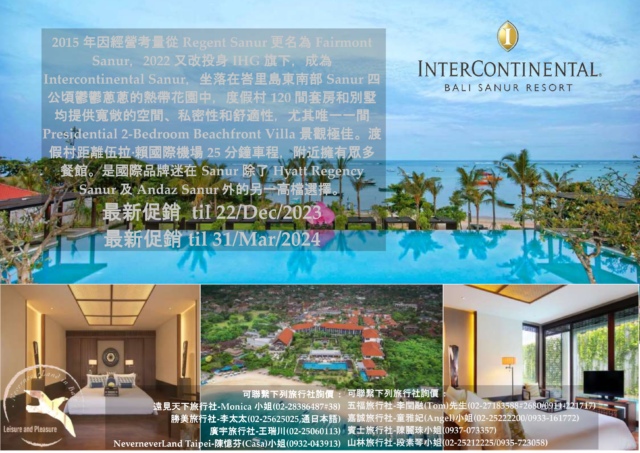 InterContinental Bali Sanur Resort
nterContinental Bali Sanur Resort坐落在峇里島東南部Sanur四公頃鬱鬱蔥蔥的熱帶花園中,是一處迷人的海濱目的地,奢華與峇里島式的待客之道相得益彰。120間套房和別墅均提供寬敞的空間、私密性和舒適性。 度假村距離伍拉·賴國際機場 25 分鐘車程,附近擁有眾多餐館。 通過前往峇里島最佳景點的一日遊探索洲際生活。
CHECK IN: 3 
PM
 (EARLY CHECK IN AVAILABLE)
CHECK OUT: 12 
PM
 (LATE CHECK OUT AVAILABLE)
LANGUAGES SPOKEN BY STAFF:
Guestroom Accessibility Details:

Wheelchair Accessible Closets
Furniture can be rearranged for added space
Wheelchair Accessible Rooms & Routes
Bathroom Cord/Button Emergency System
Bedroom Cord/Button Emergency System
Grab Bars/Adequate Maneuvering Space/Tall Toilets
Adequate Turning Space
Padded Plumbing/Clearance Beneath Vanity

Elevator Accessibility Details:

All Level Elevator Access
Wheelchair Accessible Elevator
Elevator Near Accessible Rooms

Public Area Accessibility Details:

Public Restroom: Padded Plumbing/Vanity Clearance
Public Restroom: Wheelchair Accessible Stalls
Wheelchair Accessible Hotel Entrance
Wheelchair Available
Wheelchair Accessible Public Restroom
Restaurant Wheelchair Seating
Public Facilities Accessible

Parking Accessibility Details:

Flat Terrain Between Parking/Entrance
Wheelchair Accessible Curb Cuts/Street Parking
Disabled/Accessible Parking
Wheelchair Accessible Parking/2 Spaces
Standard Rooms, Suites, Business Center, Public Areas and Meeting Convention Space
Estimated time by taxi : 20
DRIVING DIRECTIONS:
FROM THE AIRPORT –
Ngurah Rai 國際機場 (DPS):沿著 By Pass Ngurah Rai 的主幹道左轉……一直走直到找到 Ngurah Rai 周圍,從第 3 個出口直走,機場就在左側。
FROM THE NORTH –
從MCD Sanur 的交界處左轉,沿 Tamblingan 街行駛,然後右轉至 Kusuma Sari 街。
FROM THE SOUTH –
從Bypass Ngurah Rai 出發,然後一直開到 Sanur 區,然後右轉至 Jalan Danau Poso,直行至 Jalan Kusuma Sari。
PARKING –
Car parking is available
Parking Spaces/20 Spaces
Valet parking is available
Open area
ONSITE PARKING AVAILABLE:
ONSITE VALET:
Disabled/Accessible Parking
We are proud to announce that InterContinental Bali Sanur Resort is CHSE Certified by the Tourism & Economy Creative Ministry of Indonesia. Its means that we have strict hygiene practices and safety protocols procedures based on Indonesia authorities' guidance.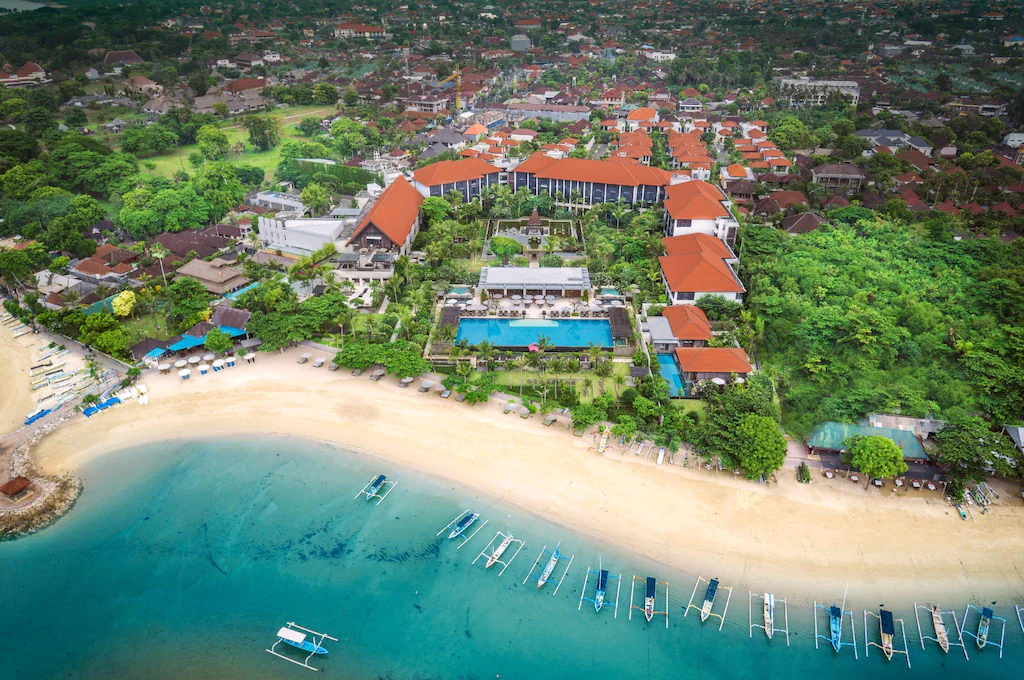 ACCOMMODATION
Executive Rooms….
超級特大床、寬敞的步入式更衣區、提供便捷安靜服務的管家入口、數控燈光和窗簾、42 英寸純平 LED 高清電視、帶 BOSE 音響系統的藍牙站、咖啡/茶壺、 豪華浴室設施、保險箱和特別手工製作的家具,配有古老的化石藝術品。 部分享有花園和海景。 浴缸、獨立起居室、管家灣。
Junior Suite Garden View (i.s.o Fairmont Garden view Suite) – 90 sqm – (King/Twin) – Bathtub – Garden View
90 平方米的Junior Suite Garden View,配備戶外起居區、藍牙站 BOSE 音響系統、獨立浴缸和步入式淋浴間。 這間套房設有陽台、休息區和電熱水壺。
Size: 90 sqm

Max. Occupancy: 3 Adults or 2 Adults + 2 Children <12 y/o with additional extra bed

Bed Type: King Size Bed or Twin Size Bed

View: Garden View
Room Amenities:
Bathrobes
Free Toiletries
Hairdryer
Private bathroom
Separate bath and shower
Slippers
Towels
Luxury bathroom amenities
Bed sheets
Blackout curtains
Ceiling fan
Climate-controlled air conditioning
42-inch flat screen LED HD television
Cable channels
Free newspaper
iPod dock
Premium TV channels
Bluetooth station with BOSE sound system
24-hour room service
Coffee/tea maker
Dining area (Separate living room)
Free bottled water
Minibar
Connecting rooms available (Subject to availability)
Daily housekeeping
Desk
Iron/ironing board (on request)
Laptop workspace
Safety Deposit Box

Wake-up service

Non-Smoking Rooms
Sitting area
Soundproofed rooms
Turndown service
Wardrobe
Balcony/Terrace
Wheelchair accessible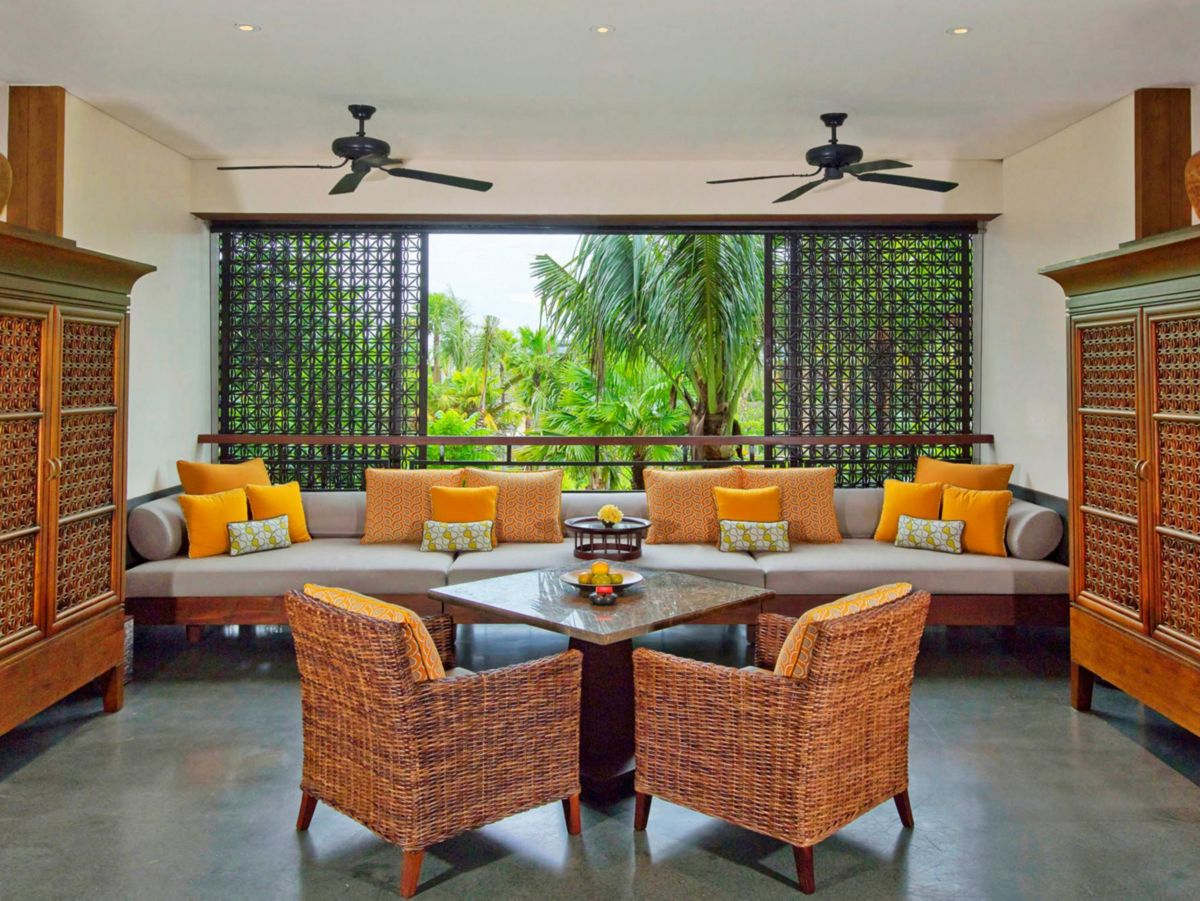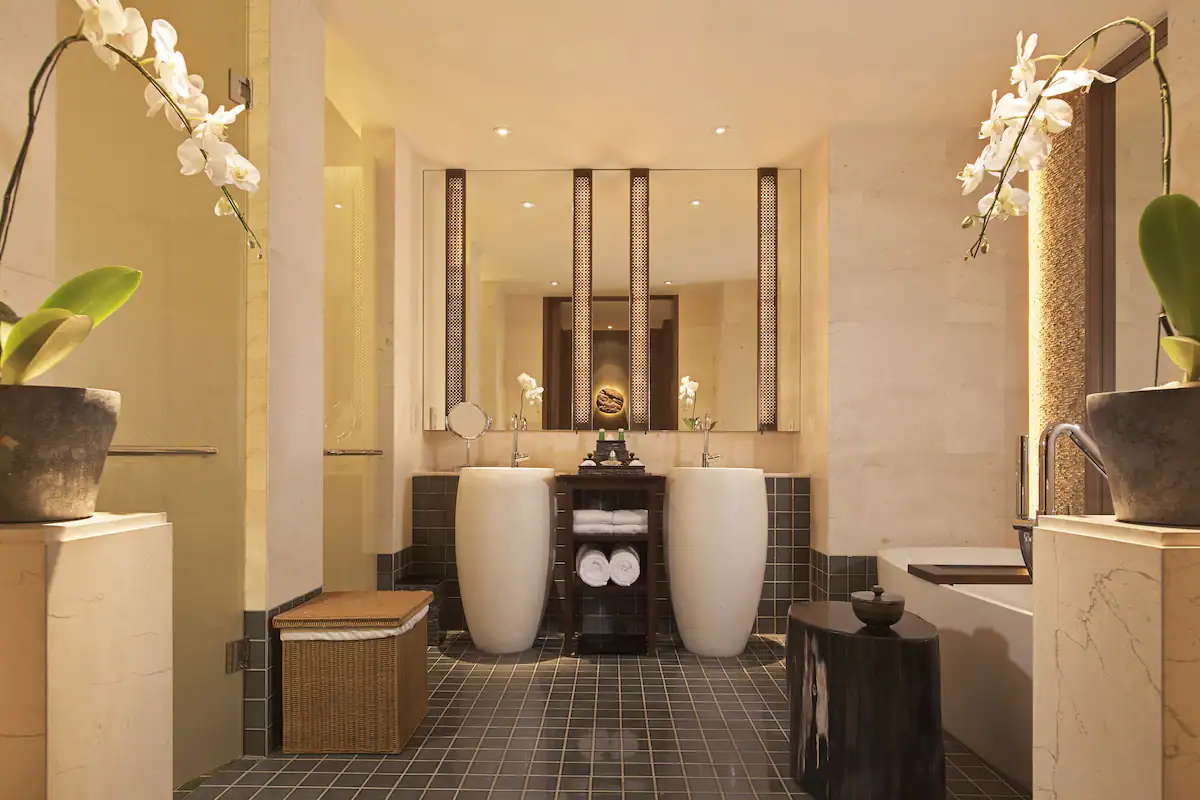 Junior Suite Ocean View (i.s.o Fairmont Ocean view Suite) – 90 sqm – (King/Twin) – Bathtub – Ocean View
90 平方米的Junior Suite Ocean View,帶戶外起居區、藍牙站 BOSE 音響系統、獨立浴缸和步入式淋浴間。 這間套房設有陽台、休息區和電熱水壺。
Size: 90 sqm

Max. Occupancy: 3 Adults or 2 Adults + 2 Children <12 y/o with additional extra bed

Bed Type: King Size Bed or Twin Size Bed

View: Ocean View
Room Amenities:
Bathrobes
Free Toiletries
Hairdryer
Private bathroom
Separate bath and shower
Slippers
Towels
Luxury bathroom amenities
Bed sheets
Blackout curtains
Ceiling fan
Climate-controlled air conditioning
42-inch flat screen LED HD television
Cable channels
Free newspaper
iPod dock
Premium TV channels
Bluetooth station with BOSE sound system
24-hour room service
Coffee/tea maker
Dining area (Separate living room)
Free bottled water
Minibar
Connecting rooms available (Subject to availability)
Daily housekeeping
Desk
Iron/ironing board (on request)
Laptop workspace
Safety Deposit Box

Wake-up service

Non-Smoking Rooms
Sitting area
Soundproofed rooms
Turndown service
Wardrobe
Balcony/Terrace
Wheelchair accessible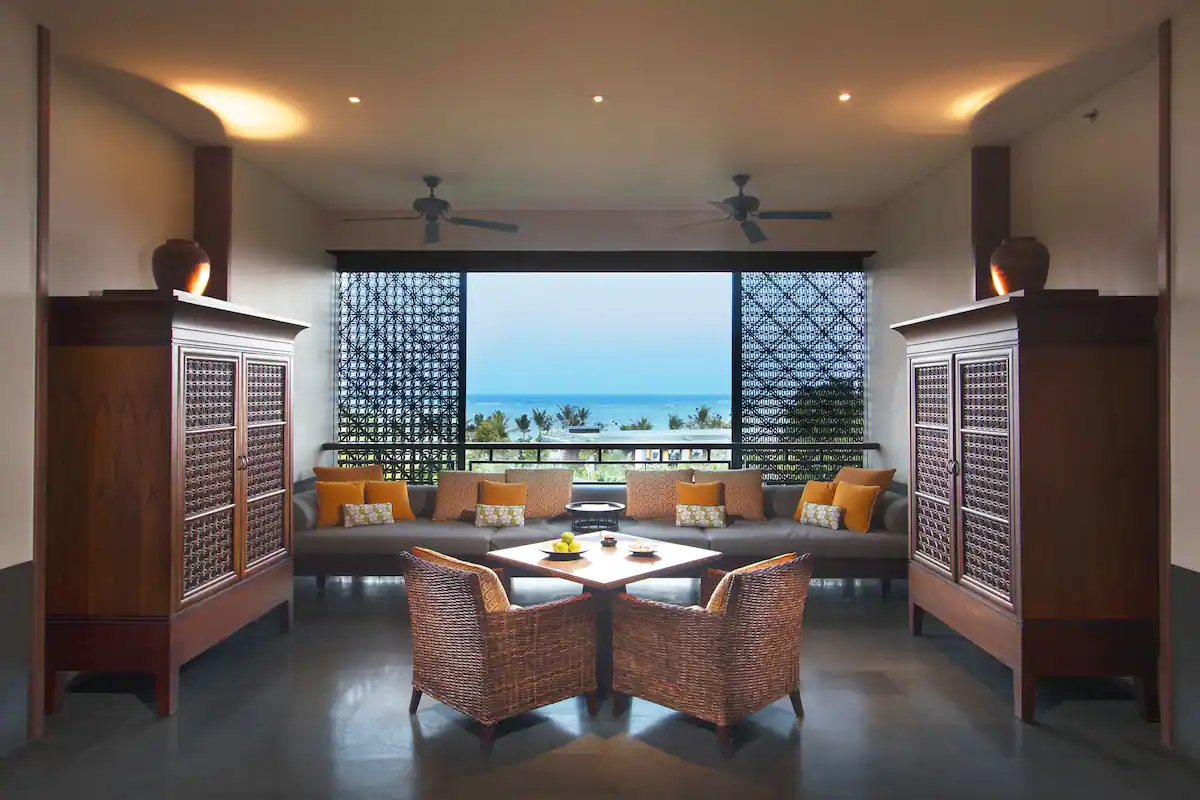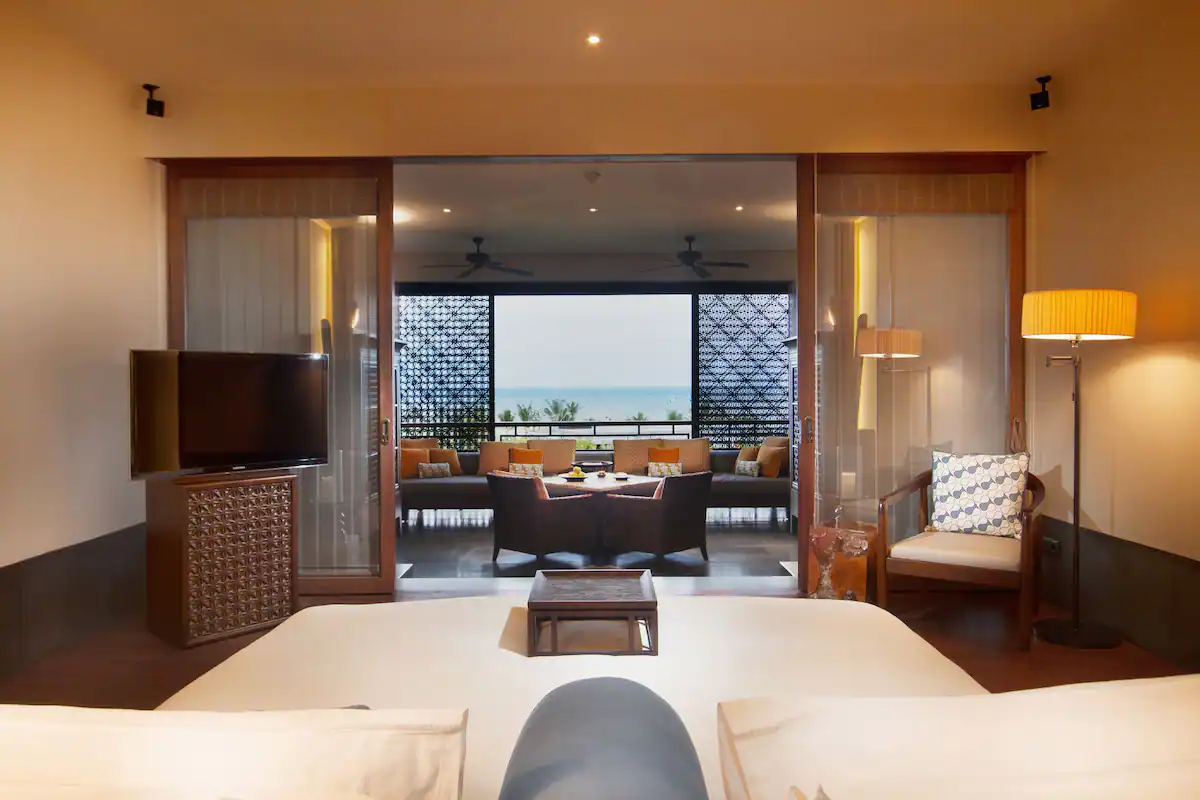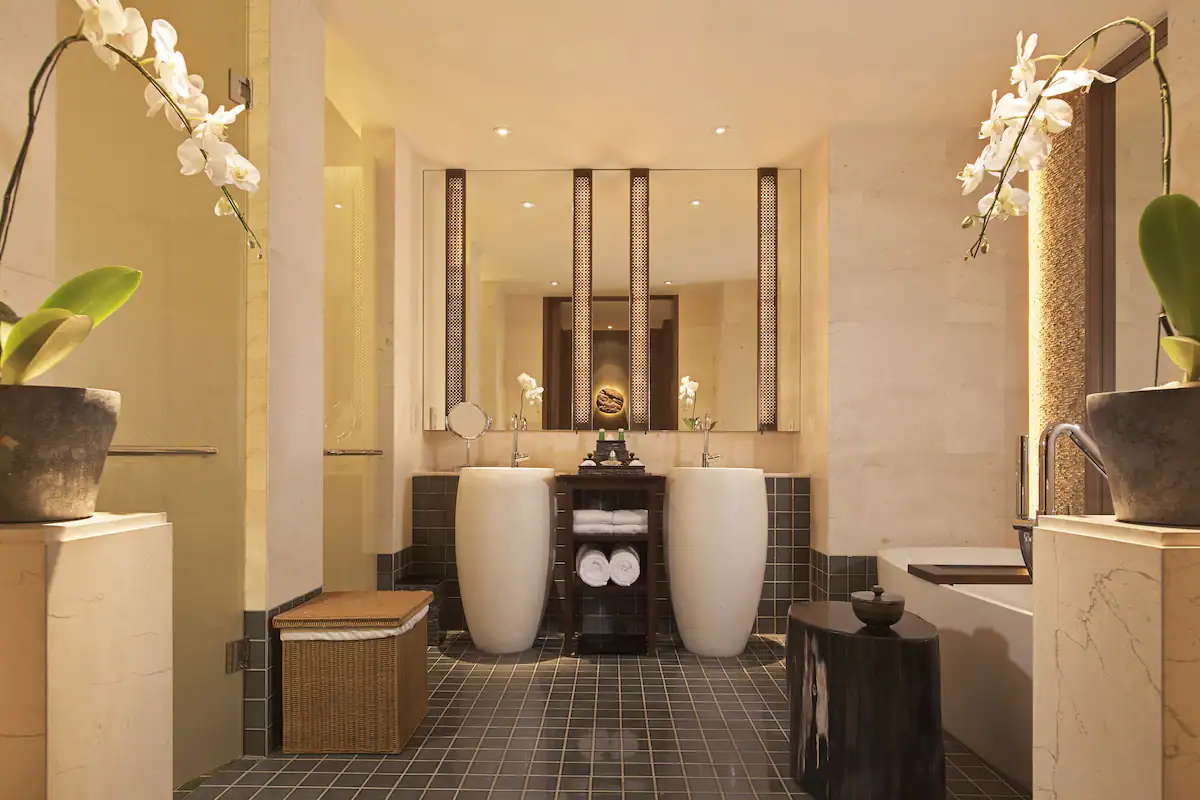 One Bedroom Suite Garden View (i.s.o Deluxe Garden view Suite) – 136 sqm – (King/Twin) – Bathtub – Garden View –
(可加2床)
136 平方米的1-Bedroom Suite Garden View,帶戶外起居區、藍牙站 BOSE 音響系統、獨立浴缸和步入式淋浴間。 這間套房設有陽台、休息區、沏茶/咖啡設施和電熱水壺。
Size: 136 sqm

Max. Occupancy: 4 Adults or 2 Adults + 2 Children <12 y/o with additional maximum 2 extra bed (可加2床)

Bed Type: King Size Bed or Twin Size Bed

View: Garden View
Room Amenities:
Bathrobes
Free Toiletries
Hairdryer
Private bathroom
Separate bath and shower
Slippers
Towels
Luxury bathroom amenities
Bed sheets
Blackout curtains
Ceiling fan
Climate-controlled air conditioning
42-inch flat screen LED HD television
Cable channels
Free newspaper
iPod dock
Premium TV channels
Bluetooth station with BOSE sound system
24-hour room service
Coffee/tea maker
Dining area (Separate living room)
Free bottled water
Minibar
Connecting rooms available (Subject to availability)
Daily housekeeping
Desk
Iron/ironing board (on request)
Laptop workspace
Safety Deposit Box

Wake-up service

Non-Smoking Rooms
Sitting area
Soundproofed rooms
Turndown service
Wardrobe
Balcony/Terrace
Wheelchair accessible
One Bedroom Suite Ocean View (i.s.o Deluxe Ocean view Suite) – 136 sqm – (King/Twin) – Bathtub – Ocean View –
(可加2床)
136平方米1-Bedroom Suite Ocean View,帶室外起居區、藍牙站 BOSE 音響系統、獨立浴缸和步入式淋浴間。 這間套房設有陽台、休息區、沏茶/咖啡設施和電熱水壺。
Size: 136 sqm

Max. Occupancy: 4 Adults or 2 Adults + 2 Children <12 y/o with additional maximum 2 extra bed (可加2床)

Bed Type: King Size Bed or Twin Size Bed

View: Ocean View
Room Amenities:
Bathrobes
Free Toiletries
Hairdryer
Private bathroom
Separate bath and shower
Slippers
Towels
Luxury bathroom amenities
Bed sheets
Blackout curtains
Ceiling fan
Climate-controlled air conditioning
42-inch flat screen LED HD television
Cable channels
Free newspaper
iPod dock
Premium TV channels
Bluetooth station with BOSE sound system
24-hour room service
Coffee/tea maker
Dining area (Separate living room)
Free bottled water
Minibar
Connecting rooms available (Subject to availability)
Daily housekeeping
Desk
Iron/ironing board (on request)
Laptop workspace
Safety Deposit Box

Wake-up service

Non-Smoking Rooms
Sitting area
Soundproofed rooms
Turndown service
Wardrobe
Balcony/Terrace
Wheelchair accessible
Spa Suite Garden View (i.s.o Signature Garden view Spa Suite) – (157 – 181 sqm) – (all King Beds) – Bathtub – Garden View – Private access door to spa room
157 – 181平方米的SPA Suite Garden View,套房內設有私人SPA護理室、帶每日SPA護理的SPA設施(額外收費)、通往SPA室的私人門、藍牙站 BOSE 音響系統、獨立浴缸和步入式淋浴間, 室內和室外生活區。 這間套房設有陽台、休息區、浴袍、沏茶/咖啡設施和電熱水壺。
Size: 157 – 181 sqm

Max. Occupancy: 3 Adults or 2 Adults + 2 Children <12 y/o with additional extra bed

Bed Type: King Size Bed

View: Garden View
Room Amenities:
Bathrobes
Free Toiletries
Hairdryer
Private bathroom
Separate bath and shower
Slippers
Towels
Luxury bathroom amenities
Bed sheets
Blackout curtains
Ceiling fan
Climate-controlled air conditioning
Private access door to spa room
42-inch flat screen LED HD television
Cable channels
Free newspaper
iPod dock
Premium TV channels
Bluetooth station with BOSE sound system
24-hour room service
Coffee/tea maker
Dining area (Separate living room)
Free bottled water
Minibar
Daily housekeeping
Desk
Iron/ironing board (on request)
Laptop workspace
Safety Deposit Box

Wake-up service

Non-Smoking Rooms
Sitting area
Soundproofed rooms
Turndown service
Wardrobe
Balcony/Terrace
Wheelchair accessible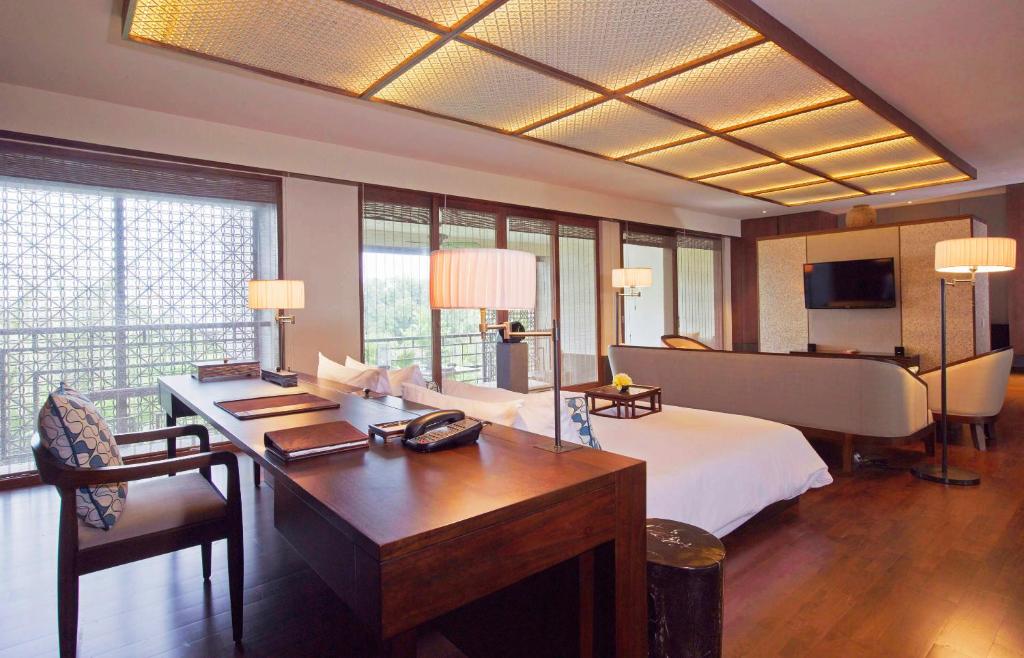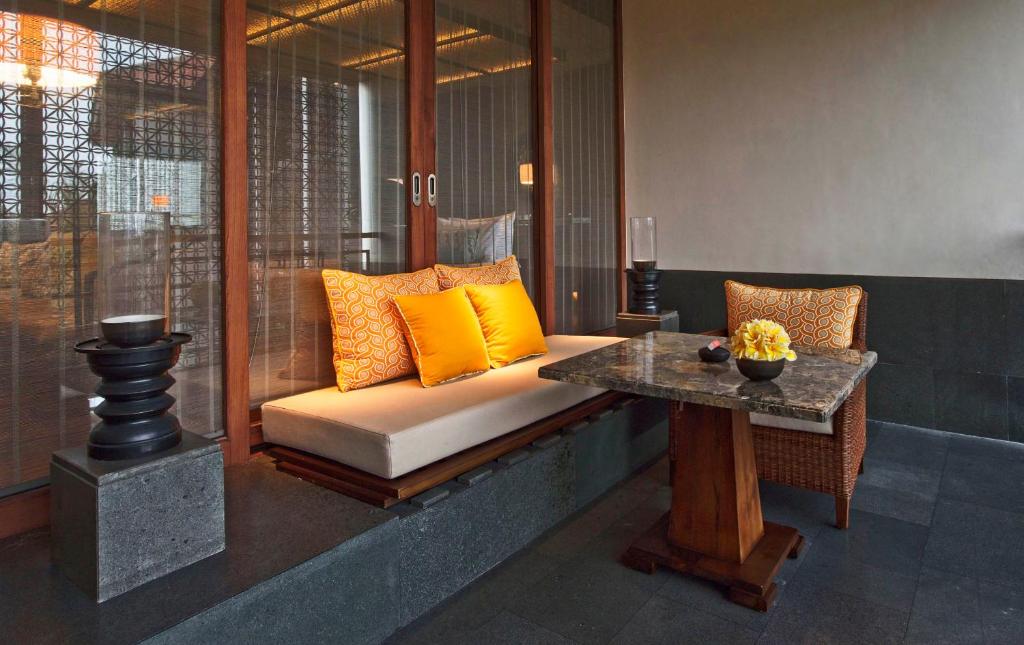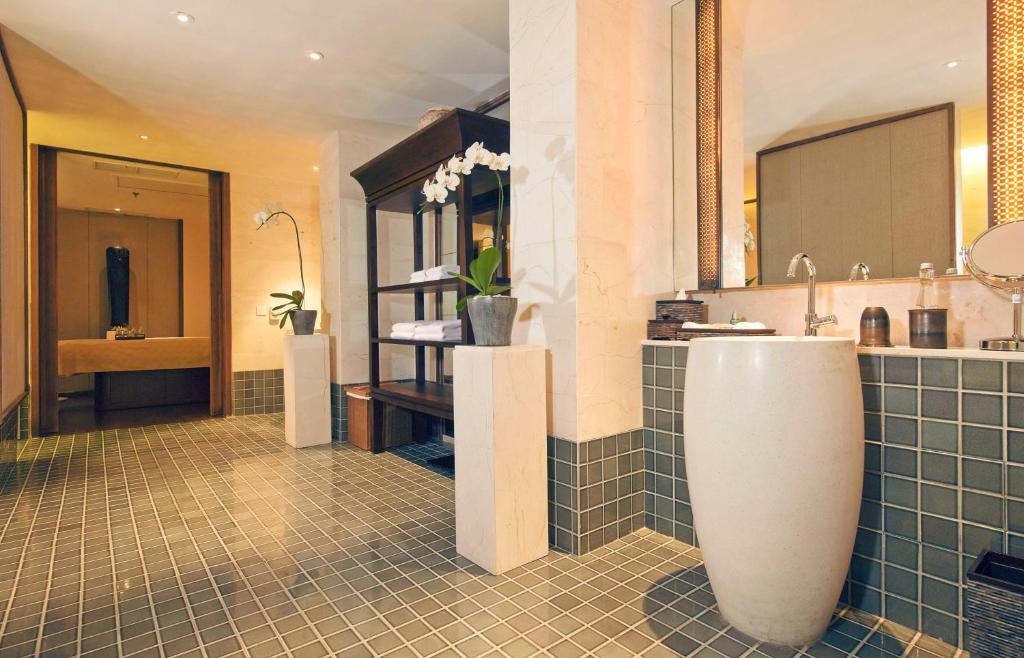 Spa Suite Ocean View (i.s.o Signature Ocean view Spa Suite) – (157 – 181 sqm) – (all King Beds) – Bathtub – Ocean View – Private access door to spa room
157 – 181 平方米的Spa Suite Ocean View,套房內設有私人SPA護理室、帶每日SPA護理的SPA設施(額外收費)、通往SPA室的私人門、藍牙站 BOSE 音響系統、獨立浴缸和步入式淋浴間, 室內和室外生活區。 這間套房設有陽台、休息區、浴袍、沏茶/咖啡設施和電熱水壺。 套房內配有私人水療室,每天 2 人/間免費水療 60 分鐘。
Size: 157 – 181 sqm

Max. Occupancy: 3 Adults or 2 Adults + 2 Children <12 y/o with additional extra bed

Bed Type: King Size Bed

View: Ocean View
Room Amenities:
Bathrobes
Free Toiletries
Hairdryer
Private bathroom
Separate bath and shower
Slippers
Towels
Luxury bathroom amenities
Bed sheets
Blackout curtains
Ceiling fan
Climate-controlled air conditioning
Private access door to spa room
42-inch flat screen LED HD television
Cable channels
Free newspaper
iPod dock
Premium TV channels
Bluetooth station with BOSE sound system
24-hour room service
Coffee/tea maker
Dining area (Separate living room)
Free bottled water
Minibar
Daily housekeeping
Desk
Iron/ironing board (on request)
Laptop workspace
Safety Deposit Box

Wake-up service

Non-Smoking Rooms
Sitting area
Soundproofed rooms
Turndown service
Wardrobe
Balcony/Terrace
Wheelchair accessible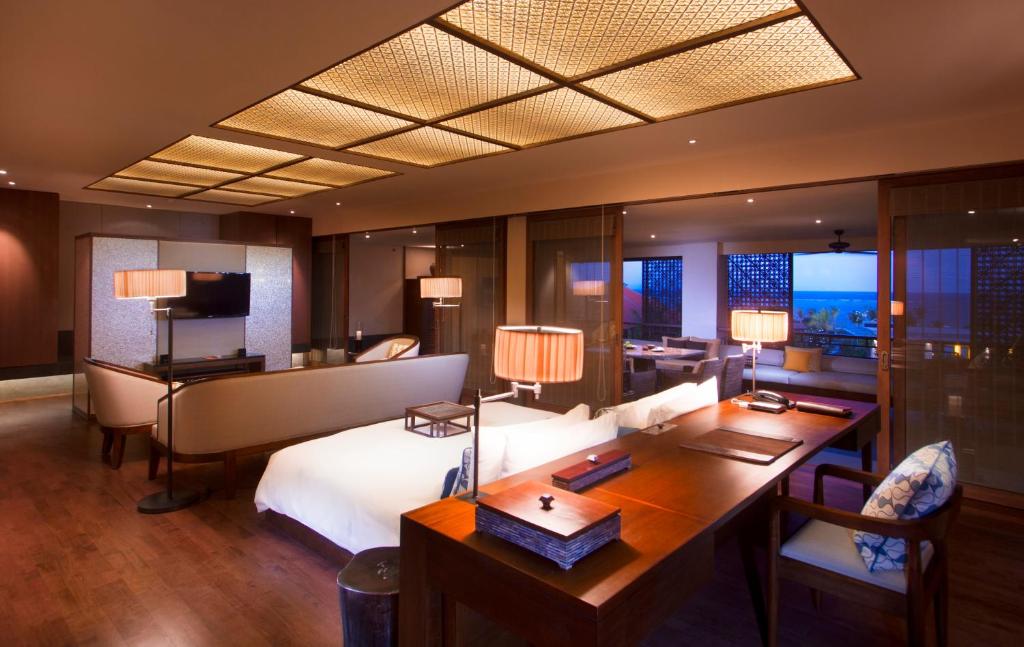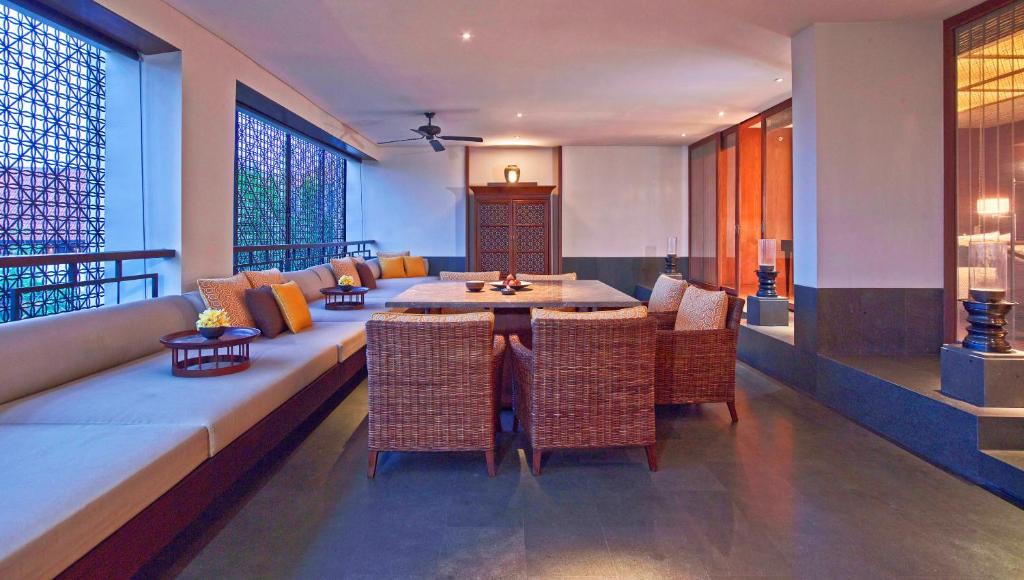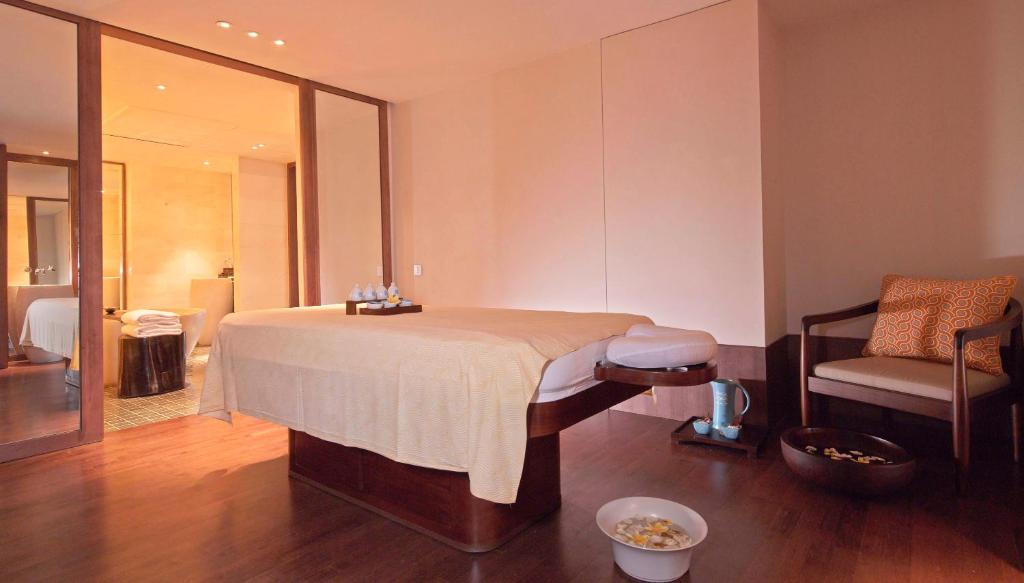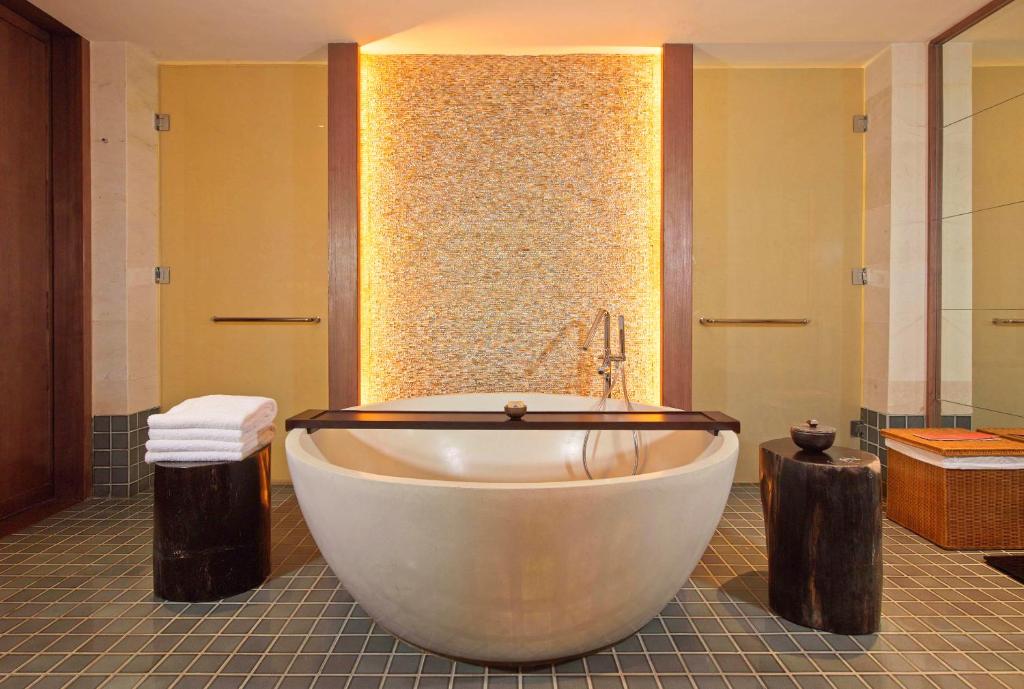 One Bedroom Pool Villa Garden View (i.s.o 1BR Pool Villa) – (308 sqm) – (King Size Bed) – Bathtub – Garden View – Private Pool
308平方米的1-Bedroom Pool Villa Garden View帶私人游泳池,設有露台、帶客用衛生間的寬敞起居室、設備齊全的廚房、帶用餐室的烤箱/微波爐、咖啡/茶壺、豪華浴室用品、保險箱、甲板區、藍牙 配有 BOSE 音響系統、獨立浴缸和步入式淋浴間的車站。
Size: 308 sqm

Max. Occupancy: 3 Adults or 2 Adults + 2 Children <12 y/o with additional extra bed

Bed Type: King Size Bed

View: Garden View
Private Swimming Pool
Room Amenities:
Bathrobes
Free Toiletries
Hairdryer
Private bathroom
Separate bath and shower
Slippers
Towels
Luxury bathroom amenities
Bed sheets
Blackout curtains
Ceiling fan
Climate-controlled air conditioning
42-inch flat screen LED HD television
Cable channels
Free newspaper
iPod dock
Premium TV channels
Bluetooth station with BOSE sound system
24-hour room service
Coffee/tea maker
Dining area (Spacious living room)
Free bottled water
Minibar
Equipped kitchen with oven/microwave
Daily housekeeping
Desk
Iron/ironing board (on request)
Laptop workspace
Safety Deposit Box

Wake-up service

Non-Smoking Rooms
Sitting area
Soundproofed rooms
Turndown service
Wardrobe
Terrace
Wheelchair accessible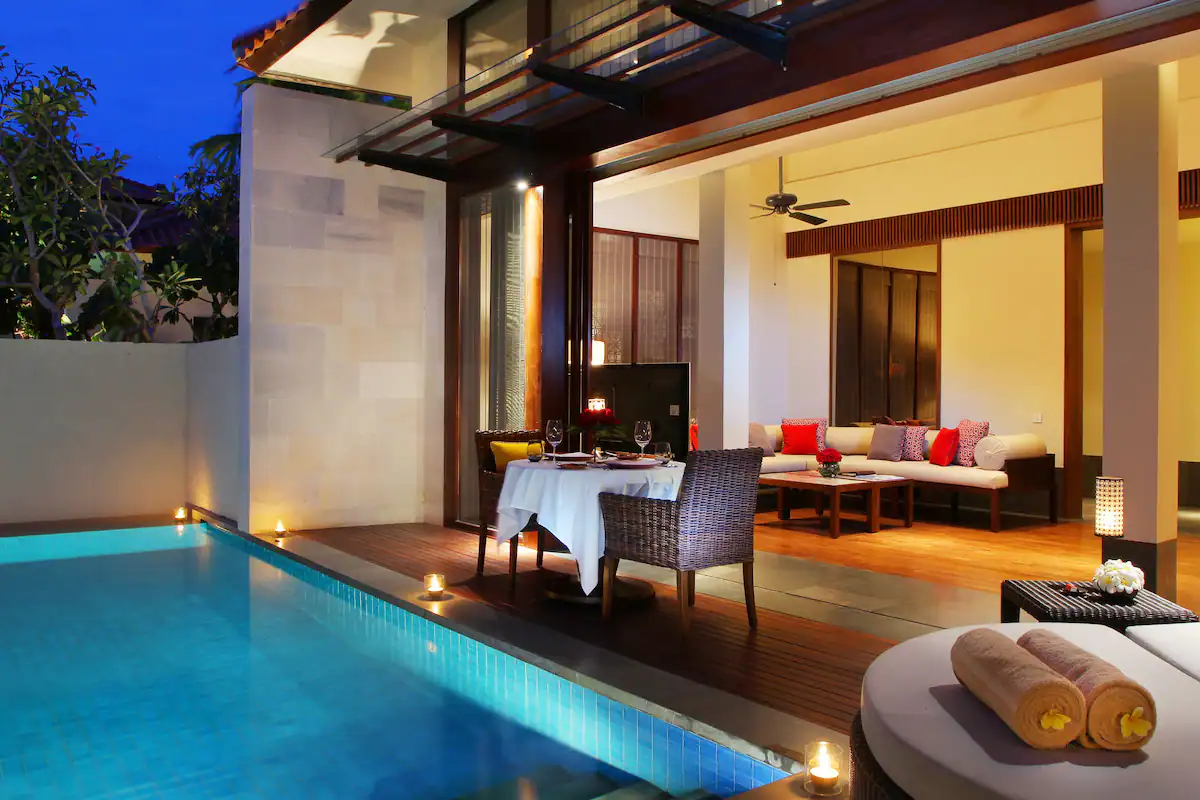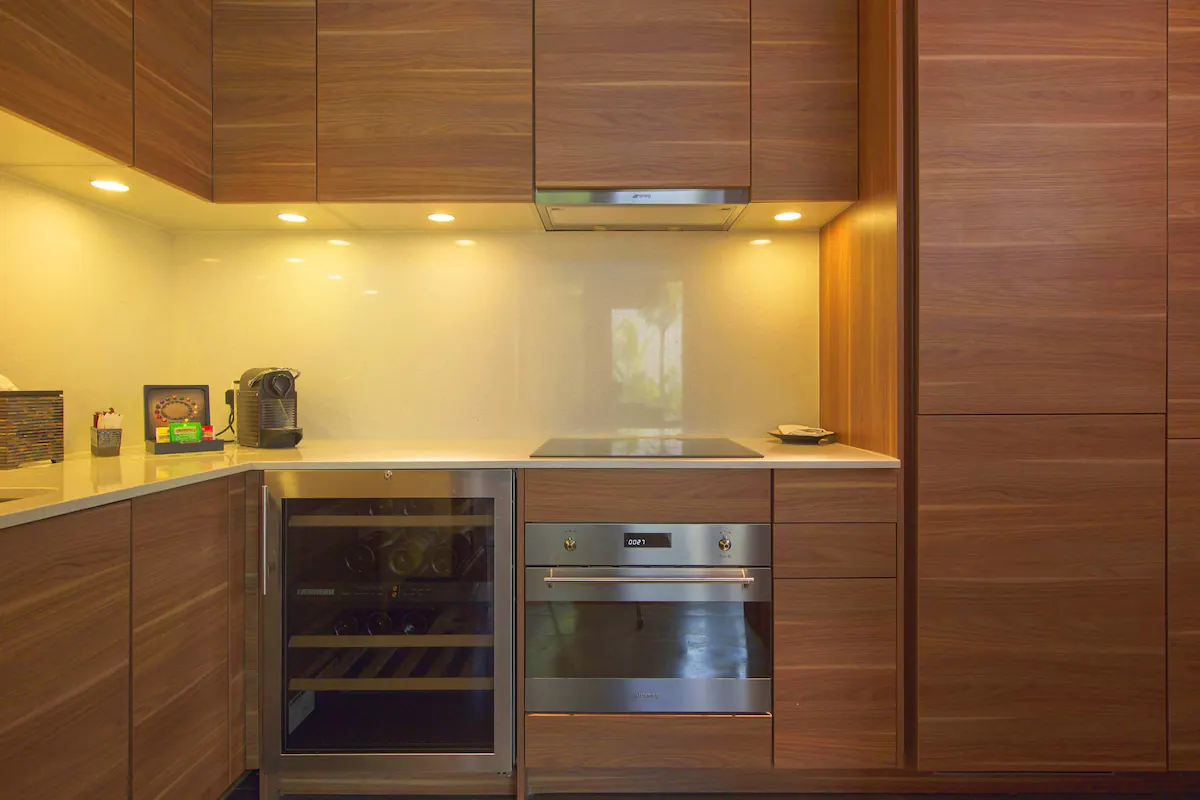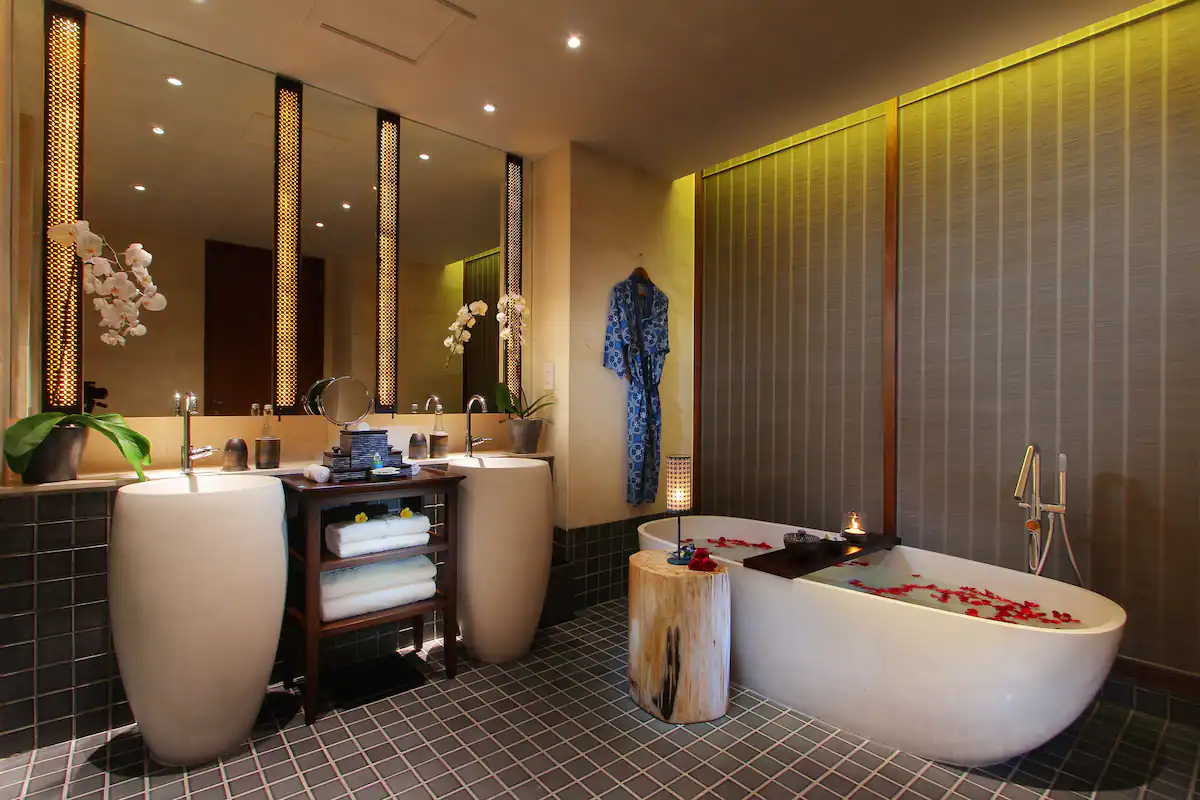 Two Bedroom Pool Villa Garden View (i.s.o 2BR Pool Villa) – (308 – 580 sqm) – (King + Twin) – Bathtub – Garden View – Private Pool – (可加2床)
308 – 580平方米的2-Bedroom Pool Villa Garden View設有陽台/露台、帶客用廁所的寬敞起居室、設備齊全的廚房、帶用餐室的烤箱/微波爐、咖啡/茶壺、豪華浴室用品、保險箱、 甲板區、帶 BOSE 音響系統的藍牙站、獨立浴缸和步入式淋浴間。
Size: 308 – 580 sqm

Max. Occupancy: 6 Adults or 4 Adults + 2 Children <12 y/o with additional maximum 2 extra bed

(可加2床)

Bed Type: 1 King Bed + 1 Twin Bed

View: Garden View
Private Swimming Pool
Room Amenities:
Bathrobes
Free Toiletries
Hairdryer
Private bathroom
Separate bath and shower
Slippers
Towels
Luxury bathroom amenities
Bed sheets
Blackout curtains
Ceiling fan
Climate-controlled air conditioning
42-inch flat screen LED HD television
Cable channels
Free newspaper
iPod dock
Premium TV channels
Bluetooth station with BOSE sound system
24-hour room service
Coffee/tea maker
Dining area (Spacious living room)
Free bottled water
Minibar
Equipped kitchen with oven/microwave
Daily housekeeping
Desk
Iron/ironing board (on request)
Laptop workspace
Safety Deposit Box

Wake-up service

Non-Smoking Rooms
Sitting area
Soundproofed rooms
Turndown service
Wardrobe
Balcony/Terrace
Wheelchair accessible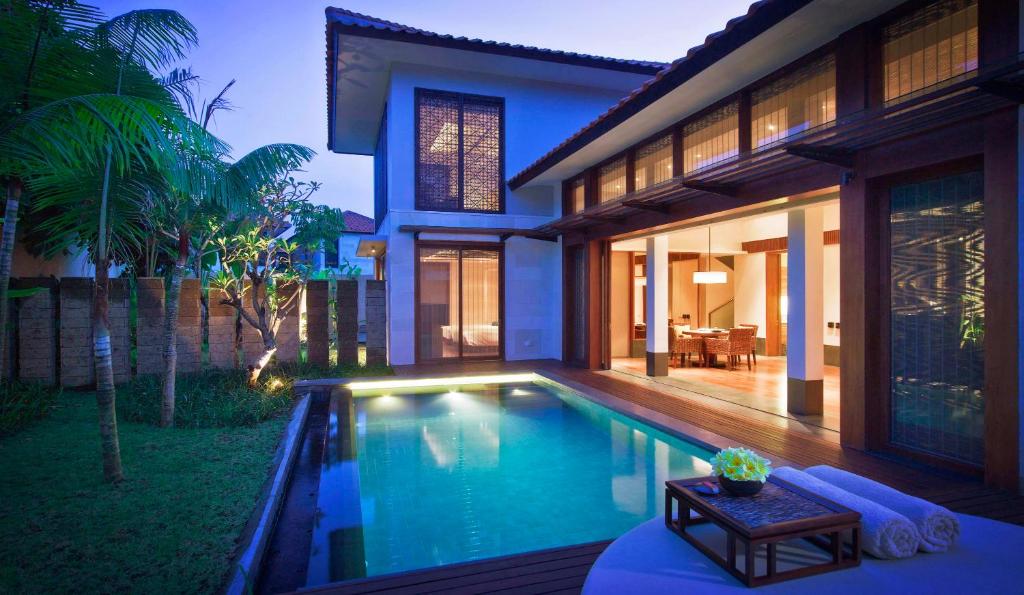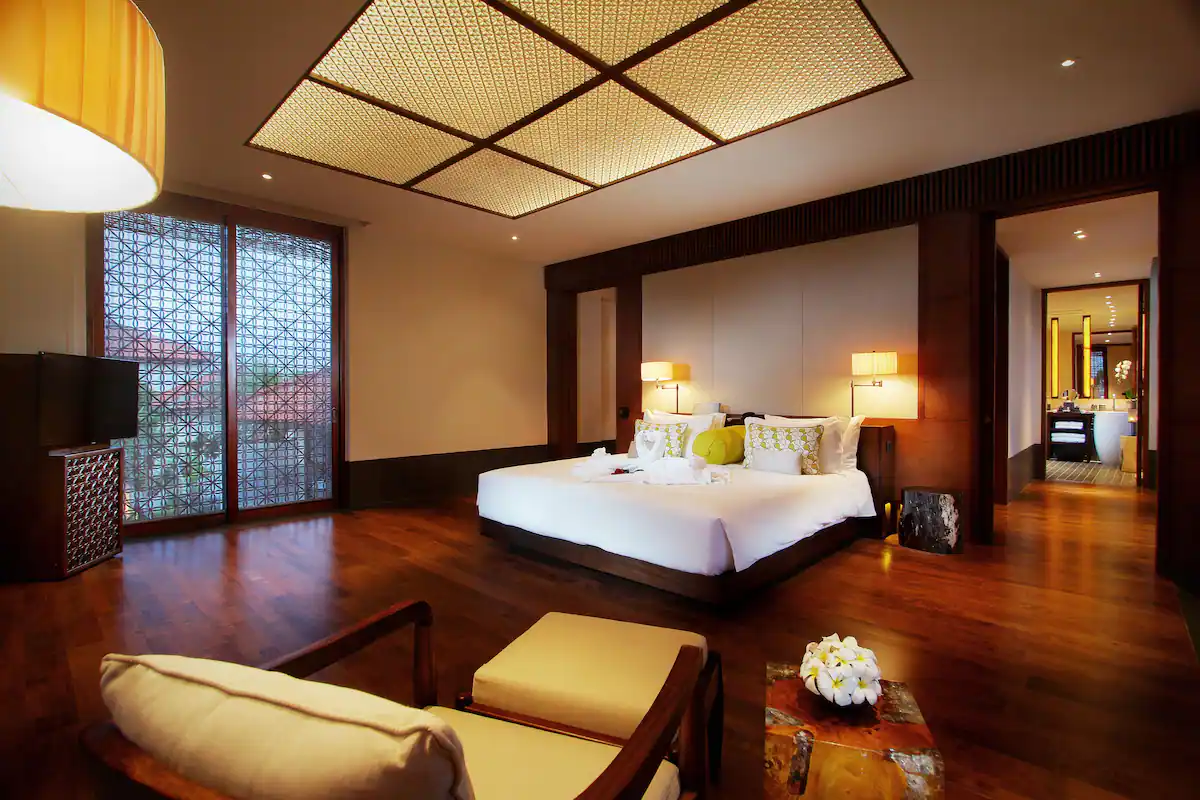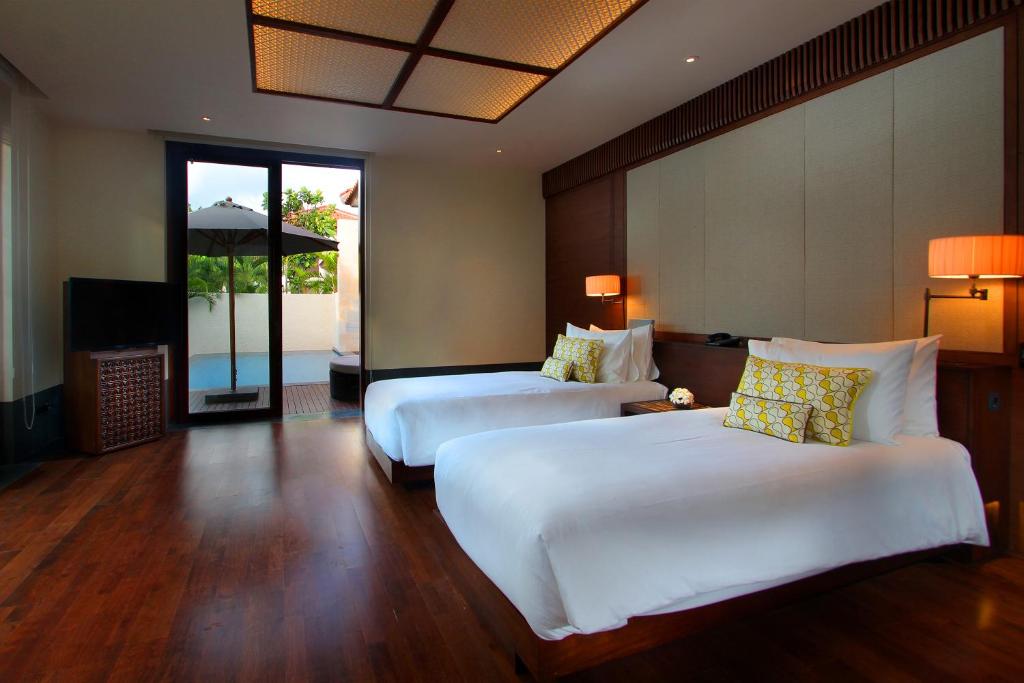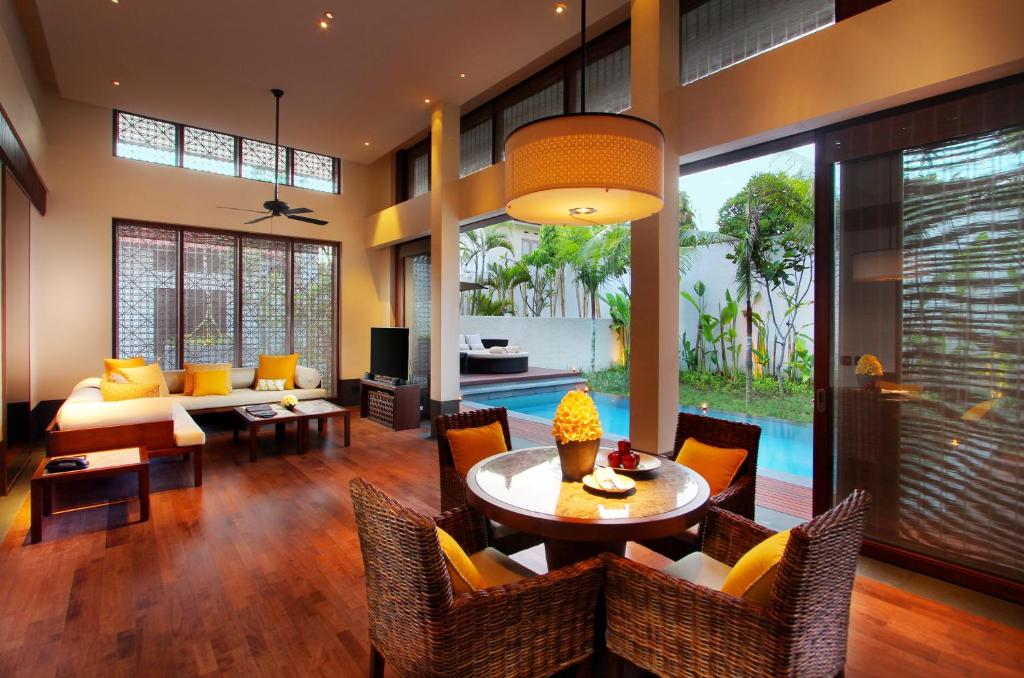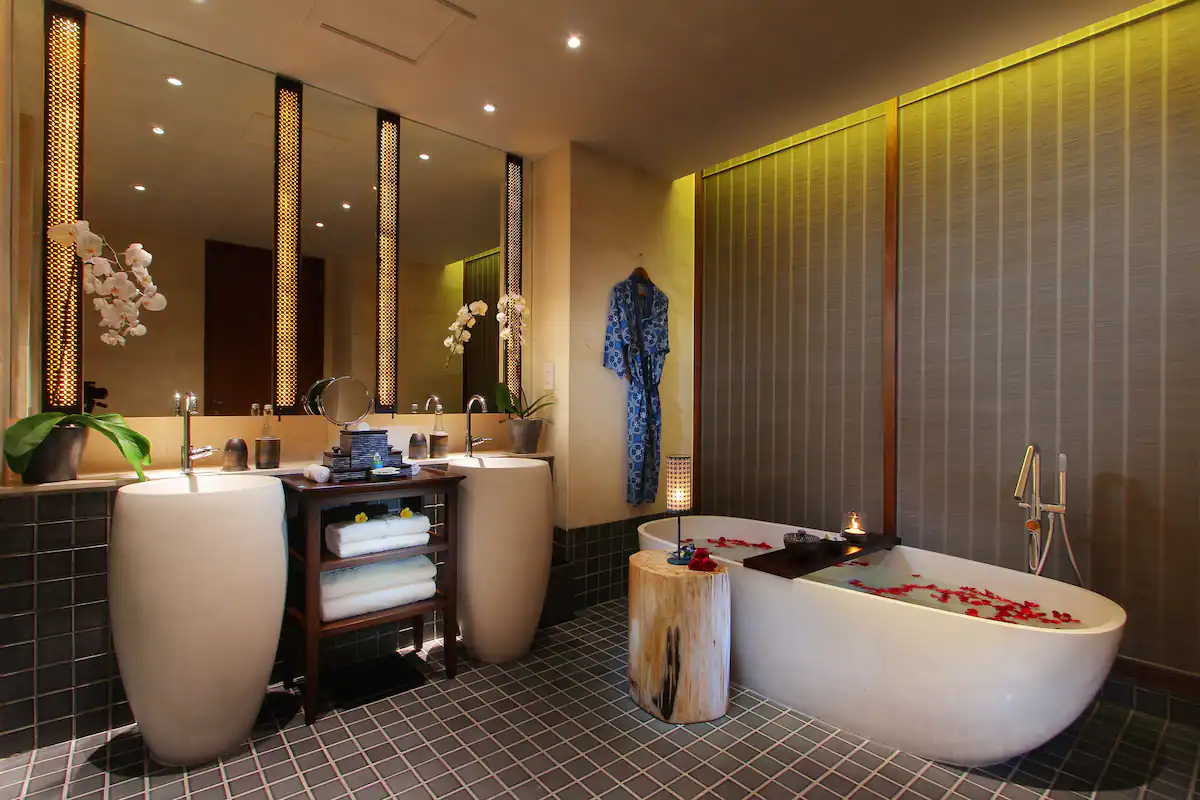 Three Bedroom Pool Villa Garden View (i.s.o 3BR Pool Villa) – (478 – 660 sqm) – (2 King + 1 Twin) – Bathtub – Garden View – Private Pool – (可加3床)
478 – 660平方米的3-Bedroom Pool Villa Garden View,帶私人游泳池,設有陽台/露台、帶客用衛生間的寬敞起居室、設備齊全的廚房、帶用餐室的烤箱/微波爐、咖啡/茶壺、豪華浴室用品、保險箱、 甲板區、帶 BOSE 音響系統的藍牙站、獨立浴缸和步入式淋浴間。
Size: 478 – 660 sqm

Max. Occupancy: 9 Adults or 6 Adults + 3 Children <12 y/o with additional maximum 3 extra bed

(可加3床)

Bed Type: 2 King Beds + 1 Twin Bed

View: Garden View
Private Swimming Pool
Room Amenities:
Bathrobes
Free Toiletries
Hairdryer
Private bathroom
Separate bath and shower
Slippers
Towels
Luxury bathroom amenities
Bed sheets
Blackout curtains
Ceiling fan
Climate-controlled air conditioning
42-inch flat screen LED HD television
Cable channels
Free newspaper
iPod dock
Premium TV channels
Bluetooth station with BOSE sound system
24-hour room service
Coffee/tea maker
Dining area (Spacious living room)
Free bottled water
Minibar
Equipped kitchen with oven/microwave
Daily housekeeping
Desk
Iron/ironing board (on request)
Laptop workspace
Safety Deposit Box

Wake-up service

Non-Smoking Rooms
Sitting area
Soundproofed rooms
Turndown service
Wardrobe
Balcony/Terrace
Wheelchair accessible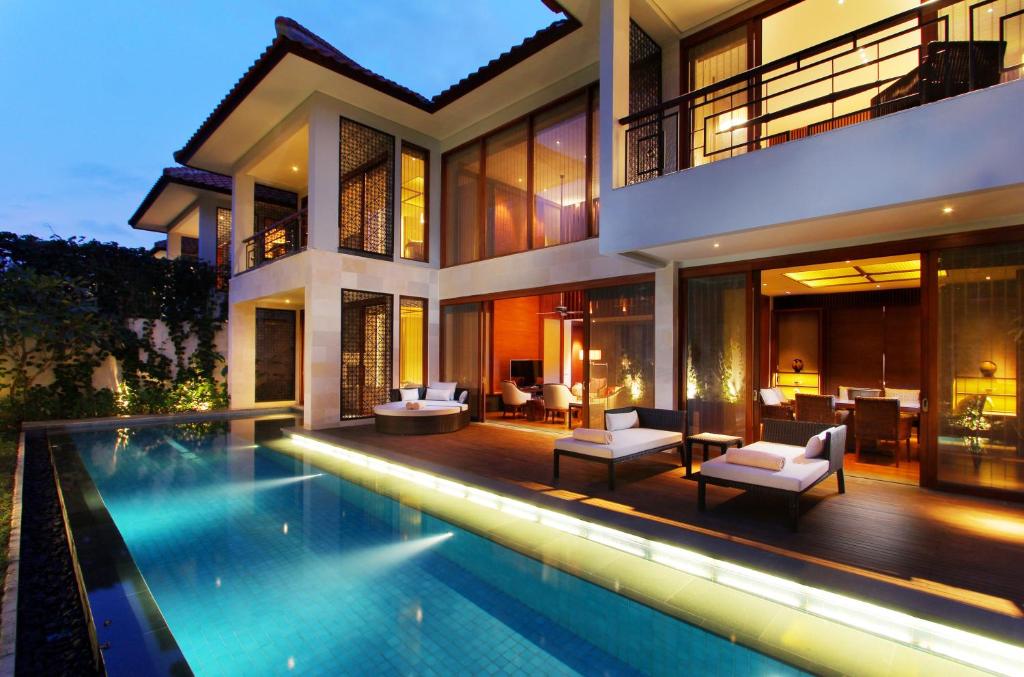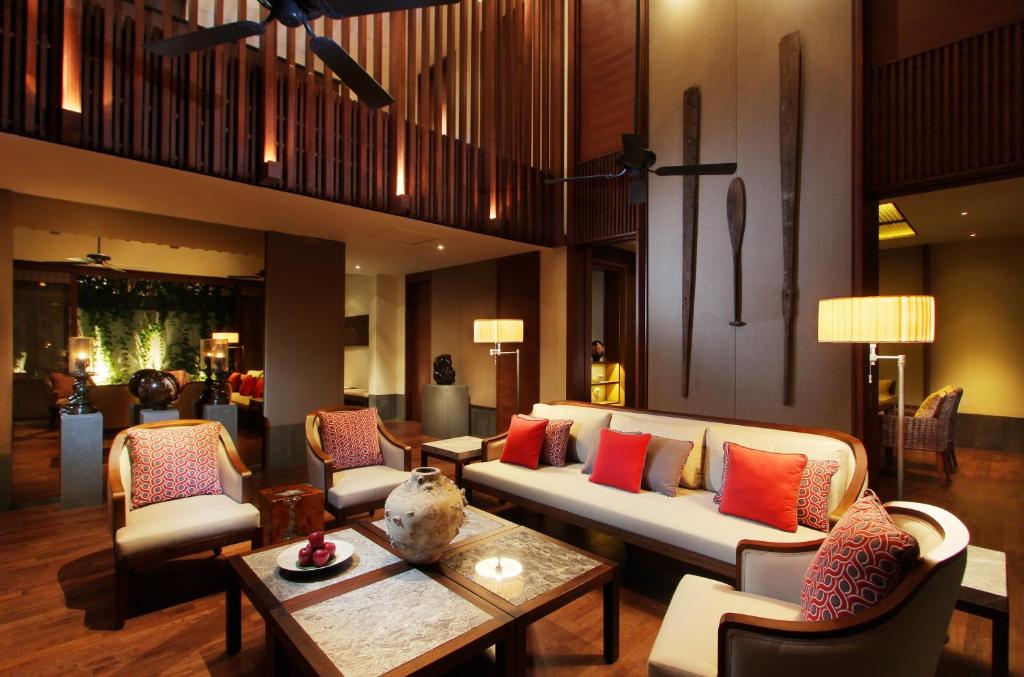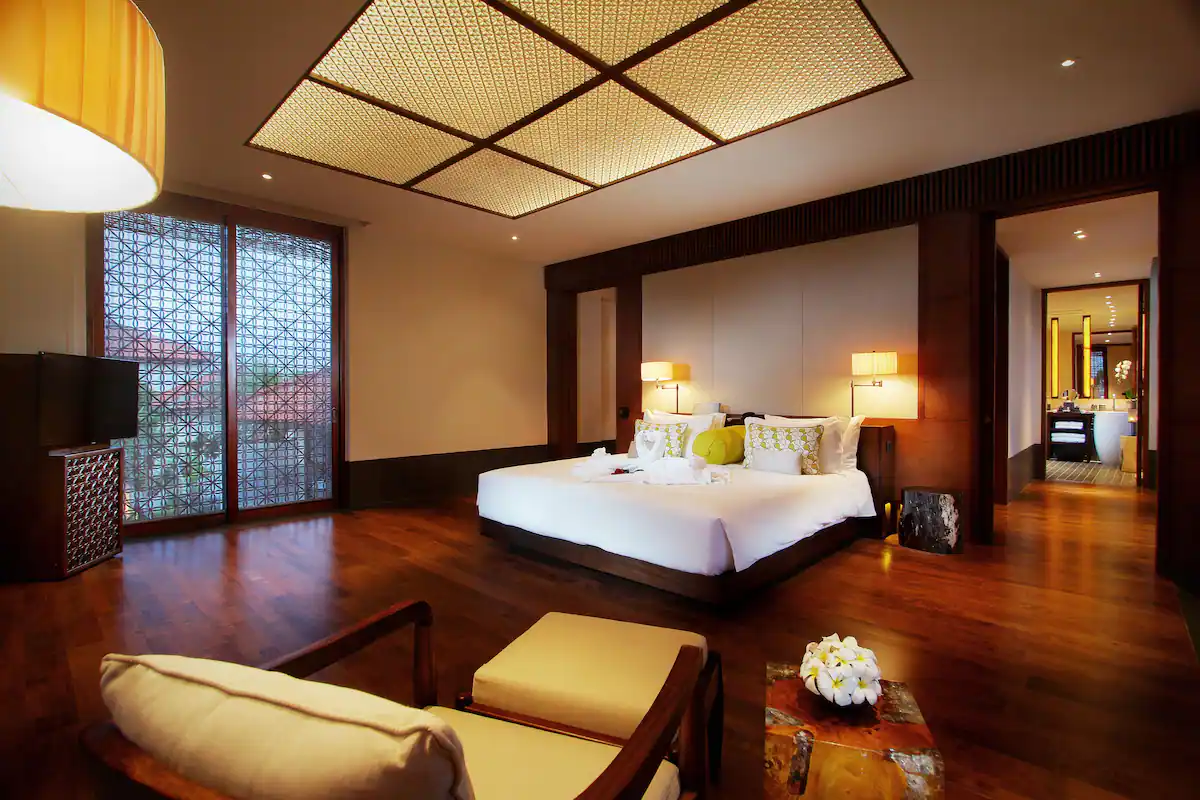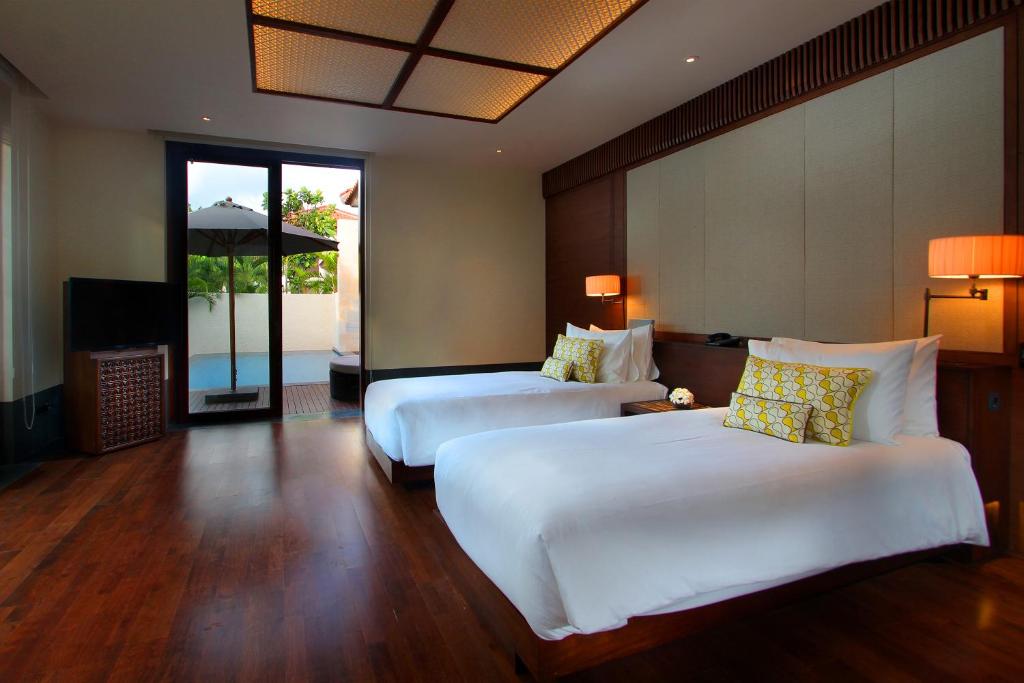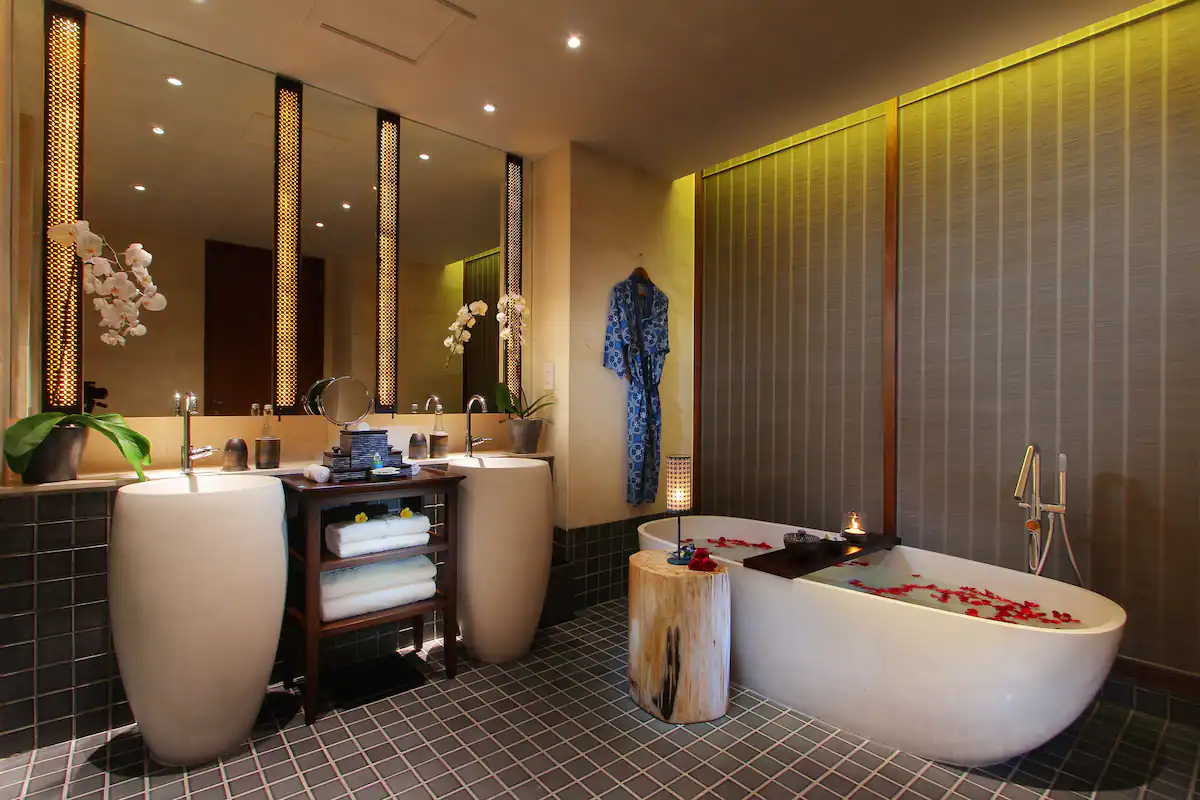 Two Bedroom Presidential Villa Beach Front – (937 sqm) – (1 King + 1 Twin) – Bathtub – Indian Ocean Front View – Private Pool – (可加2床)
937 平方米的2-Bedroom Presidential Villa,渡假村的標誌性別墅四周環繞著鬱鬱蔥蔥的花園,可俯瞰Nusa Penida和印度洋。 帶蒸汽浴室的私人SPA室位於游泳池旁。
Size: 937 sqm

Max. Occupancy: 6 Adults or 4 Adults + 2 Children <12 y/o with additional maximum 2 extra bed

(可加2床)

Bed Type: 1 King Bed + 1 Twin Bed

View: Indian Ocean Front View
Private Swimming Pool
Room Amenities:
Bathrobes
Free Toiletries
Hairdryer
Private bathroom
Separate bath and shower
Slippers
Towels
Luxury bathroom amenities
Bed sheets
Blackout curtains
Ceiling fan
Climate-controlled air conditioning
42-inch flat screen LED HD television
Cable channels
Free newspaper
iPod dock
Premium TV channels
Bluetooth station with BOSE sound system
24-hour room service
Coffee/tea maker
Dining area (Spacious living room)
Free bottled water
Minibar
Equipped kitchen with oven/microwave
Daily housekeeping
Desk
Iron/ironing board (on request)
Laptop workspace
Safety Deposit Box

Wake-up service

Non-Smoking Rooms
Sitting area
Soundproofed rooms
Turndown service
Wardrobe
Balcony/Terrace
Wheelchair accessible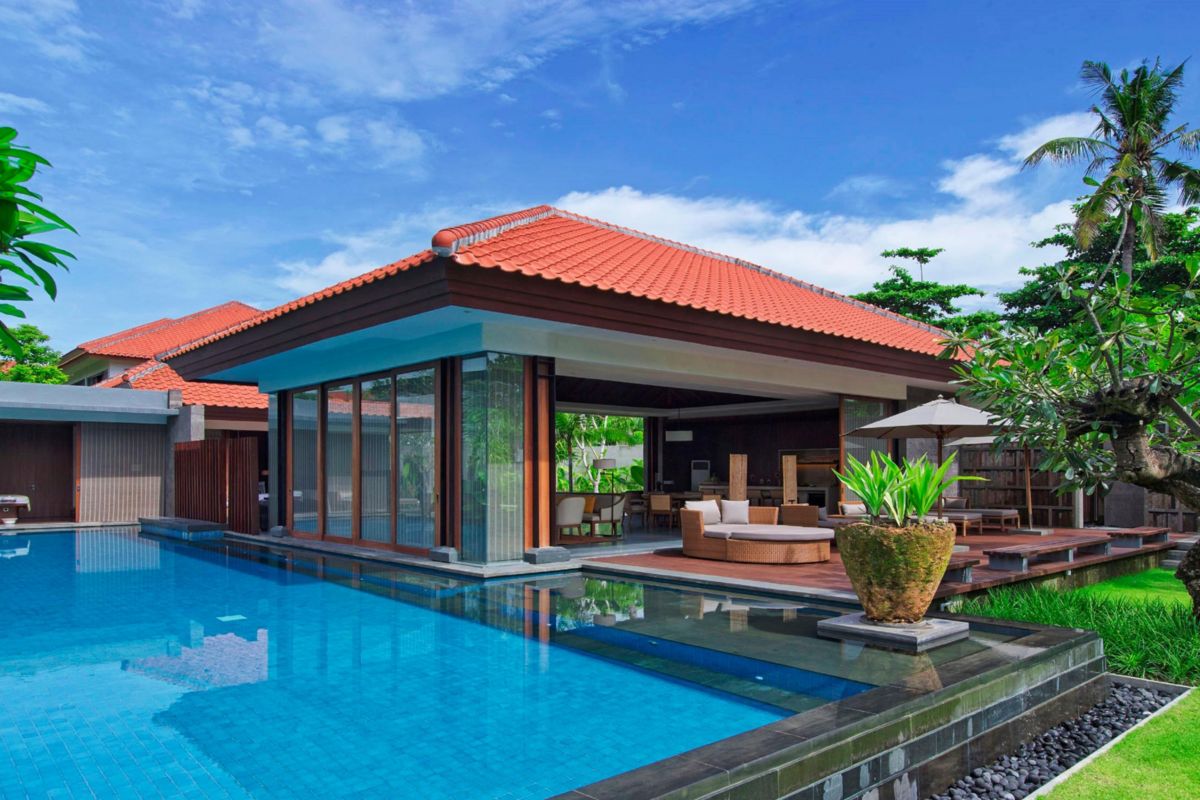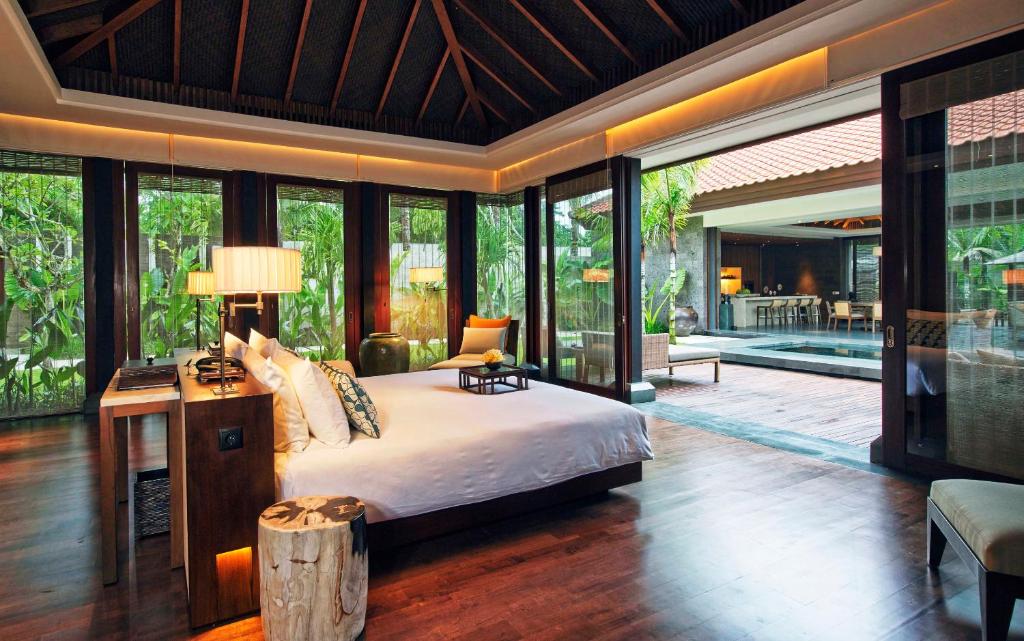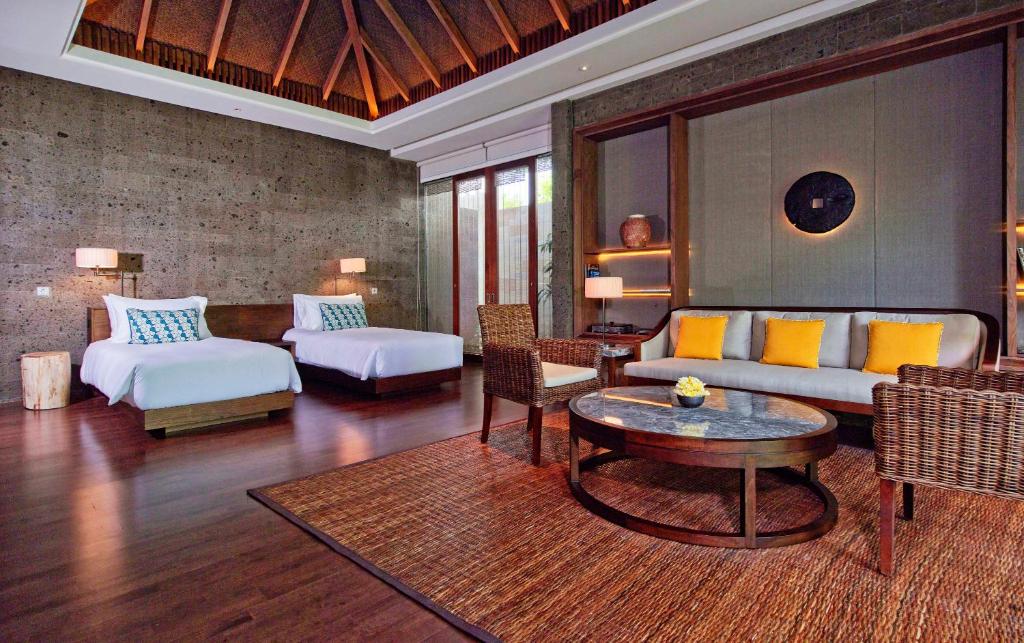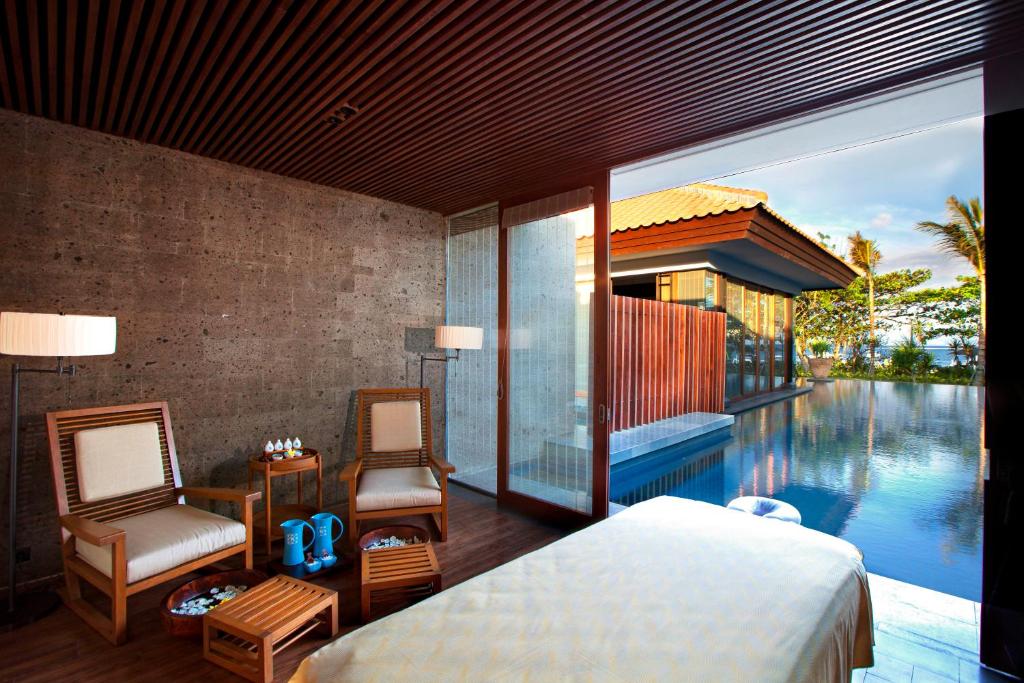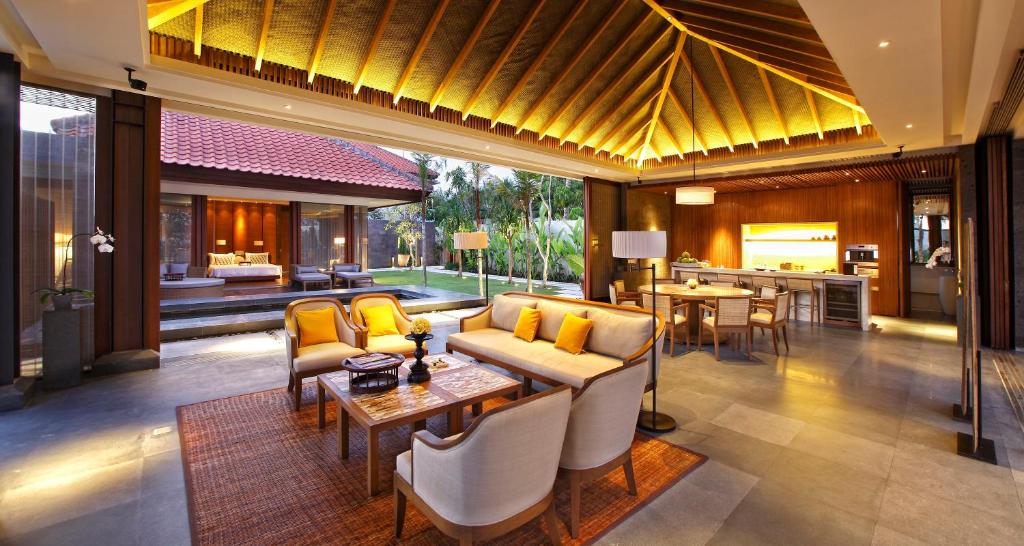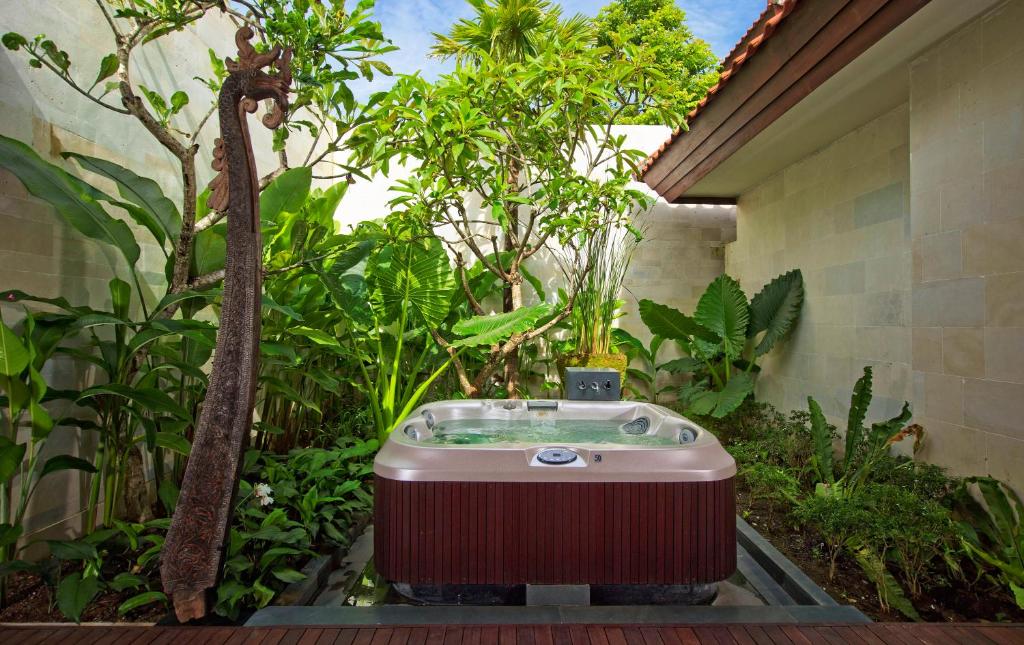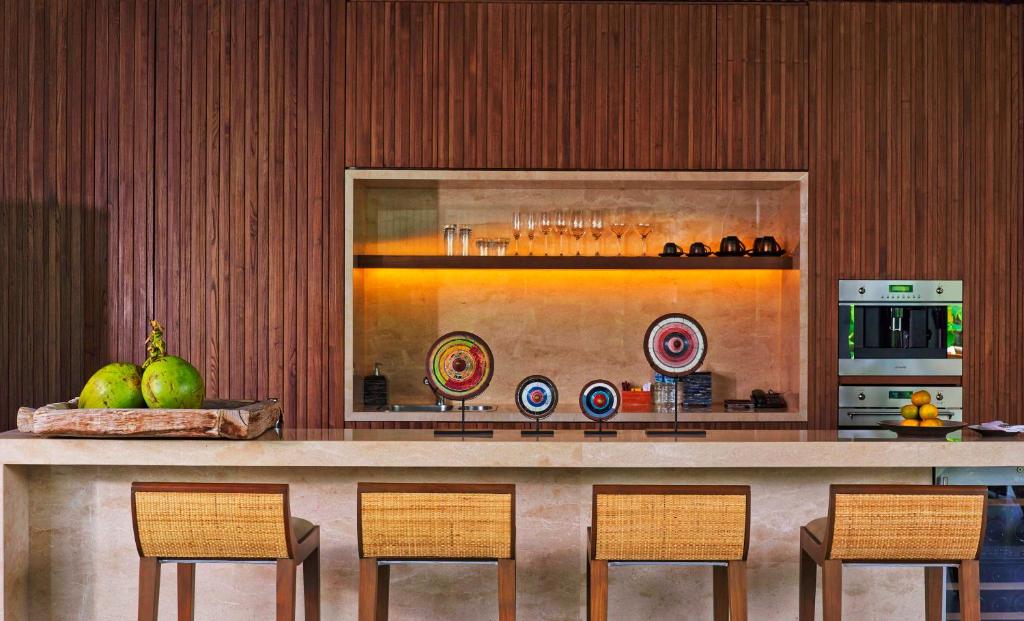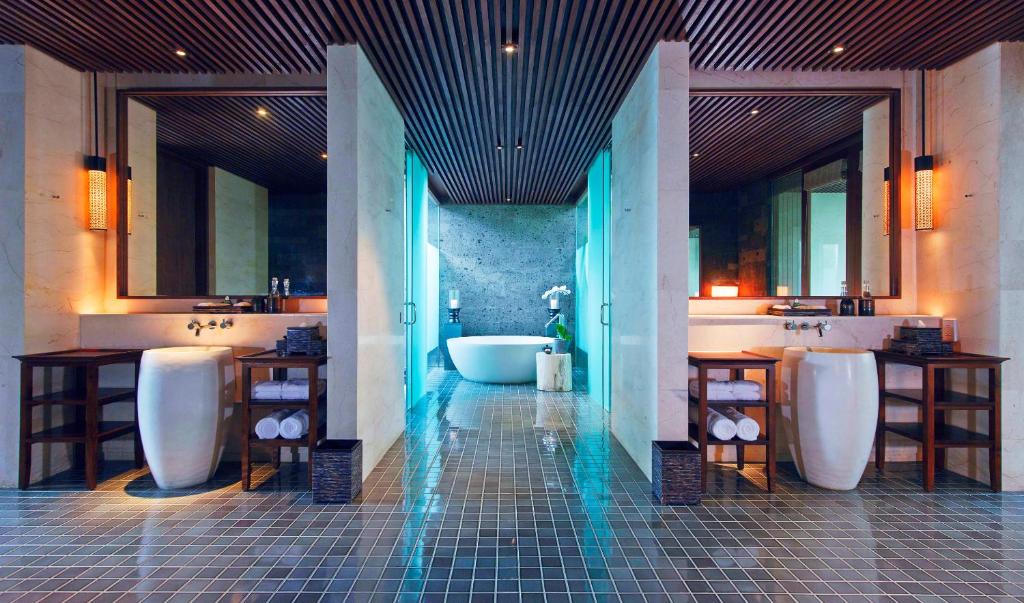 DINE
LAYANG-LAYANG RESTAURANT –
Opening Hours: 06:30 am – 10:30 pm
混合用餐區和戶外用餐區,可欣賞花園景觀。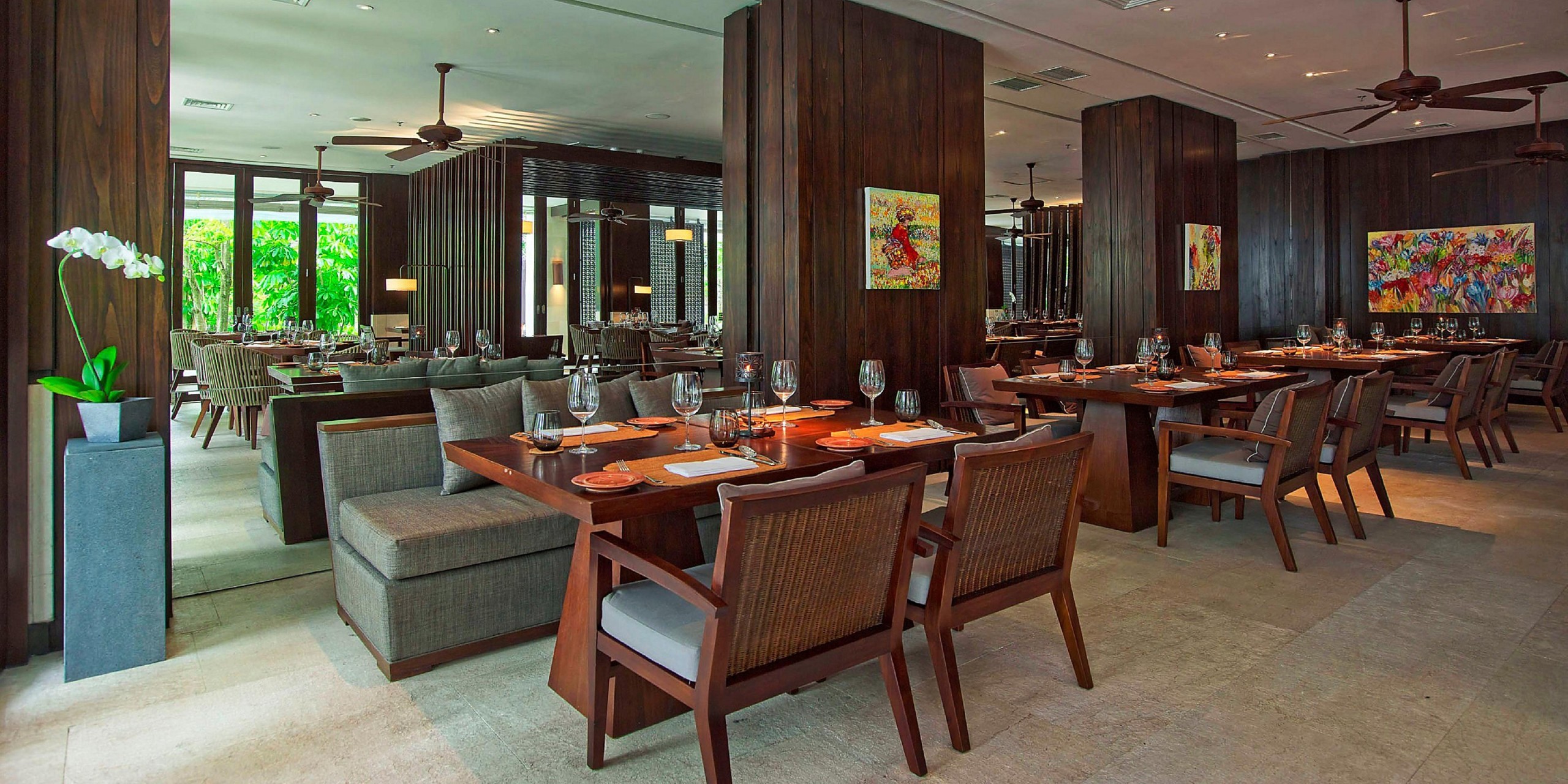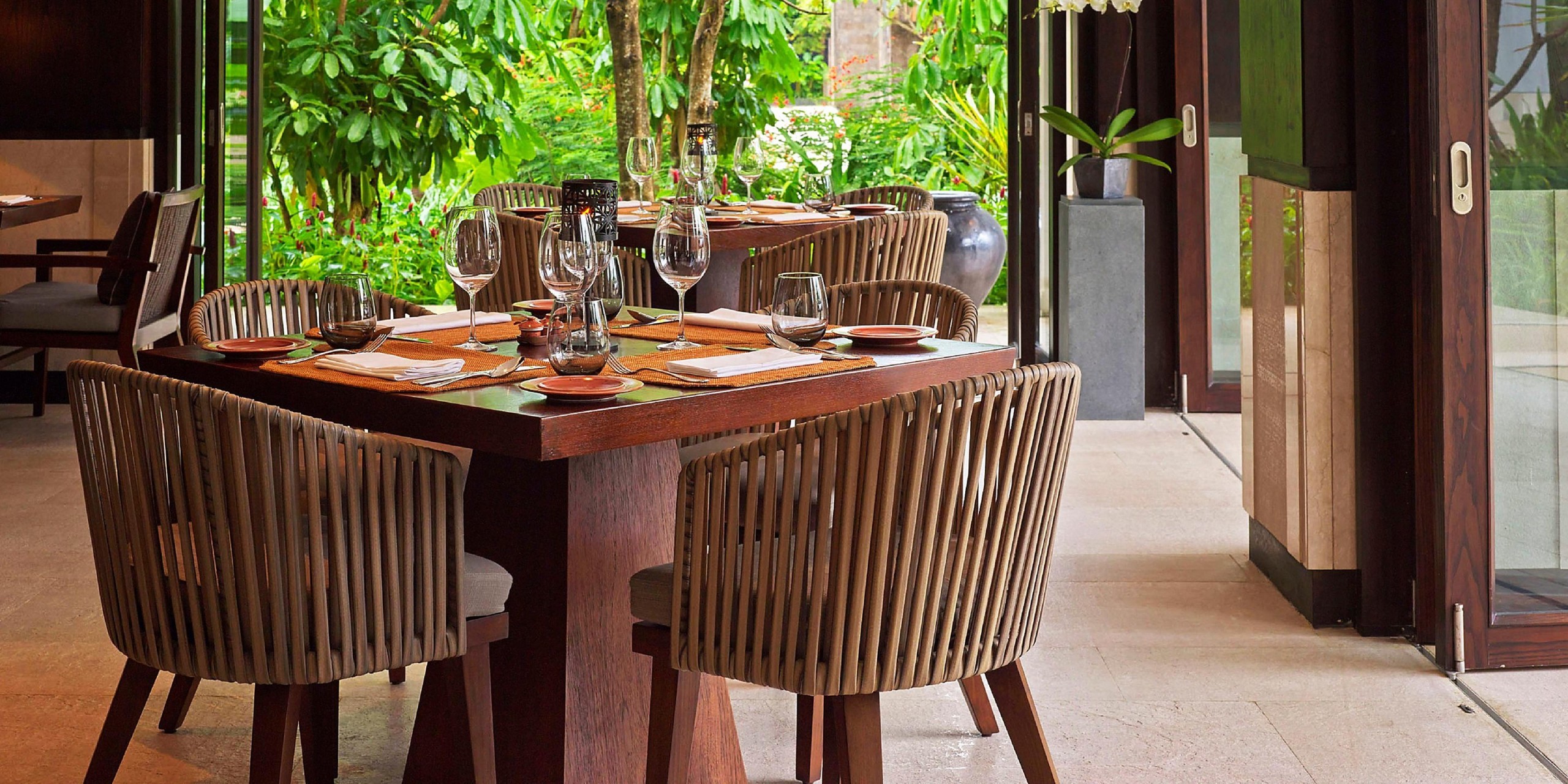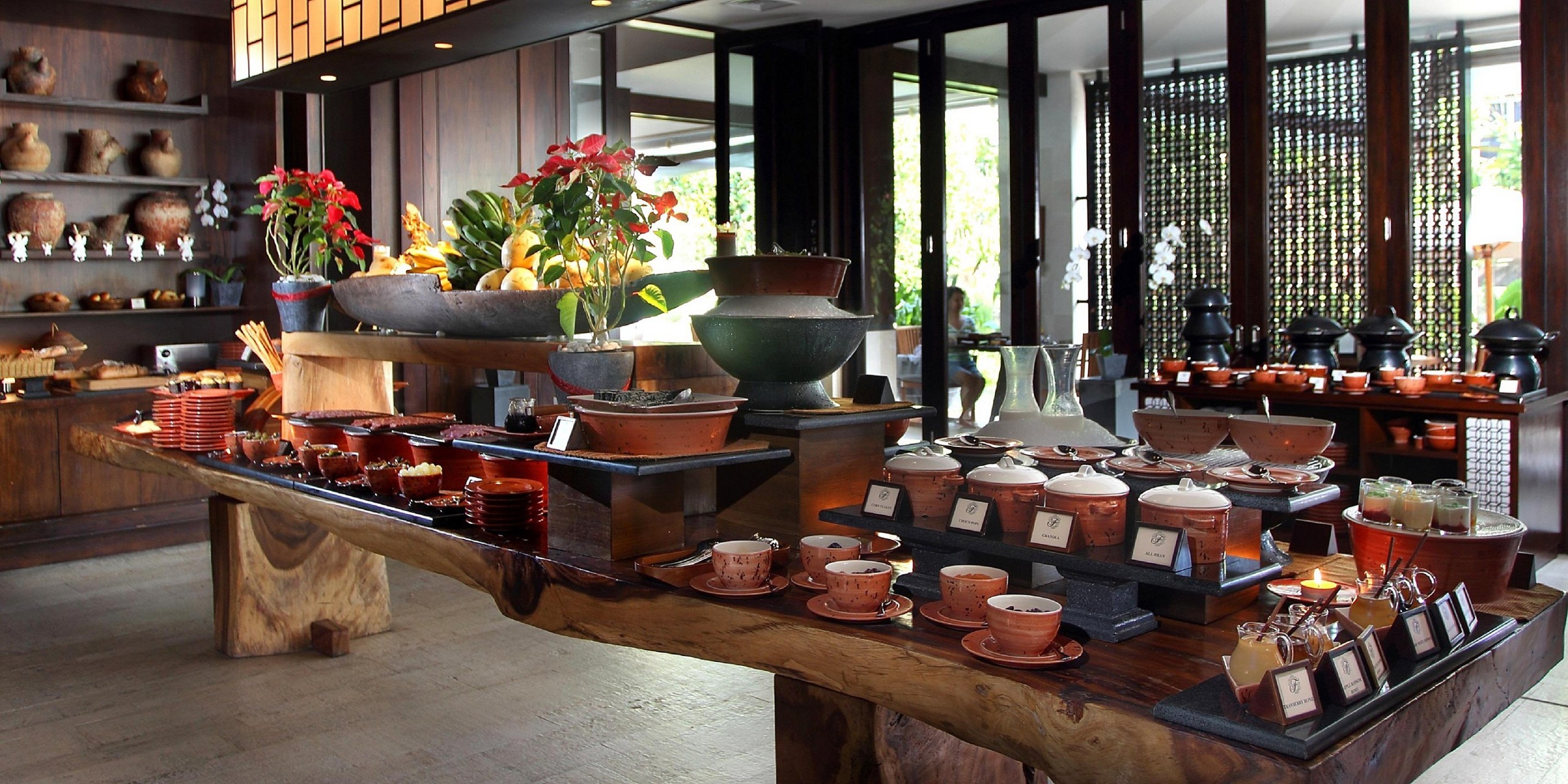 NYALA BEACH CLUB & GRILL –
Opening Hours: 12:00 pm – 10:30 pm
開放式餐廳與面向大海的主游泳池並排。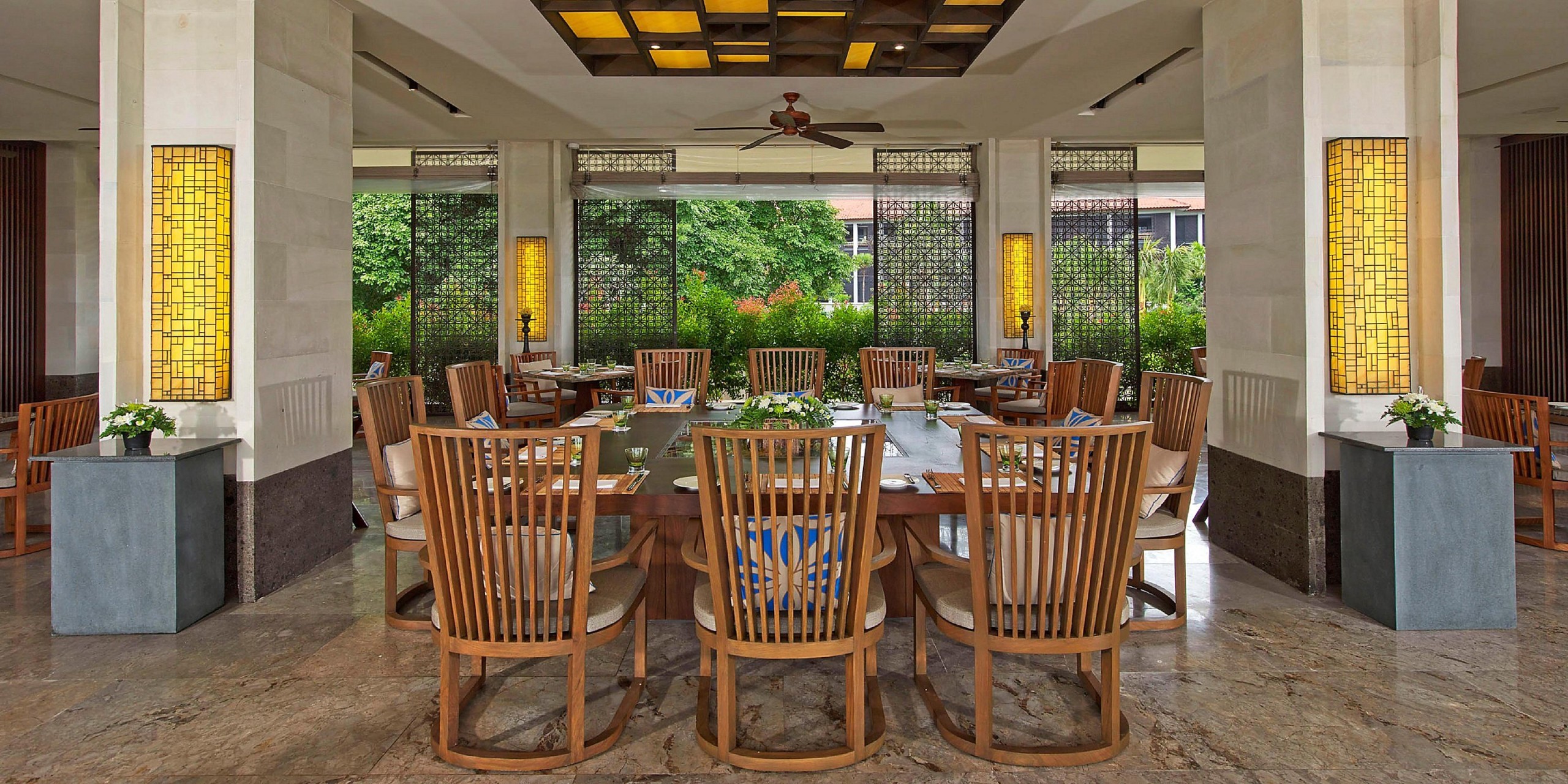 PIER EIGHT –
海灘酒吧、招牌菜和熱帶雞尾酒。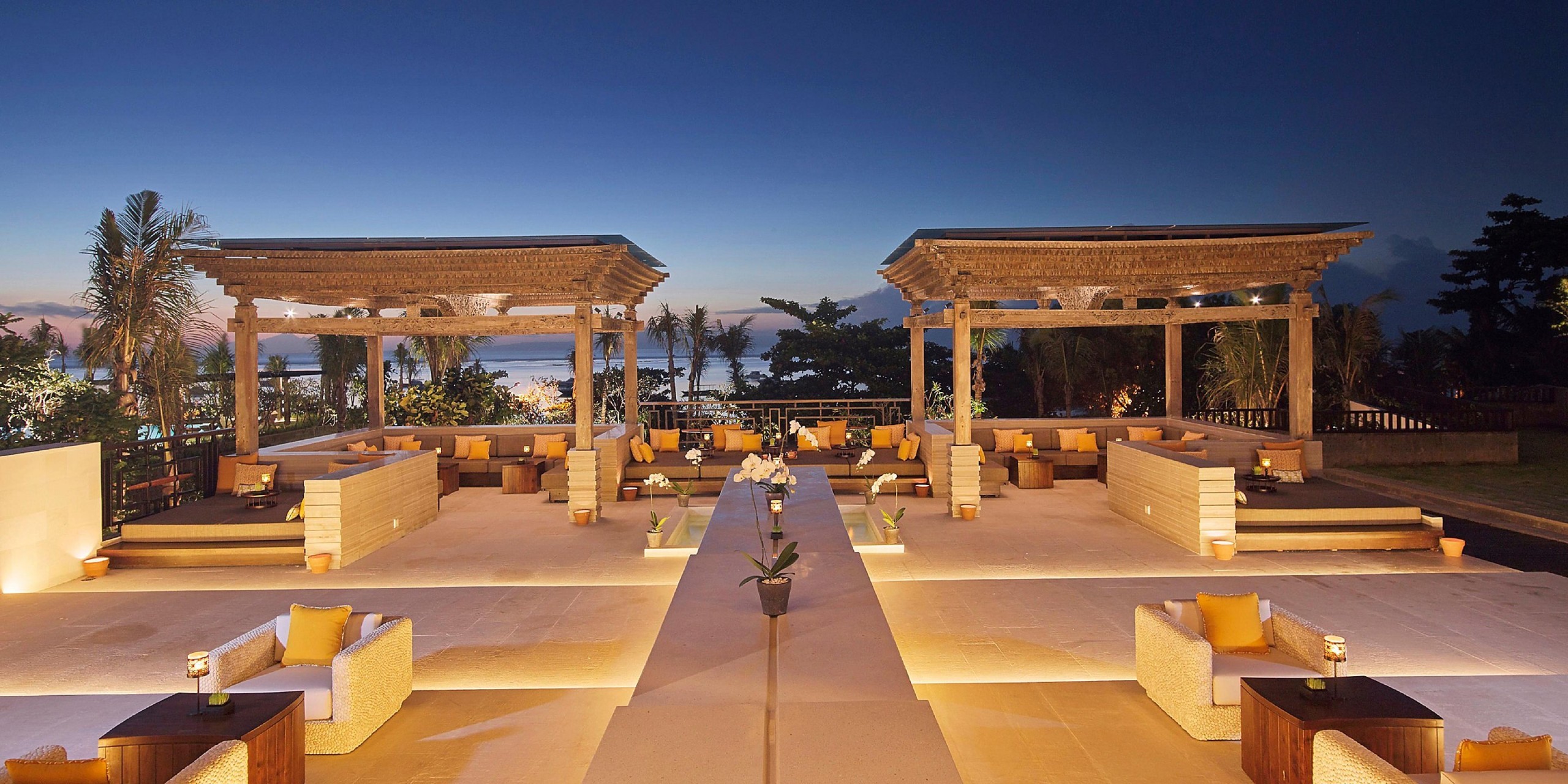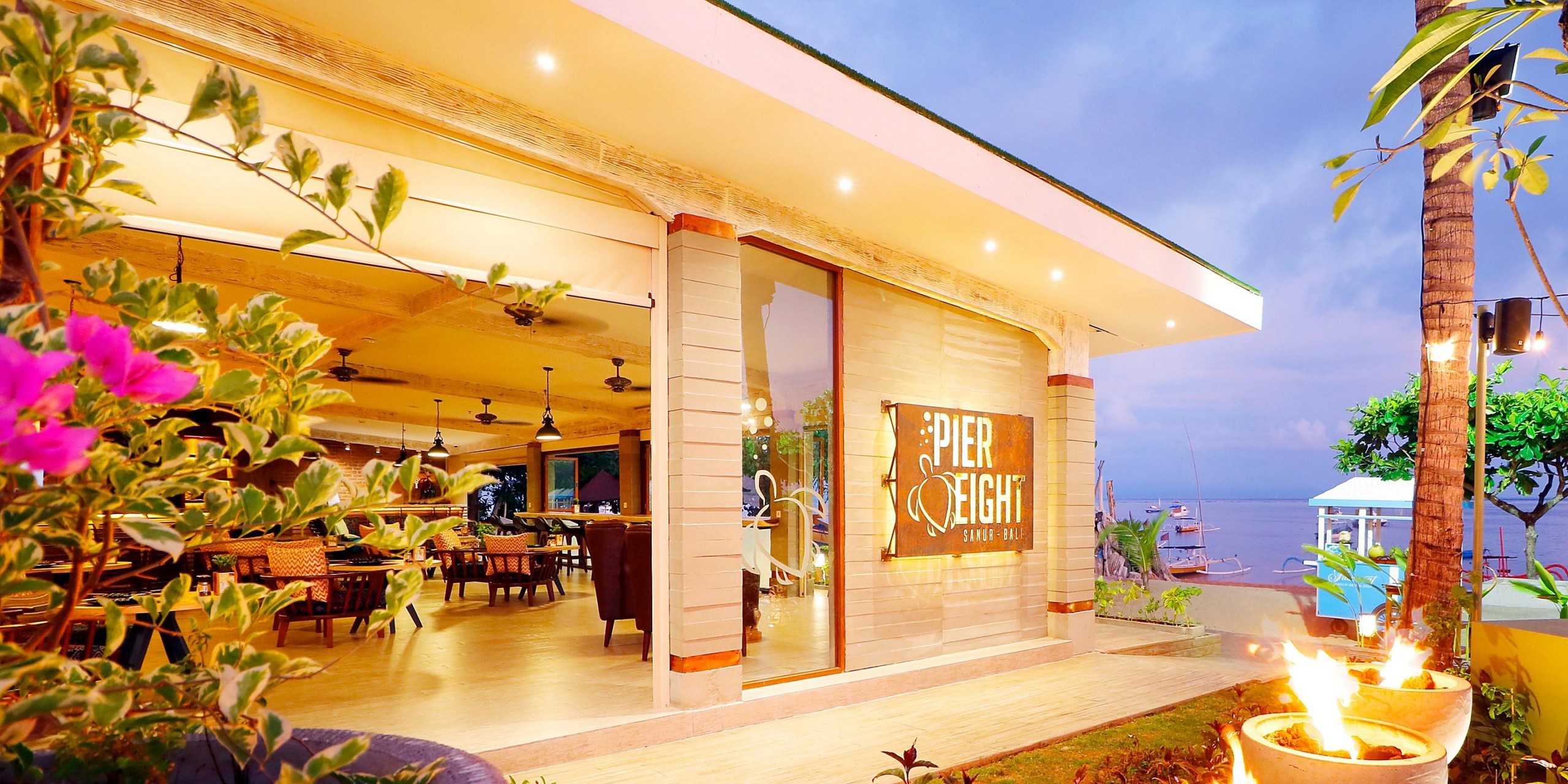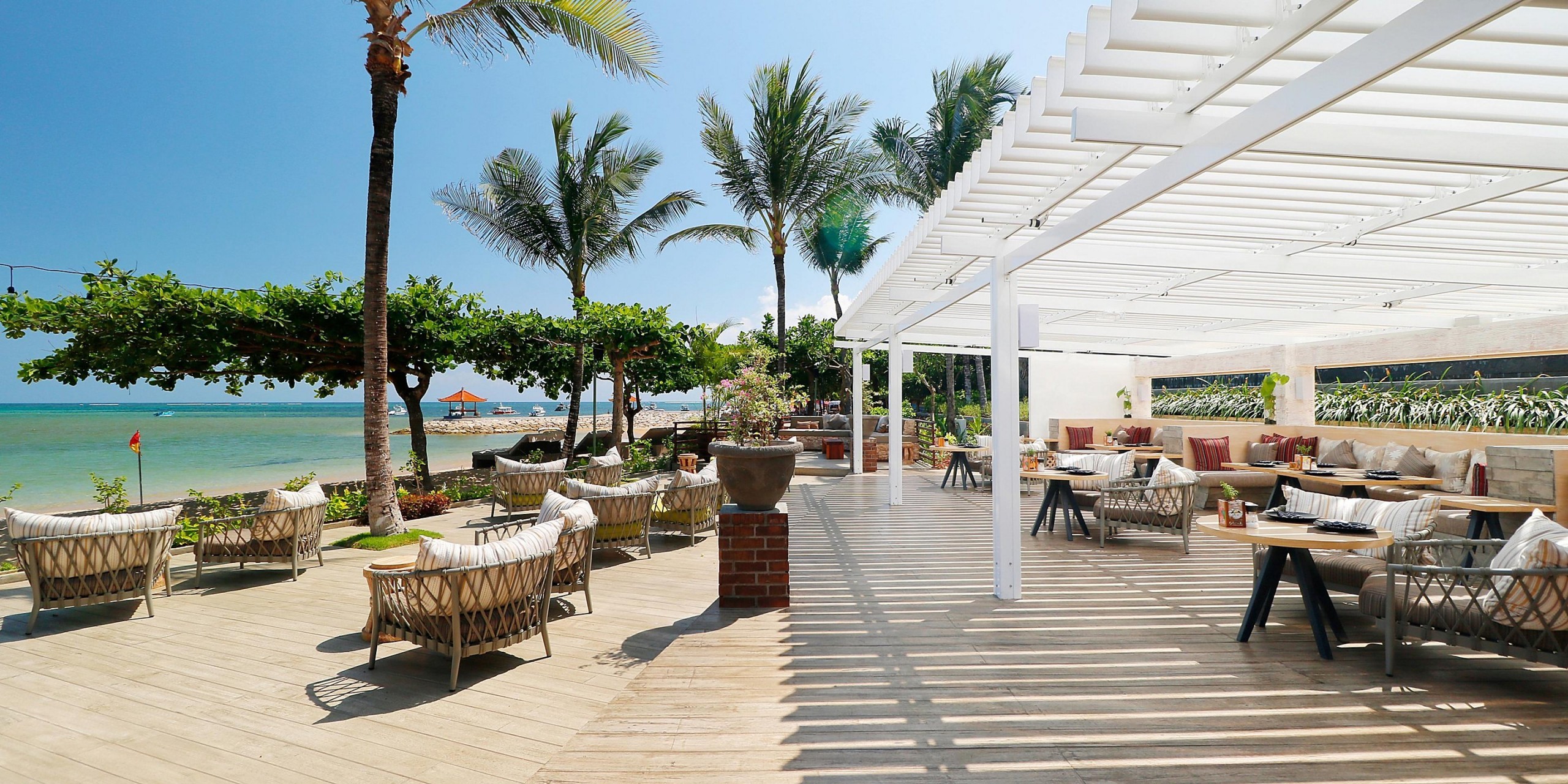 LOBBY LOUNGE –
晚間雞尾酒和酒廊。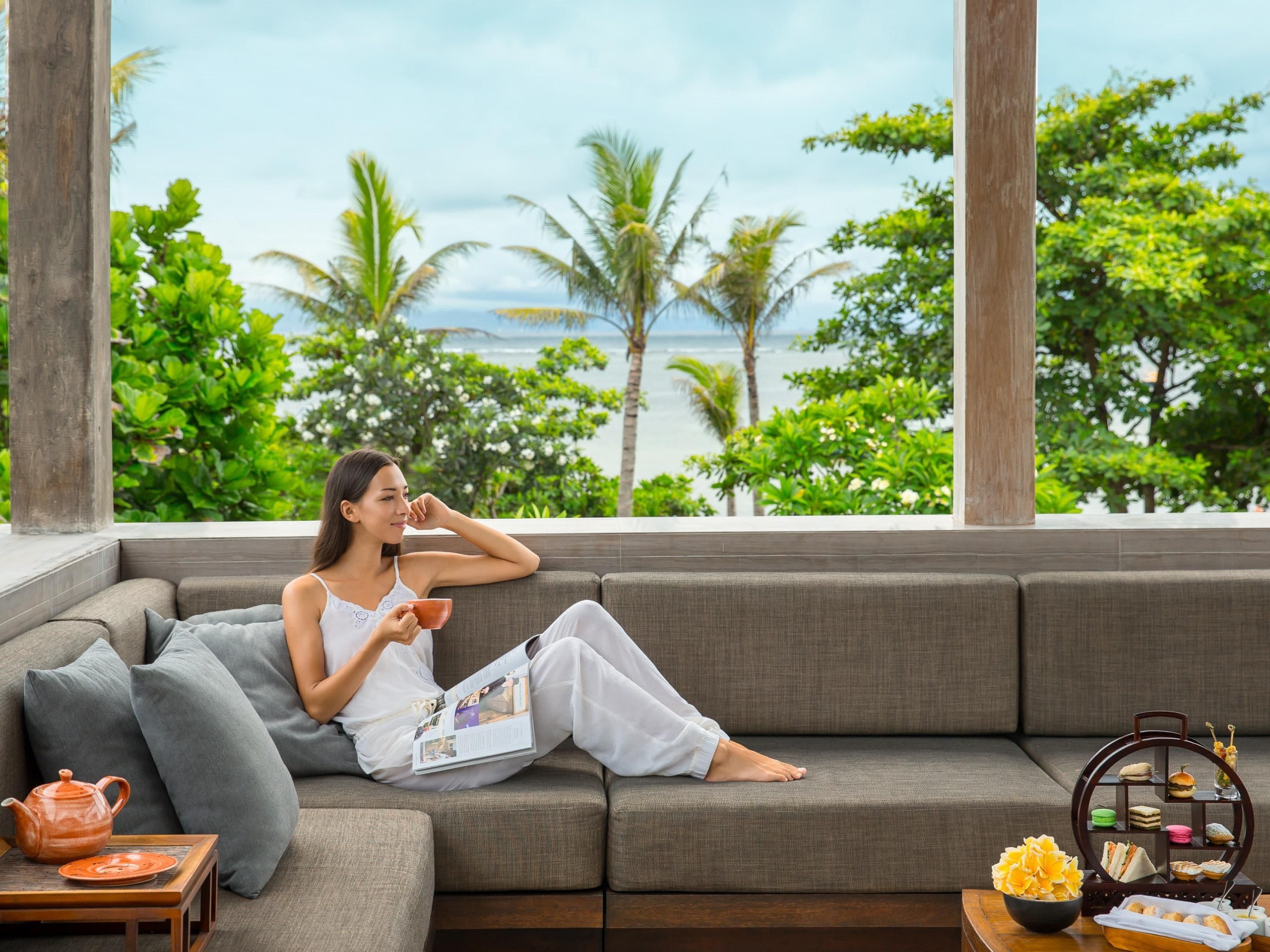 SERVICES – THE ESSENTIALS
針對商務、健身、兒童等的服務。
FEE BASED AND STAFF ASSISTED SERVICES:
Doctor on Call
Dry Cleaning Pickup or Laundry Valet
Same Day Dry Cleaning
Foreign Currency Exchange
Storage Space Available
Butler Service
Valet Service
Nanny for Hire
Children's Activities Available
Housekeeping Daily
OTHER SERVICES:
Turndown Service
Private Limousine
THE INSIDER COLLECTION…
Equipment & Supplies:
Projector – Digital
Projector – LCD
Projector – Overhead
Cable Modem
Teleconferencing
Video Conferencing
Microphone
Whiteboards
Flip Chart & Markers
Pens & Writing Pads
TRULY MEMORABLE MEETINGS –
真正令人難忘的會議和活動具有地道的當地風格——這就是洲際渡假村內幕系列的靈感來源。
Insider Collection專為洲際會議而設,提供一系列根植於目的地的代表體驗,並利用無與倫比的當地知識打造真正引人入勝的個性化會議和活動。 這些都經過精心挑選,旨在為與會代表提供源自當地的地道體驗,同時確保提供人們對洲際飯店及度假村所期望的高服務水平。 這些活動針對各種場合量身定制,範圍從互動式場外團隊建設活動到激勵當地演講者,或者代表們有機會為有益於周圍社區和環境的項目做出貢獻。
Insider Collection的靈感來自全球洲際飯店和度假村網路以及團隊豐富的本地知識和人脈。 正如越來越多的策劃者所發現的那樣,其結果是令人難忘的具有真正當地風味的會議和活動。
INSIDER LOCATIONS:
為活動選擇一個洲際飯店場地,一個充滿無限可能的世界就此開啟。 作為當地人,度假村團隊掌握著當地遊客看不到的一面的鑰匙。 他們知道什麼和他們知道誰可以提供真實場地和體驗的獨家組合。
INSIDER BREAKS:
有了 Insider Collection,即使休息時間也是充實的體驗。 從提供美味的地方菜餚午餐以品嚐地方美食,到與禮賓團隊共度美好時光以獲得最好的內幕消息,從繁忙的日程中抽出幾分鐘本身就是一種完整的體驗。
INSIDER INTERACTIONS:
團隊經驗將幫助您的代表以前所未有的方式相互聯繫。利用您目的地的獨特特徵、傳統或地理來激發互動,無論是在現場還是在異地,每一次體驗都提供了一種吸引代表並激勵他們建立有效工作關係的原始方式。
INSIDER SPEAKERS:
與一位鼓舞人心的演講者一起讓活動栩栩如生——他可以真正與您的代表產生共鳴並豐富他們的體驗。 從名人和文化專家到體育英雄,引人入勝、引人入勝、激勵人心的內幕演講者應有盡有。 無論他們的熱情如何,他們都與當地有著密切的聯繫,您會發現他們獨特的見解和對當地的了解會讓您的活動成為令人難忘的活動。
INSIDER COMMUNITY:
沒有什麼比讓自己沉浸在社區中更能深入了解您在新目的地的體驗了。 Insider Community 旨在造福當地人民,並為您的代表創造真正難忘和有意義的體驗。