<< Bali to Gili Trawangan By Modern Safe Ferry >> news from Bali Discovery
Fast, Affordable, Ferry Between Bali and Gili Trawangan with Blue Sea Jet
Blue Sea Jet – an Indonesian marine operator – is launching a new fast ferry service connecting the Port of Benoa in South Bali with Gili Trawangan and Lombok.
Seating configured to comfortably carry 342 passenger in two classes – tourist class and business class – the high-speed catamaran vessel covers the distance between Bali and Gili Trawangan in two hours or from Padang Bai to Gili Trawangan one and one-half hours.
Maintained to the highest maritime standards the 34-meter is powered by state-of-the Kamewa Water Jets Driven by 2 powerful MTU Engines (2 x 2600 hp).
The ship is fully air conditioned with limited outside seating available. An entertainment system shows movies during the crossing and kiosk serve serves light refreshment.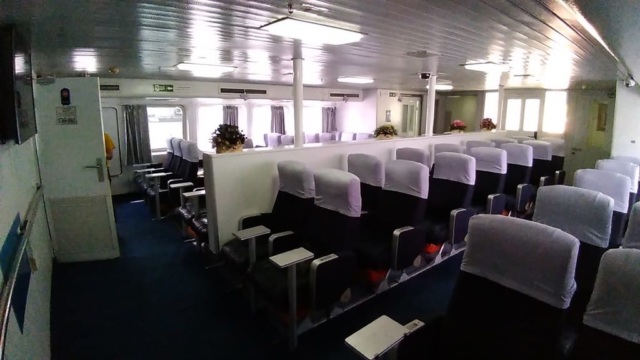 Schedule and Fares
Days of Operations: Friday, Saturday, Sunday and Monday
Benoa – Gili Trawangan                               Departs 08:00 am – Arrives 10:00 am
Gili Trawangan – Padang Bai                        Departs 10:30 am –  Arrives 12:30 pm
Padang Bai – Gili Terawang                          Departs 12:30 pm – Arrives 2:00 pm
Gili Terawang – Benoa                                 Depart  3:00 pm – Arrives 5:00 pm
Fares
Benoa – Gili Trawangan
One Way Adult Economy Rp. 700,000
One way Child (3-12) Economy Rp. 505,000
One Way Adult Business Rp. 800,000
One Way Child (3-12) Business Rp. 575,000
Round Trip Adult Economy Rp. 1,400,000
Round Trip Child (3-12) Economy Rp. 1,010,000
Round Trip Adult Business Rp. 1,600,000
Round Trip Child (3-12) Business Rp. 1,150,000
Padang Bai – Gili Trawangan   
One Way Adult Economy Rp. 600,000
One way Child (3-12) Economy Rp. 435,000
One Way Adult Business Rp. 700,000
One Way Child (3-12) Business Rp. 505,000
Round Trip Adult Economy Rp. 1,200,000
Round Trip Child (3-12) Economy Rp.  870,000
Round Trip Adult Business Rp. 1,400,000
Round Trip Child (3-12) Business Rp. 1,010,000
Group Discount Bookings available for more than 5 passengers
For bookings and more information Telephone: +62-(0)361- 464 032 or +62-(0) 812 381 9724