<< Direct flights from Moscow to Bali start from 28/Oct/2018 >>  news from Seminyak Times
莫斯科直飛Bali  開航了…….好奇 到底要飛幾小時呢??
Moscow to Bali – Now Three Times a Week
Aeroflot-Rossiya Flying Boeing 777 with 436 Seats between Moscow and Bali.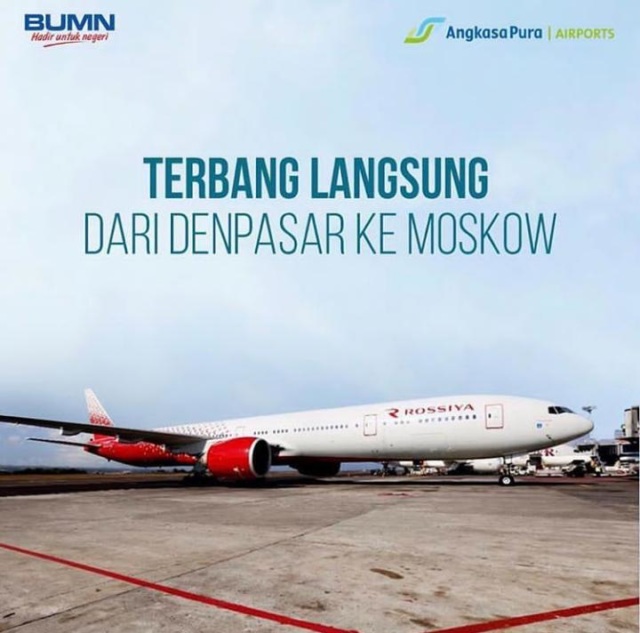 Expect to see more Russian tourists around town as from October 28, 2018 there will be direct flights from Moscow to Bali.
Chairman of the Russian Federation Council, Valentina Matvienko welcomed a delegation from the Indonesian government led by the Chairman of the DPD RI, Oesman Sapta Odang in Moscow, Russia, on Tuesday (10/23/2018).
"In October this direct flight between Moscow and Denpasar will be inaugurated," Valentina was quoted as saying in Detik Travel.
The Russian-Indonesian direct flights are provided by Airline Rossiya Airlines. Although there have been several attempts, the flight route will now be officially opened on October 28, 2018.
According to Valentina, Russia is currently studying the possibility of direct flights to and from other cities in Indonesia. Until now, trips to Russia still needed to transit through a number of countries including Singapore, Thailand and Dubai.
"We hope that we will develop the possibilities more," he said.
Since Indonesia has applied free tourist visas to Russian nationals, more tourists are visiting the country.
"In 2015 the Indonesian government granted visa-free travel for Russians visiting Indonesia. I hope that the number of Russians visiting Indonesia exceeds 70 thousand people this year," Valentina said.
Chairman of the DPD Oesman Sapta Odang also hoped that Russia could also apply free visas to Indonesian citizens.
"The DPD hopes that with the meeting this week between the two governments that Russia will also provide reciprocal facilities to tourists from Indonesia, so that people-to-people relations between our two nations will increase and be expanded," Sapta said.