<< Bukit Pandawa Golf & Country Club Uluwatu >>
2016年才開幕的Pandawa Golf其實將是頂級住宿文華東方酒店區旁的一個球場,之後整體經營方式就像先前海神廟旁的Pan Pacific Nirwana(預計更名為川普飯店,正在整修中); 經過2年後,草木以生長得更為茂盛,一樣有遼闊的海景,跟New Kuta Golf一拚高下; 離Nusa Dua/Jimbaran/Kuta約25/35/50分鐘;
有興趣可電Casa Chen 0932-043913; 或mail to casachen@neverneverlandinbali.com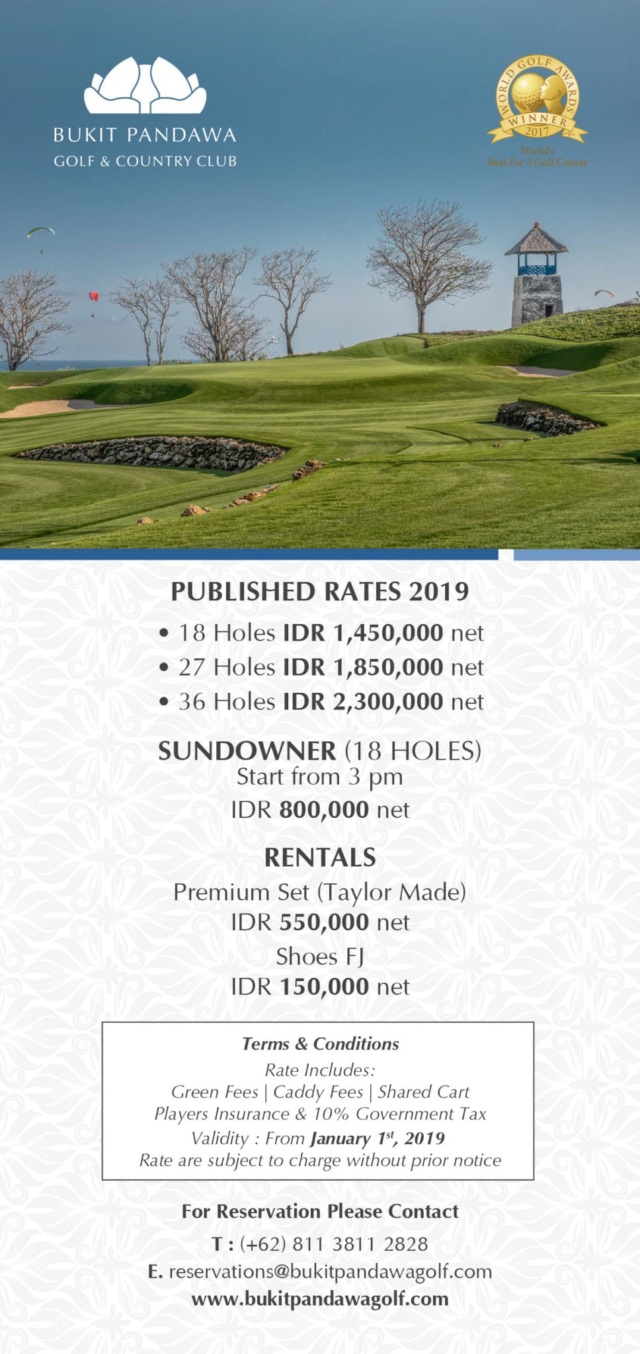 Opened in October 2016, Bukit Pandawa Golf & Country Club is the latest addition to Bali's growing collection of world-class golf courses. Situated on a limestone cliff-top overlooking the world-famous surf breaks of Bukit Peninsula, the singular venue offers 18 championship caliber par-3 golf holes, many of which are back-dropped by rustic architectural relics and spectacular views of the Indian Ocean, with a clubhouse inspired by the many grand temples Bali is renowned for.
The club is the centerpiece of an expansive development that will eventually include several 5-star hotels, including a Waldorf Astoria, Mandarin Oriental and Swissôtel.
With 18 championship caliber par-3 holes, Bukit Pandawa Golf & Country Club is the first golf course of its kind in Bali, if not in all Southeast Asia. While the par-54 layout is a time-saver with a typical round lasting in just 120 minutes, it is not short on its own challenges. Set across   a limestone clifftop as it meanders through dramatic rock outcroppings, terraced rice paddy field, the course in itself   is an art savor with the spectacular white sandy beach and the Indian Ocean as its backdrop. The plethora of bunkers and strategic waterfalls sprinkled into this latest creation of Bob Moore, have redefined golf unto a new pedestal of harmony and balance.
Number of Holes: 18
Par: 54
Grass Type: Pure Dynasty, a flexible and durable seashore paspalum
Golf Carts: Included in green fee; 2 golfers may share 1 cart
Caddie Service: Required; 1 caddie per golfer
Tee-Time Intervals: Every 10 minutes
Tee-Time Policy: Advanced bookings required
Dress Code: Must be in keeping with golf apparel, such as tailored
shorts/trousers, collared polo shirts, soft spikes, etc.
http://www.bukitpandawagolf.com/