<< Waka Sailing Catamaran Bali >>
Bali許多公司提供遊艇服務,Waka可算是其中勞斯萊斯等級的產品,不為團體服務,即便自由參加,最多也不超過30人;不走喧鬧的水上活動,提供真正海上的慢遊行程,遊客素質也較高, 常常被家族包船出遊;
有興趣 可洽Casa Chen, 0932-043913 或 mail to casachen@neverneverlandinbali.com
WakaSailing Catamaran will be reinstall on Tuesday, 16th October 2018.
Starting on Wednesday, 17th October 2018 Our WakaSailing Catamaran will be operate to Lembongan Island normal with the sail.
"Sensational Sailing to Lembongan Island on a Luxury Catamaran"
The trip from our private Waka Marina at Benoa Harbour to the stunning WakaBeachClub in Lembongan Island takes approximately one hour and forty five minutes depending on the weather conditions. The sailing catamaran takes guests on a leisurely cruise cooled by sea breezes. Coffee, tea, pastries and fresh fruits await guests on board. Indoor and outdoor seating areas allow guests to travel in comfort while enthusiastic fishermen can join the crew throwing lines at the back of the boat.
https://wakahotelsandresorts.com/wakasailing/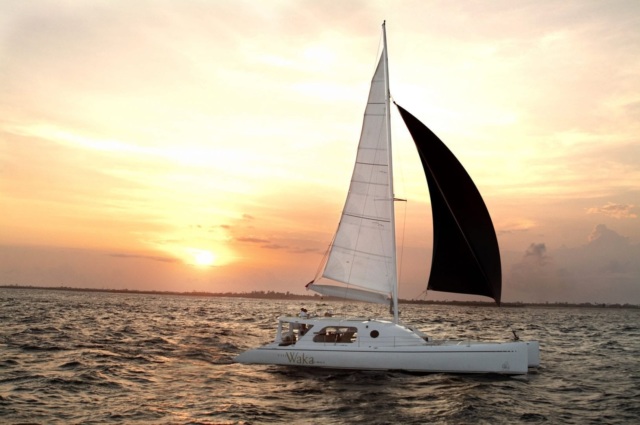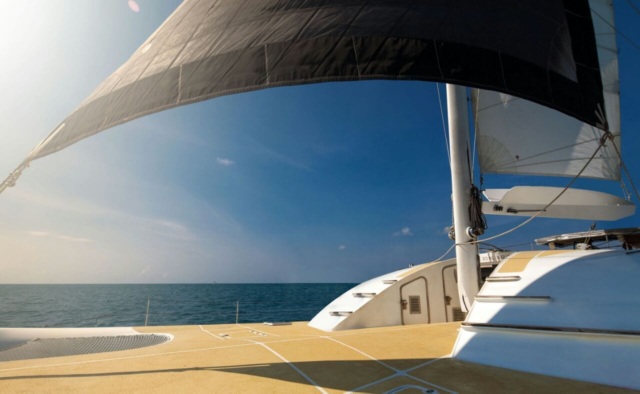 Day Cruise – Sailing Catamaran to Lembongan
Inclusion – 包含
Lembongan 島一日遊 8 Hrs
On Board: – 在船上:
Food & Beverage:  – 餐飲:
Welcome drink, pastries,  soft drink, tea & coffee, slice fruit, cool towel,
09:00~17:00 ; Max 30 Passengers
 sunset cocktail with slice cheese and crackers on the way back
 – 迎賓飲料, 蛋糕 / 點心, 汽水, 茶 & 咖啡, 水果, 毛巾. 回碼頭的路上將提供日落 雞尾酒會以及餅乾 & 乳酪
(Mon, Wed, Thur &  Sat)
Fasilities: – 設備:
(星期一, 星期三, 星期四 & 星期六)
2 trolling fishing, toilet, lounge, cushion for sun bathing.  – 2 拖曳海釣, 洗手間, 休息室, 長椅
At the island:  – 在島上
(Including return transfer – 含酒店接送)
Return glass bottom boat to the island- Welcome drink  – Waka Nusa 珊瑚礁俱樂部玻璃船來回接送
Fasilities: – 設備:
Free transfer except : Uluwatu/Canggu/Tabanan/Ubud
Table tennis,volley ball yard, chess, bicycle, boogie board, canoe, backgamon,
 
towel, shower/toilet, swimming pool & venue restaurant
 
 – 桌球, 排球, 象棋 , 腳踏車,  滑水板, 獨木舟, 雙陸棋, 毛巾, 洗手間,  游泳池 & 餐廳
Activities: – 活動: Snorkling, reef viewing from glass bottom boat, a village tour of seaweed farms and famous underground house
 – 浮淺, 透過玻璃船觀賞珊瑚礁, 村莊海藻園 & 地下屋之旅
Lunch – BBQ lunch with a glass of wine/beer during lunch, soft drinks, mineral Water, tea & coffee  – 精緻美食配上紅酒 / 啤酒, 汽水, 茶 & 咖啡