<< LA'VIE Total Sensation Massage@Jimbaran >>
New feeling / feeling, "pain / feeling" massage
這是一種非常新穎且"痛苦"的風格,適合日本人的口味,融合了世界聞名的泰國,中國,印度,指壓手法,爪哇和巴厘島按摩技術。 治療師使用溫暖的手指,手背和手臂,經過精心治療,可以糾正身體疲勞。 此外,可以使身心功能正常化,促進血液和淋巴循環,對肩膀僵硬,背部疼痛,肌肉疼痛,頭痛和美麗的皮膚具有顯著效果。
體驗這種"痛苦與舒適"的新感覺。 按摩後,可以緩解疲勞和僵硬,並且在身心上都感到精神煥發和舒適,
通過獨特的按摩探索幸福的感覺,非常受歡迎。
重點是,La'Vie按摩都不使用油,因此可以在購物,觀光或離境當天來享受。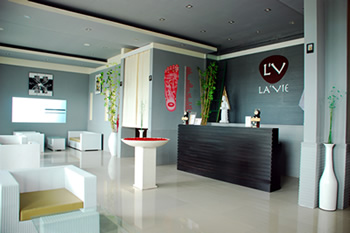 FACILITIES –
Massage Room 30 beds
Foot Reflexology 7 seats
Safety Box
Shower & Changing Room
OUR TREATMENTS
MASSAGE –
Original Jimbaran Massage – 60 mins
This full body massage using unique technique of smooth circulatory skin strokes apply for shoulder, back, legs, feet and sole, and blissful head massage to bring you deep relaxation as well as releasing fatigue.
Foot Reflexology Massage – 60 mins
This massage combines of Swedish style and Thai style massage which aims to improve blood circulation. It brings you total relaxation and recover your stamina after the exciting holiday activity.
La'vie Ideal Massage – 90 mins
This head-to-toe whole body massage combines Japanese shiatsu and traditional Thai massage. The deep relaxation touch of healing power enlightens your body and uplifting your feeling. Unlike original Thai massage, this massage has no 'ouch' yet with the same therapeutic effect. The special La'vie massage technique is well balanced pressure of thumbs, palms, forearms and elbows from our experienced therapist.
La'vie Original (signature) Massage – 120 mins
This pleasant massage stimulates our body reflex points on our sole to improve blood circulation. It brings you deep relaxation and release fatigue. Enjoy the sensational moment in our specially designed chair while you listen to the selected serene music.
PACKAGE –
La'Vie Package A – 120 mins
Foot Reflexology + Original Jimbaran Massage
La'Vie Package B – 150 mins
Foor Reflexology + La'Vie Ideal Massage
La'Vie Package C – 180 mins
Foot Reflexology + La'Vie Original Massage
OPEN HOURS :
09:00~24:00
+62-361-8953489
Jl.Kampus No.18L, Jimbaran, Bali, Indonesia
http://www.lavie-bali.biz/en/index.html