<< TLN- 私人莊園 Villa Ambra(Pantai Lima Estate) –  Canggu 5房 >>
私莊名
 Villa Ambra (Pantai Lima Estate)
房間數
 5 Bedrooms (5間大床房)
位置
 Canggu Beachfront
早餐
 房費不含早餐
加床
 可事先預約加床, 額外費用
 Villa價位 A + A x 0.155(tax) – 視地點及 人數/行李數 提供含入住/退房接送服務

Agent價位  A x 0,93 + A x 0.155(全額tax) – 含入住/退房接送服務

官網
 https://villaambrabali.com/
服務
 含每日1次8小時2部7人座用車, 不適用Check in&out當天, 不含油資/不含司機小費
While Villa Ambra might represent the epitome of holiday luxury, its location means it's an intrinsic part of traditional Balinese rural life.
The farming families who plant, nurture, and harvest the ricefields, and the fishermen who take to the sea according to the wind and the currents are part of the Villa Ambra experience. They often perform religious ceremonies on the beach in front of the villa.
Coming and going to the villa, you'll see the current phase in rice cultivation, and if you walk up the beach a couple of hundred metres, you can enjoy watching the fishermen putting to sea, or returning with their catch.
Guests quickly respond to the natural rhythms of dawn and dusk, and the ebb and flow of the tides. The cares and pressures of city life seem to melt away and are swiftly replaced with serene relaxation. A welcome opportunity to recharge and renew body and spirit.
ACCOMMODATION –
As Villa Ambra's owners, we live in the villa several months of the year – it is our home, not a rental villa. That makes a huge difference. We have high expectations of comfort and practicality. Furniture, fittings, fixtures – not only have to look good, they have to be genuinely comfortable and they have to function the way they are meant to. We make sure they do, and our lucky guests benefit as a result. Most importantly, our divine staff look after us, and will look after you, superbly.
All five bedrooms have ocean views and are each completely different in design and ambience. Each has its own en-suite bathroom, individually designed and furnished. There is a large sitting room on the ground floor and another upstairs. Both are open to sea breezes.
There are two outside dining tables, each seating ten, in different locations.
Additionally, there is an air-conditioned indoor dining room, also seating ten, and which also has French doors which can be flung open instead.
There is a home cinema with high definition projector and wide screen.
Expansive gardens and lawn extend right to the beach.
The beach frontage is 45 metres. You simply step off the grass and on to the sand. There are two interconnected pools. The larger infinity pool totals 100 square metres, while the children's pool is 21 square metres and only 60 cm deep. You can enjoy the garden jacuzzi which is large enough for eight adults. There are very comfortable lounging and dining areas right at the edge of the beach, as well as a shady bale to relax in. Both provide unobstructed ocean and sunset views.
VILLA FACILITIES –
Features and amenities –
Staff –
To ensure your total comfort, Villa Ambra has 16 Balinese staff at your disposal who are managed by the Villa Manager. including a Villa Manager, Head and Under-Butlers, Cooks, Helpers, Engineers etc. They are unobtrusive and discreet, but ever friendly, attentive, and helpful. (Food and beverages are charged at cost, with the addition of a 15% handling fee.)
Entertainment –
Each bedroom has its own 37 inch LCD television screen with satellite TV programming. Guests' music can be played through our Jambox speakers. There is a large, private cinema (196″ screen) with HD projector and a library of popular DVDs.
Sports –
A tennis court with all-weather surface and floodlights, and a selection of fitness equipment. Tennis court and gym, shared with the other four villas on the estate, which may be used free of charge on a first-come, first-served basis.
Garden –
Villa Ambra sits on 2,000 square metres of beachfront land planted with lush tropical vegetation and gently swaying palms. There are 45 metres of beachfront, and guests step off the front lawn on to the sand.
Pool –
The main infinity pool measures 20 x 5 metres for a total of 100 square metres. The smaller pool of 21 square metres, and with a maximum depth of 60 centimetres, is great for children but also fun for adults to splash around in. At the end of the main pool, very near the beachfront, is a jacuzzi which is designed for the enjoyment of up to eight adults.
Internet –
The entire villa is covered by high-speed fibre wifi and is free of charge to guests for unlimited use.
Telephone/Fax –
Every bedroom has an ISD capable telephone. Local and international calls will be charged at cost. Fax facilities are available on request.
Security –
The estate employs a security company to provide round-the-clock security.
Cars & Drivers –
Complimentary use of the owners' two personal 7-seater MPVs and drivers is provided for up to 8 consecutive hours per day each, 6 days per week. Fuel is chargeable.  The Toyota Voxys offer comfort and convenience with their electric sliding doors.
Water –
Villa Ambra's water is drawn from a deep well, then filtered and treated.  However, we do not recommend that you drink tap water in Bali, and we provide bottled water for you FOC.
Linen & Laundry –
A complimentary laundry service is provided for your reasonable needs. Fine items and dry cleaning are sent out and charged at cost.
Electricity –
The villa has mains electricity at 220 volts. Voltage regulators ensure against current spikes and an automatically-starting generator takes care of the odd power cut.  Electrical sockets in Bali use the two-pin system commonly found in Europe. Adaptor plugs are available.
Library –
Ambra boasts a well-stocked library containing, in addition to fiction and non-fiction books, a large number of games and trivia for adults and children. It also has an iMac and printer which are available for guests' use.
Spa –
Two massage tables are situated in a bale next to the upstairs sitting area.  All the usual treatments are available, such as manipeds, facials, massages etc., at prices a fraction of what you would pay in a 5-star hotel. Yoga classes can also be arranged with experienced professionals.
Additional Facilities –
Mountain bikes, kites, and fishing rods.
ROOMS –
Bedroom –
Villa Ambra has five air-conditioned double bedrooms, four with king-sized beds, and the fifth with a queen-sized. Each has an ensuite bathroom with bathtub as well as shower. All five bedrooms have ocean and river estuary views. Both are open to sea breezes.
Living Rooms –
There are two living rooms. The first, at ground level is 80 square metres; the second, upstairs is 45 square metres. Both catch refreshing sea breezes.  State-of-the art blinds allow the living areas to continue to be used in inclement weather.
OTHER SERVICE –
Airport transfer –
Airport transfers are free of charge within the use parameters of the villa's vehicle as mentioned above. Please let us know whether a luggage van is required (at cost) in addition. It is essential that we be advised of flight numbers and of any changes that arise.
Airport VIP meet & greet –
Subject to availability (occasionally the airport restricts this service) we can have you met before immigration and fast-tracked, your luggage collected, and accompanied to the car, at a cost of 350,000 rupiah per head. Indonesia offers FOC Visa on Arrival for most nationalities.  Please check whether you qualify, and if not, have the necessary funds ready.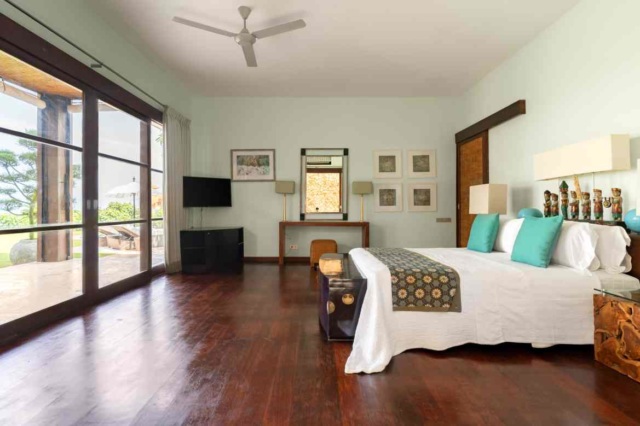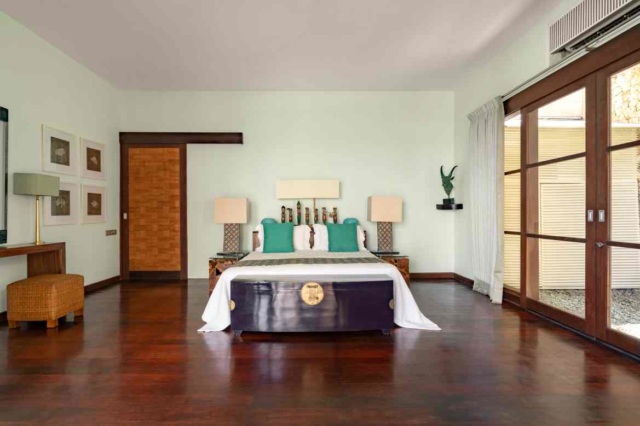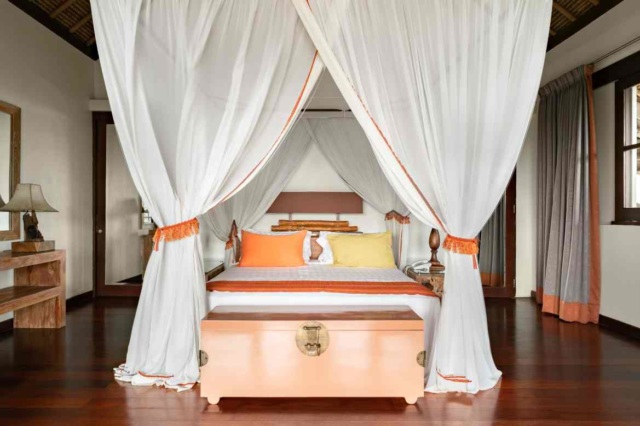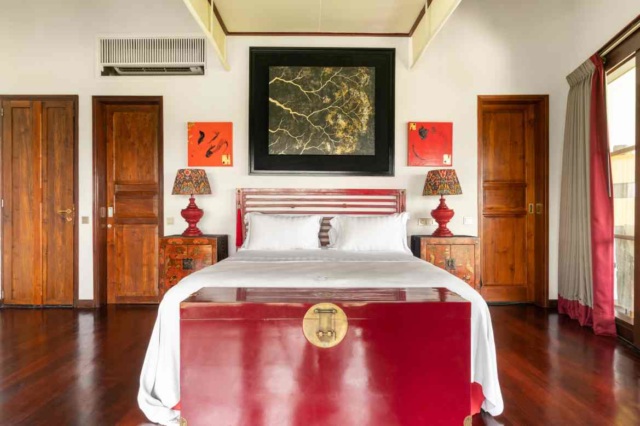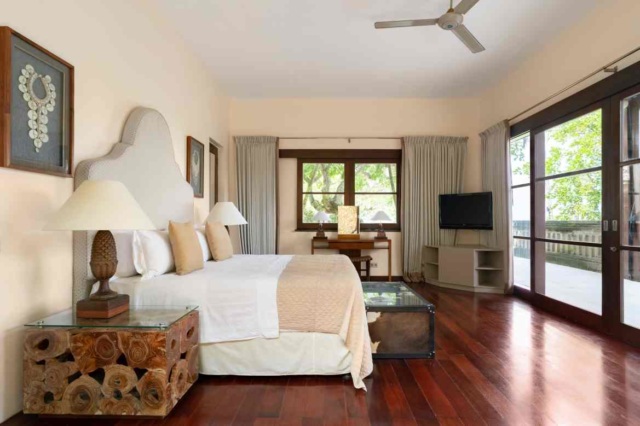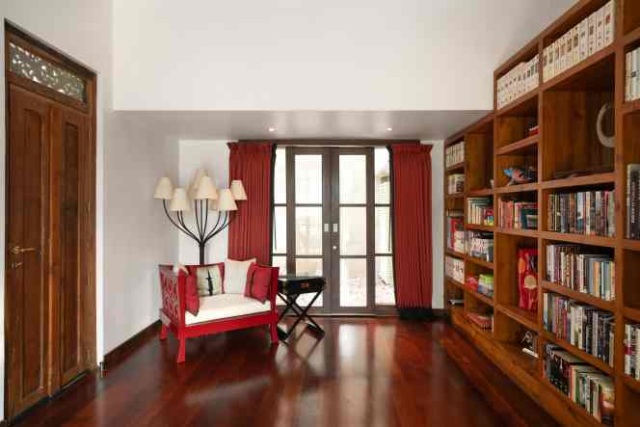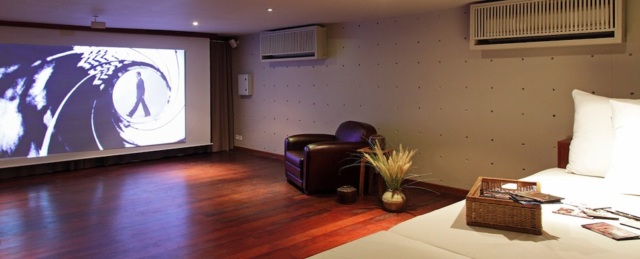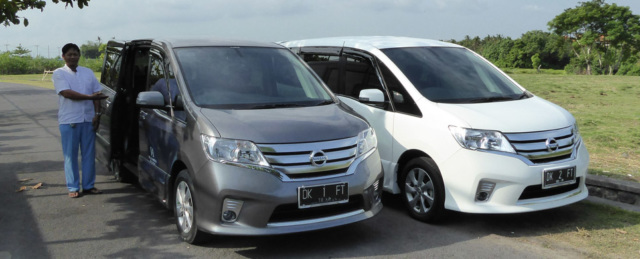 RATES INCLUDE –
Welcome drink
Wifi internet access
Fastrack Service
Two 7 seater cars with drivers (8 consecutive hours a day exclude petrol)
Two mountain bikes
Tennis court & gym (shared)
Daily afternoon tea & coffee
Rates – 請點下面連結 ,第1頁上面(若出現新促銷方案,Agent同步享有)