<< EH- 私人莊園 Dea Villa Complex – Canggu 3/4/5/7/8/9/11/12房 >>
私莊名
Dea Villa Complex
房間數
Radha : 1 Bedrooms (1間大床房) , 可加1床

Amy : 3 Bedrooms (2間大床房+1間雙床房), 可加1床, 有1間大床房附Daybed for 兒童當加床

Sarasvati : 4 Bedrooms (2間大床房+2間雙床房, 2間雙床房可合併成大床房), 可加2床, 每間房附Daybed for兒童當加床

Sati : 4 Bedrooms (1間大床房+3間雙床房, 3間雙床房可合併成大床房), 可加3床, 每間房附Daybed for兒童當加床

位置
Canggu
早餐
房費含每日早餐
加床
可加床(1+1+2+3), (0+1+4+4)張Daybed for 兒童, 額外收費
 價位
 Villa價位 A + A x 0.155(tax)   不含接送服務

Agent價位  A x 0,93 + A x 0.155(全額tax) – 含入住/退房接送服務

官網
https://www.deavillas-bali.com/
服務
Car and driver at a special rate of USD35++/8Hr/Six Seaters (excluding petrol)
Four glorious residences – two 4-bedroom, one 3-bedroom and a 1-bedroom villa – make up the Dea Villas estate, an exclusive enclave five minutes from Berawa Beach and only 15 minutes from the buzz of Seminyak.  Each is secure in its own garden with pool and outdoor pergola or balé, and enjoys shared gym, spa, and children's playground facilities. Each has its own character and style, from ultra-contemporary to whimsical heritage chic, enriched with hi-tech facilities including iPod docks and home theatre systems. Best of all, they can be rented separately or together, meaning Dea Villas can accommodate guests in many combinations, from a honeymooner couple to two families in adjoining villas, right up to 30+ residential guests for a wedding celebration.
The Dea Villas Estate is an exclusive, luxurious and very special tropical haven offering four unique residences that can sleep any combination of guests from a couple up to a group of 20+.  Each villa has its own character and style, from ultra-contemporary to whimsical heritage chic, and is privately secluded in its own garden with pool and outdoor pergola or balé, yet all link together to make the perfect venue for a wedding, executive retreat, extended family get-together or special interest group.
PROPERTY AREA –
4,400sqm (Sati); 2,500sqm (Sarasvati); 1,250sqm (Amy); 1,200sqm (Radha).
LOCATION –
Dea Villas is located on a quiet side road in Berawa close to Canggu. Dotted among the rice fields are luxury villas, local communities and an increasing number of restaurants and spas. Berawa Beach is less than a kilometre away. Only ten-minutes away are the famed restaurants, bars and boutiques of Seminyak. This rural, close-to-the-beach setting, with easy access to Seminyak, gives guests the best of both worlds and no shortage of things to do.
VILLA FACILITIES –
Features and amenities
LOCATION
Berawa, Canggu, south-west Bali, Indonesia.
THE VILLA ESTATE
4 unique, private, self-contained but adjoining villas comprising: 2 x 4-bedroom; 1 x 3-bedroom; 1 x 1-bedroom villas.
CAPACITY
Standard capacity ranges from 1 – 24 guests.
POOLS
Each villa has its own swimming pool and sun deck set within private gardens.
LIVING AREAS
All villas have indoor and outdoor sitting areas, dining areas and equipped kitchens or kitchenettes.  The larger villas also feature TV rooms fitted with state-of-the-art audi-visual equiment.
STAFF
The Dea Villas Estate shares a large team of professional staff, including a villa manager; supervisors; guest services assistant; butlers; chefs and cooks; maintenance engineers; gardeners; security.  Additional staff (eg babysitters, massage and beauty therapists) are available at additional charge.
DINING
A priced menu of Balinese, Indonesian, Asian, western, vegetarian and kids' dishes; Indonesian and Chinese set meals; barbecue menus; off-menu requests also accommodated (including special diets).  Daily breakfast is included in the rate.
COMMUNICATION
WiFi internet access throughout; telephone landline for local and international calls; office fax and printer available (extra charges apply).
ENTERTAINMENT
Satellite-channel TVs, DVD players and iPod docks in all bedrooms.  Larger TV screens and pianos available in Villa Sarasvati's TV room.
FOR FAMILIES
The Dea Villa Estate is very well equipped for families with young children.  Among the many facilities are a children's playground with swings, slides, sandpit and Wendy house.
SPA
The estate's exclusive Dea Spa offers a comprehensive spa menu (extra costs apply) and is equipped with massage beds, large traditional sauna, and whirlpool-style outdoor tub.
TRANSPORT
A car and driver is available at a special rate of USD35++ for up to 8 hours a day (excludes petrol).
WEDDINGS & EVENTS
Events for up to 80 people (60 seated) can be held at Dea Villas. Please click here to view event guidelines
ADDITIONAL FACILITIES
Barbecue; back-up generator; safety deposit box in all bedrooms.
THE LAYOUT –
Welcome to Dea Villas – four tropical garden villas in rural Berawa close to Canggu.  A sense of space sets this exclusive enclave apart; each villa comprises living and bedroom pavilions set in its own private gardens with swimming pool, sun deck, lotus ponds and myriad quiet corners.
Four-bedroom Villa Sarasvati is contemporary in design and spread over two floors, while the three-bedroom Amy and four-bedroom Sati are inspired by Indonesia's cultural heritage, with accommodation spread across a series of joglos (traditional teakwood homes).  Romantic Villa Radha is the smallest of the four villas; a rustic one-bedroom antique gladak (cottage) rising on stilts above a lotus pond.  All four have stunning interiors full of handsome furniture and a fascinating collection of antiques and artefacts from Southeast Asia, China and Taiwan.
As the four villas can be rented separately or together in many different configurations, Dea Villas is perfect for everyone from couples seeking a romantic retreat, to multiple families holidaying together, right up to large groups of friends requiring all 12 bedrooms.  And whether guests seek social space or solitude, they'll never tire of the choices Dea provides.
24-hour butler service assures guests are looked after well, and with the discretion and sensitivity of true hospitality professionals. Among the team of staff that serves the villas are three chefs, ready to whip up gourmet meals from a well-priced menu of local and international dishes.
Kids will surely gravitate to the playground where the swings, slides, sandpit and Wendy house will keep them occupied while parents recline in the shaded comfort of the nearby balé. Adults get to play too: in the air-conditioned gym, at Dea Spa with twin massage beds and traditional sauna, or at the Dea Boutique.
For entertainment beyond the villa, guests may choose to cycle through the rice fields on the villa bikes, spend time at Berawa Beach less than a kilometre away, head for the boutiques and bars of Seminyak, or explore Bali's scenic beauty further afield.
CONNECTIONS
The Dea Villas are connected by traditional Balinese doors in their walled gardens.
4 bedroom Villa Sarasvati connects with 4-bedroom villa Sati, and with 1-bedroom Villa Radha.
1 bedroom Villa Radha connects with 4 bedroom villas Sarasvati and Sati.
3 bedroom Villa Amy connects with 4 bedroom villas Sati and Sarasvati via the Dea Villas Spa.
INDOOR LIVING
Sitting and dining spaces vary from villa to villa, ranging from Villa Radha's cosy studio set-up to the larger villas' spacious lounge and dining areas.
Villa Sarasvati includes well-equipped TV rooms.
All villas feature guest kitchens or kitchenettes.  Professional staff kitchens are tucked out of site.
OUTDOOR LIVING
All villas feature private pools and furnished sun decks set within tropical private gardens.
Shady relaxation spots include rustic thatched bales and rice barns, swing seats on breezy terraces, sofa seating below flower-covered pergolas and decadent alfresco bath tubs.
THE ROOMS –
BEDROOMS
All bedrooms at Dea Villas are equipped with TVs, DVD players and iPod Docks.
All are air-conditioned and have private gardens, terraces or verandas.
ll bedrooms are ensuite, with either indoor/outdoor garden bathrooms or indoor bathrooms overlooking private walled gardens.
Villa Sarasvati has 2 x king-bedded rooms and 2 x twin bedded rooms that convert to kings; all bedrooms in this villa features daybeds that can sleep an extra guest.
Villa Sati comprises 1 x king-bedded room and 3 x twin bedded rooms that convert to kings; all 4 rooms feature daybeds that can sleep an extra guest.
Villa Amy comprises 2 x king-bedded rooms (1 with an additional daybed) and 1 x twin room.
Villa Radha is furnished with 1 x king-size bed.
(Villa Radha)

(Villa Amy)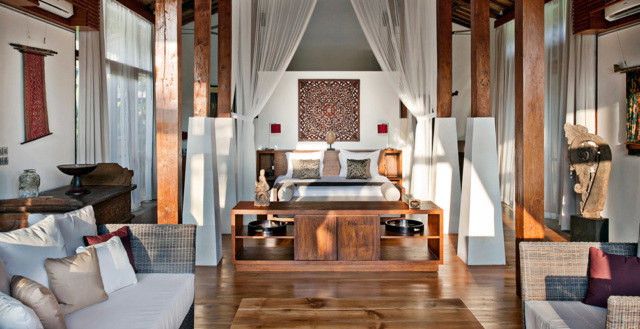 (Villa Sarasvati)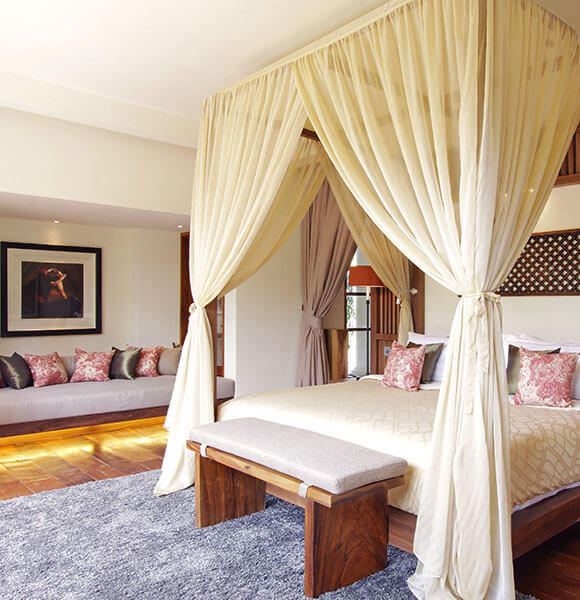 (Villa Sati)

Villa Amy Layout –
Villa Amy comprises three pavilions spread out over a series of terraces, separated by pools and lily ponds and linked by a covered walkway lined with antiques and artefacts. From the traditional Balinese entrance, lava-stone steps lead across an ornamental pond to an open-sided living pavilion facing the swimming pool and sun terrace. Lower down, reached via further steps over cascading ponds, is the stand-alone guest bedroom suite, while up on the highest level, opening onto a terrace and pond above the pool, is the master suite and a twin-bedded guest suite.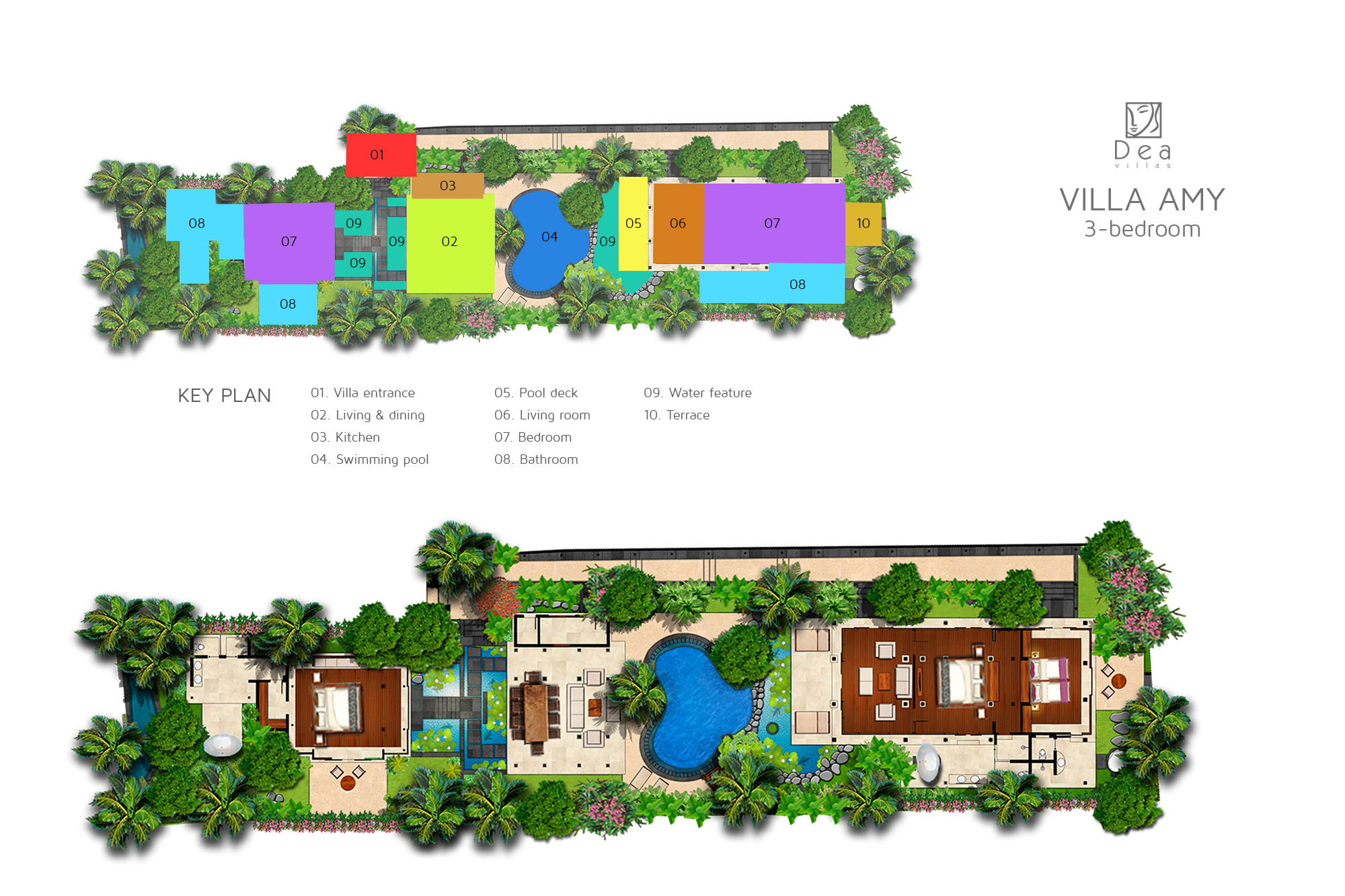 Living Areas
Sitting at the centre of Villa Amy, with rice-terrace views beyond louvered shutters, is the open-sided, fan-cooled antique joglo living pavilion with its magnificently carved pillars and ornate ceiling. On one side, parallel to a pond complete with fire-bowl and carved sandstone screen, sits a four-metre-long teak wood table that, with tub chairs at the heads and cushioned benches on both sides, seats 10 with space to spare. On the other side, an over-sized sofa and chairs looks onto the waterfall-fed swimming pool and, rising above, the master bedroom pavilion. Hidden behind a wall of reclaimed brick is a small but well-equipped kitchen with two fridges, wine fridge, espresso machine and a walk-in pantry.
In the garden are more corners for relaxation. On the poolside sundeck a pair of sun loungers sit side-by-side, and a daybed shaded by an age-greyed thatch roof is raised on river rocks for a better view of the rice terraces. All three bedrooms boast delightfully private seating in a hidden garden setting.
Bedrooms
Villa Amy's three bedrooms offer a level of privacy that is rare in similar-sized villas in Bali. With soaring ceilings, floors of terrazzo or teakwood edged in acid-washed marble, they are infused with light from towering windows and extra-wide sliding doors that open onto private garden terraces and tropical bathrooms with double basins, rain showers and double bathtubs carved from river rock. All have air conditioning and overhead fans, iPod docks, flat-screen TVs with satellite channels and DVD players. And throughout each room are scattered glorious oriental and Indonesian antiques, curios, carvings and ceramics.
Master bedroom
The palatial master bedroom suite is simply stunning. Between soaring reclaimed teak wood pillars raised on terrazzo plinths rests a king-size bed cocooned by billowing net curtains to create a room-within-a-room. A large sitting area with deeply cushioned over-size sofa and armchairs leads onto a sun-drenched terrace with double sunbed looking over a foliage-strewn pond towards the living pavilion below. Behind the bed is a huge dressing area and to the side are sliding doors to an enormous semi-open bathroom with statement river-stone bathtub set by an antique Chinese screen.
Guest bedrooms
Behind the master bedroom suite and under the same soaring roof is a guest bedroom. Here, twin beds flanked by built-in wardrobe and dressing tables face a small sun terrace guarded by a Ganesha statue and, to one side, a tropical garden bathroom.
Occupying its own pavilion on the lower terrace is a second guest bedroom. Defining the space is the four-pillar core of a traditional joglo, into which a king-size bed sits on a raised terrazzo platform. To one side, a daybed rests between twin desks; on the other, sliding doors open onto a private garden. Beyond the dressing area is a large bathroom under a separate pavilion roof, with a huge river-rock tub for sun-bright or starlight bathing.
Villa Radha Layout –
Villa Radha's Balinese entrance opens to a enchanting garden where large river rocks form stepping stones across the lily pond to a raised century-old Javanese teak wood gladak house fronted by a wide,furnished veranda. (There's another entrance for those who don't want to skip the light fandango over the pond.) Inside is a large teakwood-clad bedroom complete with sitting area. Doors lead to a small kitchenette on one side and a wardrobe and dressing area on the other; both the kitchenette and dressing room open onto a tropical garden bathroom. Across the pond is a second and much smaller gladak which serves as a reading or breakfast room, while across the swimming pool a relaxation balé beckons.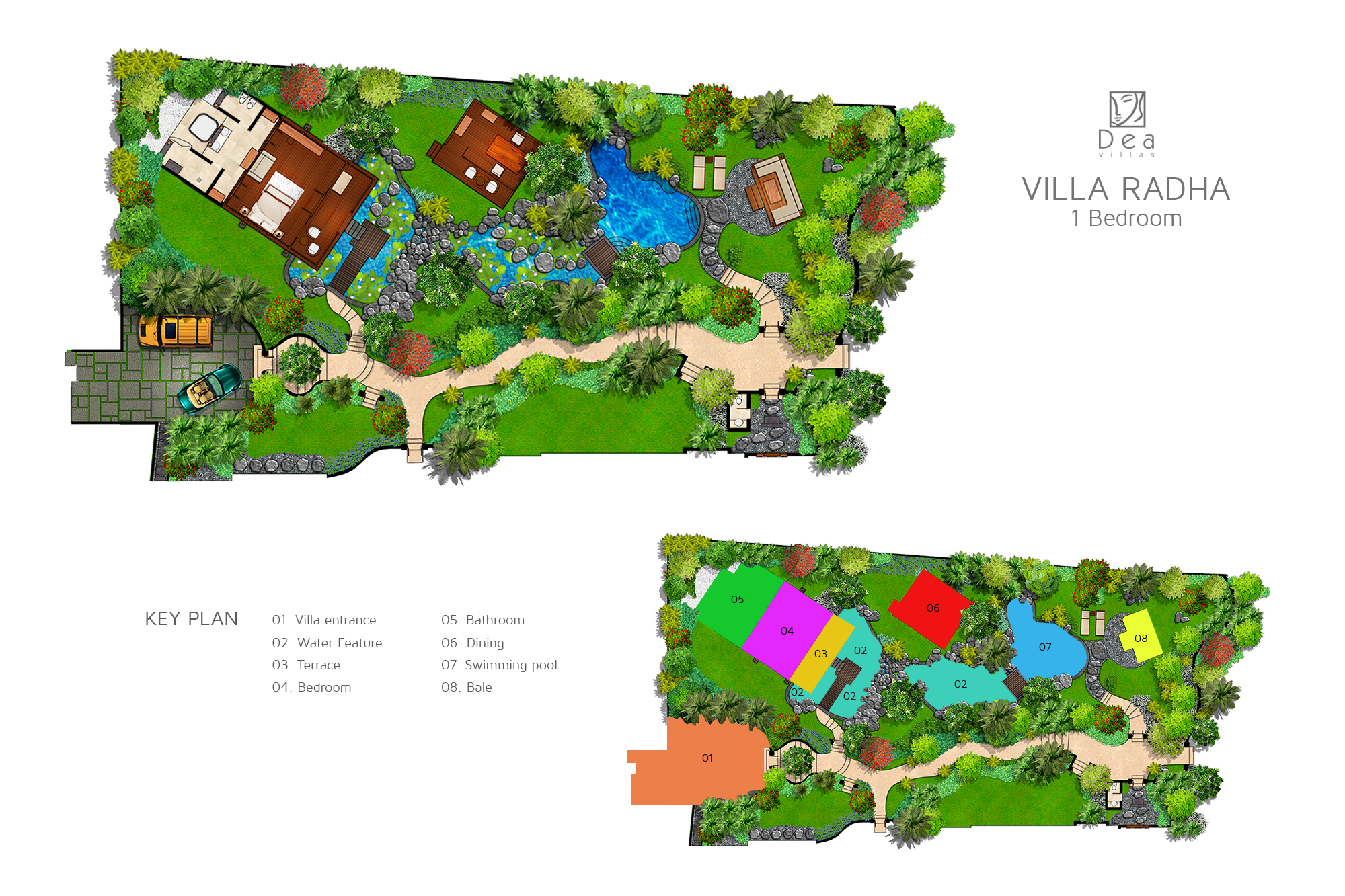 Living Areas
Villa Radha has a surprisingly wide choice of living areas for a one-bedroom property. For air-conditioned comfort, there's the sitting and TV area within the bedroom while, for breezy alfresco living, the large veranda has a cool, Somerset Maugham-style vibe complete with old planters chairs for reclining at sunset, G&T in hand (nicely chilled thanks to the fridge in the adjoining kitchenette). The smaller gladak with its hatch opening onto a cute mini-me veranda offers an intimate space for reading or breakfasting and is furnished with a small table for three. And at the end of the water-garden, beyond the lagoon-style plunge pool is a sun deck with four loungers and a cushion-covered balé, just the spot to hideaway with a good book. Tucked away in another corner of the garden is a double hammock surrounded by tropical blooms.

Bedrooms
Villa Radha is rustic romance personified – a jungle hideaway surrounded by lotus ponds in a dreamlike world of its own. Inside this traditional teak wood building is a beautifully proportioned bedroom with regal king-size bed and an eclectic collection of chairs. Contrasting with the building's 100-year history and whimsical furnishings and artefacts are some 21st century features: an upholstered daybed, a 47-inch TV with satellite channels and DVD player, an iPod dock and air-conditioning.
A few steps lead down from the bedroom to an indoor-outdoor bathroom. This space has a more contemporary feel, with polished concrete walls, non-slip floors and a glazed pergola roof. There's a dressing area, a vanity with twin basins, a walk-in rain shower and a magnificent two-person alfresco bathtub carved out of a single piece of river rock.
Villa Sarasvati Layout –
Villa Sarasvati comprises a large living pavilion and a two-storey building arranged in an L shape around a 18m swimming pool looking onto rice terraces. The open-plan living pavilion has a formal seating area with doors onto a covered open-sided garden room, a dining area and, across a bar counter, the guest kitchen and second service kitchen behind. In the second pavilion, which is fronted by a covered terrace on both storeys, two ground-floor master suites flank a central 'art-gallery' foyer leading to the main entrance. Stairs lead up to the second level where two more guest suites and a family TV room open onto the terrace.
Living Areas
The huge living pavilion is a magnificent open-plan space with glass doors running the length of three walls that can be closed for air-conditioned comfort or flung open onto the pool and garden for fan-cooled tropical living.This is the place for lavish entertaining – either at the huge suar-wood dining table which accommodates 14 on bench seating, in the lounge area furnished with extra deep cushioned wicker sofas, or in the adjoining open-sided garden room. Beyond the marble-topped bar counter is the open-plan guest kitchen equipped with welcome extras such as espresso machine and wine fridge. Out of sight behind closed doors is the staff kitchen.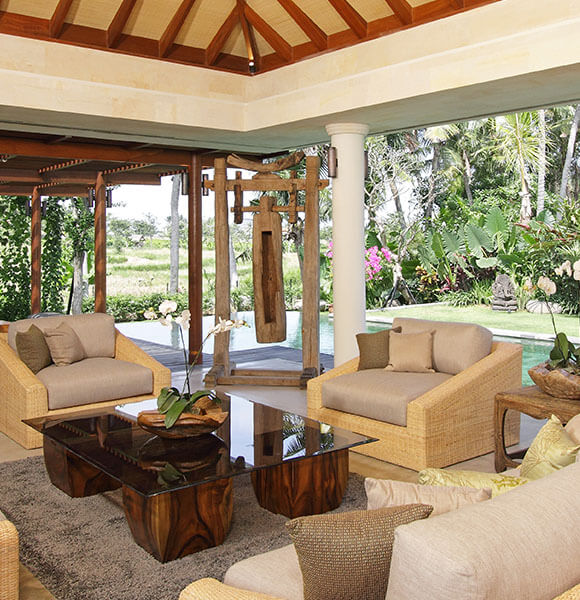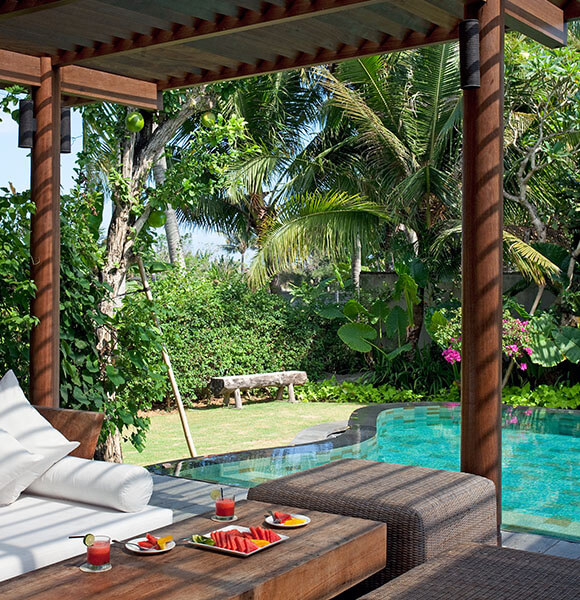 Comfy sofas and king-size velour banquette shug the walls of the upper-level air-conditioned TV lounge, facing a 52-inch TV with DVD player and surround-sound system. A desk, a shelf of books on Bali and a Yamaha piano make this a truly multi-functional family room.
The shaded terraces running the length of both floors of the two-storey wing accord further private relaxation areas, with clusters of casual seating and cushioned daybeds.
There's lots of outdoor living space too. In addition to the large semi-alfresco seating area adjoining the living pavilion, sun loungers line the ironwood pool deck and two antique pondoks (rice-field shelters) create private garden sanctuaries overlooking a giant chess board and petanque court.

Bedrooms
Villa Sarasvati offers four spacious bedroom suites, each with a dressing area and a light-filled bathroom that spills onto either a private garden or terrace. Each bedroom comes with an iPod dock, 32-inch TV with satellite channels and DVD player, air conditioning, overhead fan (for the master suites), and a window seat that converts to a single bed for kids.
Master bedroom suites
Two ground-floor master bedroom suites feature king-size beds on reclaimed teakwood floors, huge dressing areas and equally generous garden bathrooms with twin vanities, rain shower cubicles and terrazzo bathtubs. One of the master suites has its own private garden with seating.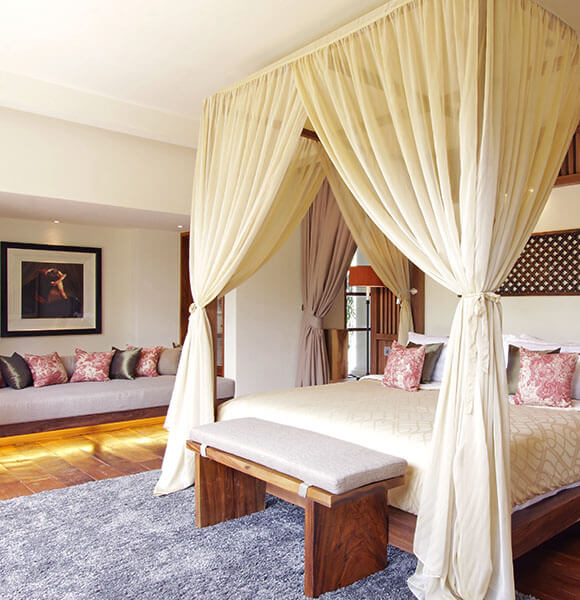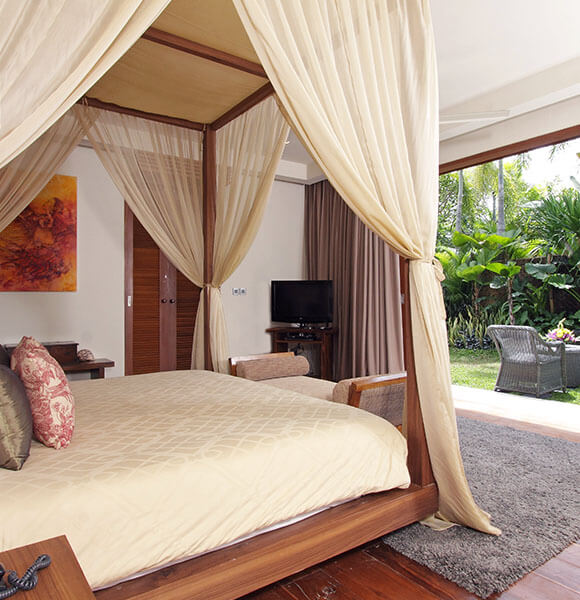 Guest bedrooms
The two second-level guest bedrooms offer the flexibility of twin beds which convert to kings, an indoor shower room and a private sun-terrace resplendent with statement bathtub for alfresco bathing.
Villa Sati Layout –
Villa Sati comprises a series of individual pavilions, well screened in delightfully established gardens. The largest of these is the open-sided living pavilion, which looks over an amphitheatre style performance space near the large free-form swimming pool. Encircling the pool are four joglo pavilions, each housing a bedroom with garden bathroom and sun terrace. Among these is the sixth and smallest building – an antique lumbung (traditional rice barn) which doubles as a playhouse.

Living Areas
Complementing its heritage-themed architecture, Villa Sati's large open-sided, fan-cooled living pavilion is embellished with fascinating oriental antiques and tribal artefacts from the owners' personal collection. This is a comfortable space for family and friends to socialise on the casual rattan lounge seating or gather at the three-metre long dining table. Beyond an ornate Balinese door set into a feature wall of reclaimed brick is the guest kitchen – well equipped with all those holiday essentials: an espresso machine and wine fridge full of fine Champagne. Tucked out of sight is the staff kitchen.
Lying at the centre of the large gardens is the lagoon-style pool and an amphitheatre-style performance space, perfect for traditional Balinese dances or wedding blessings. Loungers stretch out on the sun terrace and, peeking out from the ring of bedroom pavilions, an authentic old lumbung (rice barn) provides an intriguing space for retreat or play.

Bedrooms
Four spacious bedroom suites are named after fragrant flowers that grow in Villa Sati's gardens – Mawar, Melati, Kantil and Kamboja.  Each enjoys an unusual degree of privacy, occupying its own pavilion – a contemporary interpretation of the traditional Javanese joglo with a central core of carved teakwood pillars, and walls of sliding doors and windows overlooking the garden.  Each bedroom has a recessed three-metre long daybed that doubles as a bed for a child, and private terrace with daybed or chairs facing the pool.  One is furnished with a king bed, while the other three have king-size beds that convert to twins.  All come with iPod dock, 32-inch TV with satellite channels and DVD player, and a choice of air conditioning and overhead fan.  Generous dressing areas open onto a garden bathroom with twin basins, walk-in rain shower, non-slip acid-washed marble floors and a statement bathtub.
RATES INCLUDE –
Daily breakfast
WiFi Internet access
Welcome drink and fruit basket
Turndown service
Personal service by the villa staff* including a fulltime manager, housekeeper, chef/cook, security and attendants
Rates – 請點下面連結 ,第6頁中間(若出現新促銷方案,Agent同步享有)