<< Ruby Spa@Ametis Villa Canggu >>
RUBY SPA
Ruby Spa提供一間單人理療室和兩間雙人理療室,專門提供定制的禪宗療法和健康實踐計劃。 使用現代專業知識提供古老的菜單,滋養身體、思想和精神。
Ruby Spa以世界上最珍貴的寶石之一命名,優雅活潑,致力於使用純淨新鮮的產品提供最好的護理。 治療師接受過直覺觸覺藝術的培訓,以應對耗盡的能量水平和過上忙碌生活方式的不利影響。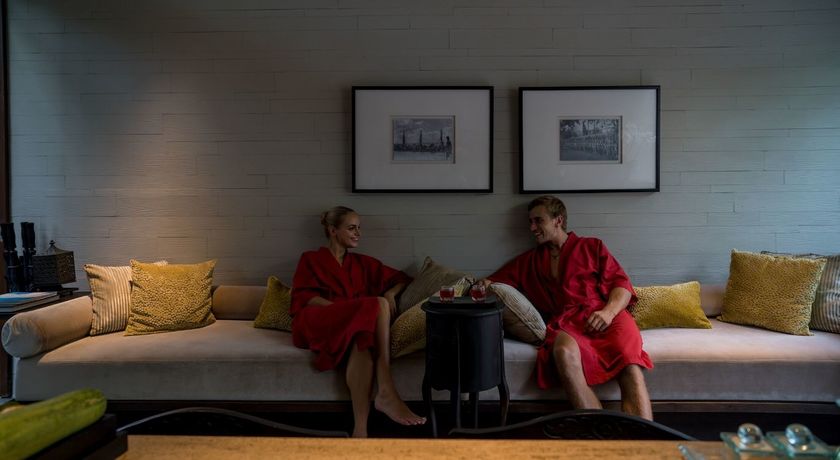 Reiki Healing, art of touch
Ruby Spa的治療師由靈氣大師發起,使用觸覺藝術來促進康復和安寧。 靈氣涉及通過動手治療技術轉移宇宙能量。 rei 一詞的意思是"上帝的智慧或更高的力量",ki 是"生命力能量"。 因此,靈氣是指"精神引導的生命力能量"。 在此治療過程中,會從深度放鬆中受益。
Therapeutic Healing
峇里島擁有令人難以置信的治療師和大師,可以治療思想、身體和意識。 這些從業者對手藝充滿熱情,並花了數年時間進行自我培訓的模式。每一次治療體驗都是根據特定需求量身定制的。
Our Treatments….
RITUALS
Ametis Healing 120 min
This treatment is created to bring tranquility and enhance physic powers, by combining relaxing massage, Reiki treatment to heal ailments to balance negative and positive aspect in the body. Amethyst rock is placed on third eye chakra during Reiki session to enhance the impact of Reiki, as well as helping in the development of many aspects of individual personality and makes the person powerful from within by igniting his self healing mechanism.
Relaxing massage 150 min
This massage has been created to ignite the senses and begins with a gentle foot bath to pamper one of the most neglected parts of the body. A traditional body massage follows by using a combination of long finger strokes and palm pressure to relive the effects of a modern lifestyle and evoke a deep relaxation. Concluding with a refreshing fruit bath and healthy serve of orange tea will enliven your senses.
Rejuvenation Sensation 180 min
Rejuvenation sensation is the ultimate spa experience that leaves the skin with a vibrant glow. It begins with a traditional massage therapy and continues with a body scrub using a natural blend of orange and aloe vera to gently exfoliate and eliminate impurities. A nourishing orange mask is then applied to the entire body prior to a luxurious soak in an orange infused bath. A refreshing serve of fruit salad and herbal drink brings this exotic ritual to an end.
Refreshing Green Tea 180 min
This signature treatment nurtures the body through the use of green tea, which as an ingredient is revered for its extraordinary healing properties by various South East Asian cultures. The ritual commences with a traditional massage, body scrub and mask where green tea that is rich in anti-oxidants penetrates the skin leaving it soft and supple. Finally a leisurely soak in a tea infused warm bath invites overall relaxation.
Traditional Bliss 180 min
Drawing inspiration from the traditional Balinese remedy of boreh that is used by rural farmers to warm the body and relive muscular pain, this ritual gives insight into the island's unique healing heritage. The treatment involves a relaxing body massage and invigorating boreh scrub made from indigenous herbs and spices. Then continues to a body mask for cooling down. A long soak in a coconut bath to calm the body and restore depleted energy levels is a balancing conclusion to the treatment..
IMMUNE SUPPORT
Acupressure Massage + Reiki Healing 120min
Dry Massage + Reiki Healing 90min
A massage experience recommended increasingimmunity. Treatment starts with relaxation session, followed by pressing the same meridian point on the body and concluded with touch healing to improve the flow of energy and blood circulation.
MASSAGE
Balinese Massage 60 min / 90 min  / 120 min
This deeply relaxing massage based on the traditional Balinese philosophy is at the heart of Balinese healing, which will return your body and mind to center.
Deep Tissue Massage 90min
This massage focuses on the muscles located below the surface of the top muscles, recommended after heavy physical activity (such as athletes) and when you feel the need for a strong massage. Therapist will deliver with forearm, thumb sliding, knuckling.
Ruby Energizing Massage (Acupressure Massage) 90 min
This epic full body massage uses acupressure and meridian points to get the circulation moving freely, and includes generous amounts of incredibly soothing lower back, head and neck massage which will allow you to feel completely grounded in your own being.
Foot Reflexology 60 min
Ruby's foot reflexology is created for reducing tension, increasing relaxation and stimulating the body's natural healing potential. Stretching on neck, shoulder, and ankle, then followed by gentle and firm pressure onto foot reflex points and opens energy blockages along these pathways, which brings natural balance back into the body.
Tension Massage 45 min
This massage using elbow and thumb slide technique aims to release the tension on your upper body such as back, shoulder, neck and head caused by the digital nomad lifestyle.
BEAUTY RITUAL
Natural Glow Facial 60 min
This facial using fruits, nuts and vegetables prepared fresh to enhance the transfer of its properties and energy will leave your skin natural, healthy and glowing. Gentle massage and facial mask to revive and nourish your skin is recommended for both men and women.
Spa Manicure or Pedicure 60 min
Soak, push-back cuticles, salt & candle nuts scrub, hand massage, shape and polish using O.P.I
BATH RITUALS
Fruits Bath 30 min
Blend the bathing with other treatment to conclude the journey to relaxation, available in Ruby spa or in y our own villa. Kaffir lime leaf, Orange, Cucumberwith bubbles.
PRIVATE SESSION WITHMASTER
Bali is bountiful with incredible healer and masters who work deeply on your mind, body and consciousness. These practitioners are passionate about their craft and have spent years self-training to cultivate their modalities. Every experience is tailored to you needs. 24 hour advance booking is required.
峇里島擁有許多令人難以置信的治療師和大師,他們深入研究您的思想、身體和意識。 這些從業者對他們的手藝充滿熱情,並花了數年時間進行自我培訓以培養他們的模式。 每一次體驗都是根據您的需求量身定制的。 需要提前 24 小時預訂。
Reiki Healing 60min
Restore balance to your mind and calmness through your body. A Powerful healing treatment delivered by a real Balinese Reiki healer that will leave you feeling rested and centered. Reiki is fully-clothed treatment whereby the healer focuses on drawing positive energy into your body, which is recommended for those suffering headaches, Insomnia, jetlag and stress.
Hasta Siddhi Therapeutic Healing Massage 60 min
It is a holistic developed Massage therapy by integrating the utilization of Pranic healing energy with some massages techniques like deep or soft tissue massage and meridians massage.
Spa Etiquette
Products Ruby   所有身體和美容產品中使用天然成分。每一種成分都經過精心挑選,具有舒緩的品質和幫助維持平衡的能力。幾個世紀以來,印度尼西亞群島一直使用當地採購的草藥和香料來治愈和保持內外美麗。 Ruby邀請顧客體驗基於峇里島獨特而珍貴的財產的豐富儀式。
Pre- Arrival Information  建議在預約時間前至少 15 分鐘到達Spa中心,以便可以放鬆身心並享受護理的全部好處。建議之前避免日光浴、暴飲暴食和飲酒,因為這可能會降低Spa體驗的樂趣。
Cancellation Policy   如果需要更改或取消您的按摩預訂,請在預約時間至少提前 8 小時提出,以便重新安排預約。請注意,重新安排需視供應情況而定。提前不到 8 小時取消相應的預約,將收取預訂總服務的 100% 費用。
Health Considerations  在考慮進行任何Spa護理之前,如果有任何健康狀況,例如高血壓、心臟病或任何其他嚴重的醫療並發症,有任何健康問題或疑慮,請告知治療師或接待員。
Valuables  貴重物品 珠寶和貴重物品可以放在Villa的保險箱中。建議不要在Spa中心佩戴首飾。管理層對帶到Spa中心的金錢或貴重物品的損失不承擔任何責任。
Accident/ Injury  Ruby對任何會員或客人在場所內遭受的任何事故或傷害概不負責。
Add : Jalan Pantai Batu Bolong, Canggu – Kuta, Bali, Indonesia
營業時間 : 10:00-21:00
Tel : 0361-8445567
https://www.ametisvilla.com/spainbali.html